Garlic Bacon Alfredo Sauce Recipe
This Garlic Bacon Alfredo Sauce Is So Good, It May Have Caused My Engagement — Just Sayin'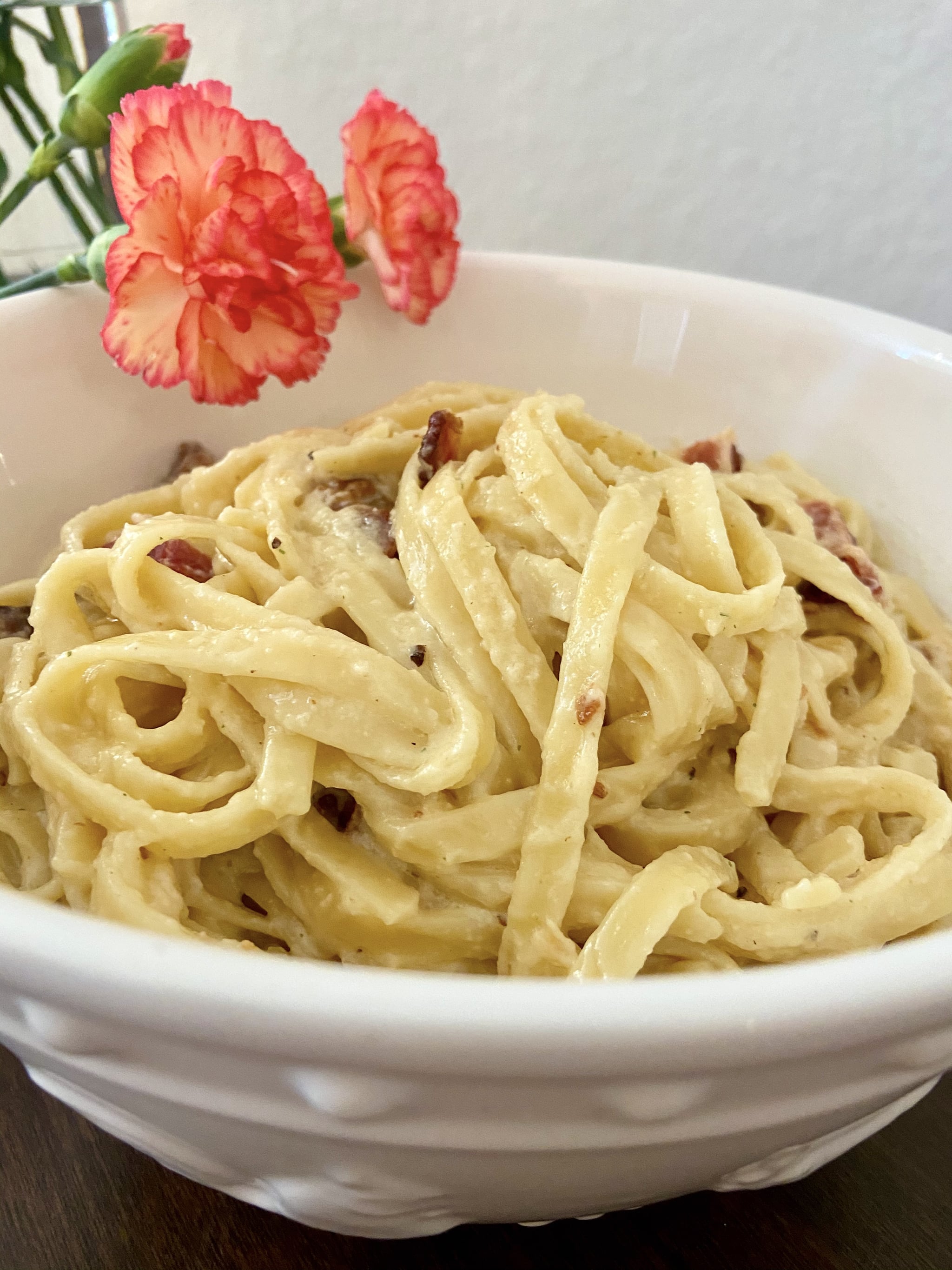 Have you heard of Engagement Chicken? The famed recipe has circled magazines and the internet for years, and the story surrounding it involved a woman awaiting a proposal who roasted a chicken for dinner hoping to encourage her boyfriend to pop the question. While that's sweet and all, times have definitely changed. No one needs to sit around waiting for someone to propose now! However, years ago, I whipped up a recipe that led to an unexpected marriage proposal. The details are different, as I wasn't anxiously awaiting the question, but the results were the same. What did I make? Pasta with a creamy, garlicy bacon Alfredo sauce.
The sauce is a hybrid between a carbonara and an alfredo. It borrows the bacon and caramelized onions from the Italian classic while skipping the eggs and adding cream for a decidedly decadent twist. The recipe comes together easily, and the ingredients are flexible and adaptive to low-carb, gluten free, and vegetarian diets. It's just as delicious over courgette noodles, and the bacon can be omitted to make this a spectacular meatless option. No matter how you choose to adapt it, it just might make you do big things too! See the full recipe below.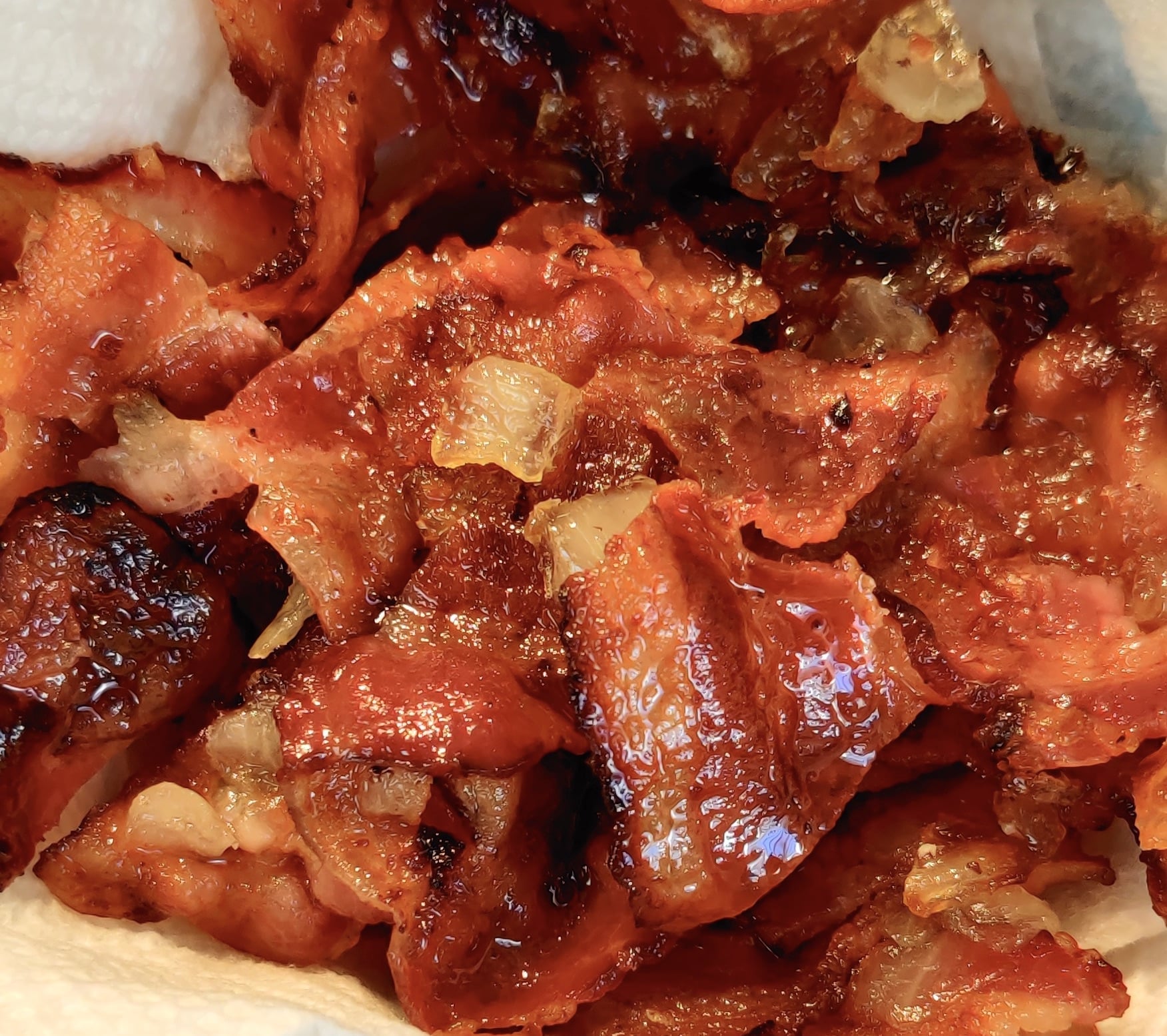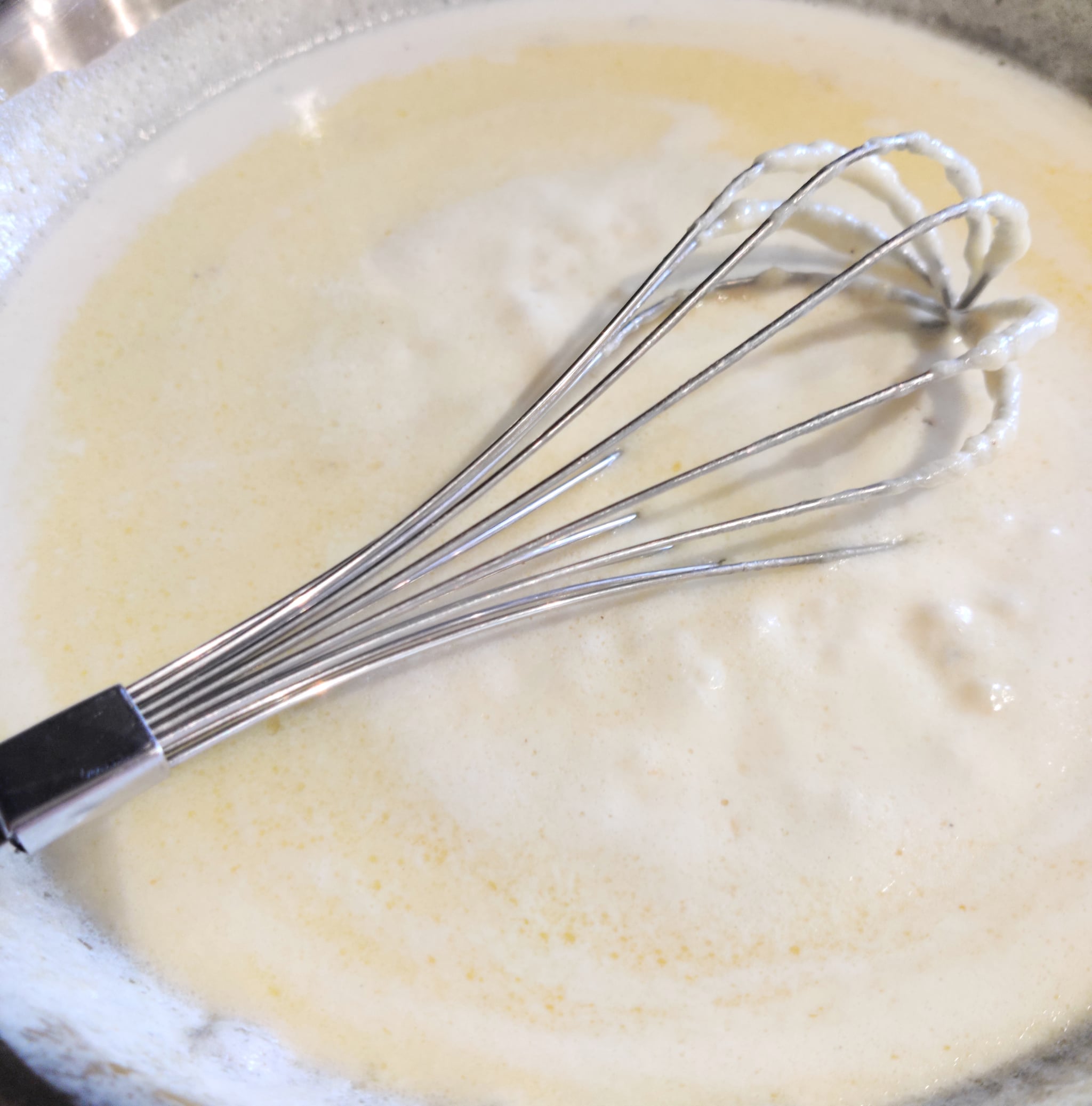 Creamy Garlic Bacon Alfredo Sauce
Adapted Recipe by Rachel Alger
Notes
Don't be afraid to mix this recipe up and use what you have. Fontina and asiago cheeses work beautifully in this dish. If using bacon, center-cut is best.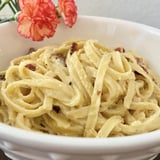 Ingredients
Sauce:
1 stick of butter
1 1/2 cup heavy cream
1/4 cup garlic powder
3/4 cup parmesan cheese
1/2 cup romano cheese
1/2 teaspoon nutmeg
1 tablespoon black pepper
Pasta:
16 oz box of dry fettuccine noodles
Sea salt (for water)
Additions:
7 slices of center cut bacon
1/2 sweet onion, diced
Directions
Set your oven to 400 degrees Fahrenheit.
Line a sheet pan with parchment paper (foil also works). Place 7 strips of bacon on the parchment on the left side of pan, and add diced onions to the right side of pan.
Place in oven and cook for about 15-20 minutes. (Make sure to watch your onions and stir as needed. If the bacon completes cooking first, remove from pan with tongs and drain on a paper towel while onions finish up. They should be lightly brown to optimize sweetness.)
Cook both until done, drain on paper towel when complete.
When cool enough to handle, tear bacon into pieces. Set aside.
As the bacon and onions cook, bring large pot of water to boil and salt as rolling boil begins. Add pasta when water is boiling vigorously.
Cook in accordance to package directions.
Drain when al dente.
In a metal saucepan, begin melting butter over medium-low heat.
After butter has melted, add in the heavy cream. Allow to come together in a soft bubbling boil.
Add in cheeses. Stir until melted and combined.
Add in pepper, garlic, and nutmeg. Keep on medium-low heat.
Sauce will thicken. Continue to cook until pasta is complete.
Pour cream sauce over cooked and drained pasta. Combine.
Add in onions and bacon. Stir.
Taste, add salt as needed. Bacon is naturally salty, so the amount of salt you need is a personal choice. Reserving it for the end is best.
Let pasta rest 5 minutes. Serve and enjoy!
Information
Category

Condiments/Sauces

Yield

8
Image Source: POPSUGAR Photography / Rachel Alger