How to Make Olivia Wilde's Salmon Salad
I Tried the Olivia Wilde Salad Recipe At the Centre of the Wilde-Sudeikis-Styles Love Triangle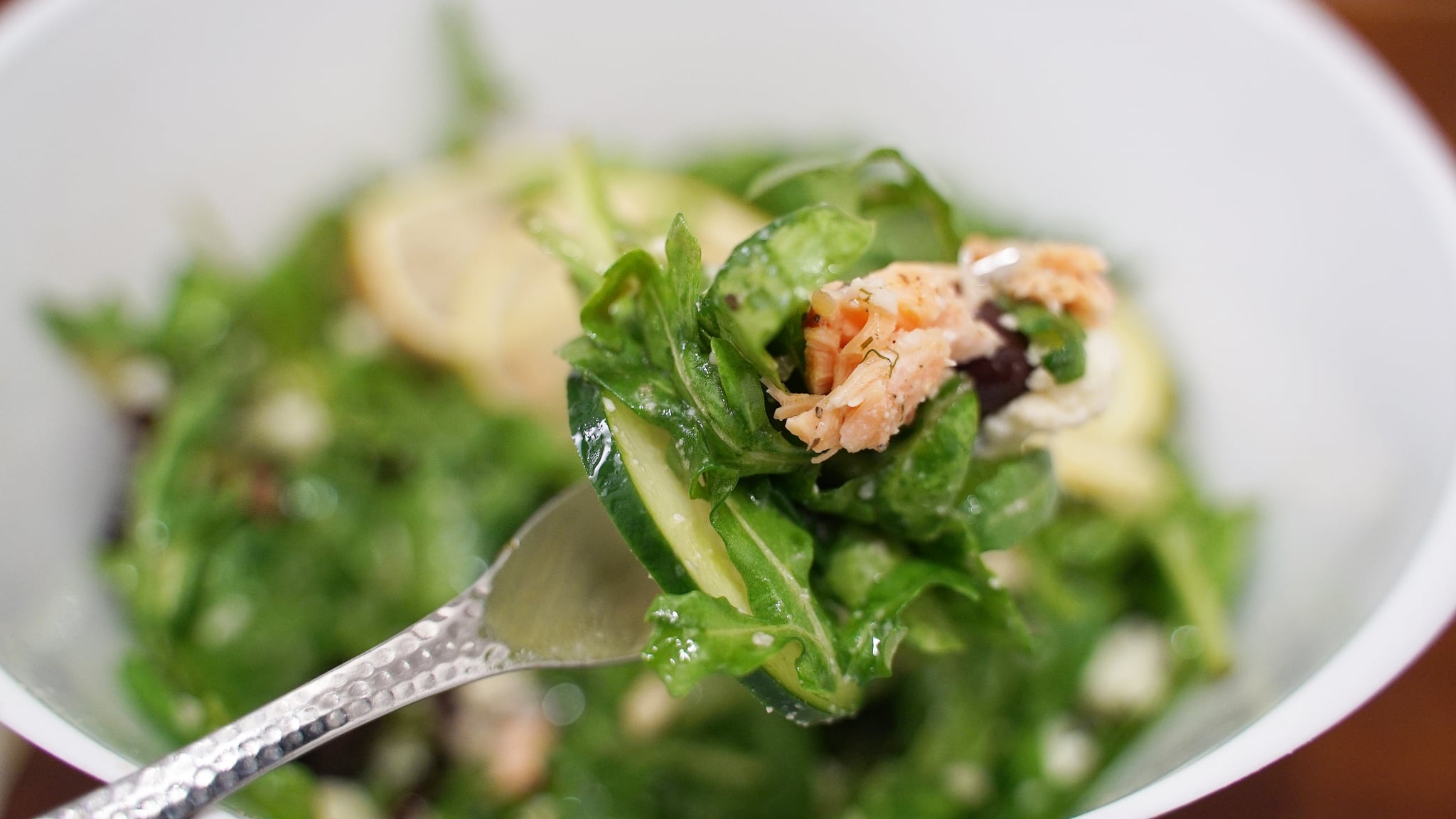 Did Olivia Wilde fire Shia Labeouf? Is there beef between her and Florence Pugh? Was Harry Styles paid three times more than his costar just because he's dating the film's director? The drama surrounding "Don't Worry Darling" left fans with many questions for Olivia Wilde. And though she's since shut down rumours about the movie, the line of questioning about her personal life isn't quite over. Now fans want to know what was in a certain salad she made for Harry Styles.
Curiosity quickly grew when a former nanny employed by Wilde and her ex Jason Sudeikis publicly alleged that she was there when their relationship hit its breaking point — and that a salad was at the centre of it all. Apparently, Sudeikis knew it was officially over with Wilde when she made that salad for Harry Styles. "She had a special salad dressing she makes for us and she's taken it to have it with him now," Sudeikis apparently told the nanny that night.
the nanny watching Olivia Wilde put the special salad dressing in a to go cup pic.twitter.com/hBhPALm4mB

— T (@trinawatters) October 17, 2022
So what was so special about this salad? The nanny claimed she didn't know what was in the dressing, but there's a good chance it's the one she shared on "Questlove's Potluck," a 2020 Food Network special where celebrities revealed some of their favourite meals to make at home. Wilde's recipe was a salad with roasted salmon, courgette, potatoes, and a homemade dressing consisting of red wine vinegar, Dijon mustard, honey, salt, garlic, and olive oil.

The dressing Wilde shared on "Questlove's Potluck" is actually just a French vinaigrette with honey added to it, and though it may be a simple addition, it makes all the difference. The sweetness of the honey balances out the acidity of the vinegar, and it works especially well with the mix-ins of the salad. Clearly, Wilde knows how to build flavour; the salmon is also seasoned with garlic, dill, lemon juice, red pepper flakes, minced shallots, and paprika, roasted on top of a bed of thinly sliced potatoes and courgette, and then transferred to a bowl of mixed greens along with feta, cucumbers, and kalamata olives.
These ingredients taste great on their own, but it's the dressing that really ties everything together. Once you taste it, you'll understand why it would've set off alarm bells for Sudeikis when Wilde made it for Styles. Here's how to make it.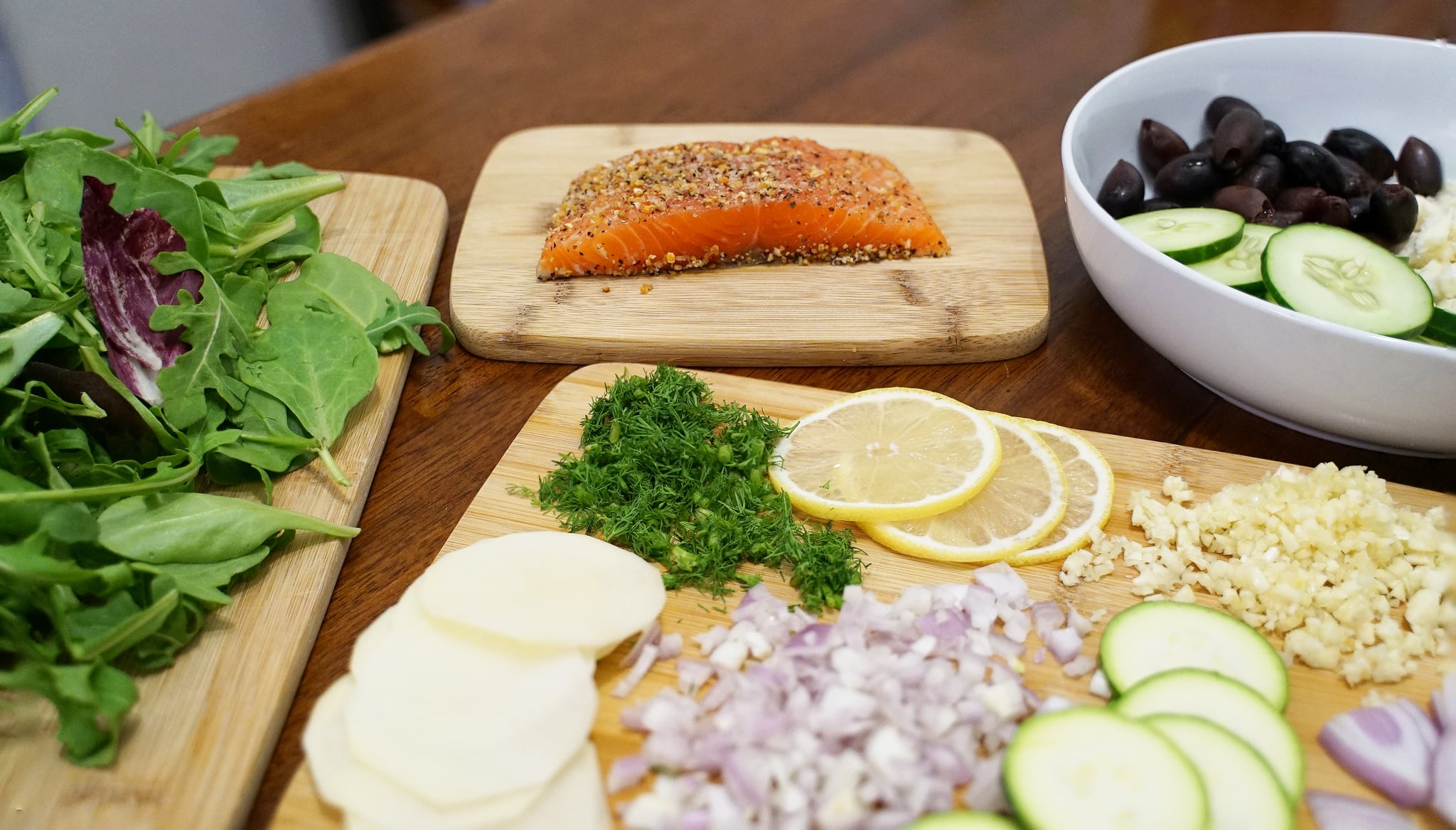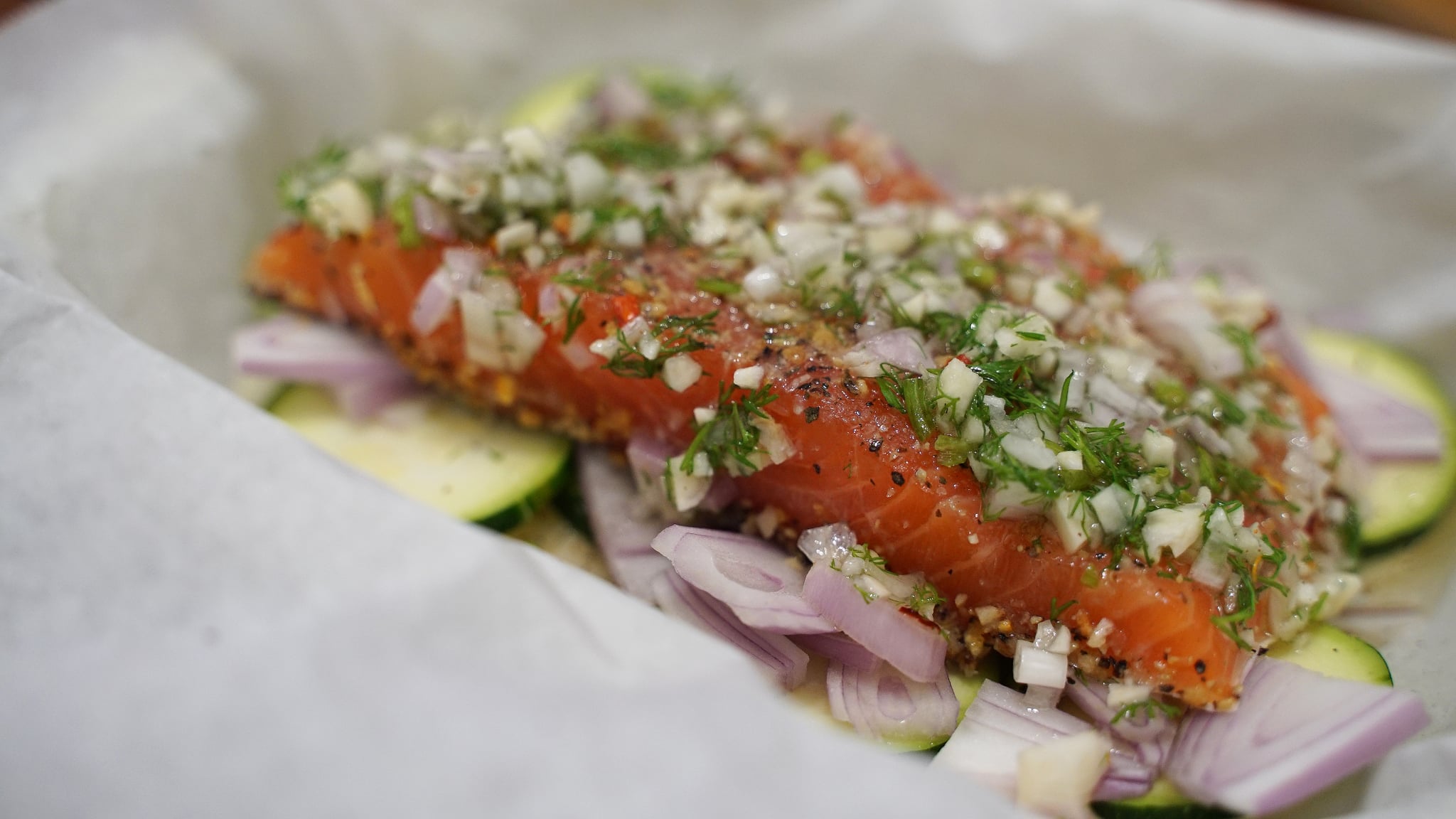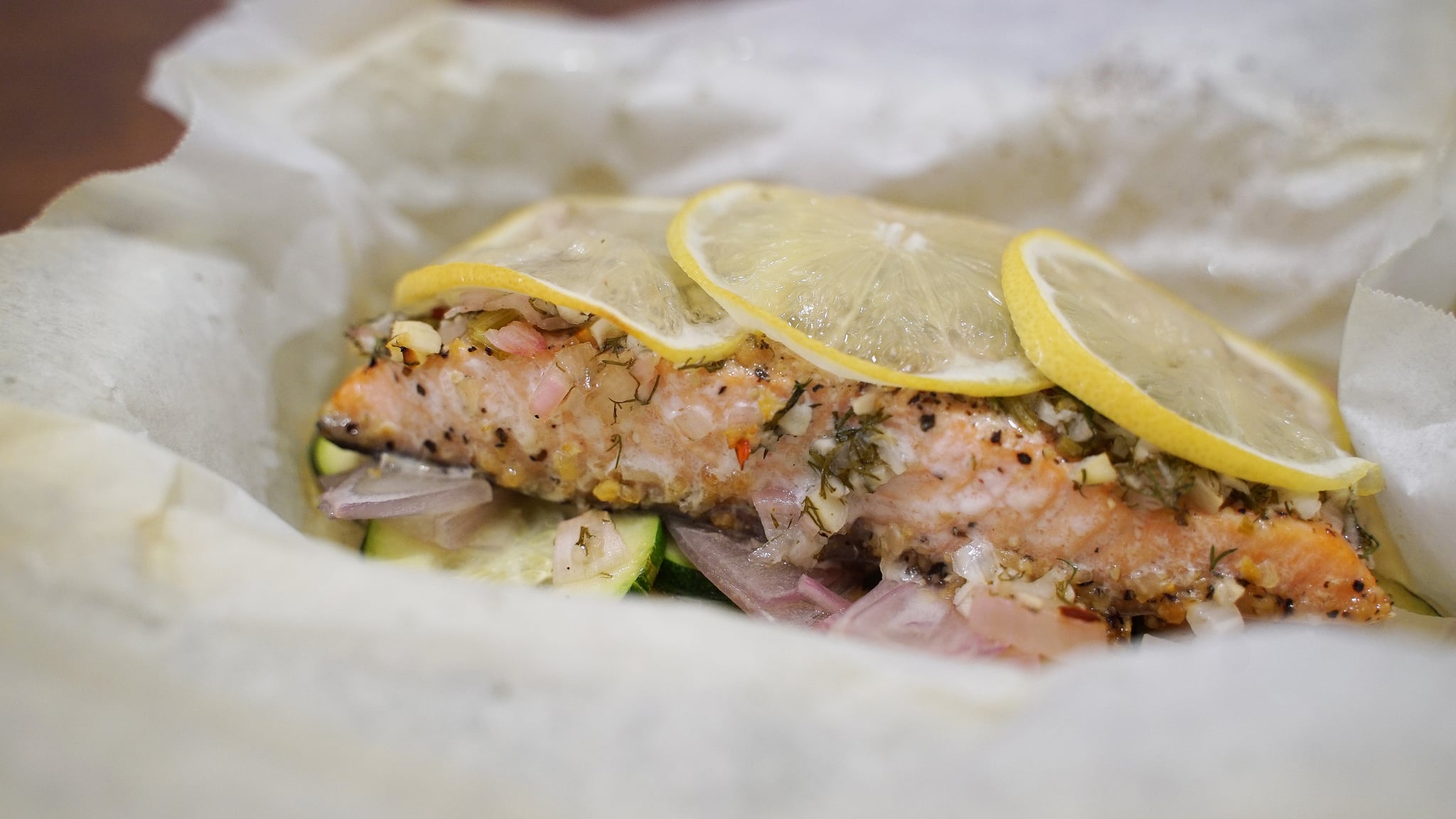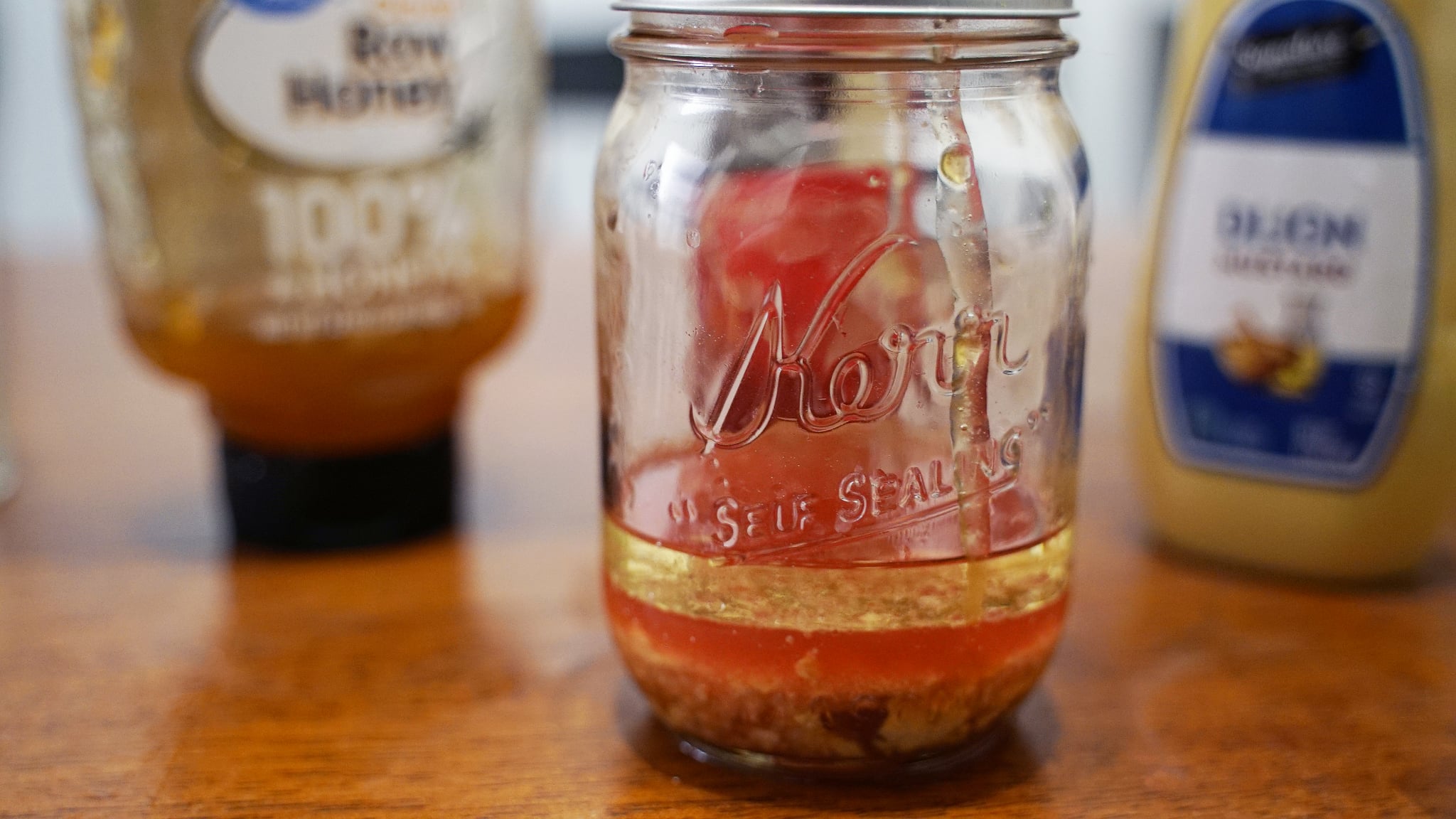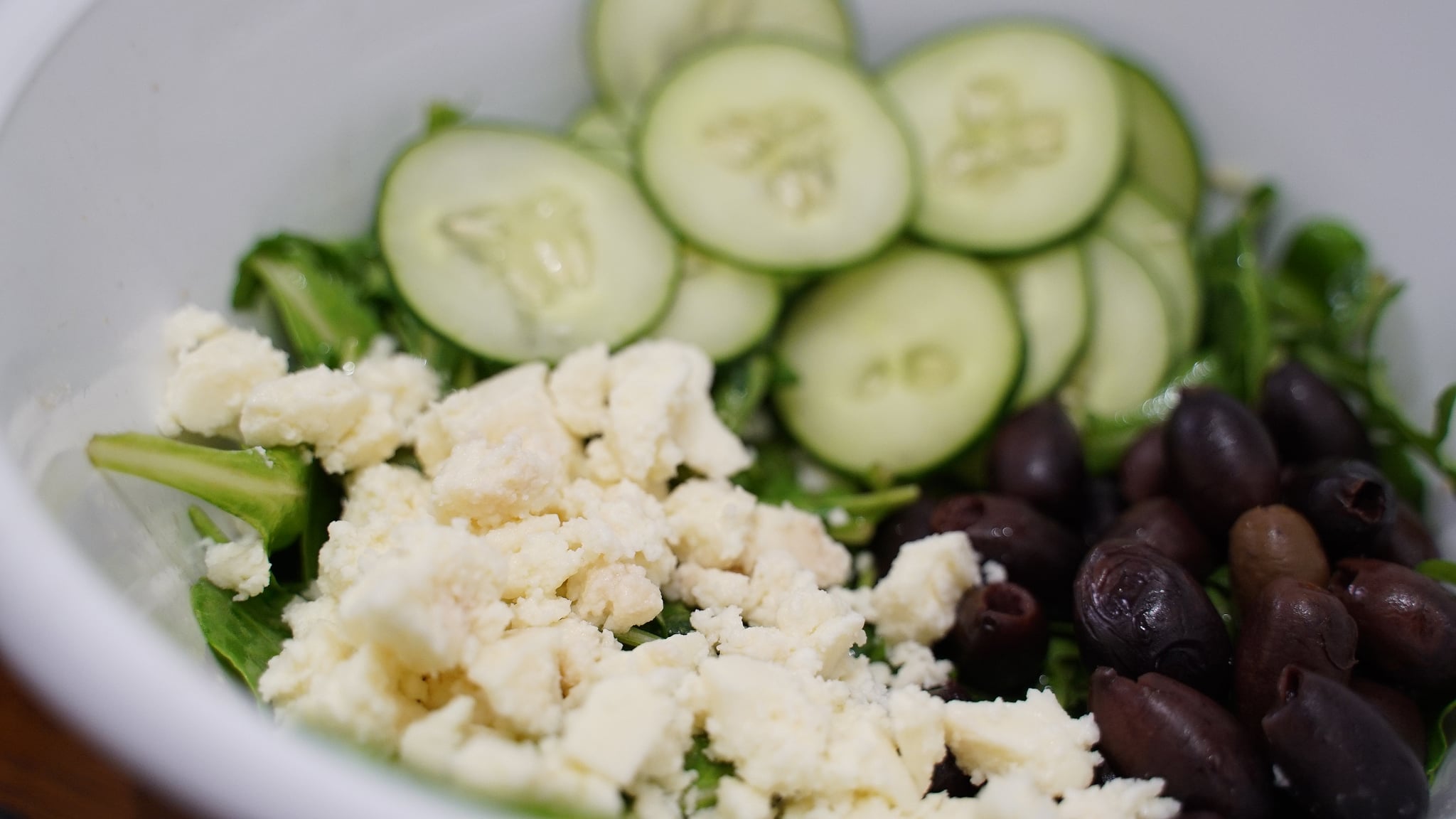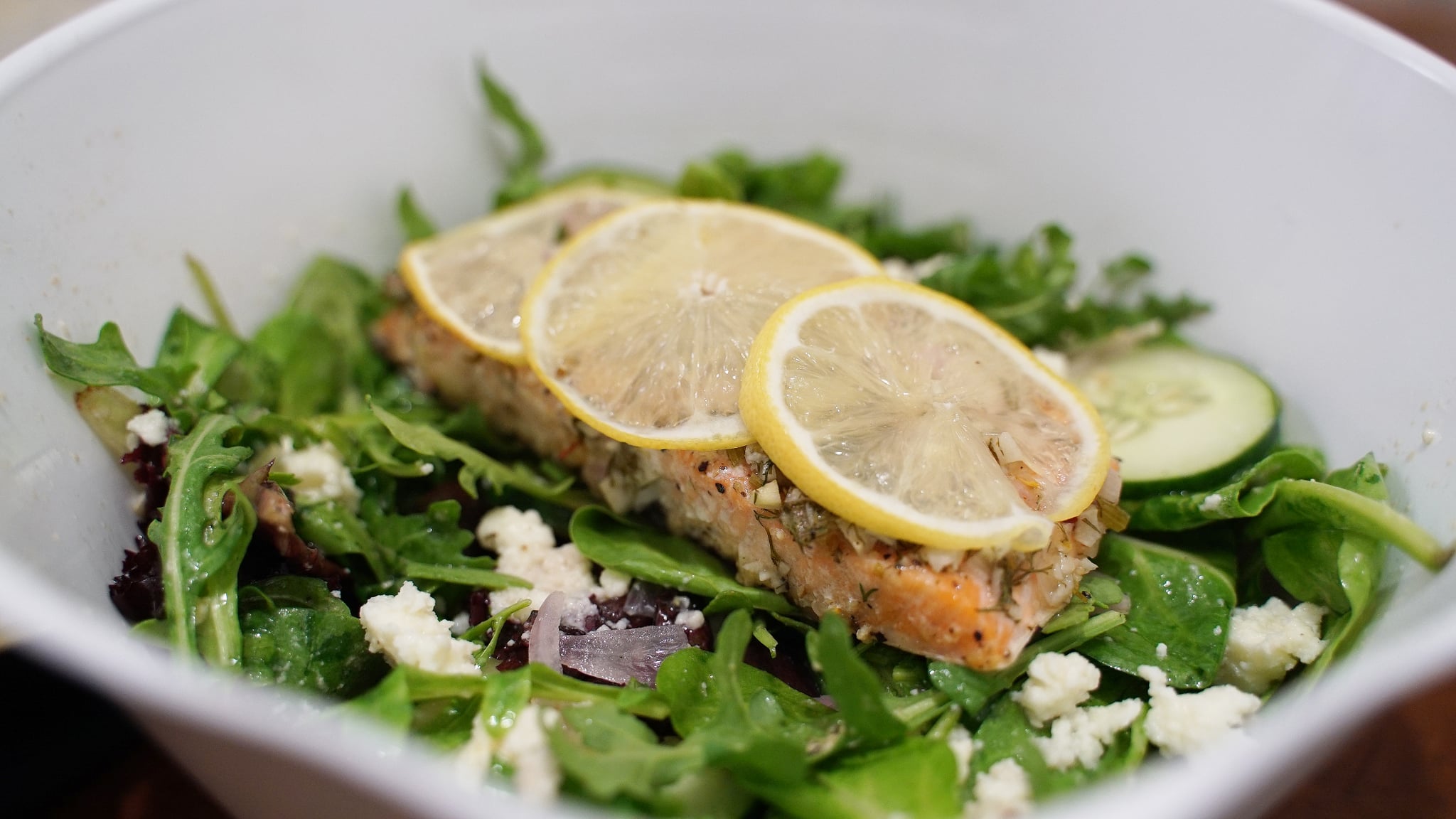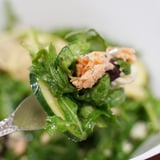 Ingredients
For the salmon and vegetables:
60ml olive oil, plus more for drizzling
4 cloves garlic, finely chopped
3 sprigs dill, chopped
1 shallot, 1/2 finely chopped and 1/2 thinly sliced
1 lemon, 1/2 juiced and 1/2 thinly sliced
Pinch of crushed red pepper flakes
Pinch of smoked paprika
1 small potato (Olivia Wilde used Russet), peeled and thinly sliced
1/2 courgette, thinly sliced into coins
Kosher salt and freshly ground black pepper to taste
340g skinless salmon fillet
For the salad and dressing:
2 tablespoons red wine vinegar
1 teaspoon Dijon mustard
1 teaspoon honey
Pinch of kosher salt
1 clove garlic, finely chopped
2-4 tablespoons olive oil
A few handfuls mixed greens, arugula, or lettuce
2 tablespoons kalamata olives, pitted
2 tablespoons crumbled feta
1/4 cucumber, sliced into 1/4-inch coins
Directions
For the salmon and vegetables:
Preheat the oven to 205ºC.
Combine the olive oil, garlic, dill, finely chopped shallot, lemon juice, red pepper flakes, and smoked paprika in a small bowl or jar. Shake or stir to combine. Set aside.
Fold a large piece of parchment paper in half to create a crease. Then unfold it and drizzle with a little olive oil.
On one side of the parchment, layer the potatoes, courgette, and sliced shallots, seasoning each layer with salt and pepper.
Place the salmon on top of the bed of veggies. Drizzle with about half of the lemon dressing (reserve the rest for serving), making sure to include the garlic and spices as you drizzle.
Lay the lemon slices on top of the salmon. Fold the parchment over the salmon and fold the edges to seal in all the ingredients.
Place the pouch on a sheet pan and bake until the salmon is just cooked and the vegetables are tender, about 20 minutes.
For the salad and dressing:
Add the red wine vinegar, Dijon mustard, honey, salt, and garlic to a small bowl and mix to combine. In a slow steady stream, add 2 to 4 tablespoons olive oil, stirring as you go to emulsify.
To serve:
Add the greens to a bowl and toss with the vinaigrette. Top with the kalamata olives, feta, and cucumber.
Unwrap the parchment and transfer the salmon and vegetables to the top of the salad. Serve with the reserved lemon dressing on the side.
Information
Category

Salads

Yield

2 servings

Prep Time

40 minutes

Cook Time

20 minutes

Total Time

59 minutes, 59 seconds
Image Source: POPSUGAR Photography / Kalea Martin