Starbucks Ghost Pumpkin Frappucino Review
I Tried the New Ghost Pumpkin Frappuccino at Starbucks – and It Has the Shock Factor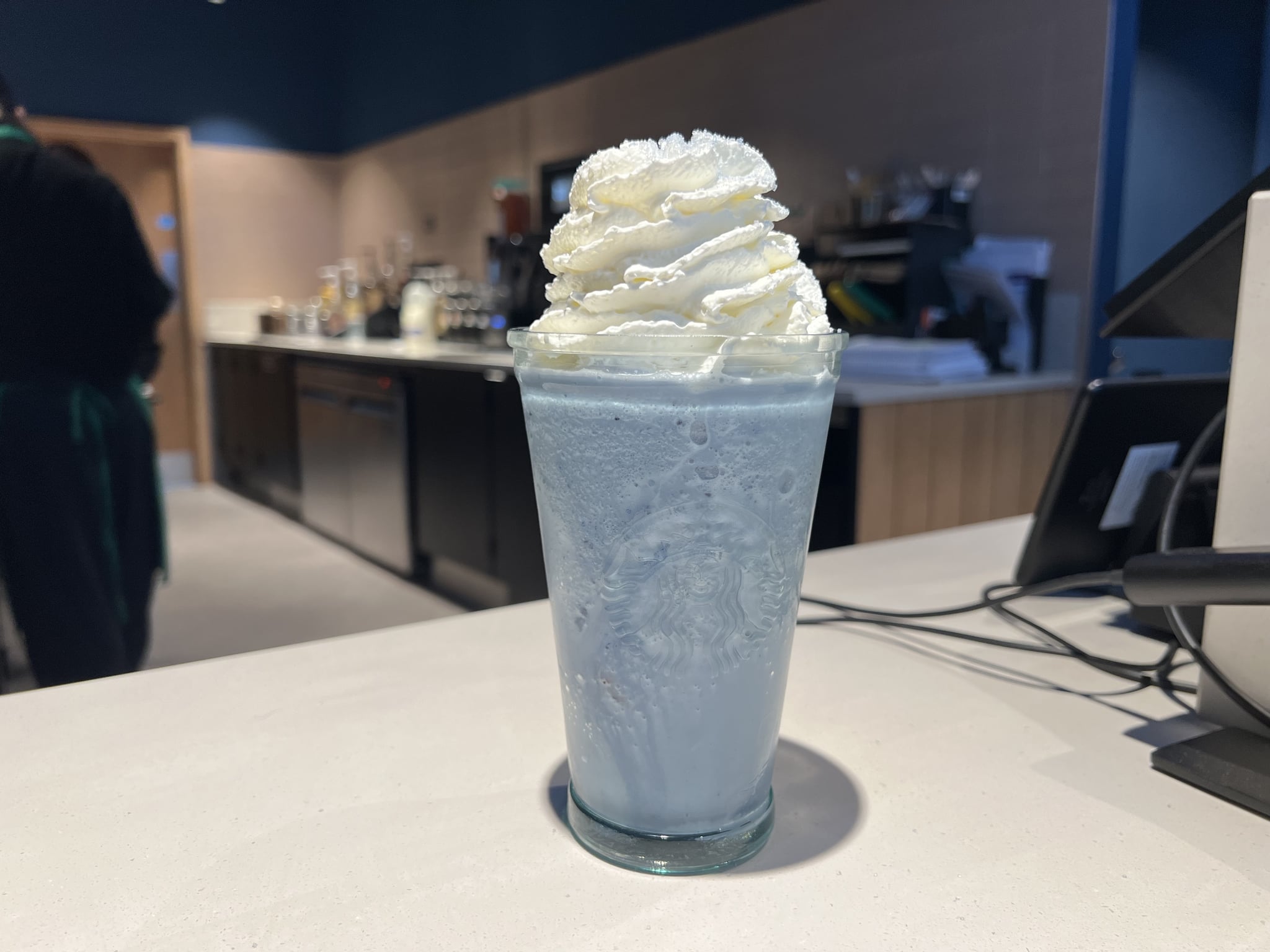 Move over Pumpkin Spice Latte, there's a new autumn drink in town. Starbucks has added to its Halloween offering by launching a new limited-edition Ghost Pumpkin Frappucino Blended Beverage, and this weekend is your last chance to give it a try.
If you've long been a fan of the cinnamon and nutmeg spices of the annual Pumpkin Spice Latte, then we have to warn you that this new Frappuccino is not in the same ball park. Consider it the cousin, rather than the sister. The creamy Ghost Pumpkin Frappucino has a savoury pumpkin richness inspired by the eerie bluey hues of Ghost and Crown Prince pumpkins and uses none of the spices we've grown to know and love. Instead, in addition to pumpkin, it's made with a mix of cocoa powder, spirulina, brown sugar, and butter.
Available from 19 to 31 October, the new Starbucks addition is finished with crunchy silver crystals that will tantalise your taste buds and get your Halloween juices flowing when browsing through options for your Halloween costume this year. But is it really worth adding to your October order? We got an exclusive taste ahead of time – keep reading for our verdict.
Starbucks Ghost Pumpkin Frappucino Blended Beverage Review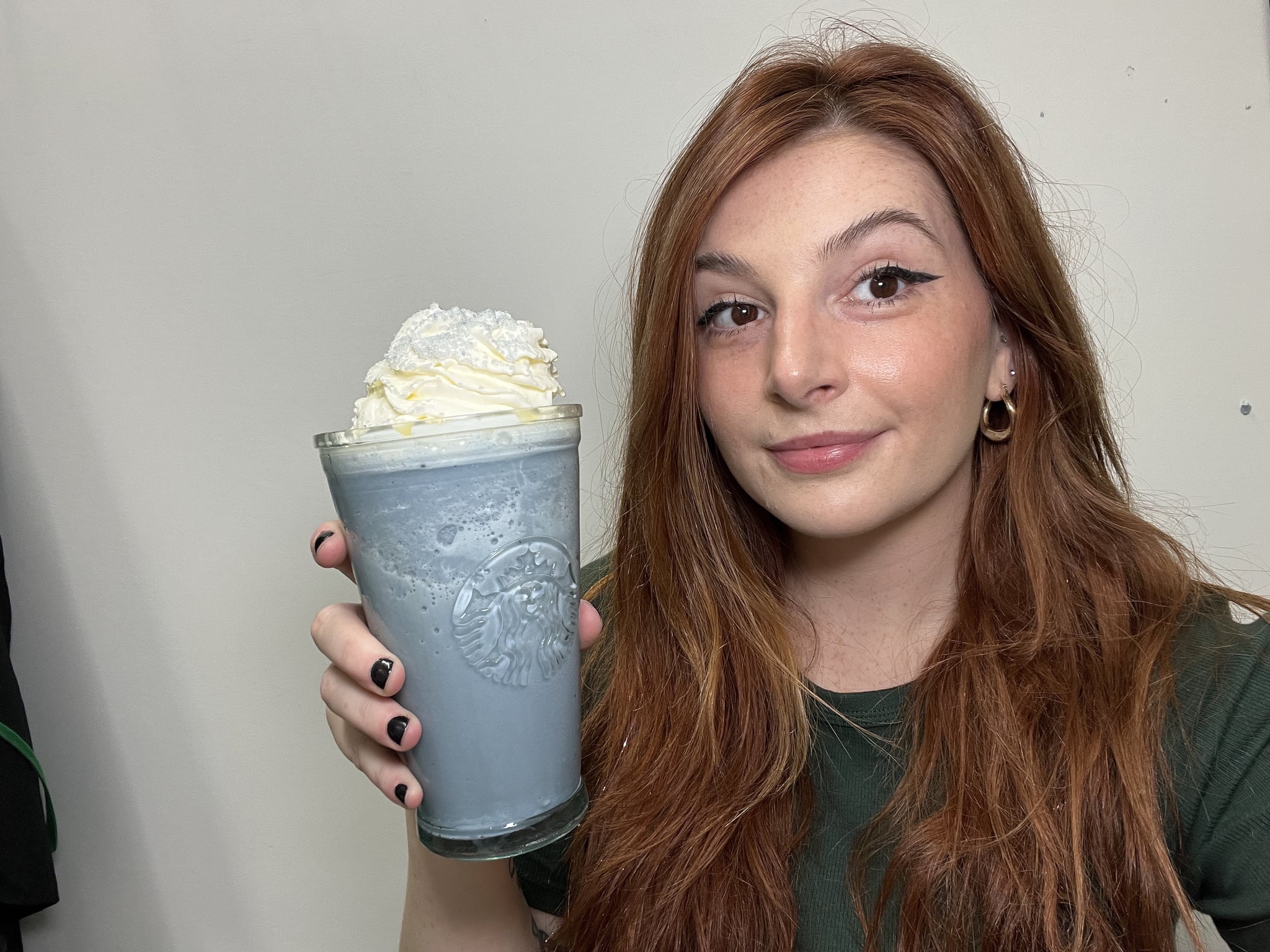 The Ghost Pumpkin Frappuccino definitely has the shock factor. While I knew it contained none of the usual PSL suspects, upon my first sip, I wasn't really ready for how different the taste would be to my usual autumn order.
After the initial sweet creaminess, my taste buds were hit with a wave of nostalgia. I still can't put my finger on exactly what it reminds me of, but I've concluded that it has a hint of the famous ButterBeer from the Harry Potter studios.
While there's definitely notes of buttery richness and sweet brown sugar, it's the taste of pumpkin that steals the show. I'm not going to lie to you, pumpkin isn't something I eat often. I'm more familiar with carving out an ambitious design than adding it to my dinner menu. But I did find that it tastes like the smell of the inside of a pumpkin. Hear me out; you know when you're dragging your spoon through the stringy, pip-riddled, never-ending pumpkin insides (because of course you went for the largest pumpkin, always forgetting how much arm muscle it actually takes to hollow it out) in order to create a jack-o'-lantern? That rich smell is infused into each sip of the drink.
The cocoa powder is used to create the colour, rather than enrich the taste, so there's no chocolatey flavours, but instead a roasted buttery taste. Despite being a cold drink, it has a warming feeling. And it's a strong yes from me for anything topped with whipped cream and crunchy crystals.
I must admit, I was also surprised by the colour. When I think of pumpkins, I think orange, but I loved the creepy aesthetic inspired by using the lesser-known pumpkin hue. The ghoulish grey-blue colour is perfect for any Instagram feed – ghost outfit optional.
When Is the Starbucks Pumpkin Ghost Frappucino Available?
The Pumpkin Ghost Frappucino is available from 19 to 31 October across the UK, starting at £4.15 for a tall size. Customers can add a Glow in the Dark Bling Cold Cup to really up their Halloween aesthetic this year, or snack on a Skeleton Cookie and Rest in Chocolate muffin to complete their order.
Image Source: POPSUGAR Photography / Chloe Dunn