How to Make a Vegan Cashew Cream Coconut Cheesecake
I Made a Vegan Cashew Cream Coconut Cheesecake, and It's as Delicious as It Sounds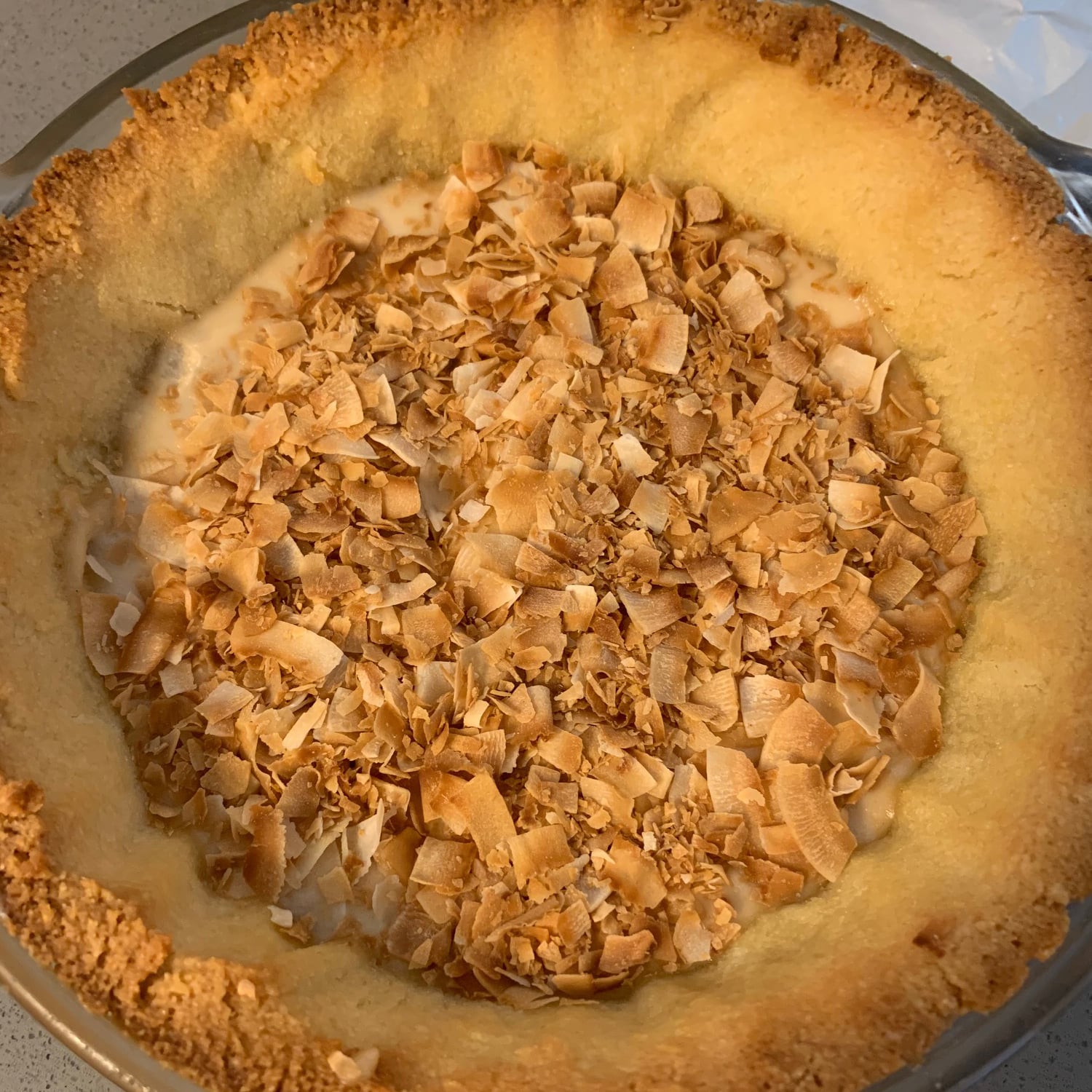 Dessert is my weakness. I rarely go a day without it, and as someone who doesn't eat dairy or gluten, sometimes that means I have to get creative. In an effort to satisfy my sweet tooth, I came up with this vegan coconut cheesecake recipe that might be one of the best desserts I've ever tasted. Made with plant-based ingredients (and lots of vegan butter), this recipe is like a cross between a cheesecake, a pie, and a big cookie. So it covers all the bases of deliciousness.
The crust is buttery and crumbly while the filling is creamy, sweet, and bright, thanks to the squeeze of lemon juice in the mixture, making it the perfect midday summer snack. It may look complicated, but all you really need to try this treat out for yourself is a mixing bowl, a baking tray, a blender, and a big sweet tooth. Read on to find out how to make this cashew-based vegan cheesecake for yourself ahead.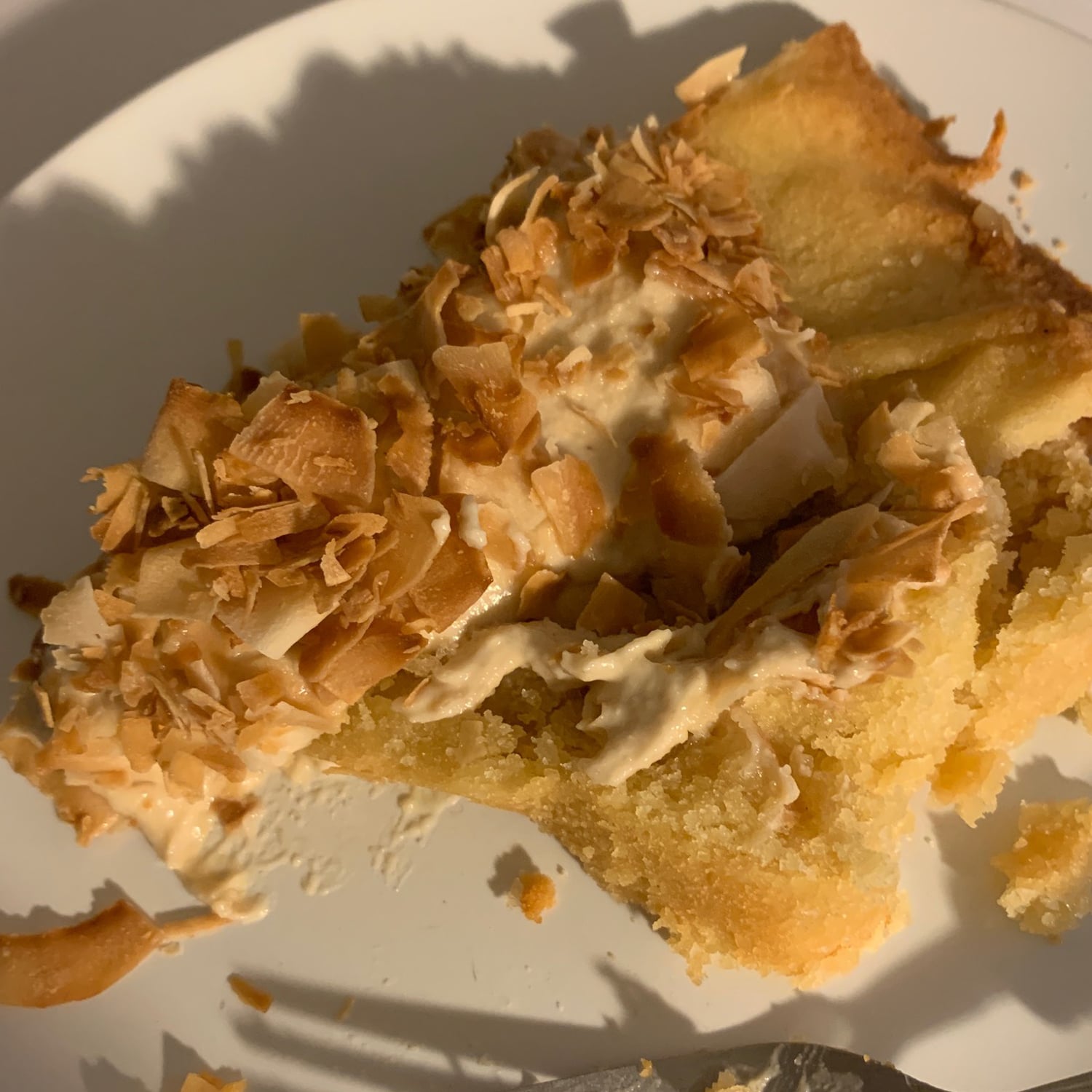 Vegan Cashew Cream Coconut Cheesecake
Chanel Vargas / POPSUGAR Food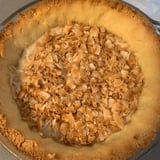 Ingredients
For the Filling:
1/2 teaspoon vanilla
1/2 cup almond milk
1 cup unsalted cashews
1 tablespoon lemon juice
2 tablespoons coconut oil
1 tablespoon apple cider vinegar
4 tablespoons maple syrup or sweetener of your choice
For the Crust:
1/2 cup margarine or vegan butter
1/2 cup vegan powdered sugar
2 cups almond flour
1 teaspoon vanilla
1/4 teaspoon salt
Directions
Preheat the oven to 350°F.
Add the cashews to a small pot and bring to a boil. Let the cashews cook for about 10 minutes until soft enough to blend. Note: If you have cashews that have been soaking in room temperature water overnight, skip this step.
In a blender, combine your softened cashews, maple syrup, lemon juice, vanilla, apple cider vinegar, almond milk, and melted coconut oil until smooth and creamy.
Place the cashew cream filling in the fridge to chill.
While the filling is in the fridge, sprinkle one cup of shredded or flaked coconut on a tray or cookie sheet and bake for five to eight minutes. Remove the coconut from the oven once it is a light golden brown. Set aside.
To a large bowl, add the almond flour, melted vegan butter, powdered sugar, vanilla, and salt. Stir with a spatula until a moist and buttery dough is formed.
Using your fingers, press the dough into a greased pie pan to form a crust and bottom layer that is approximately 1/8-inch thick all around.
Poke about 10 holes in the crust using a fork and bake for 20 to 25 minutes, until the edges are golden brown and the crust is fully cooked through.
Allow the crust to cool before spooning in the cashew cream filling and topping with the toasted coconut shreds.
Place the cheescake in the fridge and allow it to chill for at least one hour. Serve with whipped cream of your choice and enjoy!
Information
Category

Desserts, Pies/Tarts

Yield

Serves 6 people

Prep Time

1 hour

Cook Time

20 minutes

Total Time

1 hour, 19 minutes, 59 seconds
Image Source: POPSUGAR Photography / Chanel Vargas