Castlery Madison Leather Armchair: Editor Review With Photos
This Luxe Leather Armchair Is On Sale and Worth Every Penny
As POPSUGAR editors, we independently select and write about stuff we love and think you'll like too. If you buy a product we have recommended, we may receive affiliate commission, which in turn supports our work.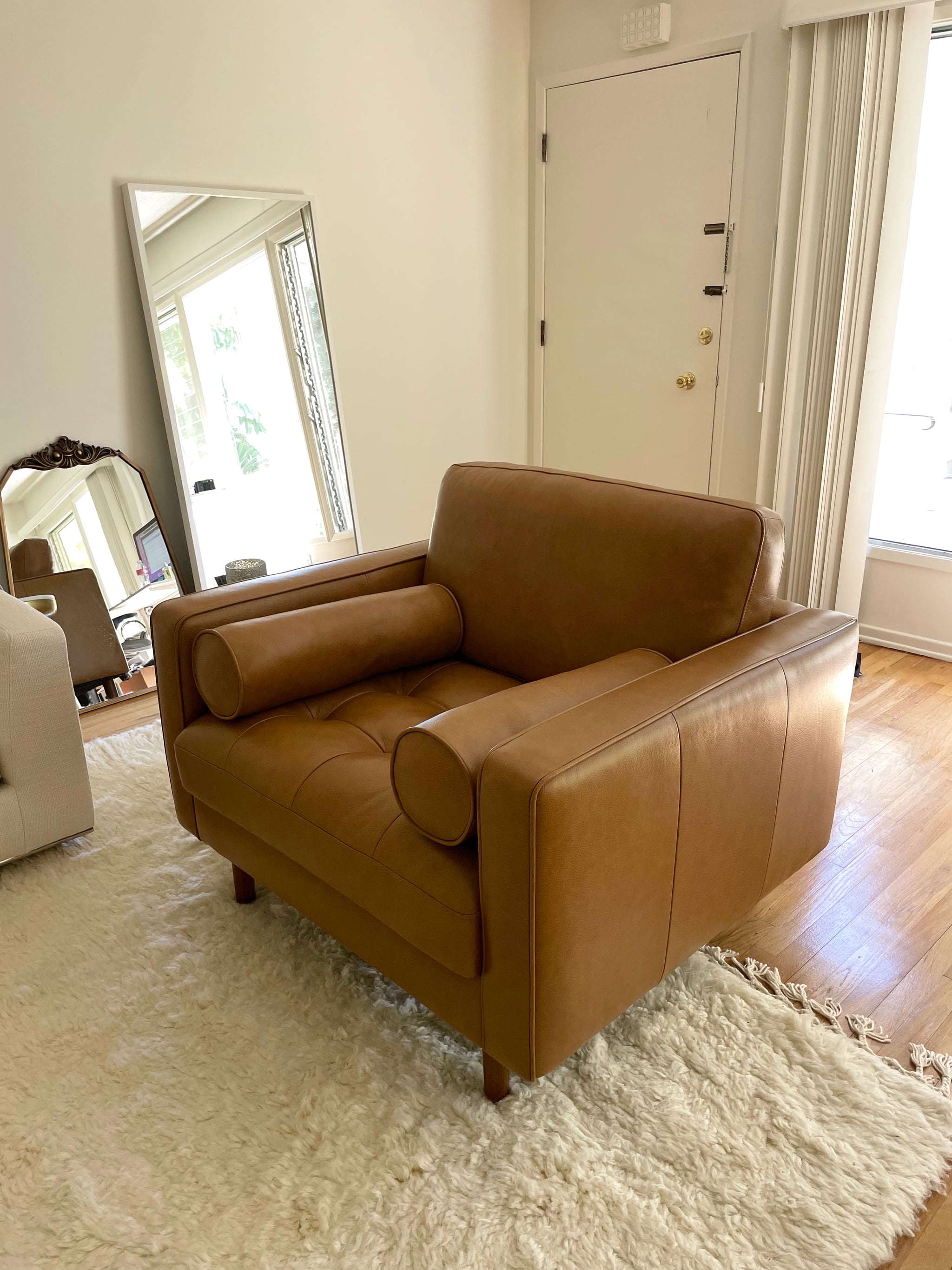 I moved into a new apartment last December, and the first thing on my mind was finding new furniture to fill up my space. Since I was living on my own for the first time, I was most excited to pick pieces that were truly my aesthetic and no one else's. I found the perfect cream couch from Castelry for my living room, but I knew I needed a few other pieces before everything was truly complete. Since I loved the experience of shopping with Castlery and my couch turned out to be absolutely flawless, I knew the Castlery Madison Leather Armchair ($1,159, originally $1,299) was going to be the perfect addition as soon as I saw it on the brand's website.
What I Like About the Castlery Madison Leather Armchair
In the past, I haven't found leather furniture to be the most comfortable, so I was a little nervous when purchasing this chair. I had a leather couch in a previous home and ended up getting rid of it after just a few months because it was too stiff and the back was way too straight. Thankfully, all of my leather furniture fears disappeared as soon as I sat on this armchair for the first time. The Madison Leather Armchair is, hands down, the most comfortable piece of leather furniture my body has ever touched, and I don't say that lightly. Not only does the leather feel like absolute butter, but the cushions are also the ideal mix of soft and sturdy. There's enough support that I don't feel like I'm entirely sinking in, but everything is cushy enough that I can sit for hours at a time reading, watching TV, or even working on my laptop.
The design is midcentury modern and features biscuit tufting, round bolsters, and tapered legs. My apartment is more laidback and beach-themed, and it still fits in seamlessly with the rest of my furniture. Most of the pieces in my apartment are white or cream, and I wanted something that would bring a little colour into the space. This armchair is neutral but adds a little something to my living room that was missing before.
The chair wound up being a little bigger in person than I anticipated, but I'm not complaining. If you remove the bolster cushions, you could have two smaller people sit in this chair comfortably, which makes it a little like a loveseat. Since my apartment is tiny, I've become appreciative of any extra possible seating, and this chair has been a favourite for guests whenever they come over.
What's Worth Noting About the Castlery Madison Leather Armchair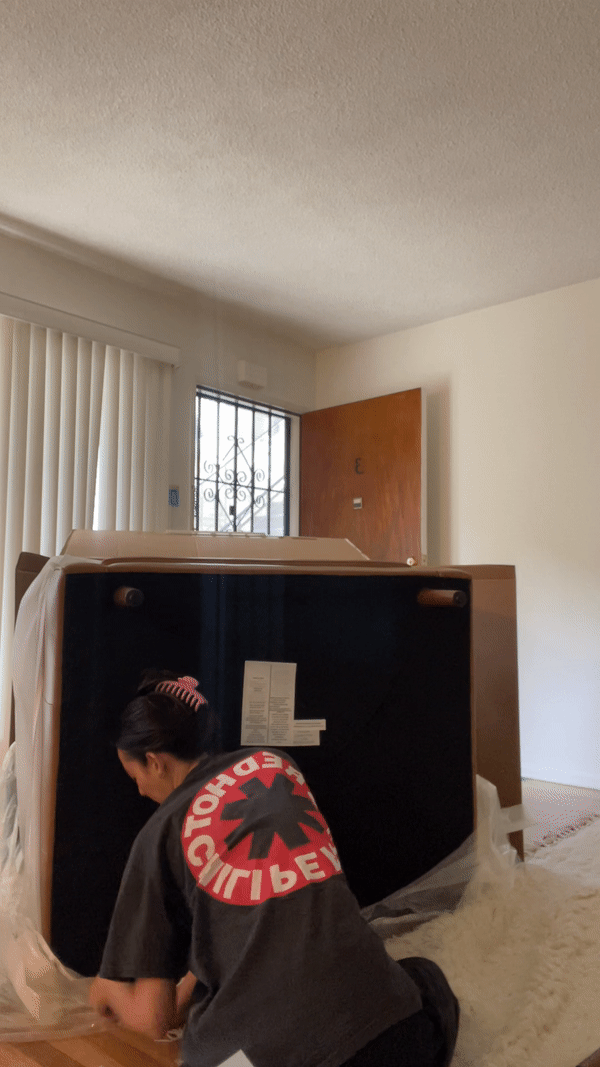 If you opt out of white-glove delivery, the chair requires a bit of assembly. The box containing the chair was delivered directly into my living room, and all I had to do was remove the box and situate the chair where I wanted it. It had tons of padding and a cover over it to avoid damage during the shipping process, which I appreciate. The legs came housed underneath the chair in a hidden zippered pocket. I didn't need any tools to assemble the legs; I just had to put the chair on its side and screw them in. All in all, it took me about five minutes total to assemble and didn't require any additional help.
Since my apartment is on the smaller side, I opted to get just the armchair, but it does come with a matching ottoman if you have a larger space you're looking to fill. There's also an entire Castlery Madison furniture line, which includes a bed and a few different sofa options if you're interested in having your pieces match.
Who Is the Castlery Madison Leather Armchair Best For?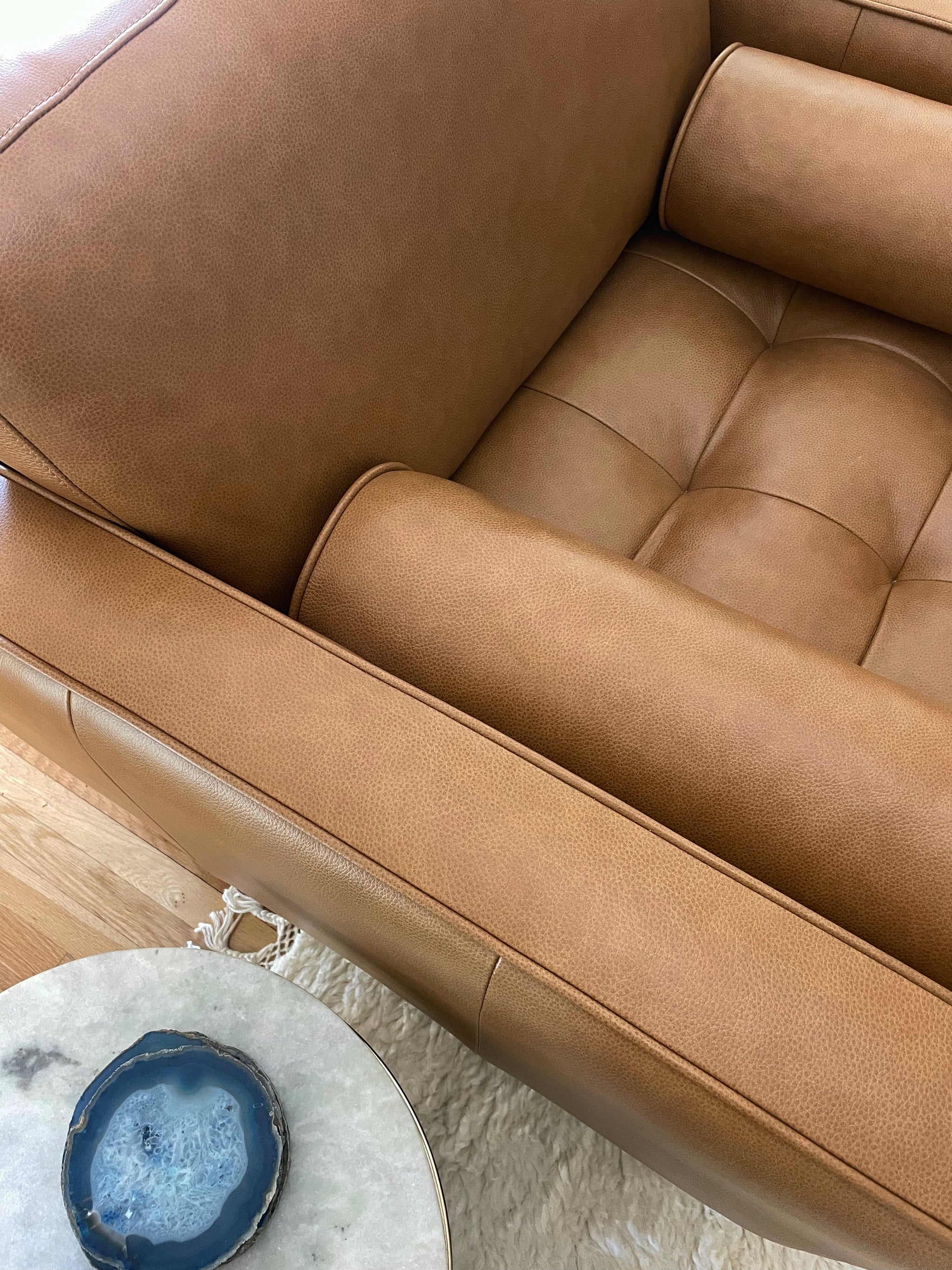 The Castlery Madison Leather Armchair is a worthwhile purchase for anyone seeking an accent chair that's sure to turn heads. The piece is luxurious and absolutely looks it, but it's also just about as cosy and snug as it gets. In my opinion, the chair would look great in any space, and the quality is truly unmatched.
Is the Castlery Madison Leather Armchair Worth the Splurge?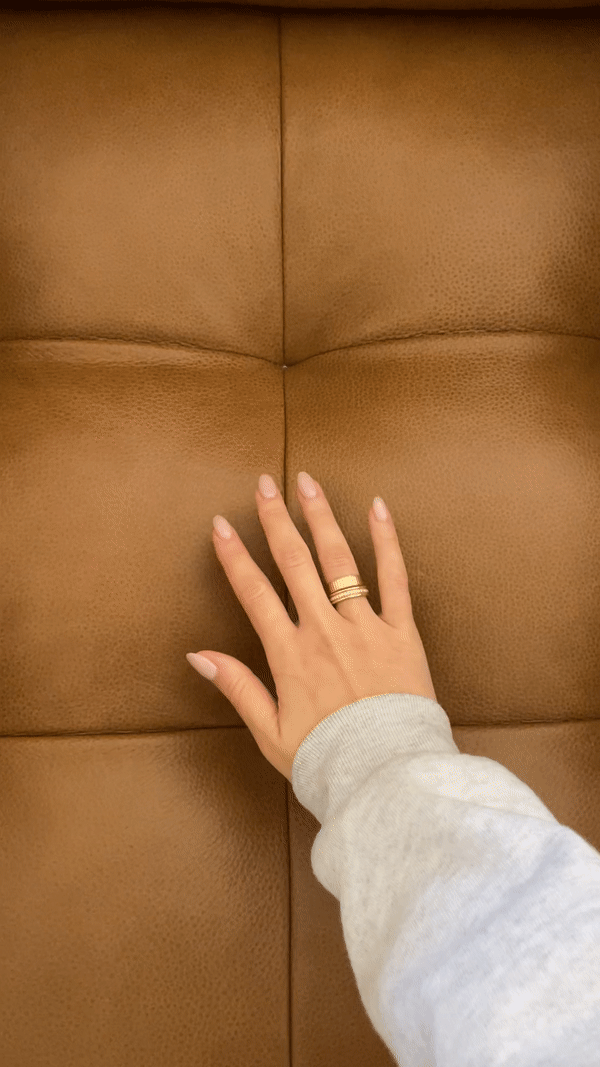 If I had to go back and do it all over again, I would still choose this armchair in a heartbeat. I've had it in my space for a while now, and it continues to hold up well, even through the numerous visitors I've had and the occasional spill. It's easy to keep clean with a slightly damp rag, and I haven't noticed any issues with the leather cracking or splitting.
While researching furniture options for my new place, I kept running into issues with shipping times, and Castlery has some of the fastest options I've seen. I received my chair in less than two weeks, and scheduling the delivery was a stress-free process that only required a few clicks.
Additional Details About the Castlery Madison Leather Armchair
The Castlery Madison Leather Armchair comes in a fabric and leather material.
The fabric colour options are bisque, aquamarine distressed velvet, antique gold velvet, and stone.
The leather option comes in the colour caramel.
The seating height is 19.3", and the armrest height from floor to arm is 27.2".
The leg frame is wood and is stained walnut.
The fabric composition is top grain leather.
The seat filling is foam, fibre, and pocket spring filled, the back is fibre filled.
The chair comes with two round pillows.
Where Is the Castlery Madison Leather Armchair Available to Purchase?
The Castlery Madison Leather Armchair is available on the brand's website.
Image Source: POPSUGAR Photography / Renee Rodriguez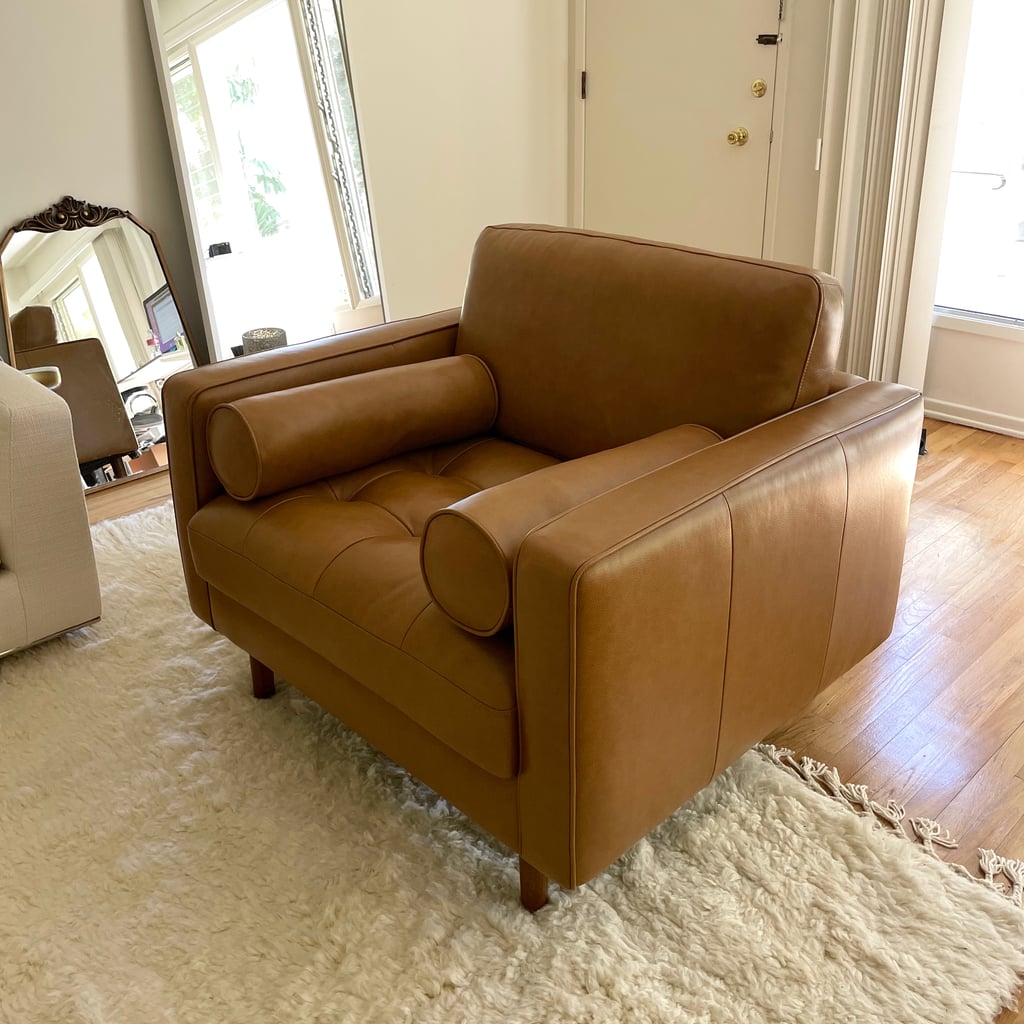 Castlery Madison Leather Armchair
$1,299
$1,159
Now 11% off
from castlery.com
Buy Now