Andrew Garfield Talks Astro Compatibility on the Red Carpet
We Fact-Checked Andrew Garfield's Astrological Knowledge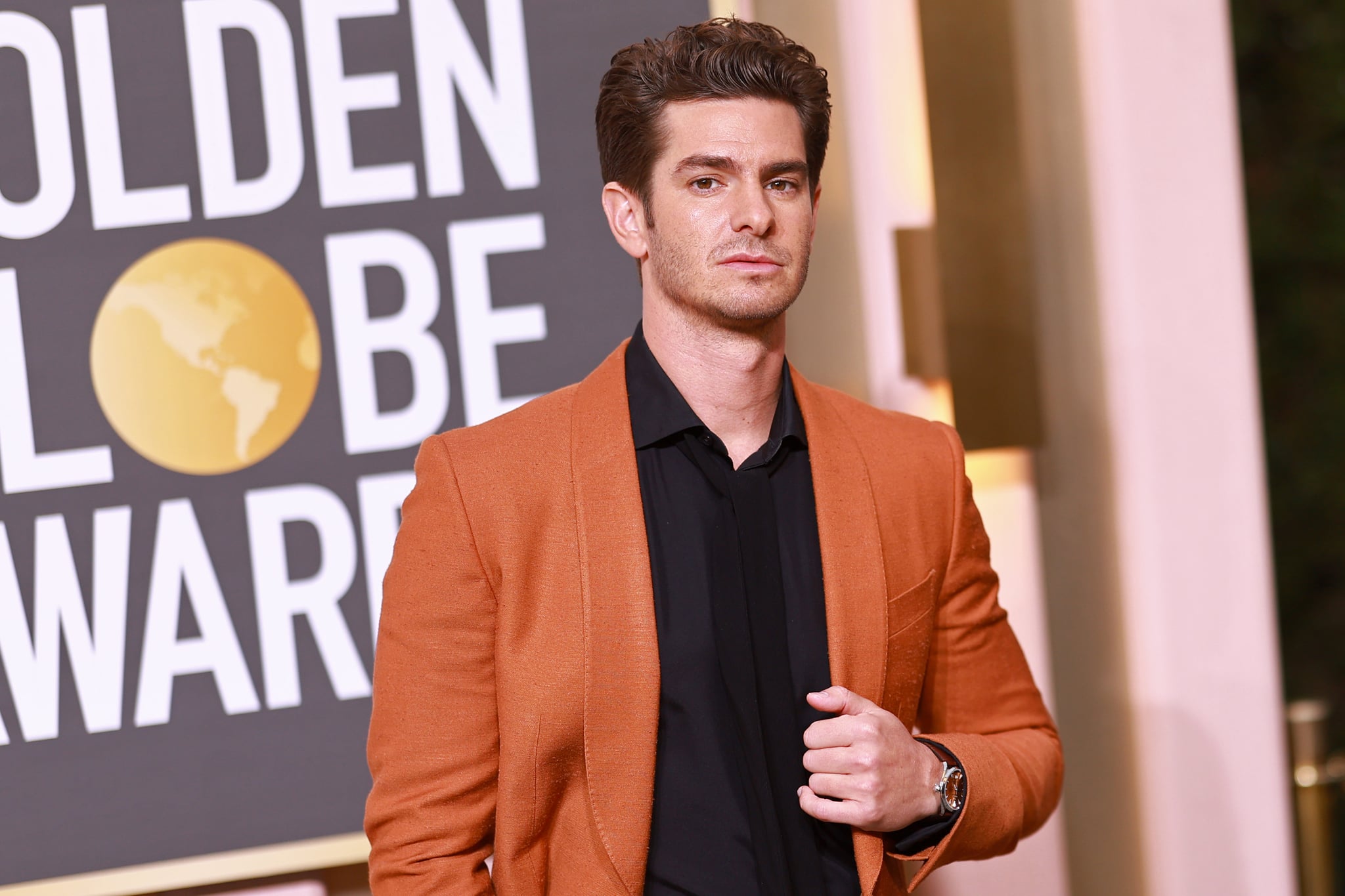 Image Source: Getty / Matt Winkelmeyer/FilmMagic
At the Golden Globes on Tuesday night, YouTube star Amelia Dimoldenberg and Andrew Garfield reunited on the red carpet. If you haven't been watching their interview on a loop, be prepared for top-notch flirting skills and to experience secondhand blushing. But besides the chemistry between them, viewers were quick to credit Garfield for his astrological knowledge.
Apparently, Garfield knows the compatibility of matching sun and moon signs, and astrological girlies are over the moon about it. After Dimoldenberg invited the Golden Globe nominee to her birthday party on 30 Jan., he asked, "What astrological sign are you?" When he discovered her sun was Aquarius, he reacted quite strongly because, coincidentally, that's his moon sign.
"If you have a sun sign that's the same as the moon sign of someone else . . . " he lingered, "it's good." The pair proceeded with some awkward flirty banter, and Garfield admitted jokingly that he's "scared of what it could turn into" since he's "not ready for that kinda thing." They wrapped up the exchange with Garfield signing a "best friend certificate" before leaving for the ceremony.
Before we all fall too hard for Spider-Man's charms, we reached out to astrologer Liz Simmons to fact-check if this sun-moon compatibility thing is legit. "It can be a great indicator of fantastic astrological compatibility," she says. "We may feel inexplicably drawn to someone if they have the same sun sign as our moon sign or vice versa." That's because your sun sign (the zodiac sign you probably know based on the day you were born) represents your outside self or basic identity, and the moon sign represents your inner self and emotional needs. The compatibility of these two signs can show how well two people's personality traits fit together.
Amelia Dimoldenberg and Andrew Garfield reunite at the #GoldenGlobes pic.twitter.com/kG14zwbVrk

— Film Updates (@FilmUpdates) January 12, 2023
"When a matching sun and moon sign come together in synastry, there will be this innate feeling of, 'I know you, I see you, I understand you,'" Simmons says. Synastry is the comparison of two astrological charts to determine areas of strength and weakness in a relationship. "But [Garfield's] cheeky response about not being ready for it is likely due to the fact that this synastry aspect is intense, deep, and emotionally complex. Depending on the zodiac sign, it could be obsessive," Simmons adds.
And when Garfield claims not to be ready for something off carpet, that could be his Aquarius moon coming into play. "Aquarius moons can be notoriously detached and even aloof, mainly due to the apprehension of falling in love," she says. "So his Aquarius moon would need plenty of time to build up a friendship to feel vulnerable in love. I wouldn't even be surprised if Andrew spent weeks intellectualising this interaction instead of sitting with his emotions."
And the best friend certificate? "Now that is a surefire way to make an Aquarius moon swoon," she adds. "It really solidifies the connection between her sun sign and his moon sign, since they would both be partial to being best friends before anything else."
After an informal poll of the POPSUGAR staff on whether they've seen this happen in their own love lives, the experience was pretty universal. "My moon is Leo, which is my husband's sun sign, and we are famously in love, so I believe it," Mirel Zaman, wellness content director, responded. Personally speaking, my moon is Capricorn — the same as my partner's sun sign — and we've been together for more than eight years.
Apparently, there are many benefits to this kind of pairing, according to Simmons. "If we have the same moon sign as our partner's sun sign, then we can create an incredibly strong emotional bond with our partner," she says. The sun sign in the relationship will likely be a more driven force, so the sun sign can help the moon sign to come out of its shell, since there will be an emotional foundation for both people to fall back on. The moon sign will likely provide an intuitive support system, so this can help soften the sun sign's self-expression. "Together, both partners will feel intuitively inclined to work, understand one another, and support each other," she explains. "Plus, if we have the same moon sign as our partner's sun sign, this can also help with facilitating self-work, personal growth, and self-confidence in the relationship."
Now the internet is begging for Dimoldenberg and Garfield to go on a date to prove this astrological theory for us — because clearly, when the two are together, it's practically magic. Unfortunately for Dimoldenberg, Garfield's charms continued to roam the red carpet, going on to wish a Vanity Fair correspondent a happy "27th" birthday. "It's the beginning of your Saturn return," he said. "It's going to be a hard time." One thing's for sure: the man knows his way around a birth chart.