Daisy Lowe Navigates Being a New Mum
Daisy Lowe Unveils the Rules She Set With her Fiancé to Keep Spark Alive During Parenthood
As POPSUGAR editors, we independently select and write about stuff we love and think you'll like too. If you buy a product we have recommended, we may receive affiliate commission, which in turn supports our work.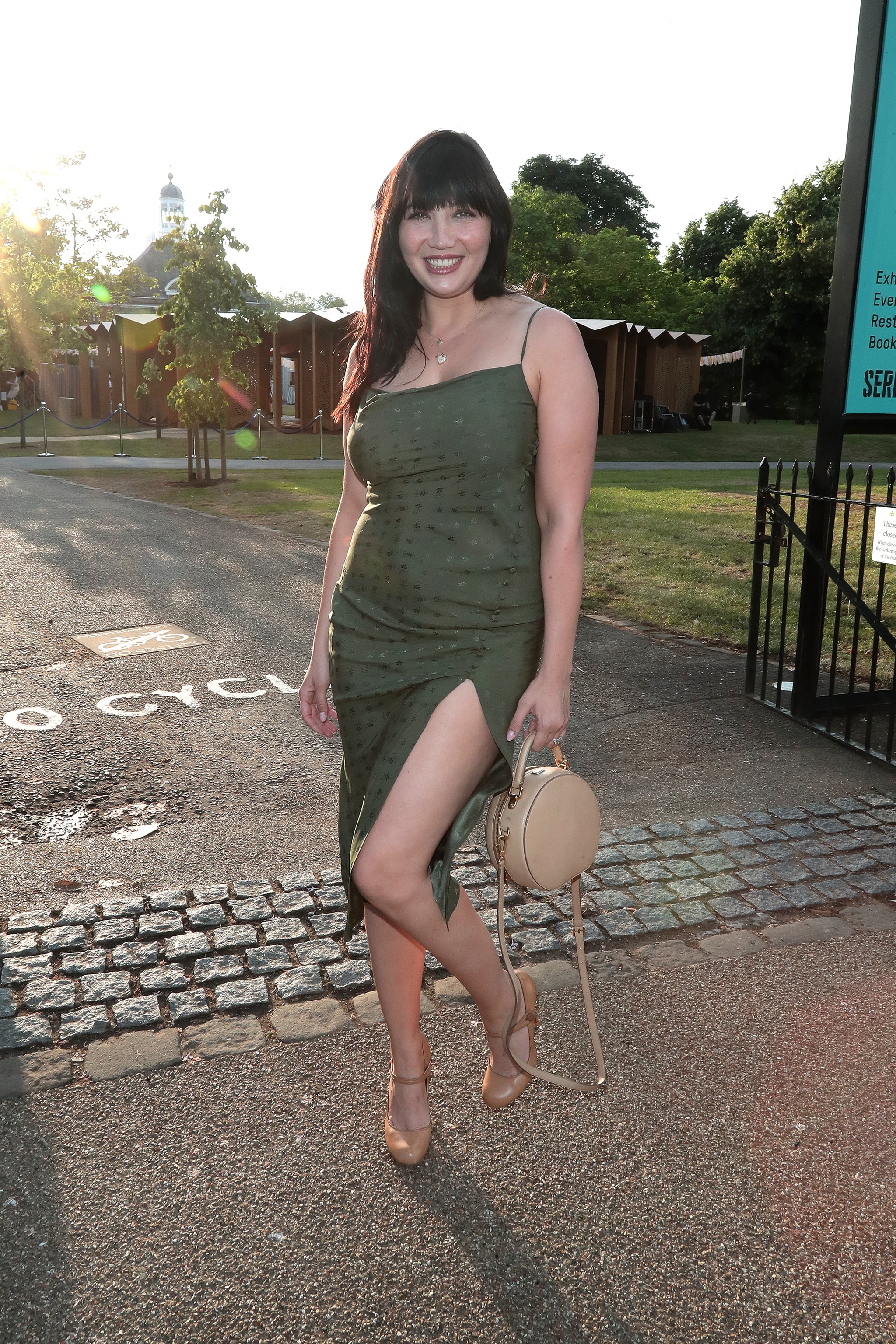 In the past three months, Daisy Lowe's life has shifted dramatically. The model has swapped catwalks and fashion shoots for walks in the park and nappy changes after she welcomed her first child, Ivy Love Saul, with her fiancé Jordan Saul. "Nothing can prepare you for the heart explosion, but also the hormones, the exhaustion, how my body didn't feel like my own for so long," the 34-year-old tells POPSUGAR.
Lowe is now navigating parenthood for the first time, and all the wonders (and challenges) that being a mother brings; "shaky hips" during pregnancy, and feeling "so tired that I feel delirious and my brain is mush". Still smiling whilst admitting the harder parts of welcoming a newborn, Lowe takes it all in her stride. "But that's fine, I'm okay with it... Her smiles every day make it totally worth it," she says.
While most new parents will recognise that time is taken up with the arrival of a little one, Lowe has rules in place to ensure that she and her partner Saul still make time for each other. "The only rule that we have in our household is by 10pm – I'm trying to make it earlier – [we have] no phones, no screen time, so that we actually just switch off, unwind, and have some time for the two of us," Lowe explains.
Every evening once Ivy is asleep, her partner – like clockwork – also runs her a bath. "It's the best 10 minutes to just have a hot bath and have my shoulders relaxed from holding Ivy all day and breastfeeding and changing," she says. "Then once-a-week or once a fortnight we have a date night." They started to implement date night in the thick of their newborn bubble, when Ivy was eight weeks old. One set of the grandparents will watch her, whilst the new parents have some much-deserved time to themselves. "It's the only time I'm ever away from Ivy, and initially I felt so guilty about it," Lowe admits. "But actually, it's really important to have just a couple of hours so that I then come back feeling like I've got all of the energy to tackle motherhood."
Their date nights also offer a chance for the couple – who got engaged in September 2022 – to reconnect and keep their spark alive throughout parenthood. "It has actually made a huge difference, it's also really nice to just sit across the table from Jordan and look at him and go, 'Wow, we've done this. This is wild and I love you.'"
The model is also trying to carry out sustainable swaps in her baby bag – including introducing reusable nappies from Bambino Mio – in a bid to stop contributing to the 10 million single-use nappies which are thrown away each day in the UK, according to the brand. "[Reusable nappies] are exactly the same experience, except you get to wash it afterwards and reuse it, which feels a lot better," she says. "I'm not saying I'm a saint, I have to sometimes use a combination of single-use [nappies] when I'm caught out, but I'm trying my best."
Lowe is also campaigning via a petition for the UK government to create a national strategy to reduce nappy waste in line with other single-use plastic items like plastic straws and cotton buds, which were banned in 2020. "On a personal level, I can do as much as humanly possible, but I'm only one person," Lowe adds. "For sustainability to really have an impact, it has to be change on a government level and there has to be education and resources."
The Bambino Mio nappies are usable from birth-to-potty, and are water resistant, feature double elasticated legs, a shaped waist, and an inner pocket to stop any pesky leaks. Plus, they come in some seriously cute designs like crocodiles, giraffes, and sunshine smiles. Shop the nappies below.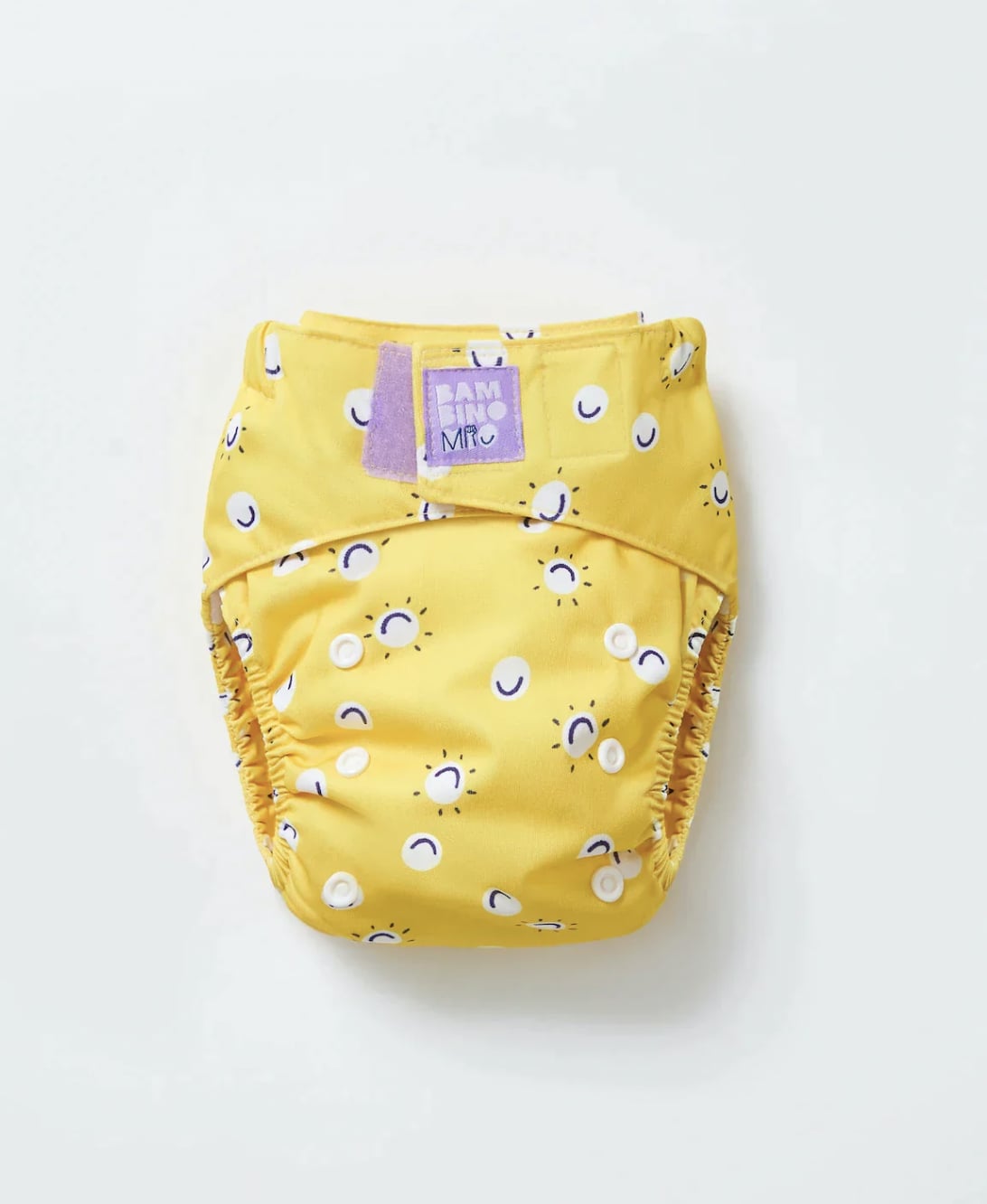 Revolutionary Reusable Nappy (£20)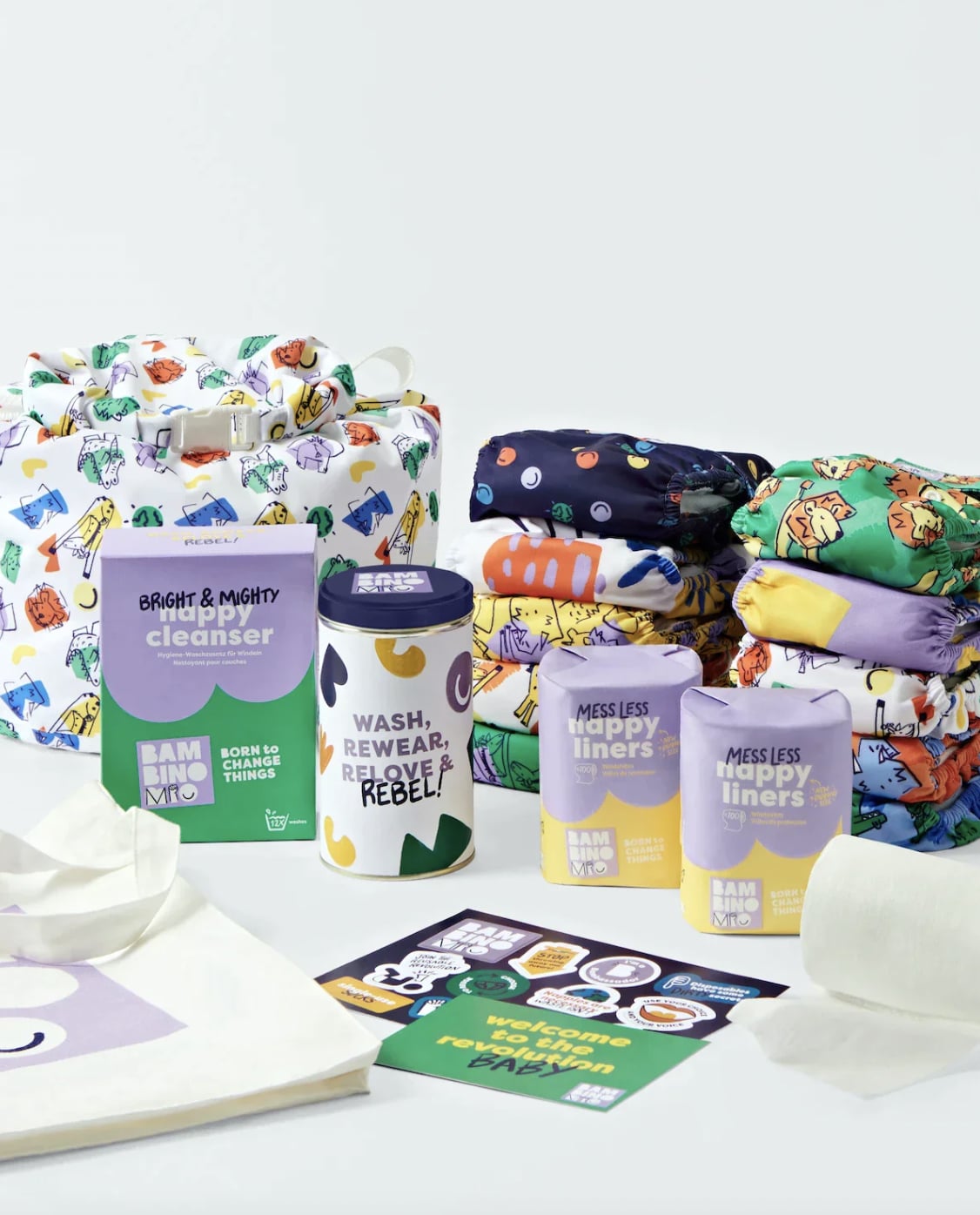 The Little Rebel Bundle (£200)