How Many Kids Do Emily Blunt and John Krasinski Have?
Emily Blunt and John Krasinski Are Parents of 2 — Meet Daughters Hazel and Violet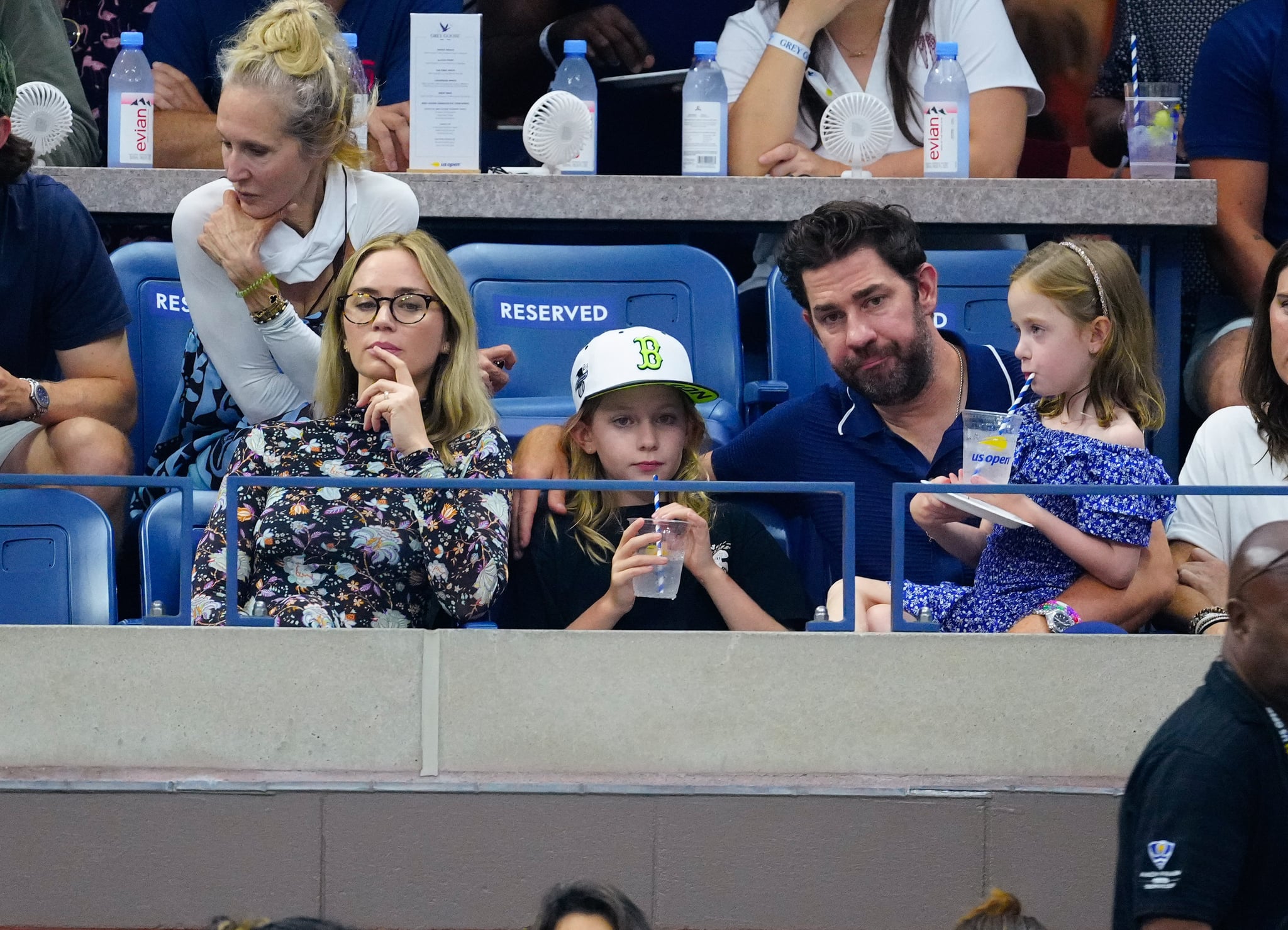 Among our favourite celebrity parents are Emily Blunt and John Krasinski, who are mum and dad to two daughters. The couple first got together in 2008 and married in July 2010 at George Clooney's estate in Lake Como, Italy. While the actors are never shy about making red carpet appearances or doing interviews, they're very conscientious about keeping their kids out of the spotlight.
Krasinski doesn't post about them on his social media (and Blunt doesn't even have social media!), and the girls have so far never accompanied their parents to a red carpet. However, the family of four did have a rare outing together at the US Open on 8 Sept., as they were photographed in the stands at New York City's Arthur Ashe Stadium (pictured above).
The family's day out came just a few weeks after Blunt revealed that she took a step back from her acting career this year to spend more time with the couple's kids. "I worked quite a bit last year and my oldest baby is 9 — like we're in the last year of single digits — and I just feel there's cornerstones to their day that is so important when they're little," she explained during the 10 July episode of the "Table For Two" podcast. "And it's, 'Will you wake me up? Will you take me to school? Will you pick me up? Will you put me to bed?' And I just need to be there for all of them. For a good stretch. And I just felt that in my bones."
After her comments received wide media coverage, Blunt clarified in a 21 July interview with The Guardian, "I'm not quitting Hollywood. It's OK, guys. Just taking a little bit of downtime."
According to Blunt, it sounds like her kids aren't all that interested in their parents' jobs. In a 7 June interview with Harper's Bazaar, Blunt revealed that her kids don't pay much attention to the couple's fame. "When I see myself up on a billboard, I have this complete dissociation with it," she said. "And I can see my children doing the same — they might say, oh, there's Mama, but it's not exciting for them. What's exciting for them is when I can pick them up from school and take them swimming."
Even though their filming schedules are often hectic, Krasinski and Blunt frequently talk about how much their family means to them, and they go to great lengths to make sure they all spend time together. Blunt told Harper's Bazaar she makes sure to never be away from her kids for more than two weeks at a time. "Because even though they're hardy, and they're used to this strange life, it's still rough on them when I have to go away," she said. "There are cornerstones of the girls' day that I don't want to compromise on — like, will you wake me up, take me to school, pick me up and put me to bed? And I just want to be able to say, yes, yes, yes. It's such an exhale for me to be able to do that."
She also told the outlet that she doesn't love the idea of her kids — or anyone's — going into showbiz. "My toes curl when people tell me, 'My daughter wants to be an actress,'" Blunt said. "I want to say, don't do it!' Because it's a hard industry and it can be very disappointing. A lot of people tell you not to take things personally — but it's completely personal, especially when you're being judged on how you look. So you just have to endure that side of things."
Krasinski seems to share similar values, as he told People at a film festival in October 2018, "Family comes first no matter what, and that's non-negotiable."
Keep reading for everything else we know about Blunt and Krasinski's daughters.
Hazel Krasinski
The couple's first daughter, Hazel, was born in February 2014. Blunt and Krasinski have made it clear that they don't even want their girls to know that they're famous, but Hazel must have been tipped off somewhere as to her mom's celebrity status.
"[Hazel] came home the other day and we were in the kitchen and she goes, 'Are you famous?' And I'd never heard her . . . we've never said that word in our house. We don't talk about it," Blunt told The Sunday Times (via People) in May 2021. "Someone at school had clearly said it. I was like, 'Um . . . not really, I don't think I am. Did someone say that to you, Haze?' She said, 'Yeah,' but then she wouldn't divulge much more, you know, but it's weird. It's weird."
Violet Krasinski
Their second daughter, Violet, was born in June 2016. Krasinski shared the news on Twitter on 4 July of that year, writing: "What better way to celebrate the 4th... than to announce our 4th family member!!! 2 weeks ago we met our beautiful daughter Violet."
In 2020, Blunt revealed that because her daughters attended a British school during the pandemic, they had readopted British accents. "They've actually been in a proper school with school uniforms," she said during an episode of "Jimmy Kimmel Live!" "Miraculously, they're sounding quite British, which I'm completely over the moon about." She added that she had, at the time, watched a video of Violet singing "Jingle Bells" with an accent that she described as "almost like a Cockney" and very similar to Dick Van Dyke in "Mary Poppins." "The craziest accent ever — it was kind of brilliant," she said.