Watch Kelce Brothers' Mom Congratulate and Console Her Kids
Watch Donna Kelce Sweetly Console and Congratulate Her Two Sons After the Super Bowl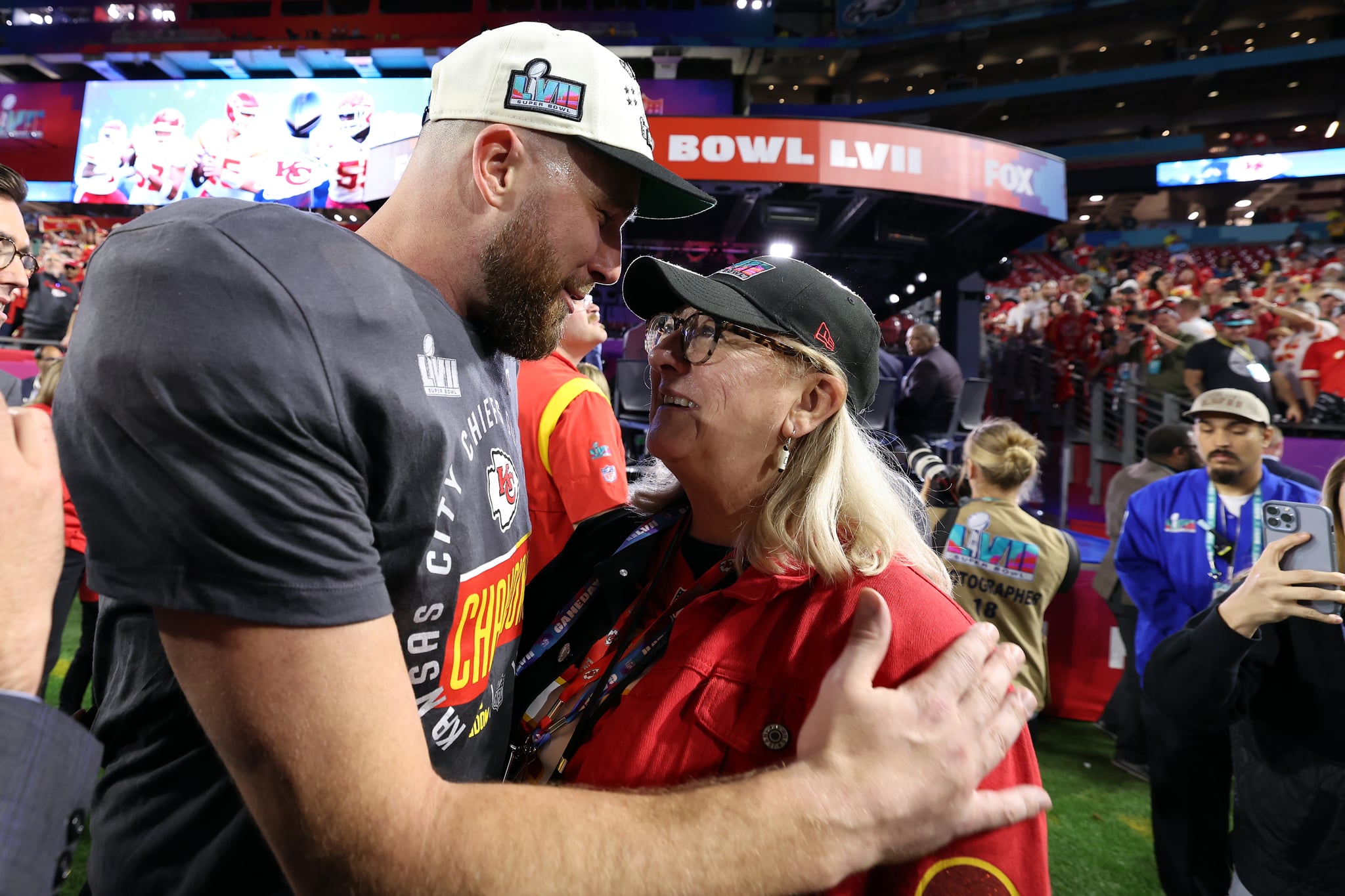 Image Source: Getty Images / Christian Petersen
On Feb. 12, Donna Kelce broke a new mom record: both her sons played in the Super Bowl. The catch? They were on opposing teams.
Brothers Jason Kelce of the Philadelphia Eagles and Travis Kelce of the Kansas City Chiefs faced off in Phoenix, AZ, on Sunday, Feb. 12, for the Super Bowl LVII Championship ring. And their mom, Donna, was there to support both of them — as equally as she could.
After a neck-and-neck game, the Chiefs came away with the win just three points ahead of the Eagles thanks to a field goal they scored in the last 10 seconds. Shortly after, videos circulated online of Donna hugging each of her sons, consoling Jason, and congratulating Travis, who also scored a touchdown for the Chiefs in the first quarter.
Look at @tkelce's face when he sees @dkelce1 🥺 #SBLVII pic.twitter.com/lPvSMkzKoY

— NFL (@NFL) February 13, 2023
The Kelce brothers also found each other among the confetti after the game, and exchanged a hug and some encourageing words.

"There's nothing you can really say to a love one in a situation like that," Travis said in the post-game press conference, according to CBS Sports. "You joke around all the time and say you want to beat your brother on the biggest stage ever, but it's a weird feeling . . . Obviously, it came down to the end and we've got all the respect in the world for those Eagles, man. There was nothing I could really say to him other than that I love him and he played a hell of a year, hell of a season."
Mom's always there. 💚@JasonKelce @DKelce1 pic.twitter.com/lDA2dLhx3W

— NFL (@NFL) February 13, 2023
Ahead of the game, Donna promised not to pick a side. "I can't, you know, as a mother, you just can't pick one against the other. It's 50/50 and it always will be," Donna told Entertainment Tonight on Feb. 9. She's so 50/50 that she's known for rocking a split jersey with both their teams on it — including at the Super Bowl, where she wore a denim jacket bearing half Chiefs colours and half Eagles colours, emblazoned with both her sons' numbers, as well as Nike Air Force 1 High Top sneakers with one foot decorated for each team.
Donna's attempt to stay neutral goes far beyond her outfits. She decided not to go to any of the playoff games because she couldn't be there for one game if she chose to go to the other. However, she has squeezed two games into one day before. In 2022, she travelled nearly 1,300 miles in a single day to see both of her sons play, Yahoo Sports reports. After she watched her eldest defeat the Tampa Bay Buccaneers in Philadelphia, she flew to Kansas City, MO, where she surprised her younger son after the game.
"For all the stars to align and for them to get through high school and college and the pros. And for them to both play in the Pro Bowl and to play in the Super Bowl, and then for this to happen. This is just like a dream come true," Donna told ET. "I can't express enough how special this is for the family and it's just crazy."
She knew going into the game that the aftermath might be difficult. "Obviously, there's going to be somebody that's going to go home heartbroken," she told Today. "They won't have the bragging rights at the Thanksgiving table, but this is going to be an awesome event and I'm really looking forward to it."
The way Donna handled the Super Bowl is the perfect example of how to handle competition between siblings. No matter what she did as a mother, one brother was going to come away from the game with a trophy, and the other with a loss. So, in light of Donna's pro handling of this tough situation, POPSUGAR spoke with Bisma Anwar, a licenced mental health counselor at TalkSpace, on what parents can do to cheer on siblings who are competing with each other and how to celebrate one child's win while supporting the child who lost.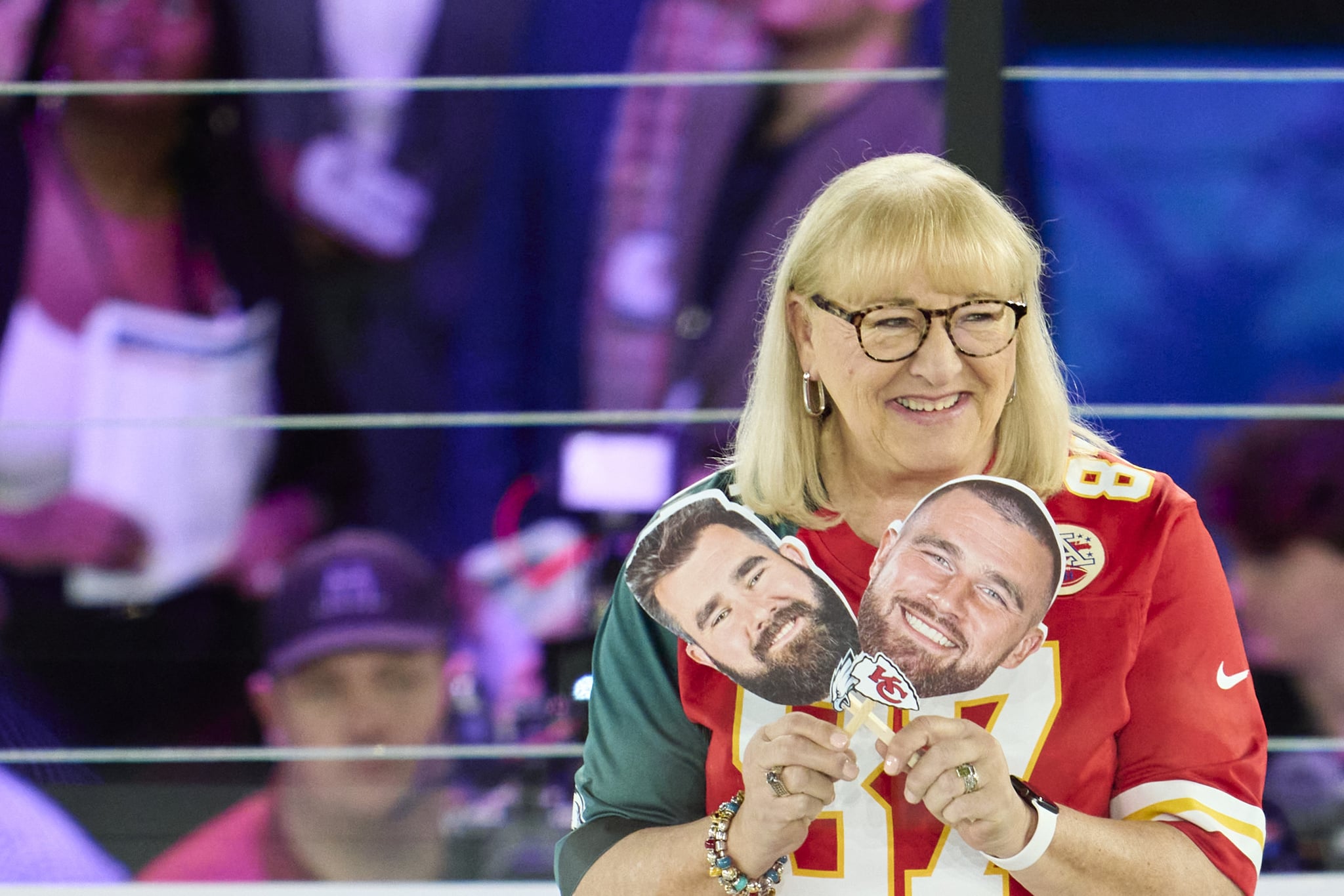 Image Source: Getty Images / Cooper Neill
Check In With Each Child Individually
It's important to talk to both children about whatever their experience was and give them space to process. Ask them questions like: What was your experience like? How did that feel? How was that for you? How are you doing? Just make sure you're checking in and make sure you're supporting the child that lost, Anwar says. "And then with the child that was successful, it's this idea of, 'That's great, we're so happy for you.'" She also suggests holding these conversations individually with the kids rather than collectively. Essentially, treat each child as an individual and don't assume that they're both having the same emotions.
Validate Each Child's Feelings
It's important to validate each child's experience without it being at cost of the other child. "Every child deserves each of their experiences to be acknowledged," Anwar says. This is also a great time to have a teaching moment. Depending on the age, she suggests different approaches. "With an older child (like teenagers), they might be sad about losing but they'll probably want to participate in celebrating their sibling's win."
Younger children, however, might have a harder time understanding the concept that they can simultaneously be sad about their loss and happy for someone else's success. Take them aside to talk through the experience. "Explain that you know it's hard to lose, and it's upsetting, and it's frustrating and this is not the outcome that you wanted. But also, we have to learn to be gracious when we lose as well as when we win," Anwar explains. It really comes down to communication in those moments.
Emphasise That You Love Them Equally
Kids need to know their parents are supporting them because they love them. Try to have "a very unified message around it," Anwar says. "Both parents giving that same message that 'We're here to support you, and we love you and we're rooting for both of you.'" Make it clear that there's no preference for one child over the other.
If a child accuses a parent of favouritism or says they feel like they weren't getting the same kind of attention, don't try to belittle it. Anwar says this often happens in families. "There might already be a little bit of that sibling rivalry dynamic," she adds. "To a certain level, it's healthy, because that's just the way it is. But if a child is expressing that, then I think the parents really need to take notice and be mindful rather than just rejecting what that child is saying by shutting them down with a simple, 'No, obviously we love you both equally.'"
Rather than being dismissive, it's about acknowledgment, validation, and explaining it to them, Anwar says. Remind them that there's a lesson that can be taken away from this kind of situation, even if it's not the outcome they wanted.
— Additional reporting by Lauren Mazzo
Image Sources: Getty Images / Cooper Neill and Getty Images / Christian Petersen