Chanel Celebrates No. 5 Fragrance With London Pop-Up Store
Chanel Celebrates Its Factory 5 Collection With an Immersive Experience at Selfridges
As POPSUGAR editors, we independently select and write about stuff we love and think you'll like too. If you buy a product we have recommended, we may receive affiliate commission, which in turn supports our work.
Chanel is celebrating the 100th birthday of its legendary No. 5 fragrance like many of us are celebrating our birthdays after nearly a year of lockdowns and Zoom parties: it's going big. Back in May, the French fashion house created a film series that examined both the cultural and intellectual significance of celebrity on the world, highlighting the fact that after 100 years, Chanel No. 5 is basically a celebrity in its own right. And this month, Chanel launched a covetable limited-edition No. 5 collection accompanied by an immersive in-person experience at Selfridges in London.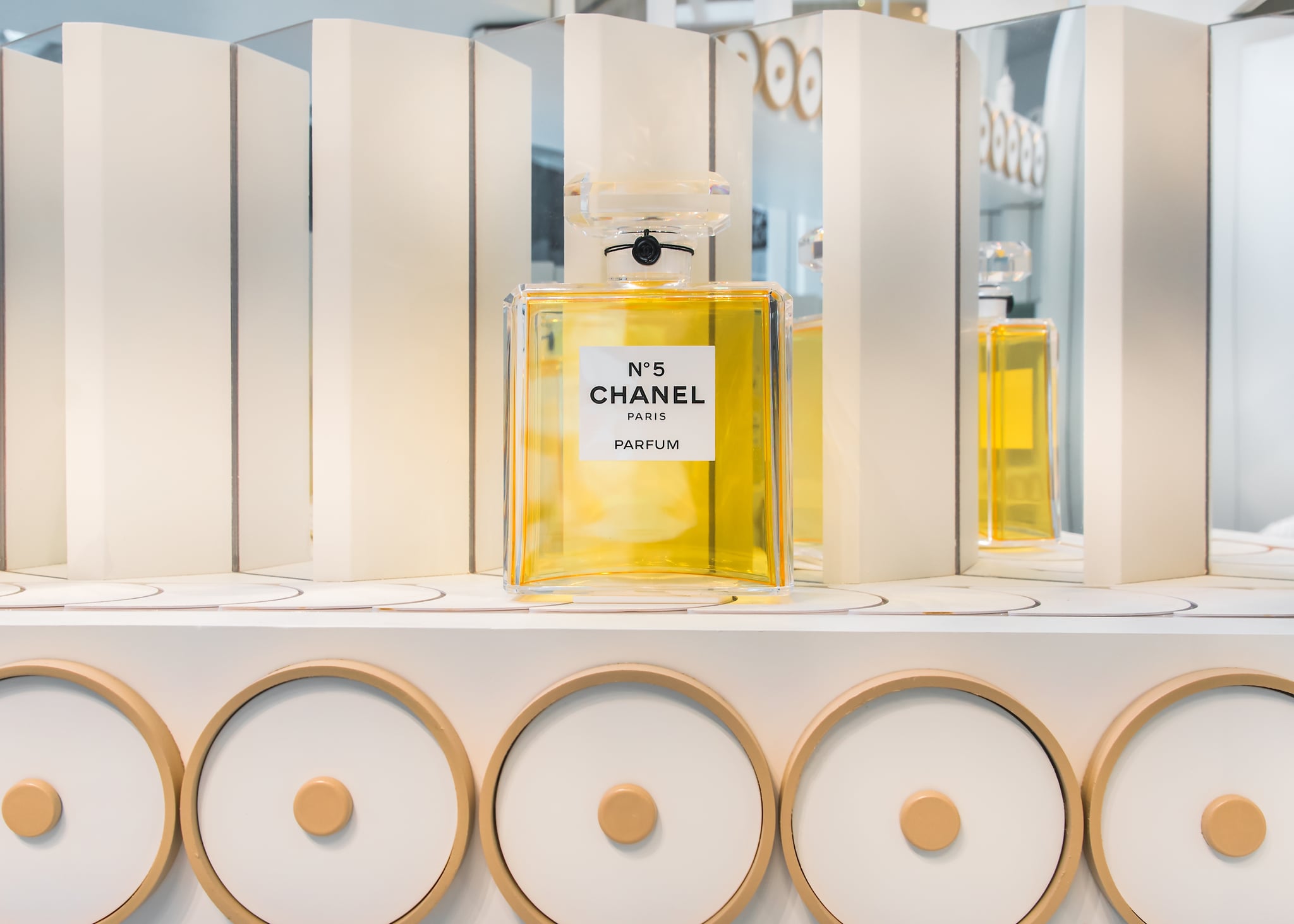 Image Source: Chanel
The 17-piece Chanel Factory 5 collection sees the iconic scent repackaged in various mundane household objects — all of which have been covered in the fragrance's signature black and white packaging. With a nod to the pop-art movement of the '60s, the brand stashed No. 5-scented bath tablets in a tea tin, shower gel in a paint can, and body oil in a burette. The range also includes a few non-beauty items that are sure to sell out fast, like a glass water bottle labelled "No. 5 L'EAU", and the chicest packing tape we've ever seen.
All of these high-end everyday items not only provide some serious Instagram candy and decorative items for our homes (that Chanel tea tin already has a permanent spot on the vanity), but they also offer up commentary on the meaning of luxury, similar to the function of Andy Warhol's Campbell's soup cans or Roy Lichtenstein's comic-strip paintings, except instead of fine art, the medium is high-end perfume.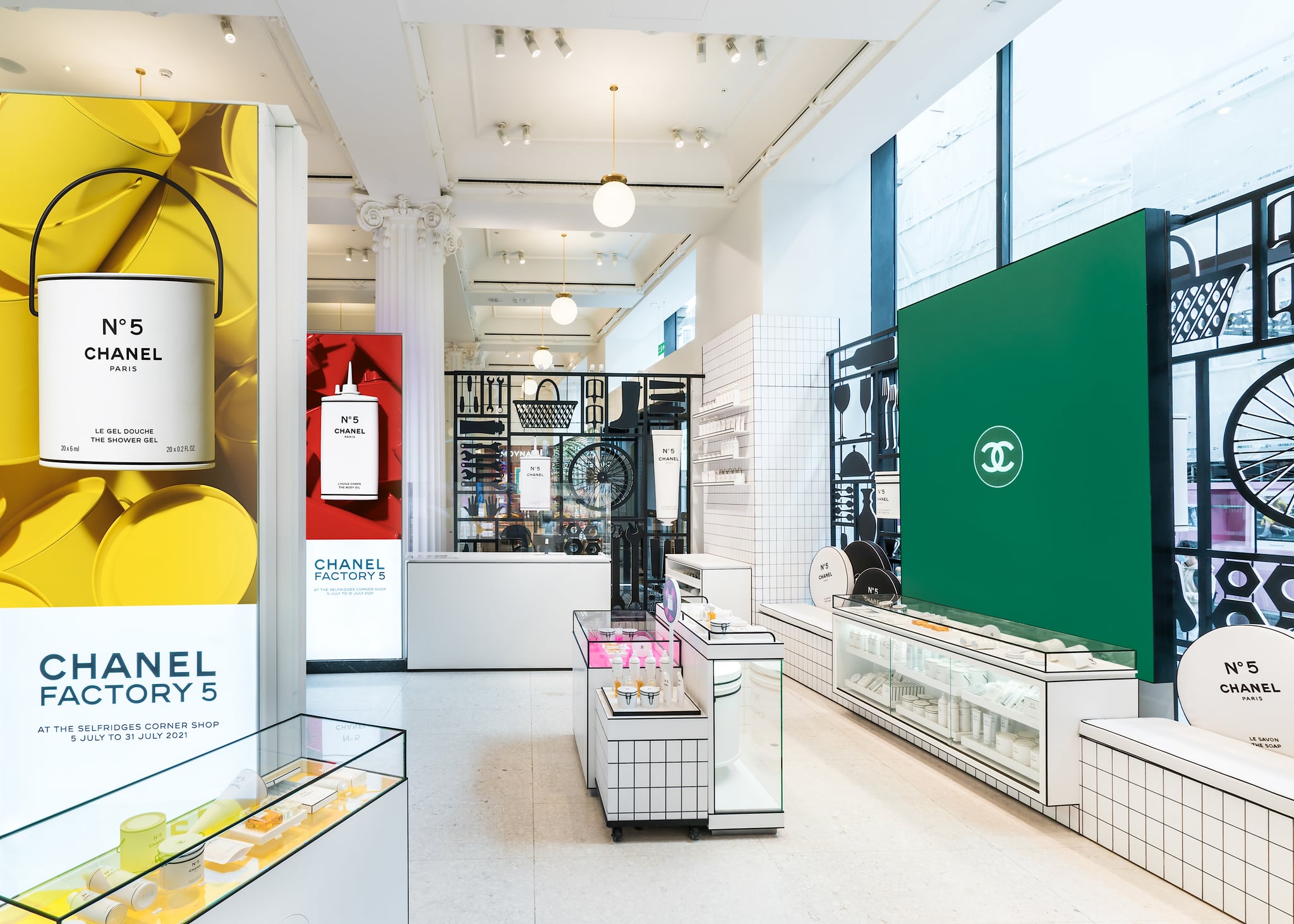 Image Source: Chanel
"There can be as much value in products that we use regularly as in products that we use for very special occasions. It's all about the experience these products give you," Thomas du Pré de Saint Maur, Chanel's head of global creative resources for fragrance and beauty, said via press release. "By taking popular consumer items out of their context and dressing them up in the aesthetics of No. 5, we return to Chanel's first creative gesture: that of transforming a functional object into a desirable luxury item. That's what Chanel Factory 5 is all about: offering the experience of luxury in everyday life."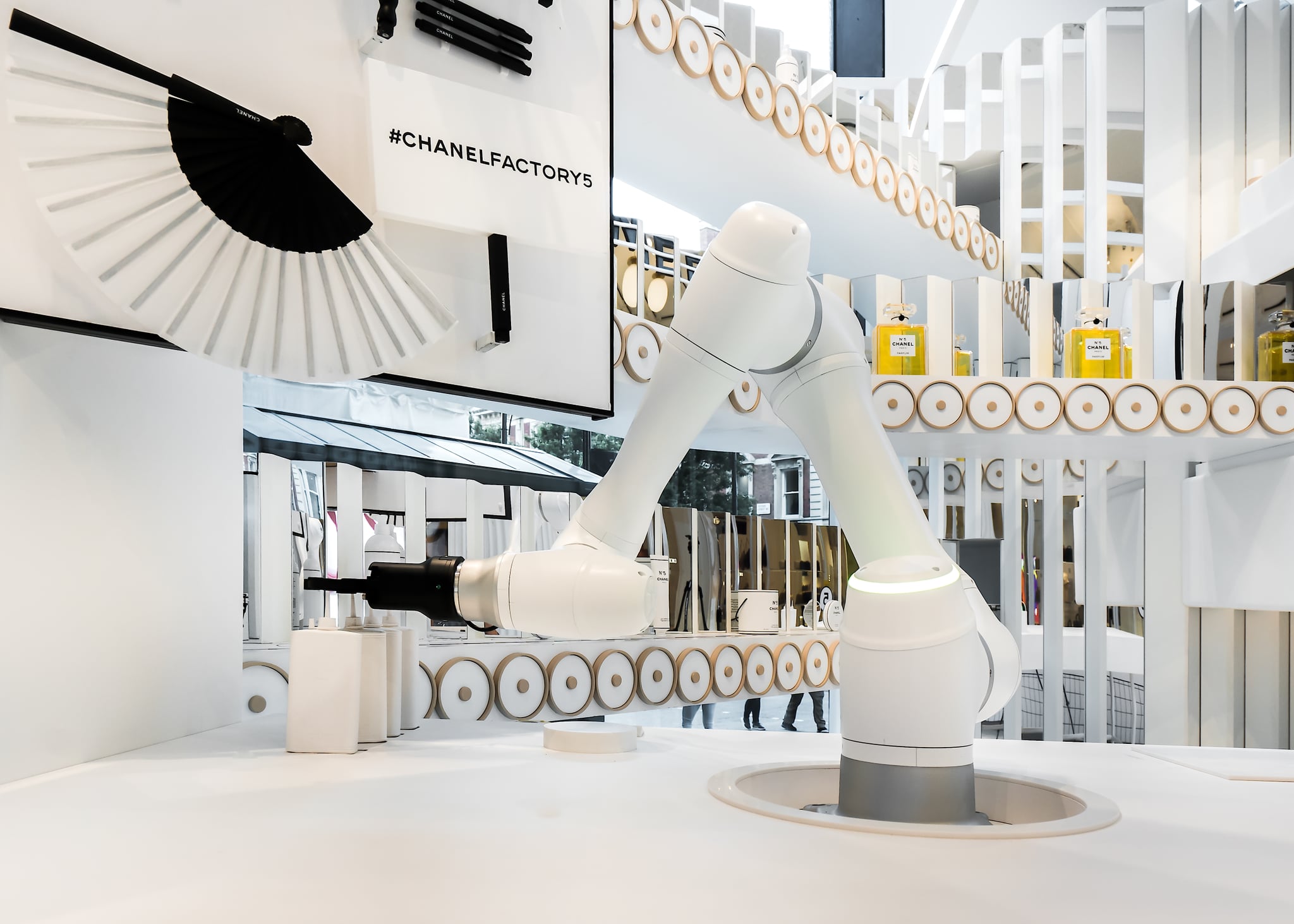 Image Source: Chanel
To celebrate the launch, the brand took over and transformed the Selfridges Corner Shop into a Chanel No. 5 Factory, allowing you to witness robotic arms waving feather dusters and perfume bottles gliding on conveyer belts whilst shopping the collection. Designed to look like a (very fancy) consumer-goods factory, the immersive, Instagram-friendly space is almost entirely black and white, punctuated by bright primary and secondary colours that flash on large video screens hanging from the walls and line the glass cases full of products — echoing both the packaging of the No. 5 fragrance and the collection's nod to pop art and pop culture.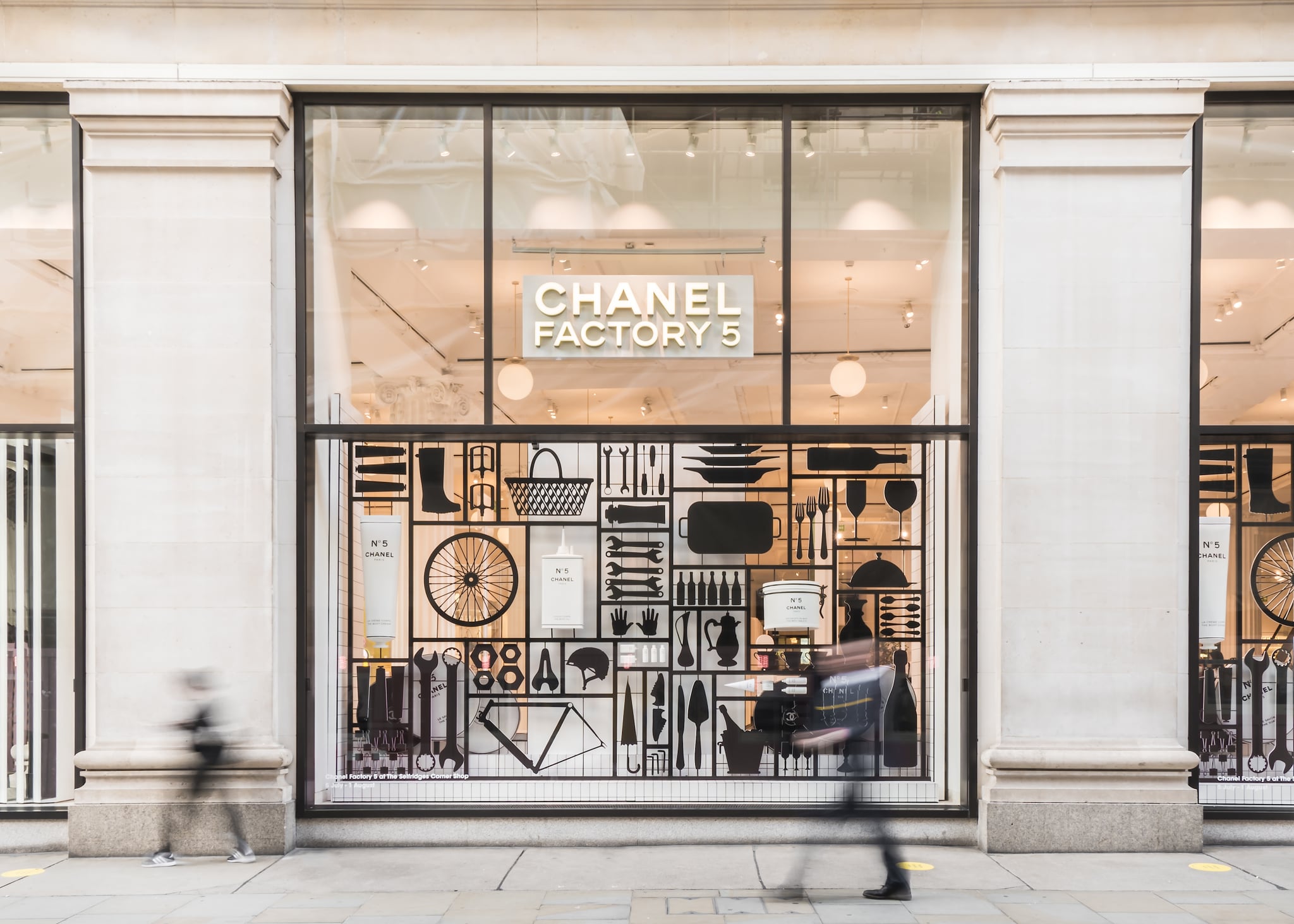 Image Source: Chanel
The Chanel Factory 5 shop is open to the public from 5 July and will run until the end of the month. If you're unable to make it to London, or still not ready to attend a big in-person experience (which is completely understandable, by the way), Chanel also offers a digital version for those who still want to experience it. Keep reading to check out (and shop) some of our favourite pieces from the limited-edition Chanel Factory 5 collection.