Day in the Life: TikTok-Famous Dermatologist Chris Tomassian
A Day in the Life of a TikTok-Famous Dermatologist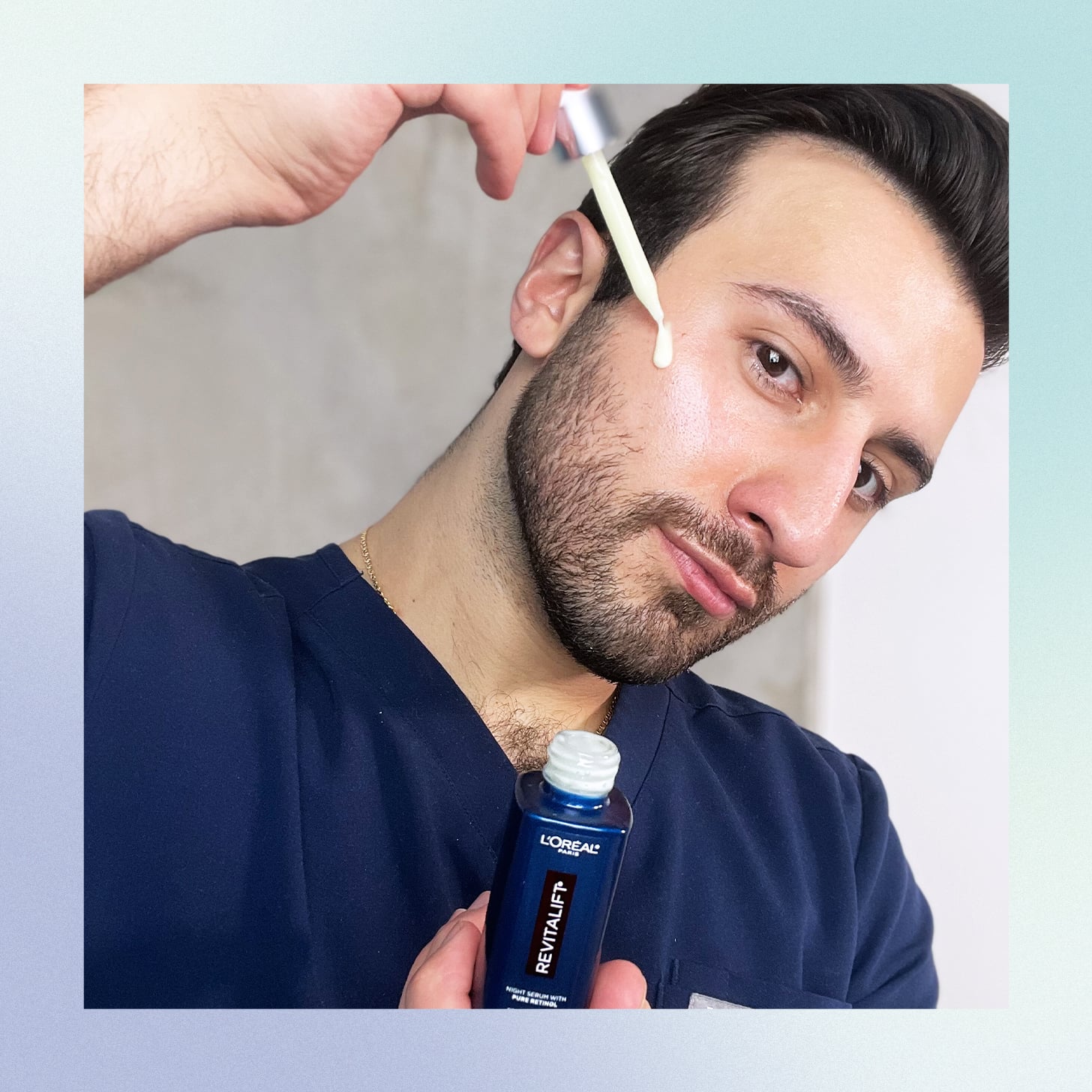 Image Source: Courtesy of Chris Tomassian and Photo Illustration: Ava Cruz
Dermatologists were the unexpected TikTok stars we didn't know we needed in 2020. When the country shut down due to the COVID-19 pandemic, many of them took to helping people virtually through engageing and informative videos. And that's exactly how Chris Tomassian, MD, a board-certified dermatologist, founder of The Dermatology Collective, and content creator amassed a following of 1.7 million on TikTok.
What started out as a passion project for Dr. Tomassian as a way to reach people at home has turned into a second full-time job for the doctor. By day, he sees patients, consults with brands, and does various procedures; by night, he's filming videos to answer frequently asked skin-care questions, duetting people to debunk myths, and sharing product recommendations.
Coming from a family of doctors, Dr. Tomassian knew early on that he wanted to be a dermatologist. He went to medical school immediately following high school and got into the dermatological program at the University of Kansas after that. Then, the pandemic hit while he was in residency in March 2020, which changed some things. Dermatology was deemed non-essential, meaning offices were temporarily shut down and replaced with telehealth visits. That's when he started seeing a pattern in the questions he was asked surrounding acne and general skin-care tips. His then-girlfriend, now fiancé, recommended he start creating videos and it quickly took off.
"At the end of the day, a lot of people don't have access to dermatologists, or they can't afford to go see a doctor," Dr. Tomassian tells POPSUGAR. Following a derm on social who can provide some education through the phone was the next best thing. Not long after he began posting consistently, his audience exploded, which ended up giving him a confidence boost to open his own practice in California where he's originally from. "It's not typical to start a practice out of residency, but the community I had on social media was very supportive of it, and I knew I would have at least some patients wanting to come and see me," he says. This is how he ended up having not one, but two very successful careers simultaneously.
Below, he gives us a look into his daily schedule:
6:30 A.M.: Wake Up
Dr. Tomassian starts his day around 6:30 A.M. every morning. Clocking in with about six hours of sleep.
7:00 A.M.: Gym
Immediately after waking up, he heads to the gym and will work out for an hour. "After that, I come home and usually skip breakfast, obviously — I don't have time for that," he says.
8:00 A.M.: Get Ready For the Day
After working out, he gets ready for his work day by doing his morning skin-care routine, putting on some scrubs, and getting out the door to arrive at the office by 9:00 AM.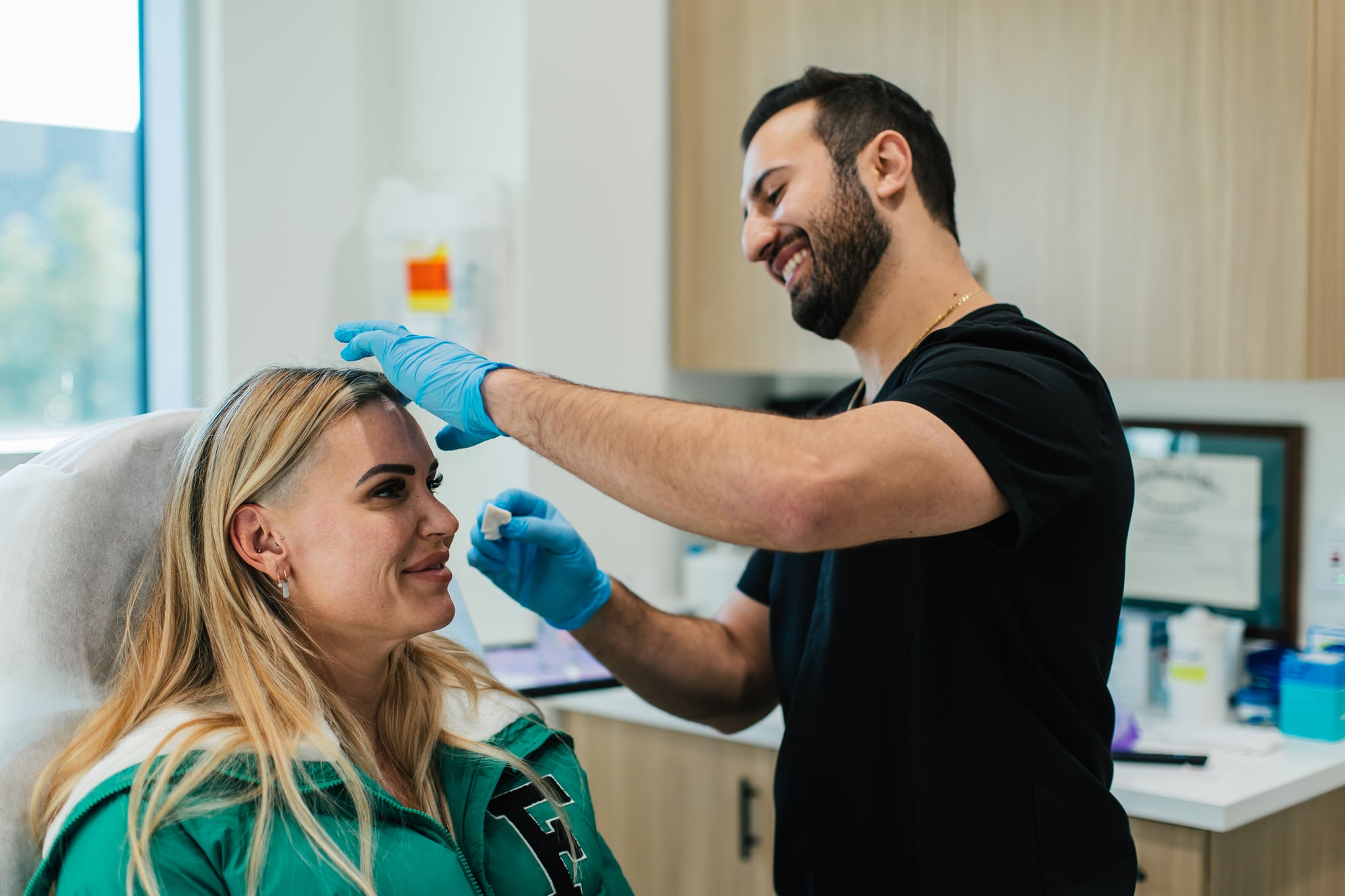 Image Source: Courtesy of Chris Tomassian
9:00 A.M. to 12:00 P.M.: See Patients
From the moment he walks into the office at 9:00 A.M. until around noon, Dr. Tomassian is seeing patients. "My morning is filled with either surgeries, procedures, or just medical dermatology, so acne, eczema — typical stuff to see a dermatologist for," he says.
12:00 P.M.: Lunch and Meetings
Dr. Tomassian breaks every day at noon for his hour-long lunch break, which is often spent doing other work. "I'm either in meetings for my social media, I'm getting lunch with my fiancé, and just catching up on work," he says.
Brand partnerships come with the territory of a large social media following — this is a slightly newer component of Dr. Tomassian's day. "I've been blessed to work with some great brands and have opportunities to see the behind-the-scenes of a lot of skin-care products that have been made, and then give my feedback on a lot of it."
1:30 P.M. to 5:00 P.M.: Cosmetic Appointments
After lunch is when Dr. Tomassian switches from medical dermatology to cosmetics. "The majority of my afternoon is the cosmetic portion of my practice," he says. This includes seeing patients for laser treatments, filler, Botox, microneedling, and more.
This is arguably his favourite part of his day. "I love doing procedures, and the cosmetic and surgical aspect of dermatology," he says.
5:30 P.M.: Leave Office
After a jam-packed day, Dr. Tomassian tries to leave his office at 5:30 P.M. every day. However, even after he wraps up the last appointment of the day, he's still not fully able to turn off. "The dermatology aspect always takes priority," he says. He's constantly doing research, looking over patient notes, or fielding patient calls, which can come in 24/7. "That's happened a couple of times: where I have a patient call me after hours, and that derails the whole plan of the day, but at the end of the day, patient care comes first."
6:30 P.M.: Dinner
Shortly after coming home, he eats dinner and has a short break before switching gears to his other job: content creation.
8:00 P.M. to 12:00 A.M.: Content Creation and Filming
At this time, "I am changing out of my scrubs that I was in all day, putting a new pair of scrubs on, and then turning on the camera and the lights," Dr. Tomassian says.
He's not doing it completely alone — he has help from his fiancé, who used to work in influencer marketing. "My only job is really to produce content," he says. "Her job is to manage emails with everyone and keep my life in order and make sure it doesn't fall apart — so I'm blessed to have her."
12:00 A.M.: Go to Bed
He spends about four hours or so every night filming videos. "After that, I call it a night, and it restarts again the next day."
It's a demanding schedule that has him working in some facet from sun up to sundown, but he finds it very rewarding. Still, time management is his biggest struggle. "The hardest thing for me is sometimes making time for other things," Dr. Tomassian says. His personal life is often put on the back burner because, with his large audience, "there's almost an internal obligation for me to keep posting." After taking the time to build a loyal fanbase, he doesn't ever want to leave them hanging with unanswered skin-care questions. "It has a way of sucking me back into it."
Image Source: Courtesy of Chris Tomassian and Photo Illustration: Ava Cruz