Dibs Beauty Duet Blush Duo Review With Photos
I Tried the Buzzy Multitasking Makeup Product All Over Instagram
As POPSUGAR editors, we independently select and write about stuff we love and think you'll like too. If you buy a product we have recommended, we may receive affiliate commission, which in turn supports our work.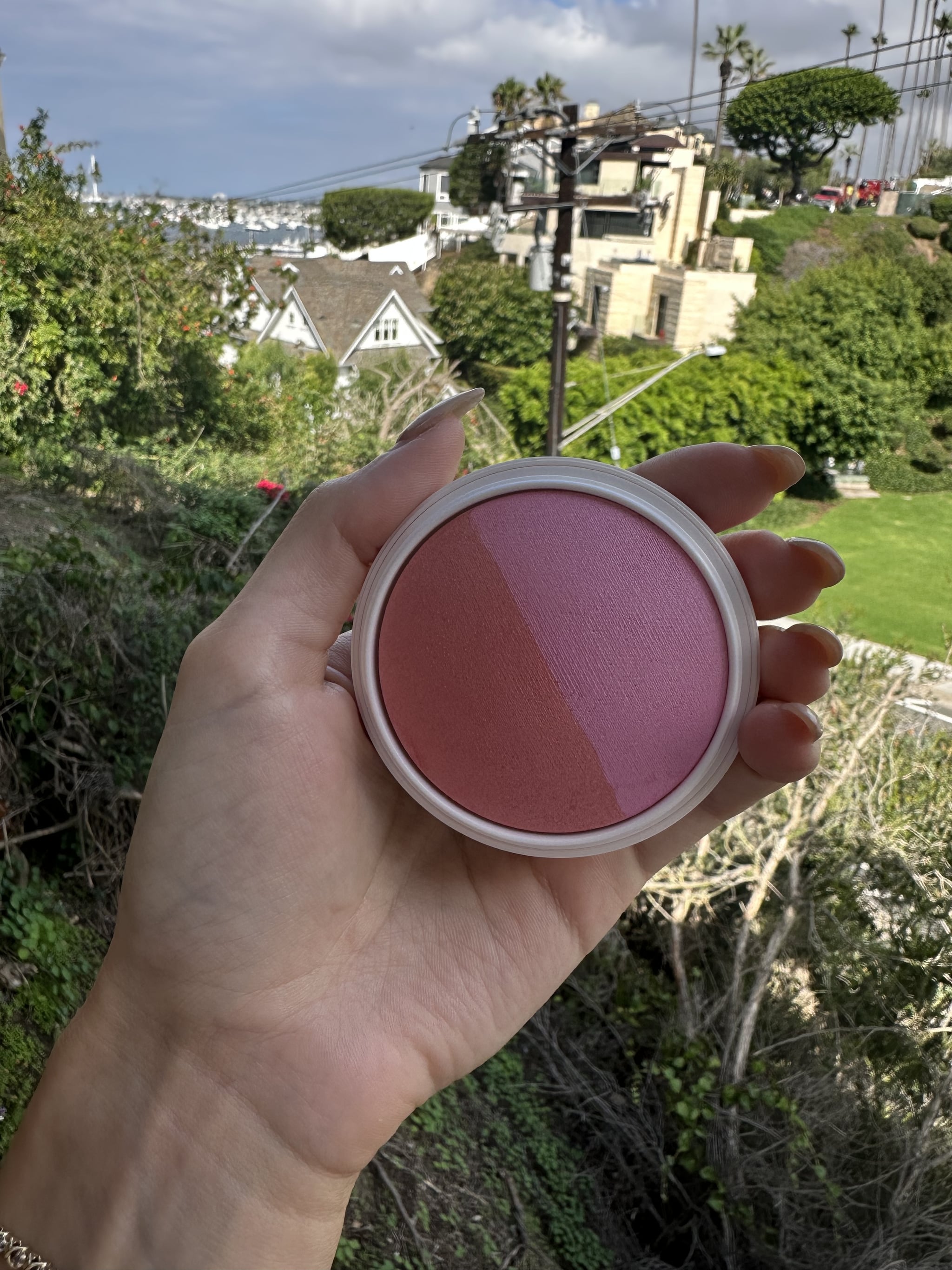 This might be an unpopular opinion, but my makeup look doesn't feel complete until I've swiped on some blush. It adds a beautiful, sunkissed flush of colour to my face and always leaves me feeling like a million bucks. With that being said, I'm picky when it comes to blush formulas. They have to be either pigmented or buildable, and I almost always go for one that has a luminous finish.
Lately, I've been seeing Dibs Beauty — the makeup brand from influencer Courtney Shields — all over my TikTok For You page. Everyone seems to rave about the company's products, touting its stunning formulas and incredible shade ranges. Specifically, the Duet Baked Blush Duo ($34) has been blowing up on social media, so I had to put it to the test for myself.
I got my hands on the product and after trying it out for myself, I can understand everyone's obsession. Keep scrolling to find out all about Dibs Beauty's Duet Baked Blush Duo and for my honest review. (Hint: it's all good things.)
Dibs Beauty's Duet Baked Blush Duo Details
This powder blush features two colours that you can use as a blush and highlighter, or swirled together as a topper.
The Duet is available in two shades: Spice Gal (a rosy pink and berry) and Pop Star (a bubblegum pink and rose).
It is vegan and cruelty-free.
The formula includes jojoba and sunflower seed oils to hydrate the skin.
It can be worn on its own or layered on top of cream or liquid blush formulas.
What I Like About Dibs Beauty's Duet Baked Blush Duo
When you look at the Duet Baked Blush Duo, you'll notice it's actually two blushes in one. I tested out the shade Pop Star, which has a Barbie pink on one side and a rosy mauve shade on the other. You can stick to one side or mix the shades together to create your perfect blush, which I appreciate. I used the Duo Brush 15 Double-Ended Face Brush ($36) to grab both shades and loved how easy the application was.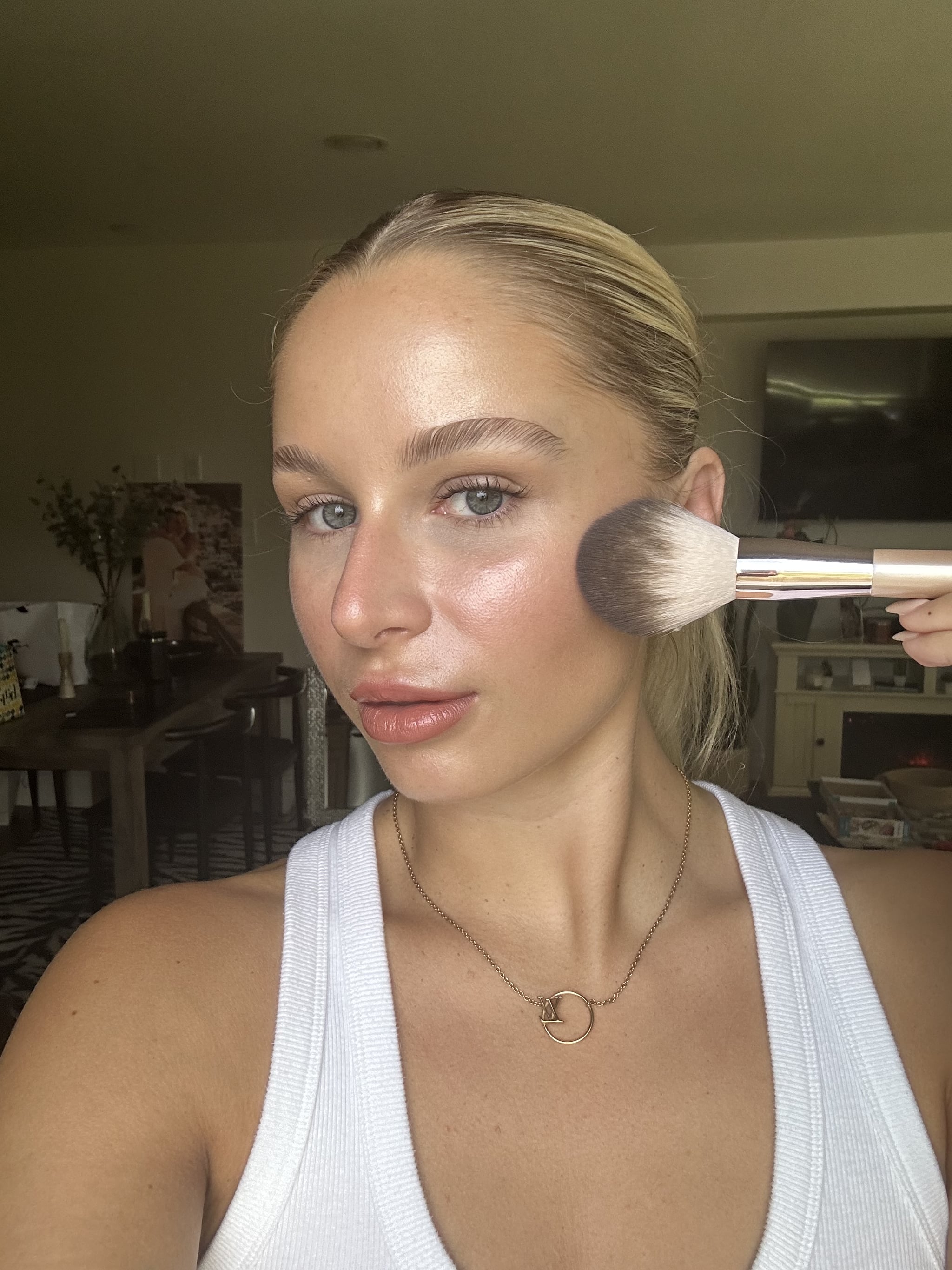 The packageing is perfect in my opinion, and since it's not shaped like a compact with a mirror, there's less risk of it breaking or shattering. Instead, you twist the lid off. But the best part about the product is the colour payoff. Since you can create your own perfect shade, I had lots of fun experimenting with the shades as only highlighter or as only blush, but ultimately fell in love with the colour when I mixed the two together. The end result was a glowing-from-within hue that left me looking like I just got back from a tropical holiday.
How to Use Dibs Beauty's Duet Baked Blush Duo
For the purposes of this review, I tested out the Duet Baked Blush Duo on its own and didn't layer it on top of a cream formula. I wanted to see what it looked like with nothing else, and I was blown away. That said, the brand claims you can wear it on its own (like me) or layer it on top of your favourite cream or liquid blush products to help set or enhance the colour. There's really no wrong way to do it, and the process was very easy.
After putting on a tinted foundation, concealer, and cream bronzer, I topped it with the blush. It has more of a buildable formula and doesn't go on super pigmented at first, which I actually prefer because I like to choose the amount of colour on my cheeks for the day. Still, after layering it on, it stayed put all day.
I wouldn't recommend this blush to someone who doesn't like a shimmery finish, and if you prefer a matte formula, you are better off trying something else. That said, if you're looking for a versatile blush that gives you a glow, I can't recommend the Duet Baked Blush Duo enough. You can tailor it to your specific needs and go for a soft finish or layer it on for a more vibrant hue.
Rating:

Image Source: Taylor Augustin