FaceGym Firming Vitamin C Oil + Nootropic Serum Review
This FaceGym Vitamin C Serum Reigns Supreme
As POPSUGAR editors, we independently select and write about stuff we love and think you'll like too. If you buy a product we have recommended, we may receive affiliate commission, which in turn supports our work.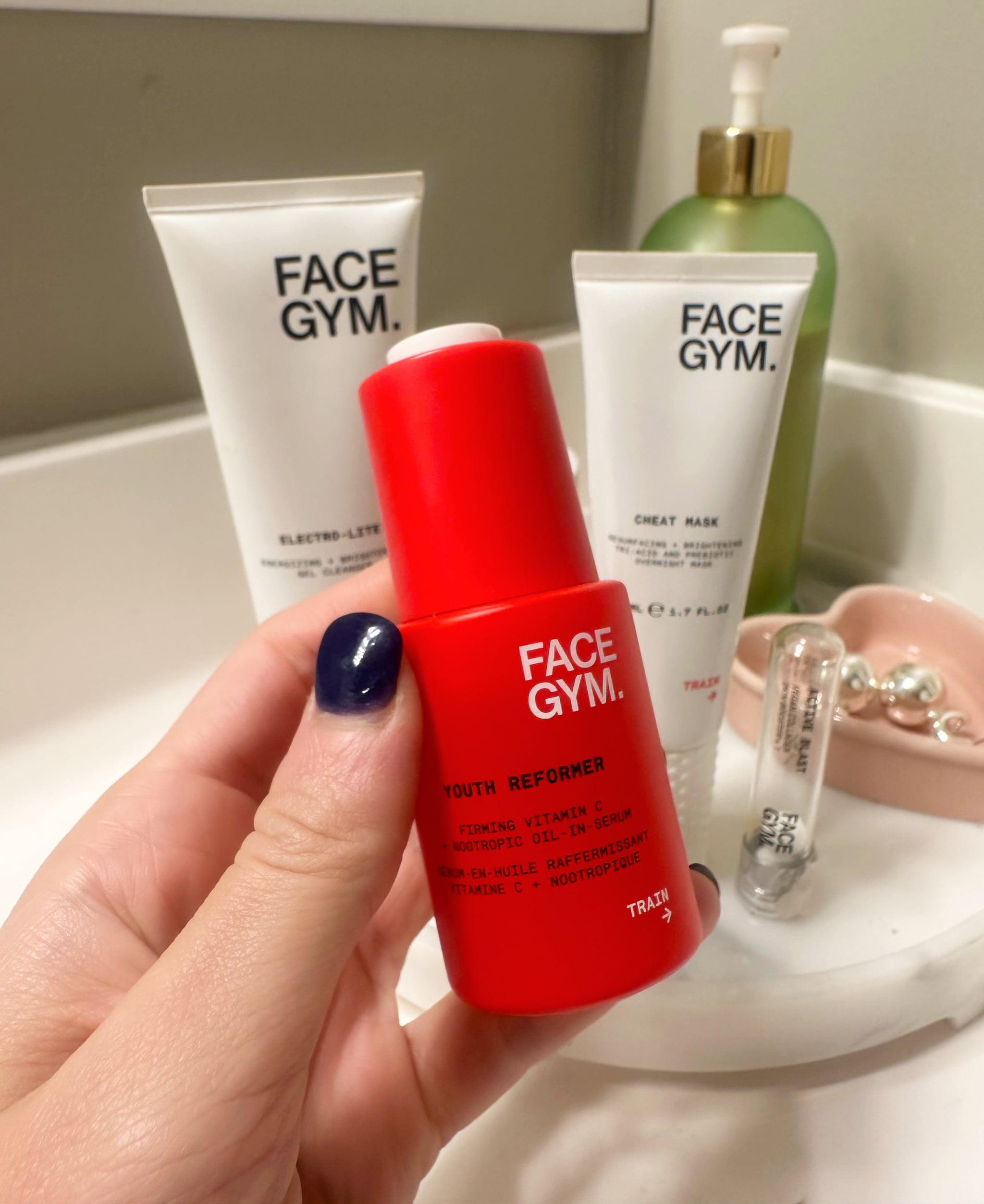 I'll never forget my first FaceGym facial "workout." I booked one of the brand's most well-known treatments," the Signature Sculpt, at Saks on Fifth Ave in New York City and was unsure what awaited me. The buzz around the office was that it was intense, involving kneading and slapping (yep) and casual electric stimulation via a microcurrent tool. So, it's safe to say I was a bit nervous when I sat in the chair for my 45-minute session, which, for those new to the brand's in-person treatments, is meant to stimulate your facial muscles while improving the appearance and health of your skin.
My technician (FaceGym calls them trainers, in keeping with the fitness theme) dressed me in a sporty branded workout headband and got to work, sculpting my face with what I'd describe as wild abandon. While it was undeniably intense at points (my two teeth fillings didn't love the microcurrent), I was taken aback by the before and after images. She paused to show me the difference between sides. It was clear as day that one side looked more visibly lifted than the one she hadn't treated yet. I was a officially a convert.
After that experience, I was a firm believer in FaceGym and couldn't resist singing its praises, especially for special events, despite each treatment's steep price tag. So, naturally, when the brand expanded into skin care in 2021, I became one of its early adopters. To this day, I make it a point to stay informed about the latest additions to their lineup. And, in the spirit of my unwavering loyalty, it's time I delve into what I love about my favourite product from the brand: the Firming Vitamin C Oil + Nootropic Oil-In-Skin Serum ($110). Ahead, I break down everything you need to know about it and why you should consider adding it to your virtual shopping cart.
About FaceGym's Firming Vitamin C Oil + Nootropic Oil-In-Skin Serum
Key ingredients include brightening vitamin C and hydrating hyaluronic acid.
It's best for those hoping to target fine lines, wrinkles, redness, and dullness.
The brand recommends using it after cleansing and before moisturising.
What I Like About FaceGym's Firming Vitamin C Oil + Nootropic Oil-In-Skin Serum
If I had to recommend just one product from FaceGym's line, it would hands-down be this serum. Though it's pricey, it's luxurious in every sense of the word. Not only does it smell delectable and soothing with patchouli and Palo Santo, but the texture is silky-smooth and leaves my face looking glowy and refreshed and feeling super moisturised (which is why I often reach for it during the winter months). I personally love to use it as a base for at-home facial massages, especially in the morning to combat puffiness from indulging in wine or food with a bit too much salt (this happens more often than I'd like to admit.)
I also appreciate FaceGym's thoughtful touch of having a QR code on the back of its products, which directs shoppers to a product page detailing the exact usage instructions for each item and, for this specific product, a comprehensive facial massage video tutorial. For those like me who value guidance to prevent skincare crises, this feature is a saviour. The brand's clear, step-by-step instructions make it easy to understand how to incorporate each product into my routine, and it's proven invaluable with this particular serum because it's where I learned the art of giving myself a facial massage.
Below, I've included a screenshot of the back of the serum and the page it sends you to for context.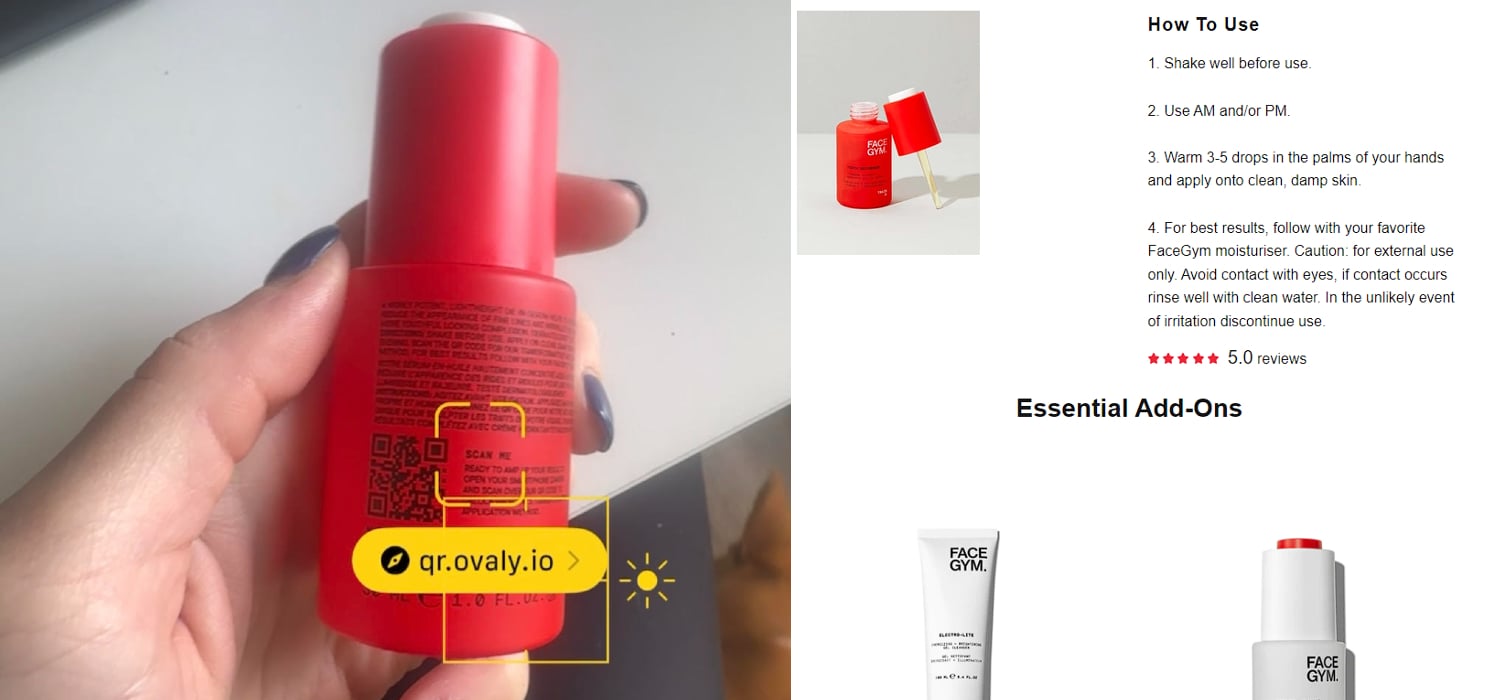 What to Consider Before Trying FaceGym's Firming Vitamin C Oil + Nootropic Oil-In-Skin Serum
The obvious yet important thing to consider before trying this skin serum is the price. I don't think it's worth the splurge willy-nilly if you're not intent on seeing brightening or subtle firming benefits. I find it well worth the splurge because it doubles as a self-care ritual in its own right, especially when used before a facial massage. This approach resonates throughout the entire product line. That said, I highly recommend it if you're committed to incorporating facial massage into your routine and truly relishing the product, but less so if you're not entirely devoted to the hands-on element, which is a game-changer, IMO.
Where Is FaceGym's Firming Vitamin C Oil + Nootropic Oil-In-Skin Serum Available?
The Firming Vitamin C Oil + Nootropic Oil-In-Skin Serum is available direct to consumer from the brand's website, as well as on Amazon and at Sephora.
Rating:
Image Source: POPSUGAR Photography / Marisa Petrarca