Innisfree Daily UV Defence Sunscreen Review With Photos
The Viral Innisfree Sunscreen Is Worth the Hype — and Only $16
As POPSUGAR editors, we independently select and write about stuff we love and think you'll like too. If you buy a product we have recommended, we may receive affiliate commission, which in turn supports our work.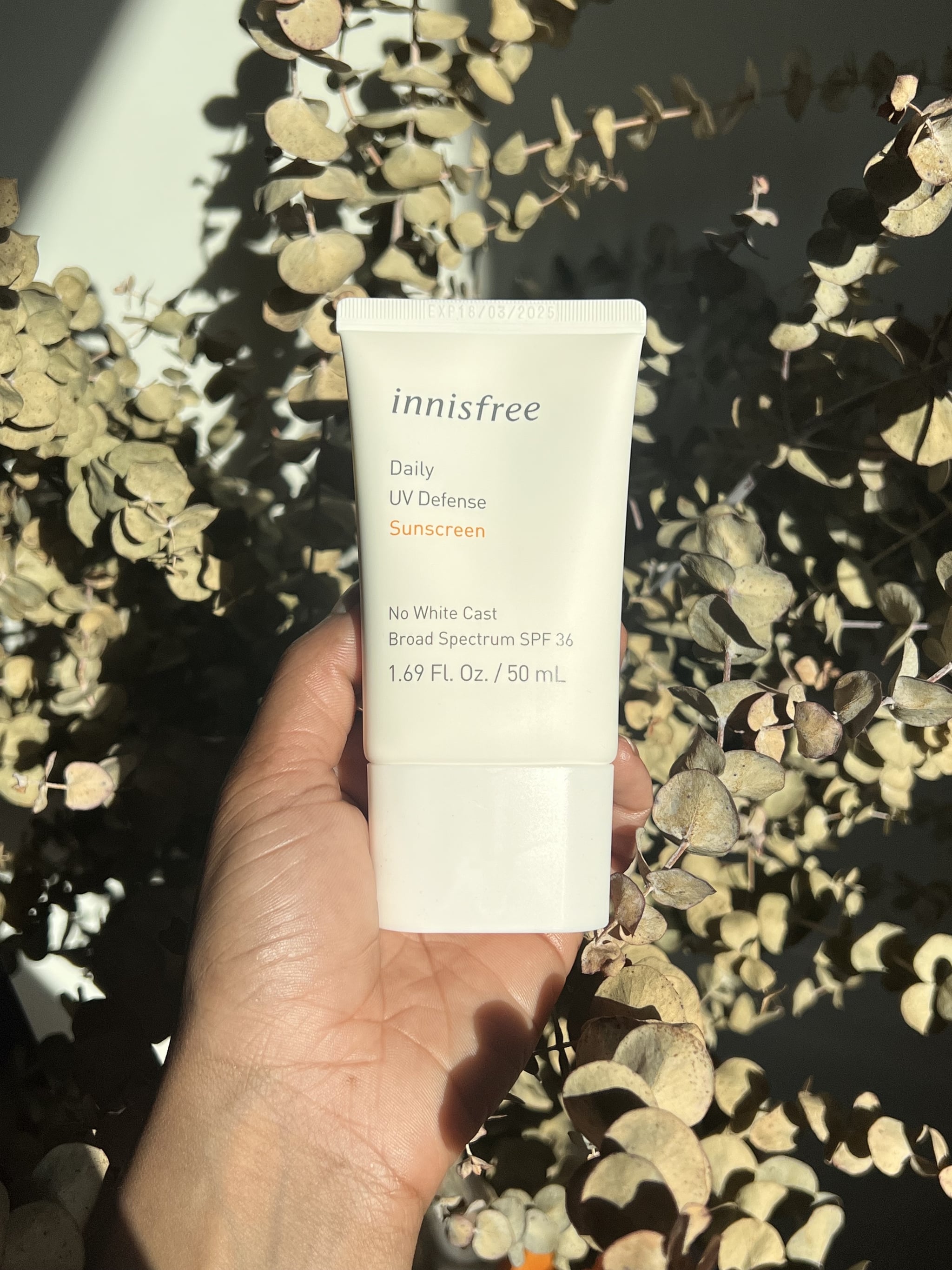 By now, you've probably heard every dermatologist, aesthetician, and influencer and even our editors at POPSUGAR tell you how important sunscreen is to your skin's health. It's your first line of defence against skin cancer, fine lines, and sun damage, especially when it comes to preventing dark spots and premature ageing. You have to use sunscreen every day, and that's why I love finding the best ones.
After trying out so many formulations, I've become pickier than ever. For starters, I want a quality sunscreen that doesn't break me out, clog my pores, or feel heavy on my skin. It shouldn't leave a white cast either and should work well with other products in my routine. When I was introduced to the world of K-beauty on TikTok, my sunscreen expectations became even higher than they already were, and the Innisfree Daily UV Defence Sunscreen SPF 36 ($16) — which has recently gone viral on the app — is a steal.
Keep reading for my full review.
About the Innisfree Daily UV Defence Sunscreen
It's a chemical-based sunscreen with a blend of avobenzone, homosalate, and octisalate.
It contains broad-spectrum protection of SPF 36.
It's also formulated with green tea, cica, and sunflower seed oil to hydrate and soothe the skin while protecting its moisture barrier.
The sunscreen is great for all skin types, including normal, dry, oily, and combination.
It comes in a value size of 100 mL or 3.38 ounces for $29.
The sunscreen is FSA/HSA eligible at Sephora.
What I Like About the Innisfree Daily UV Defence Sunscreen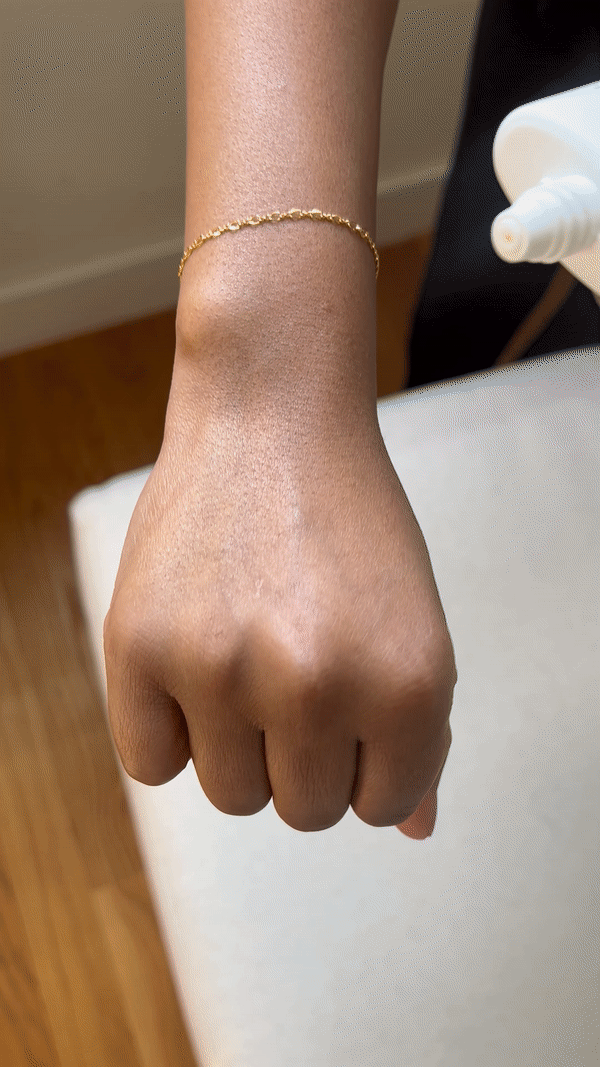 In comparison to many other sunscreens I've tried in the past, the Innisfree Daily UV Defence Sunscreen has the best texture. In true K-beauty fashion, it doesn't have that heavy, grainy feel like a traditional sunscreen. It's smooth and creamy, kind of like a balmy moisturiser, but it still feels so refreshing and lightweight on the skin that I often forget I have SPF on and accidentally double up (which is never a bad idea). Plus, it sets and absorbs nearly immediately after I blend it in. I'm left with a subtle, dewy glow with a natural, skin-like finish. It doesn't make me look like a glazed doughnut, but I don't look extra oily or shiny, either.
Its chemical-based formula lends itself to many benefits that go beyond just elegant texture. The Innisfree Daily UV Defence Sunscreen leaves no white cast on the skin, allowing me to layer on as much as I need to for adequate coverage and protection. Plus, it doesn't sting my eyes nor bleed into them, unlike some chemical formulations on the market, so I can keep those crow's feet at bay for several more years. With the addition of soothing green tea, cica, and sunflower seed oil, my skin doesn't feel irritated or congested when I wear this sunscreen.
Beyond the actual quality of the product, it's the affordable price point that truly makes me (and my wallet) happy. Sunscreen is something we need to use every day, and we need to use a good amount of it, so finding one that works well and doesn't cost an arm and a leg is truly a winner. I also love that the bottle is small enough to fit into my handbag, so I can reapply throughout the day.
How to Use the Innisfree Daily UV Defence Sunscreen
Sunscreen is always your last step in your morning skin-care routine but before your makeup. I like to apply two finger lengths of the liquid all over my face and neck. I suggest applying one finger length at a time and blending it out, so you get even coverage in thin layers. The sunscreen is perfect for everyday wear, just like its name suggests. With an SPF of 36, I use it when I'm primarily at home or indoors, when it's gloomy or rainy outside, or during winter when the UV index isn't as high.
Because of its hydrating feel and creamy texture, I forgo using a separate moisturiser and let the Innisfree sunscreen take its place. This helps keep my skin from feeling heavy or greasy, like a sleeping mask. However, if you need that extra dose of hydration, this layers beautifully on top of other moisturisers. Since it absorbs into the skin, I don't really need to wait for it to set to go into my makeup routine. It works well with other products, including a wide range of water-based and silicone-based complexion products.
What to Consider Before Trying the Innisfree Daily UV Defence Sunscreen
Although an SPF of 36 offers adequate protection — in fact, that exceeds the American Academy of Dermatology's recommendation of SPF 30 or higher — I usually gravitate toward sunscreens that have at least an SPF of 50 or higher just to be safe because of my dark spots and hyperpigmentation. Still, the Innisfree Daily UV Defence Sunscreen's lightweight feel and hydrating texture keep me coming back to it, especially when I'm not really in the sun.
It's a chemical-based sunscreen, so if you prefer a physical formula or are sensitive to those ingredients, I'd highly recommend doing a patch test first. However, its creamy formula and the addition of barrier-repairing ingredients make this sunscreen an elegant option for those with reactive or sensitive skin.
Where Is the Innisfree Daily UV Defence Sunscreen Available?
The Innisfree Daily UV Defence Sunscreen is available on Amazon ($16) and Sephora.
Rating:

Image Source: POPSUGAR Photography / Anvita Reddy