Isle of Paradise Day and Night Tan Mists Review With Photos
Introducing the Most Fool-Proof Tanning Formula Yet: Isle of Paradise's Day and Night Mists
Self-tanning is a faff, there are no two ways about it. If you're a keen self-tanner then it's absolutely worth the faff, but we can't deny that it's often messy, smelly, and takes dedication. Luckily for us, self-tanning enthusiast, Isle of Paradise, is changing that. Since launching in 2018, the brand has made it its mission to reinvent the at-home tanning process, push self-tan innovation boundaries by creating elegant formulas (hello colour-correcting technology), and more importantly, contribute to the industry becoming a more accessible and inclusive place.
So, leave it to Isle of Paradise brand founder and tanning expert Jules Von Hep to create a new self-tan product that's not only foolproof, but is also a delight to use, with a great scent and an incredibly natural hue. Enter: the Isle of Paradise Day Dew and Night Glow Self-Tan Mists (£16). Not to be dramatic, but these two newbies are probably the easiest self-tanning products we've ever used. Read on to see how the POPSUGAR editors got on with the self-tan mists. Spoiler: we're pretty in love with them.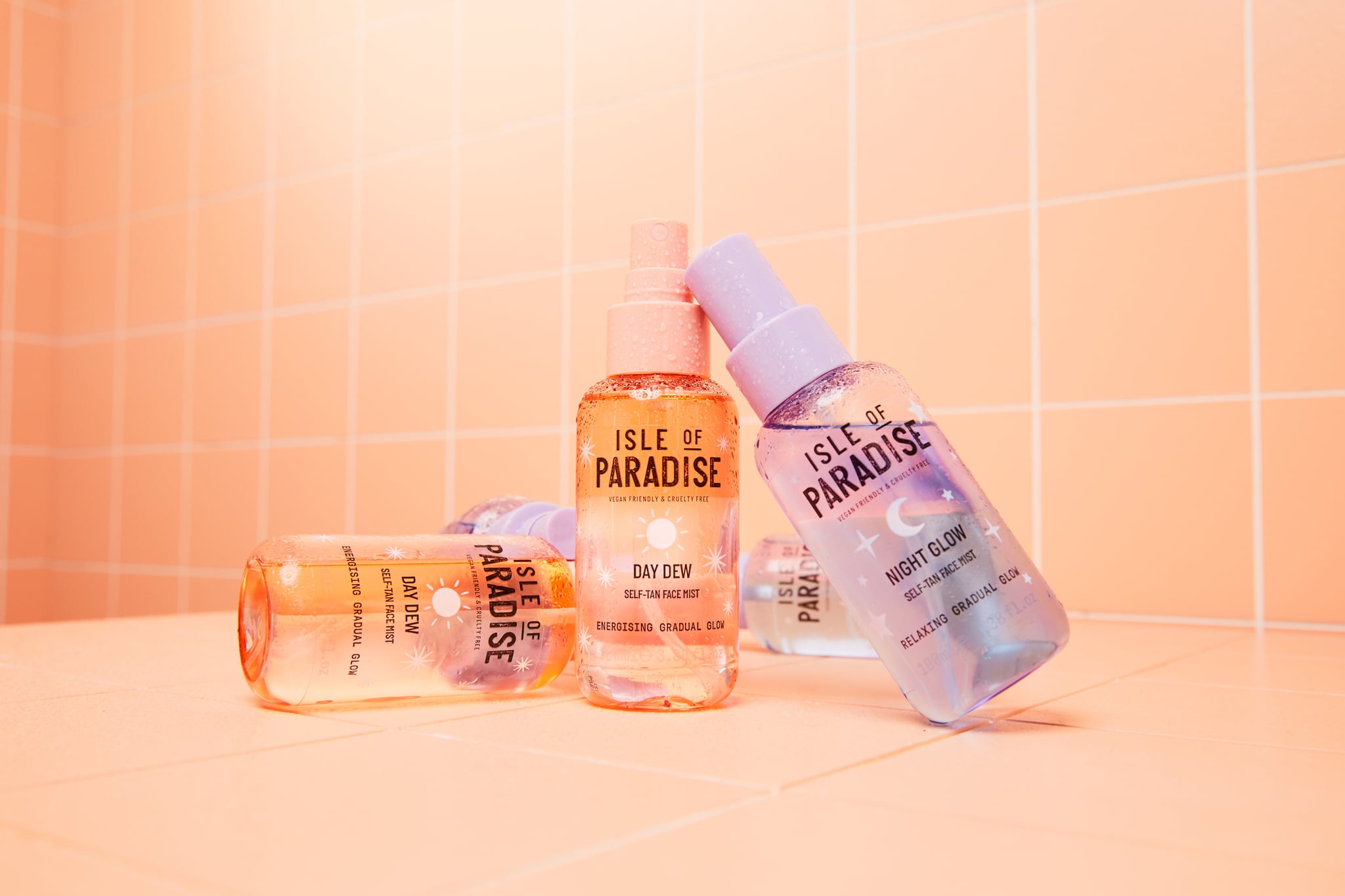 The new launch consists of two facial self-tanning mists: one for day and one for nighttime. They both promise to give "the perfect level of gradual tan for everyday use," stating that they're easy to use, portable, and provide either an energising daytime step or a restful before-bed ritual. The mists use a biphase technology — which generally means there are two different substances in one product. In the case of these Isle of Paradise mists, its oil and water. Shake the bottle to mix the two phases together and you get a potent blend of hydrating and glow-giving ingredients like vitamin C, hyaluronic acid, glycerin, and DHA (the main component that delivers a gradual tan). This technology is what really gives the dewy finish we long for. And as with all of the Isle of Paradise products, the mists are vegan and cruelty-free.
"Isle of Paradise really is such a self-care, emotional, and sensorial journey brand," Von Hep told POPSUGAR.
What makes the new self-tanners really special is the inclusion of essential oils in the formulations. Day Dew contains lemon, rosemary, and sage oil to boost your mood first thing in the morning. Night Glow, on the other hand, promotes restful sleep with its combination of ylang ylang, jasmine, and lavender oils. This sensory element is what gives the mists such a unique scent and experience — something a lot of us are leaning towards after a tough, and let's be honest, traumatic past year. "Isle of Paradise really is such a self-care, emotional, and sensorial journey brand," Von Hep told POPSUGAR. "I've always been into sensory beauty, I think that's why I got into the beauty industry, it's that deeper connection about how this is going to make you feel," he added. Tan might not be able to fix all of our problems, but leaning into rituals that make us happy makes a world of difference.
If you're a lazy tenner, you'll be pleased to know that the application is pretty self explanatory. The mists are the last step in your routine; Von Hep likes to use his Night Glow after applying facial oil before bed. Simply shake the bottle to activate the biphase technology and spritz over your face, neck, and chest. The bottle instructions recommend three to four sprays, but I found that it didn't give as much bronze as I'd hoped for the next day, so I just added five or six more the day after. I was pleased to hear that this is also Von Hep's approach, "the instructions say three to four mists, but I'm more six to seven mists," he said. The best thing about this is that you can really tailor the depth of shade you want — the more you spritz the deeper the tan. If you fancy yourself as a bit more of a tan pro, you can follow Von Hep's extra step by using the Isle of Paradise Shape and Glow Big Blending Brush (£13) to buff and blend the mist to perfection.
As for the results, the mists give a beautiful, natural-looking, streak-free tan that lasts for up to three days with very little effort. I was impressed how quickly I could slot it into my regular skin-care routine. Plus, you can wear the Day Dew over makeup, making it even easier to incorporate into your routine. Typically, I steer clear of essential oils in my skin-care routine because my rosacea has absolutely none of it, so I was a bit wary of trying the mists at first. But, much to my surprise (and delight), I had absolutely no sensitivity or issues with the oils. If you have a mild sensitivity to essential oils, you will probably be fine with these mists, but definitely patch test before misting your entire face. Otherwise, stick to the traditional Isle of Paradise mist formulas, which don't contain any essential oils but still give you a great glow.