Leona Lewis's Shimmering Magic of Christmas Makeup Look 2020
Leona Lewis Kicks Off the Festive Season With the Most Heavenly Shimmery Gold Makeup Look
Singer Leona Lewis and her makeup artist Allan Avendaño kicked off the festive season in the most beautiful way possible: with a sparkly, 24-carat makeup look for Lewis's performance at Magic Radio's "Magic of Christmas" digital concert on Sunday, 6 Dec. Avendaño's glimmering gold creation certainly made our spirits bright when we saw it on Instagram — and had us seriously wondering how to copy the ethereal look at home (because let's be honestly, a month of lockdown has left us looking and feeling a little dull). Thankfully, Avendaño shared all details exclusively with POPSUGAR.
"We definitely went for a festive vibe," Avendaño said of the makeup look, which Lewis paired with a sparkly red A-line midi dress to perform a soulful rendition of "One More Sleep". "Since 2020 seemed so dark and just wasn't festive for many, I wanted to make sure that [her makeup] felt light, airy, glowy, and bright!" Avendaño added. "I really used the idea of brightening up people's life by giving her a glowy and sparkly look."
On the eyes, Avendaño used the Makeup By Mario Matte Palette (to create the shape) and Metallic Palette (for the shimmer). "The palettes are so versatile that I often find myself using them to contour and highlight as well," he said of Mario Dedivanovic's new makeup line (which, lucky for us, does ship to the UK). "I also used Kosas Big Clean Mascara (£24) for volumised fluffy but not clumpy lashes. For her brows I actually used hair gel as brow gel to groom them into place and used the L'Oréal Paris Brow Stylist Definer in Brunette."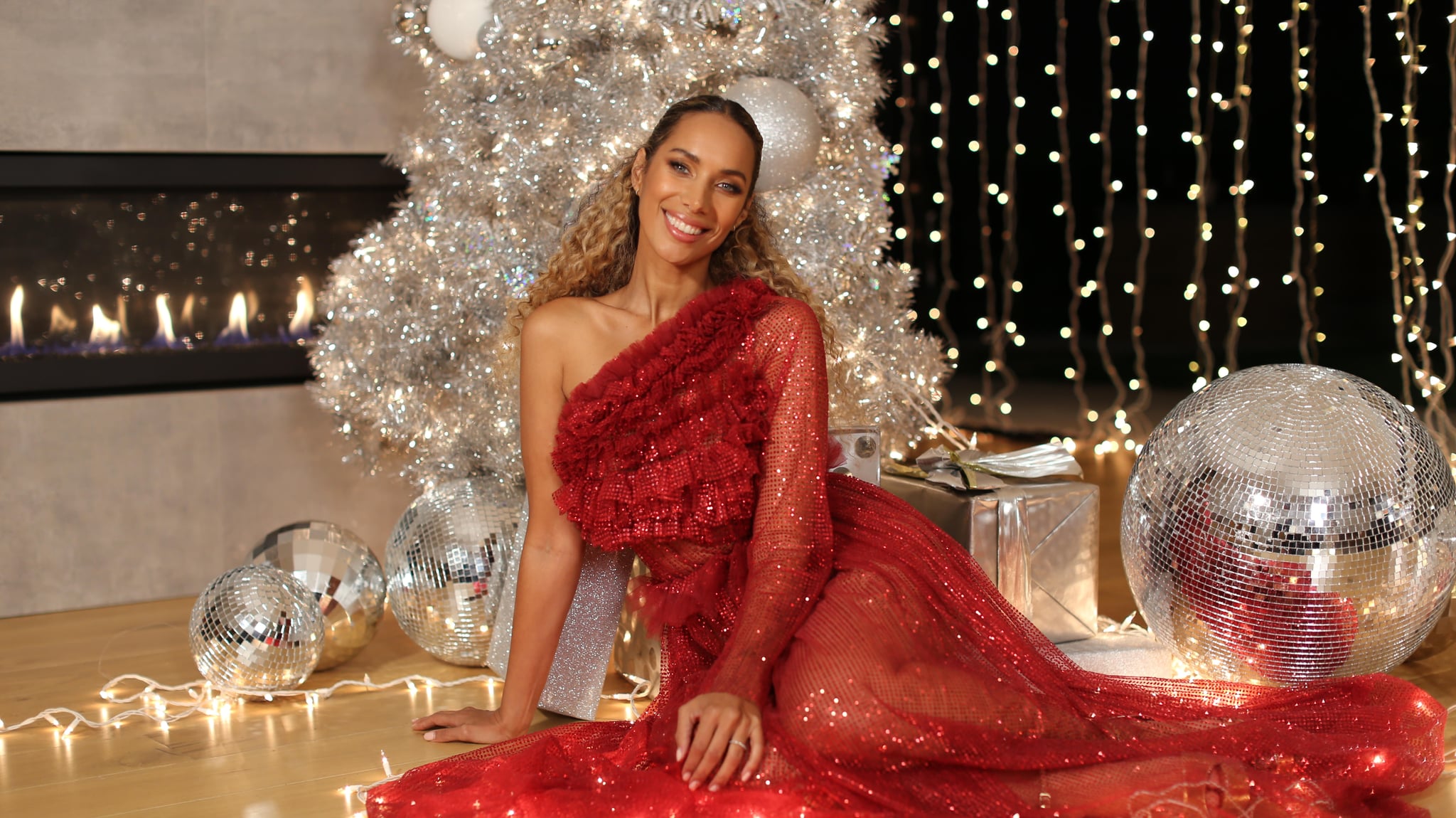 Image Source: Magic Radio
Avendaño turned to Chanel Beauty to create Lewis's gorgeous rosy-taupe lip colour. "I used Chanel's Longwear Lip Pencil in Rose Naturel (£22), dabbed Rouge Coco Flash Lipstick in Chicness (£31) over the pencil, and then topped it off with Rouge Coco Gloss in Caramel (£28)," he explained.
As for Lewis's otherworldly skin (which I'm sure is partly to do with some very good DNA), Avendaño stuck to cream and liquid products that had dewy, radiant finishes, including the Kosas Tinted Oil Foundation (£40), Kosas Revealer Concealer (£25), and the Tom Ford Shade and Illuminate in Intensity Two. "For her magical highlight, I used the Charlotte Tilbury's Beauty Light Wand Spotlight in Candlelit (£29), while her body is slathered is Charlotte Tilbury's Supermodel Body (£45) for the perfect nonglittery, transfer-resistant sheen!" he said.
"I think my main focus was to make her look like a goddess and do a shimmery, golden glow that looked good on her as opposed to it looking good with the dress," Avendaño replied when asked if he was worried about the shimmery makeup/shimmery dress combo being, well, too much shimmer. "In other words, it was a look that would go with anything because I highlighted her features and used tones that were great for her skin tone. And honestly . . . is there really such a thing as too much shimmer?" he laughed.
Lewis joined musicians like Sam Smith and Jamie Cullum for the virtual "Magic of Christmas" concert. Last year, the annual festive musical event was held at the London Palladium; however, the radio station shifted gears this season and live streamed the concert digitally on its Facebook page, and while you can watch Lewis's performance above, Magic Radio also shared all of the individual performances on YouTube.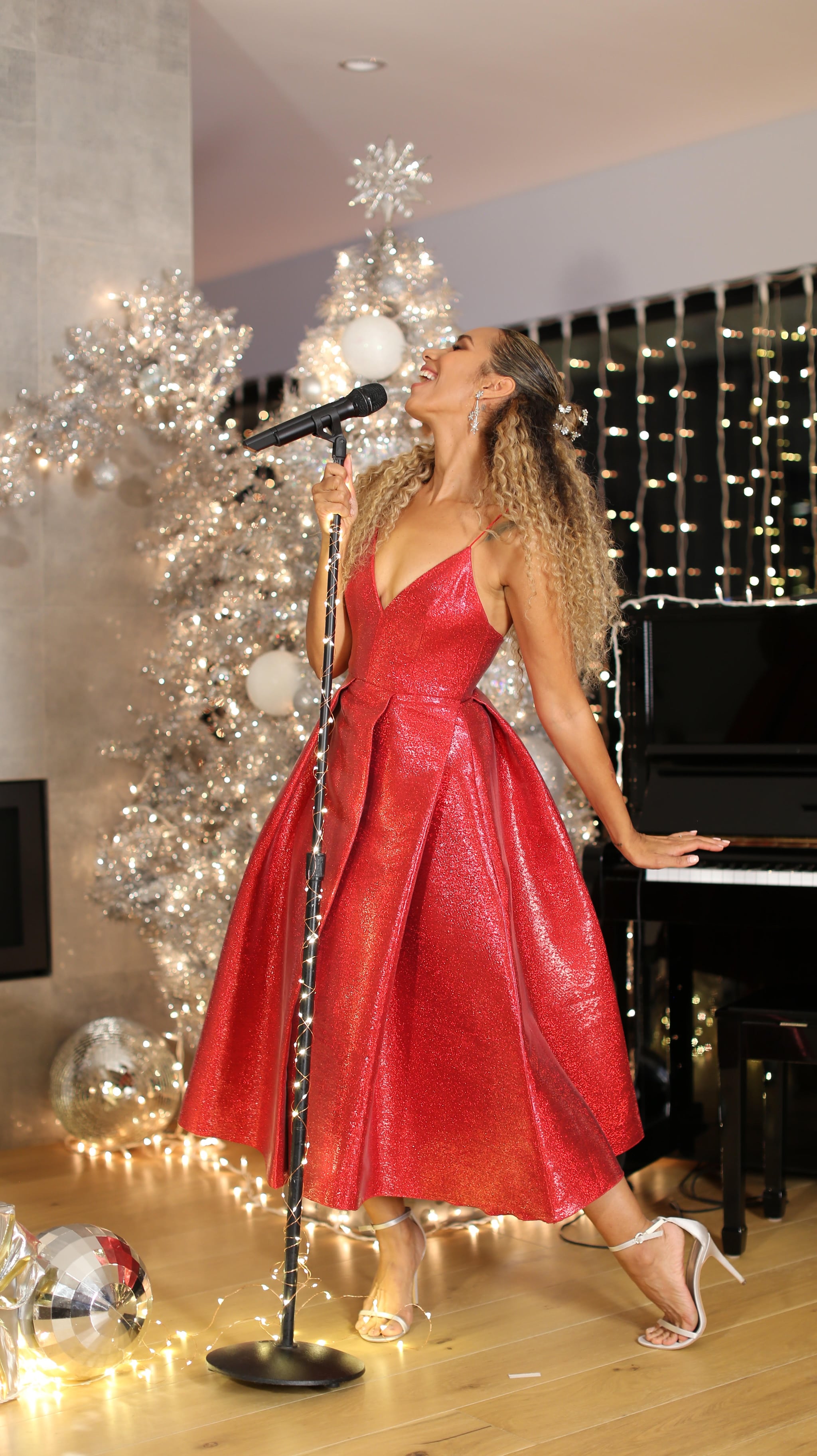 Image Source: Magic Radio
Image Source: Magic Radio