I Tried the Moxi Laser Treatment: See Photos
This Laser Treatment Got Rid of My Sun Damage In Just 2 Sessions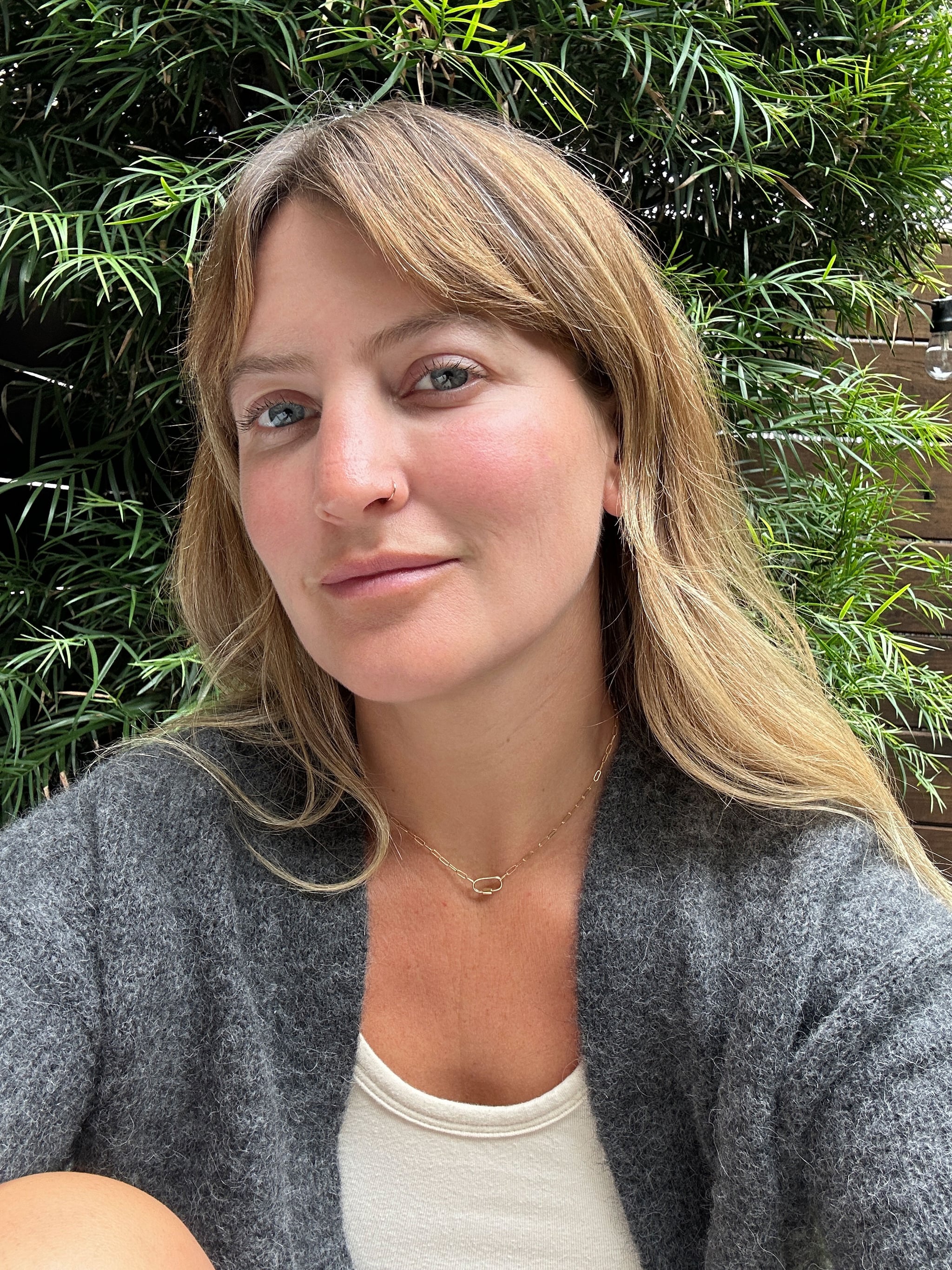 Let's just get this out of the way: yes, I know that spending a lot of time in the sun is bad for your skin, and yes, I know about the risks associated. However, being in the sun contributes to a major portion of my overall happiness, so — I've gotta live my life. The price I pay for that attitude, though, is hyperpigmentation. Despite slathering myself from head to toe in SPF 45+, discoloration on my face is something I combat on a daily basis. Brown spots are my Mount Everest, if you will.
I also have a lot of extremely stubborn sun damage that has followed me since I was a child, probably because I grew up in a Florida beach town and sunbathed nearly 24/7 until the age of 18. I've tried everything from at-home remedies like vitamin c serums and tranexamic acid to in-office procedures such as the Clear & Brilliant laser and chemical peels, mostly to no avail. The brown spots on the tops and sides of my cheeks and bottom of my chin just have not wanted to budge.
Enter: Moxi, a new type of non-ablative, fractional laser that claims to reduce hyperpigmentation and improve skin tone and texture — essentially exactly what I was looking for. And TL;DR; it's the only thing that has made a significant difference in getting rid of my sun damage. Keep reading to see before and after pictures, as well as all the nitty gritty details about the Moxi laser.
What is the Moxi Laser?
"Moxi is a non-ablative fractionated laser meaning it puts small areas of heat into the skin but does not break the skin's surface," says Laura Fischer, MSN, FNP-C, a nurse practitioner in board-certified plastic surgeon Dr. Paul Nassir's office. "Moxi treats superficial texture and pigmentation concerns, delivering dramatic tonal and textural improvements to your skin while correcting the initial signs of sun damage and ageing."
Moxi uses a 1927 nanometer wavelength, which, unlike many other popular laser treatments, targets the water within a cell rather than the pigment within the skin. This means that Moxi is safe to use on darker skin tones, won't trigger hyperpigmentation or melasma, and can be used during any season (summer included). What sets Moxi apart from comparable lasers like Clear & Brilliant? Fischer says, "The lowest setting on Moxi is higher than the strongest setting on Clear and Brilliant. Moxi is also commonly paired with BroadBand Light (BBL) or Halo laser, delivering better results and targeting several skin concerns at the same time."
When combined with BBL, Moxi gets the added benefit of treating reds and browns in the skin (like what I have), and also delays skin ageing on a cellular level. When combined with the Halo laser, you'll be able to target deeper pigmentation and texture concerns which are especially associated with ageing.
What to Expect During a Moxi Appointment
Like with most lasers, numbing is first and foremost. You'll likely hang out with numbing cream on your face for about 20 to 30 minutes before starting the laser. For my specific needs, Fischer decided to do a first pass with BBL to target the specific brown areas (which you can see in the photos below) as well as the redness I often see around my cheeks. She was also able to target smaller red spots caused by broken capillaries. BBL feels like little individual snaps of heat, sort of like snapping a rubber band might cause. In my opinion, it doesn't feel great but isn't painful — it more just made me jump slightly every time a beam of light hit. Don't be worried if you smell a little burning hair — according to Fischer, it's normal.
Then it was time for Moxi. Fischer explains that Moxi has three main settings that determine strength of treatment. "This includes the energy used, percentage of skin coverage, and number of passes," she says. "A higher setting correlates to a stronger treatment, typically better results, and more redness post-treatment. It's safest to start with lower settings especially when treating patients with melasma as it is often triggered by heat. A well-experienced laser provider will be able to customise your treatment based on your skin type and concerns to deliver the right treatment for your needs."
I, of course, opted for the strongest setting possible, because. . . no pain, no gain, right? Also, Fischer says that this setting was safe for my skin. I'm not going to lie, Moxi is no fun. It lasts about 10 minutes and feels sort of like a very harsh, hot cat tongue scraping across your skin multiple times. It took a lot of deep breathing and a continuous stream of cool air blowing on me to get through it. For just about any treatment, I always find the forehead region to be the most painful since there isn't any fat padding in between the skin and the bone — so I always ask to get that area over with first. After two passes with the laser over each area of the face, the whole thing is done and the rest is a breeze.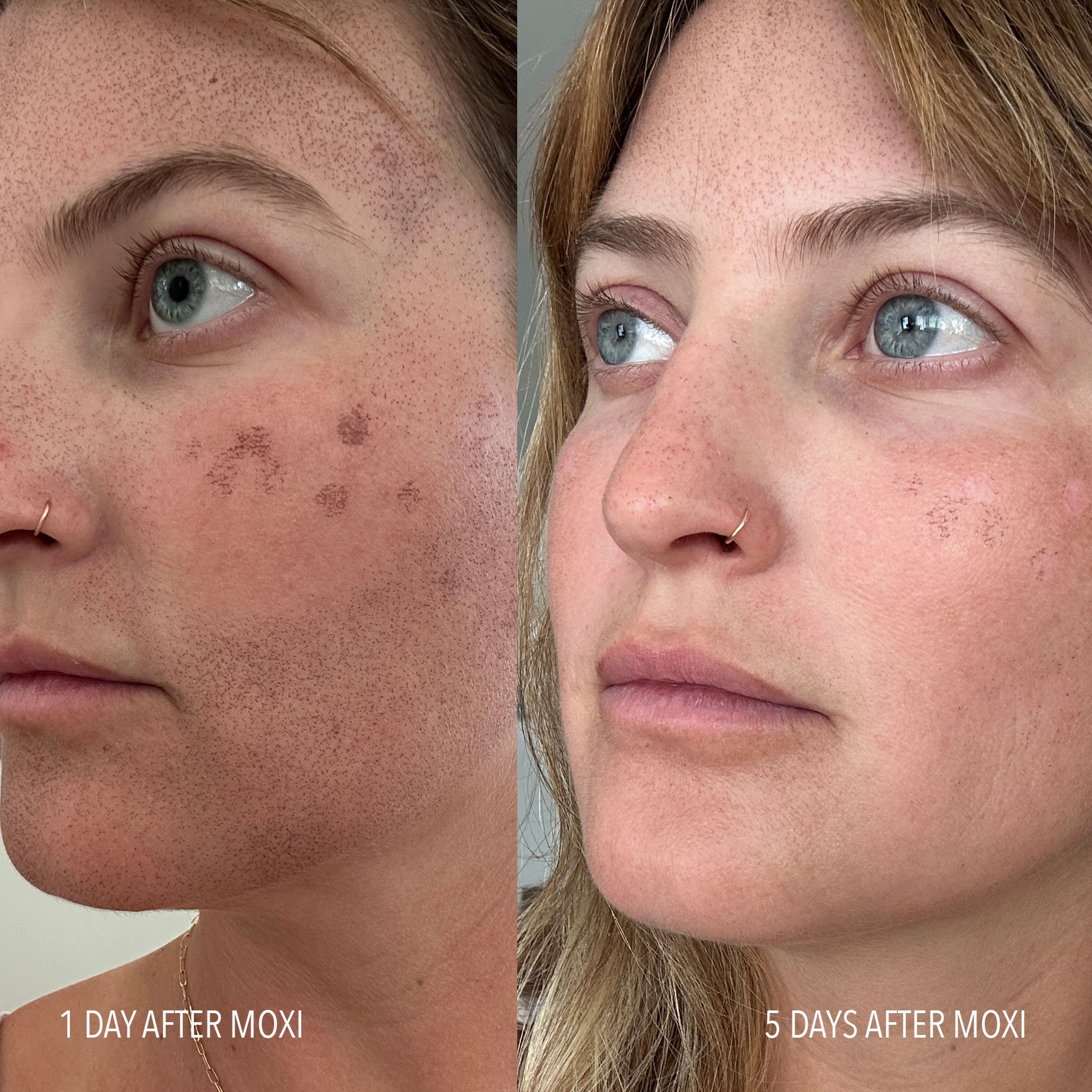 Moxi Aftercare and Downtime
Right after the treatment, I was very red. It sort of feels like the worst sunburn you've ever had in your life. I know doctors like to say these types of lasers are "lunchtime treatments" — but I would be pretty uncomfortable going back to an office (or really anywhere other than straight home to sit with the AC blowing on me) immediately after. My skin has a tendency to swell after anything even slightly invasive, so I did feel a bit puffy for the rest of the day and for about a day after. Make sure to stock your freezer with ice packs — your skin will thank you after this treatment.
Within a few hours of finishing Moxi, the heat-from-within feeling will dissipate, and you'll start to see the little sandy "micro-dots" appearing. "Moxi is putting small channels of non-ablative energy into the skin," says Fischer. "These areas of injury, called microscopic epidermal necrotic debris, or MENDs, will begin to feel dry and sandy prior to flaking off." It really does feel like sandpaper on your skin, and can last anywhere from 5 to 10 days before flaking off.
Fischer says that gentle skin care and make up can be applied the same day after Moxi laser if you want — and a mineral sunscreen is a must. As the week progresses, skin will look less pink and will have a dry skin texture with those little micro dots continuing to darken before they flake off. "Most skin-care products can be resumed the following day but limit the use of actives (acids and retinols) for five to seven days," she says. "Manual exfoliation with a damp towel can be done as soon as four to five days after Moxi but it is important to use light pressure and not to force skin off before it is ready."
For me, it took about five days before my skin started to easily flake, and on day seven I looked pretty normal. My forehead and top of the nose are always the last to come off. I kept my skin-care routine pretty simple, with just a barrier-protecting thick moisturiser and lots of mineral SPF during the day, and a gentle cleanse followed by a soothing toner and layer of heavy night cream before bed.
It's also important to limit your sun exposure for that week and while your new layer of skin is healing. Best believe there were lots of wide-brim hats incorporated into my outfits post-Moxi.
Moxi Before and After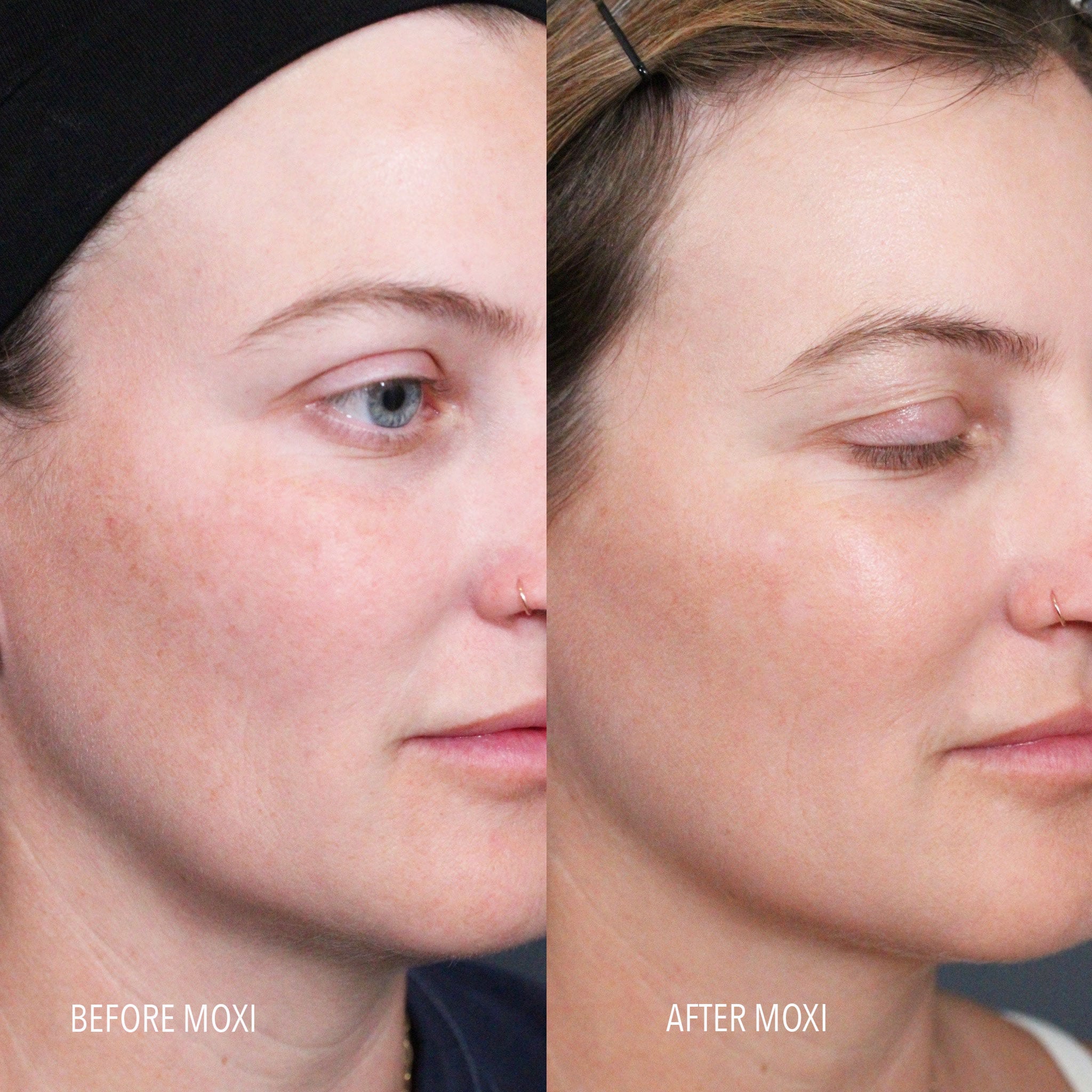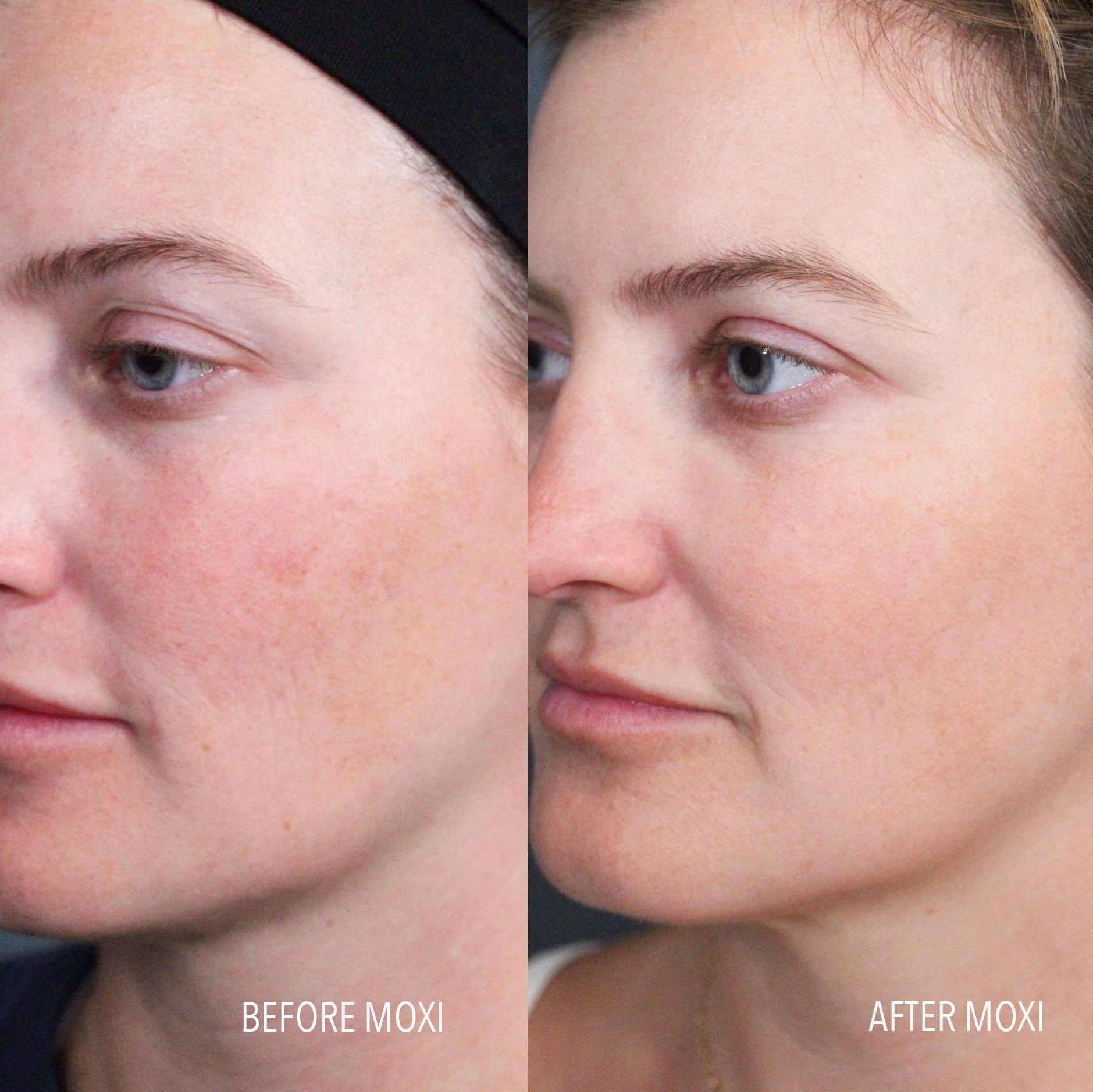 As you can see, after two sessions of Moxi, there is a significant reduction of redness and brown spots across my cheeks and chin. It was honestly so gratifying to see those dark spots literally flake off after a few days, leaving new baby skin underneath. I also feel like there is just a general glow to my skin and a smoothing of the texture, especially around my smile lines. I barely wear makeup and when I do, it has an airbrushed quality.
How Much Does Moxi Cost?
One session of Moxi typically costs about $600 to $800 for your whole face, and will range in price depending on where you live. While you will see results after one session, most people opt to do two to four, with maintenance once or twice a year after.
Is Moxi Worth It?
For someone who has stubborn hyperpigmentation that hasn't responded to anything else, Moxi is 100 percent worth it. It can definitely be used for "prejuvenation" or to get a general glow, but it was really the results I saw for my dark spots that sold me. If you're willing to shell out a couple thousand dollars for several treatments, as someone who has tried many other treatments — this would be my recommendation.
Image Source: POPSUGAR Photography / Aviel Kanter