Naomi Maximen on Creating Naomi Sadé and Inclusive Makeup
Naomi Maximen Worked at Some of the Top Makeup Counters in London — Now She Has Her Own Inclusive Line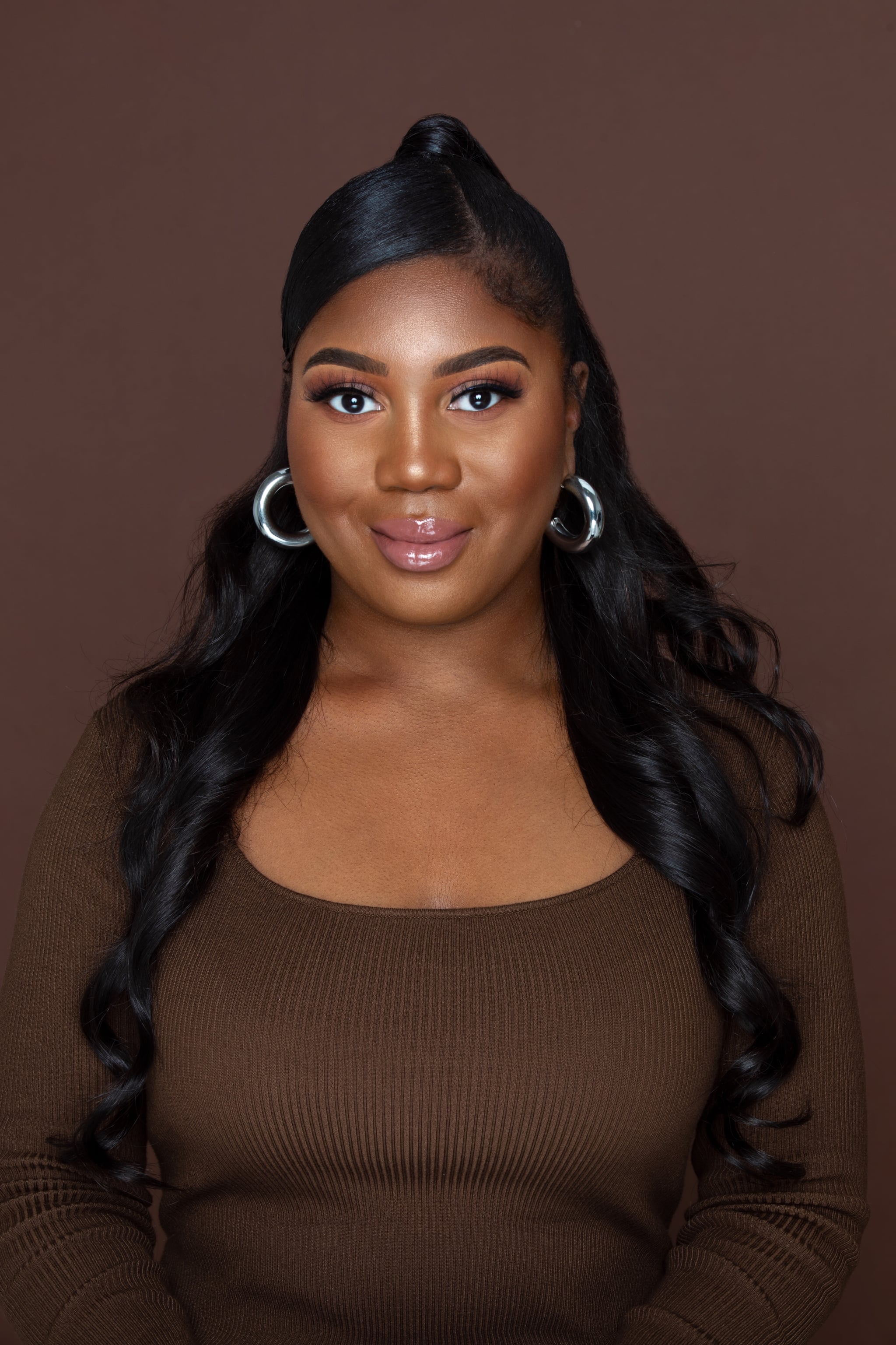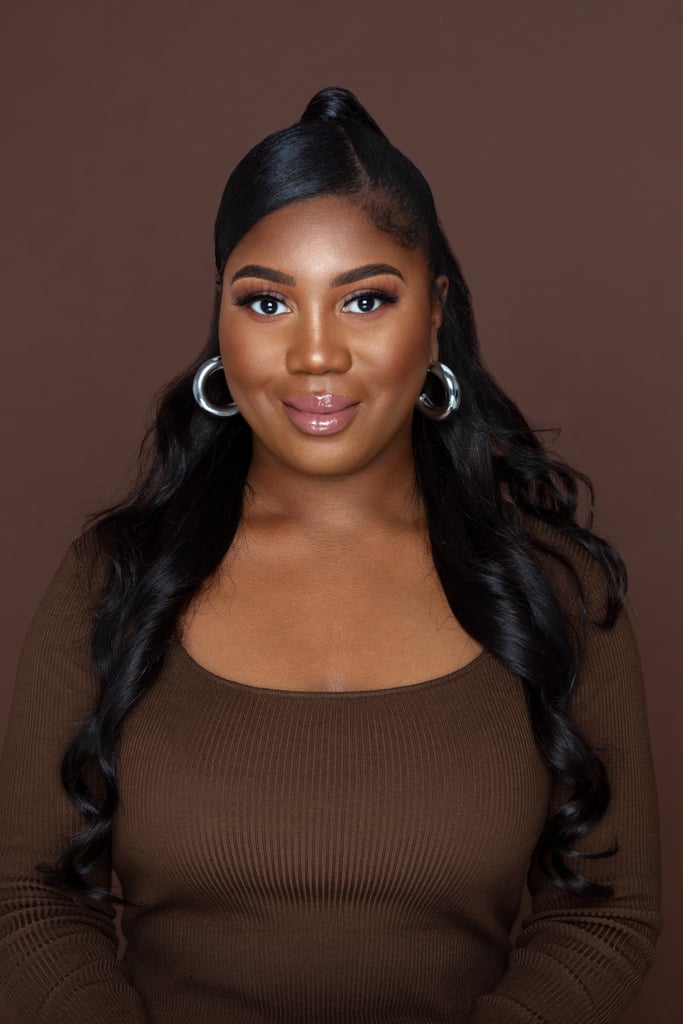 Too often, the best beauty stories go Untold, solely based on a person's skin colour, religion, gender expression, disability, or socioeconomic status. Here, we're passing the mic to some of the most ambitious and talented voices in the industry so they can share, in their own words, the remarkable story of how they came to be — and how they're using beauty to change the world for the better. Up next: Naomi Maximen, founder of vegan and cruelty-free makeup brand Naomi Sadé London.
I've always been interested in beauty. Growing up my mum tried to start her own beauty brand with some friends, but it didn't work out as it was really expensive and she was a single mum and everything. But she always looked super glam; going to Tesco she'd always have her hair done, her makeup done. So I think that's why I got into beauty. However, I massively fell in love with it when I started at university because that's when I was able to come into my own, being out with friends and stuff, and I had cash and could experiment with different things. I kind of became the go-to girl at my uni for doing people's makeup. Whenever there was an event or a wedding or a party, I'd always do people's makeup. So I was like, hold on, I could do freelance work.
I started doing freelance makeup and then when I graduated — I studied business economics at university — my dad was like, "OK, you need to stop this makeup thing now and get a proper job and work in the city like me." But that was just not what I wanted to do at all. So I continued to freelance and then I was approached by Estée Lauder to work with them. I don't know if they still do it, but back then you could be a mobile beauty assistant for the Estée Lauder companies, so you get trained by the education team on all the brands and then you get to work across them. So I was doing that all over London, but primarily Central London, working for brands like Crème de la Mer, Bobbi Brown, Aveda, and Origins.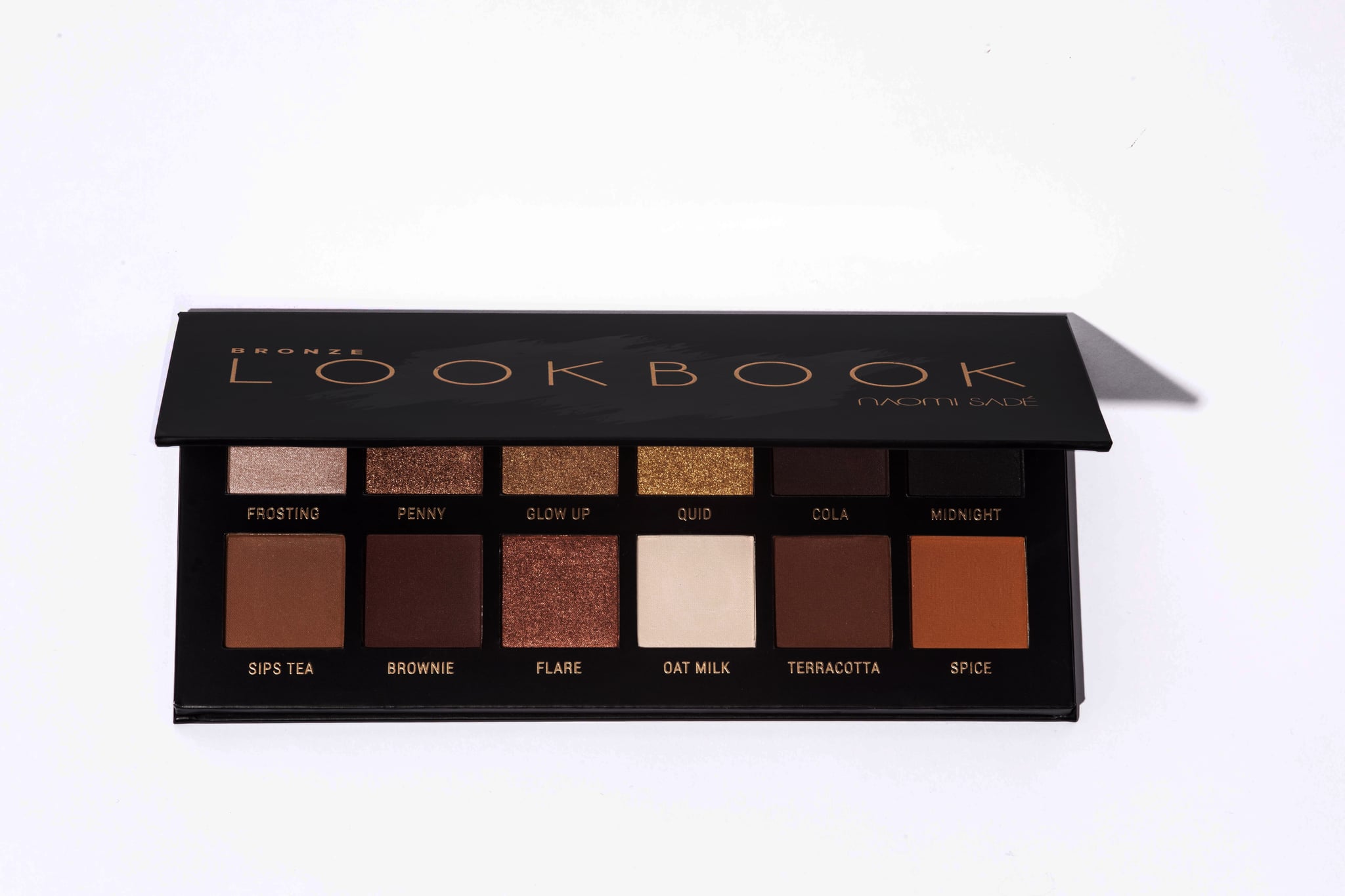 Image Source: Naomi Sadé London
That job was was great. I made some really good connections and I got to play with makeup all day and get paid for it — it was amazing! Then I joined Clinique and I was there full-time. While I was there, that's when I realised that I could do more. I wanted to have my own counter, because by the end I had kind of been stepping on my manager's toes a bit. So we sat down and had a conversation and I talked about my goals, but unfortunately there weren't any manager roles at that time. Then an opportunity came up for me as an assistant store manager at The Body Shop, so I joined and that was difficult at first. I was really young and had to manage people in their 40s and they were like, "Who are you? You've just come in here." But towards the end, I really enjoyed it.
At The Body Shop, together my manager and I brought our store into the top 50 stores [in the United Kingdom], which at L'Oréal is a big thing because then your store gets more funding, you can hire more staff, and you get exclusive products. So I was there for just under a year and again, similar to last time, I wanted more; I wanted to [manage] my own store. So I had a conversation with my new manager and she said they'd help me look for something but there was nothing for me at the time because The Body Shop is amazing and nobody ever wants to leave!
Then I joined Lancôme, where I stayed for three years, and I really enjoyed that. I had a great relationship with my area manager and because she saw that I enjoyed training and doing makeup — it just came really natural to me — she was like, "Why don't you be an education executive for the area?" So I ended up going around training people, and I made up little module courses, and I was training counter managers on how to run successful accounts and stuff like that. After a while though, I wanted to go into head office, I wanted more, but again there was nothing for me at the time. They were really sad to see me go and they helped me look for something, which was very sweet.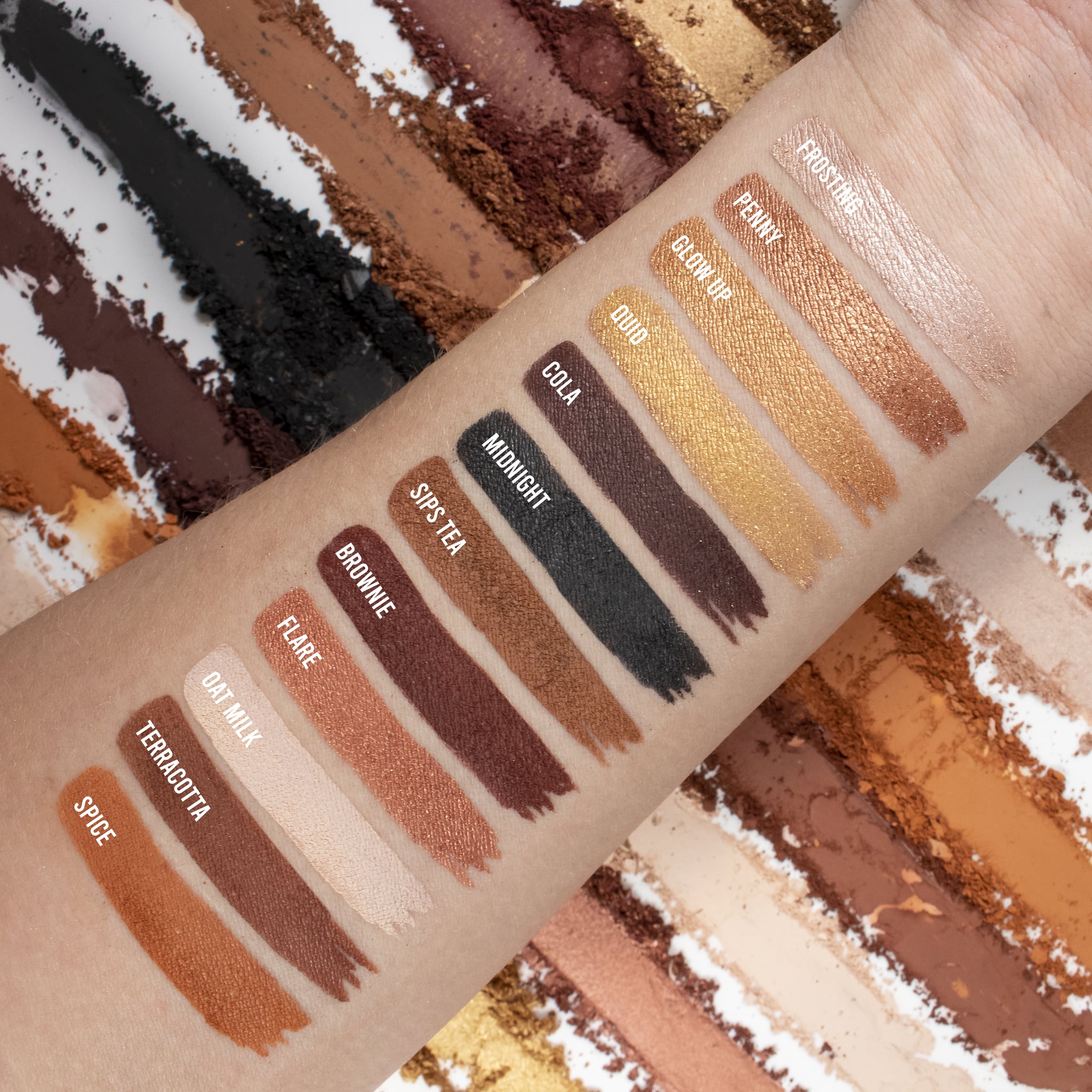 Image Source: Naomi Sadé London
I then joined Urban Decay, and I was there for a year as a store manager for the flagship boutique in London. That was amazing because I got to work with influencers, organise events, go to head office, and things like that. But then during the pandemic the flagship store closed down and I was sadly made redundant. For the first time I was able to spend time with my family at Christmas; I had never been able to do that before because they live abroad. When I was there they asked me, "Why don't you start your own brand?" At first I thought, "What do you mean?" But then I sat back and I felt that, actually, let me investigate this a bit further. My fiancé and I sat down together and went over finances and everything, and then we decided to start it up and I launched on 3 May this year, so it's still really fresh and new, but it's been going really, really well. Tommy Williams at Forbes wrote a piece about me and my story right after we launched, and I was so grateful that.
My brand is all about inclusivity. It's PETA-approved, vegan, and cruelty-free because inclusivity and sustainability were things that were really important to me. Everything is created here in the UK as well — I have an amazing manufacturer who is also into sustainability and the ethical sourcing of ingredients and raw materials.
It's amazing to me, every time we get an order, knowing that somebody out there is buying into something that I've created and buying into my dream.
My first product is an eyeshadow palette, which, in addition to being vegan and cruelty-free, is also talc-free. It includes ingredients like jojoba oil because when I was doing makeup a main point for people was that their eyelids were so dry they never knew what shadows to use. So I wanted to make sure I infused that in there with the powder formulation.
I started with an eyeshadow palette because I noticed that, as a makeup artist, the most requested look was always smoky eyes that were bronze or gold in tone. From the time I started doing freelance makeup all the way until I worked at Urban Decay, that was the most requested look. But when I would do a bronze or gold smoky eye, I would always have to have two or three different palettes on the table and it kind of scared people and put them off a bit. And I mean, as a consumer I had the same problem as well. So I thought, well, why don't I just create a palette that has enough warm tones to suit every skin tone, and a variation of bronzes and golds so that you don't have to go into three or four different palettes to get all the colours you want — you've got your favourites all in one palette.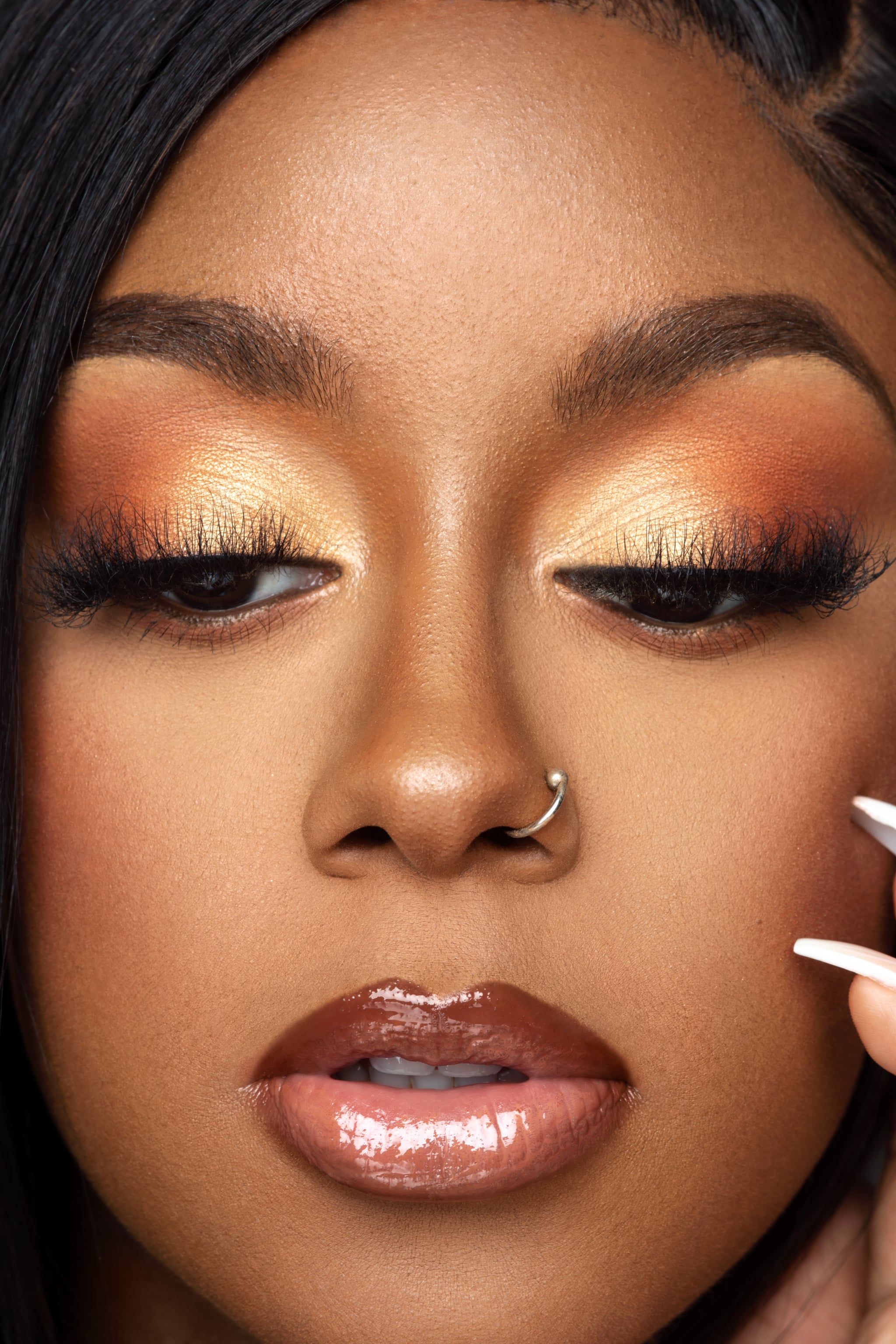 Image Source: Naomi Sadé London
Being a woman of colour, and a consumer, and a lover of makeup, I've seen the way that the beauty industry has changed recently, but I still think that we've got a long way to go. In the past, it was really frustrating for me when we would get a product launch and I'd look at the marketing material and the campaign didn't have any dark-skin-toned women or men, or if there were, it was one person and they would be in the background almost like an afterthought. And when the brand would say the products were fully inclusive and the colours would suit every skin tone, I would try it and it was grey on me. Even during trainings, they would always have the shades for the lighter complexions, but they often wouldn't have one for me or the other two or three Black or Asian girls that were at training.
For things to truly get better, I think that the people that work in head office and the people who are in development, they are all a certain type of person, and I feel like it kind of needs to start at the top and work its way down. If you've got people who think the same and look the same, they're not going to be able to create products that work for everybody, so I think there should be a lot more diversity on the development side of things.
I do see that the industry has improved, but I still think that we've got a long way to go and I really want to be a part of that change. It's nice when I hear feedback from customers, and see people in the comments and DMing me saying, "Wow, I really like what your brand stands for," and, "The palette looks amazing, it would definitely suit me, and I'm going to tell my cousin or my sister."
It's amazing to me, every time we get an order, knowing that somebody out there is buying into something that I've created and buying into my dream. I'm actually in the final stages of development for my second and third products, which is super exciting — fingers crossed we're able to launch towards the end of the summer, beginning of autumn. At the moment, we only sell directly through our website, but I'm in conversation with online beauty retailers to hopefully have my brand on their platforms. In the next five to 10 years, my goal is to have my products sold in the likes of Boots, Superdrug, Sephora. That would be a full-circle moment for me. You know, I used to work here, I used to eat in the canteen, and now my stuff is being sold here.