The NARS Claudette Collection Is Inspired by François's Mum
François Nars's Claudette Collection Is a Love Letter to the Most Important Person in His Life: His Mum
As POPSUGAR editors, we independently select and write about stuff we love and think you'll like too. If you buy a product we have recommended, we may receive affiliate commission, which in turn supports our work.
Every day you apply your Radiant Creamy Concealer, you can thank François Nars's mum, Claudette. You can thank her for your Laguna Bronzer, and go ahead, thank her for your compact of Orgasm blush, while you're at it. Nars, the man, has had many muses throughout his illustrious career, but none more important or as enduring than his own mother. Ridiculously stylish, Claudette not only imbued in her son a love of fashion, but she also (and perhaps more importantly) supported his dreams, accompanying him on a move to Paris where he could start a career in high fashion. Nearly three decades after starting his own brand, the legendary makeup artist finally created a collection inspired by the most important person in his life. The Claudette Collection, out on 1 Feb., can truly be seen as François's love letter to his mum — heart-bedecked lipstick tubes and all.
"I am very lucky to have an extremely beautiful, glamorous, and elegant mother on whom I was always able to practice makeup," Nars said of Claudette in a statement. But Claudette was more than just Nars's original model and muse. She helped cultivate his talent from a young age — providing him access to fashion magazines, allowing him to dream big, and bestowing upon him her pearls of French beauty wisdom.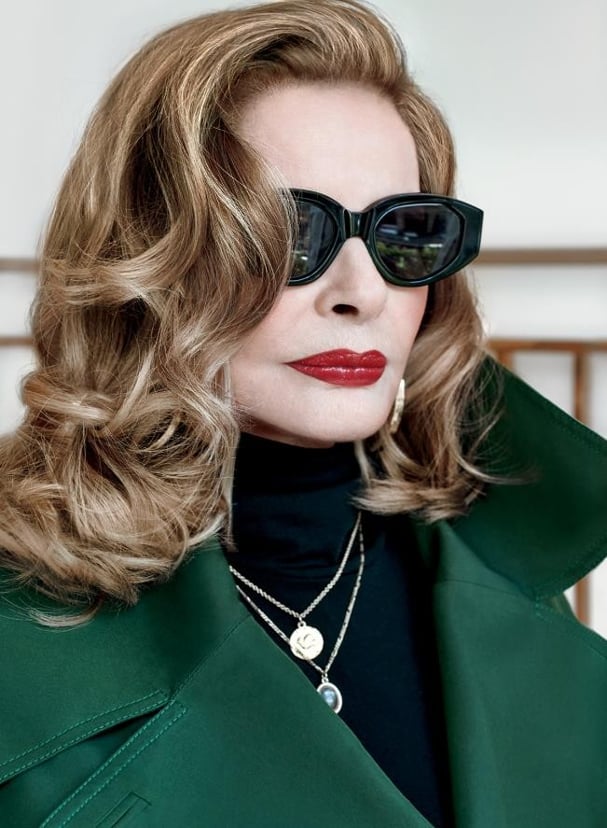 "I was always elegant, and in all humility, I had a bit of taste," Claudette said of how she helped support and develop her son's talent, quotes shared with POPSUGAR from the brand. "I wore very little makeup: my eyes lightly done, a touch of blush, some lip gloss. And I used to tell François all the time, 'don't put on too much!' I never liked it when he was doing a bold look on me … I always told him, 'when you create a foundation, make it really light and transparent.'" It's no coincidence that in 1996, Nars made waves in the fashion world when he did model Carolyn Murphy's makeup for Harper's Bazaar with nothing but a bit of bit of the same burnt-orange-coloured lipstick on her eyes, cheeks, and, lips — a far cry from the fully made-up faces of the '80s and early '90s.
"Dearest Maman,
I am very lucky to have you as my original muse, my guide, my mother. Thank you for being the inspiration behind everything I create and the reason why I get to do what I love most." — François
When he was 18, Claudette helped Nars move to Paris where he could get his foot in the fashion door. "Back then makeup artistry schools didn't exist; makeup wasn't recognised the way it is now. But François knew who the greatest makeup artists in Paris were," she said. "When we arrived, we found a small apartment in Saint Germain and I stayed with him for some time. One day François said, 'come on Mom, let's go have your makeup done.' So I went to see two or three great makeup artists, and every time I asked them if they needed an assistant."
A young François Nars.
It was at one of these appointments that Claudette met Olivier Échaudemaison, the legendary French makeup artist who is currently the creative director for makeup at Guerlain. "I asked if he needed help, he told me that, indeed, he had a show the following day and his assistant just had a baby. He said, 'tell your son to come tomorrow morning.' He was so impressed when he found out how much François knew about fashion at such a young age. That's how it all started, and since then he's always had work."
Every aspect of the Claudette Collection is inspired by its namesake and Nars's love of '70s Rive Gauche Paris. There's the St. Germain des Prés eyeshadow palette, named after the Parisienne neighbourhood where they first lived, and the Claudette Cheek Duo, an ode to his mother's love of blush. "She always says blush is a woman's best accessory," Nars said.
François Nars's grandmother and mother
The bold prints decorating the lipstick tubes and compacts harken back to clothes Nars poured over in Claudette's fashion magazines — pieces she would sometimes buy at his request. It was the 1970s, and a young Nars was entranced by the decadence of Yves Saint Laurent. "François would go through all the fashion magazines when he was 14, or even 12 years old, and he would always point out the clothes from Yves Saint Laurent," Claudette remembered. "He said to me, 'we need to go to Toulouse — one of the Rive Gauche stores has opened there and you need to go and try the clothes.' He thought they were the most beautiful clothes he had ever seen. The fabrics were haute-couture standard, and I kept everything."
Claudette admitted she was a bit nervous it might be difficult to be the starring face of a beauty campaign at her age, "but we spoke and decided to go ahead with it, and I love everything about this collection. Every piece, the dots, the hearts — they represent so many things I owned and loved. Everything is so refined."
Some say taste can't be taught. In the case of Claudette and François, however, it's truly like mother like son, and our makeup bags are quite the better for it.
The Nars Claudette Collection is available on 1 Feb. at narscomsetics.co.uk. Keep reading to see and shop the entire collection.