Naturium Dew Glow Moisturiser SPF 50 Review With Photos
Naturium's Sunscreen Is So Good, I've Gone Through 4 Bottles
As POPSUGAR editors, we independently select and write about stuff we love and think you'll like too. If you buy a product we have recommended, we may receive affiliate commission, which in turn supports our work.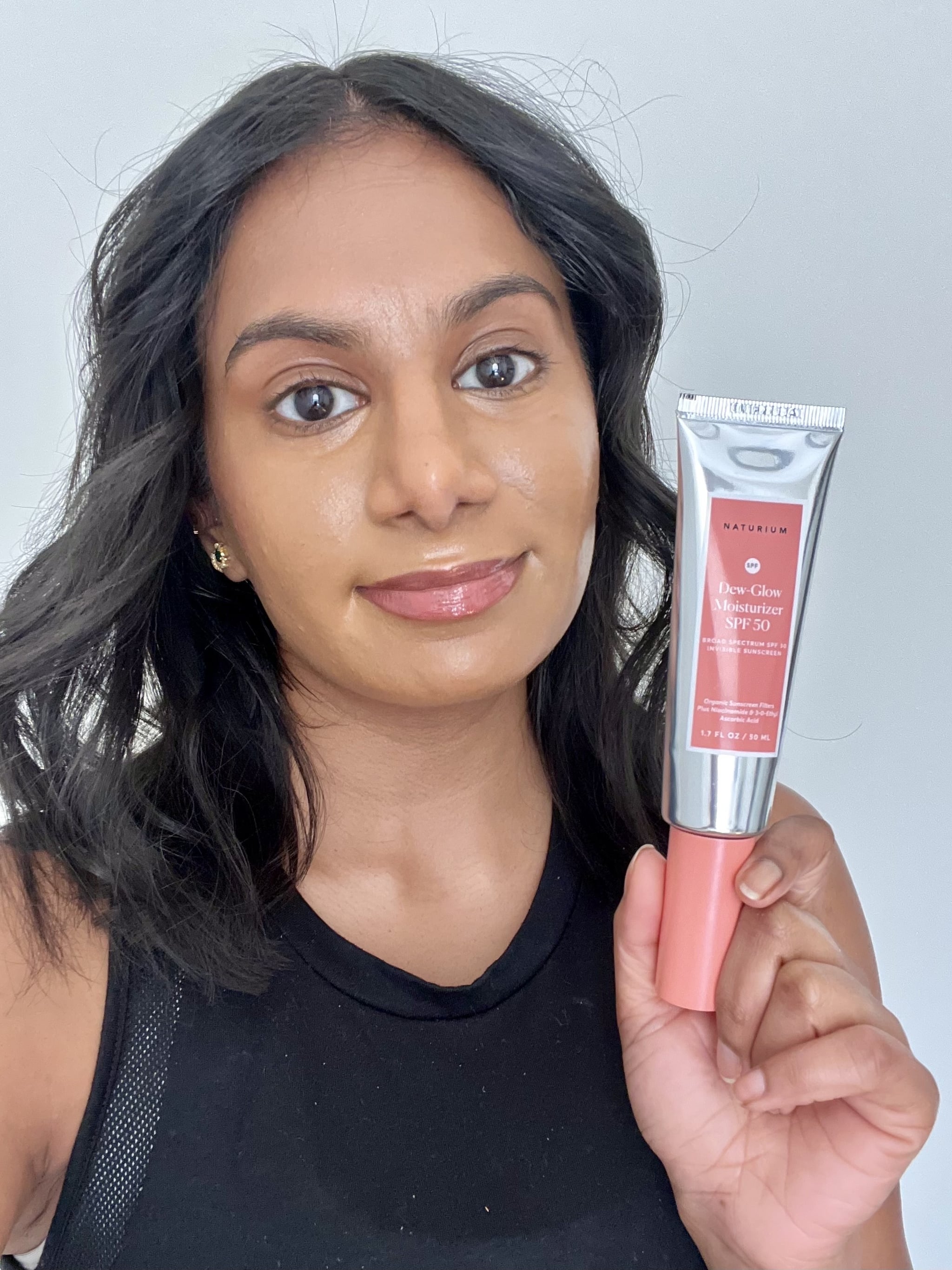 Every skin-care routine needs a quality sunscreen. My biggest skin concern is fading my dark spots and hyperpigmentation, and sunscreen is key to showing any progress. Whenever I don't use it, I notice my spots getting darker within 24 hours. That's why I'm always on a mission to find the best sunscreen with elegant formulations that I enjoy using every day.
My ideal sunscreen feels like a moisturiser that keeps my dry skin hydrated all day without the heaviness or the white cast, and that's exactly what Naturium's Dew Glow Moisturiser SPF 50 ($22) provides. I've been a huge fan of Naturium's skin-care line, from its Alpha Arbutin Serum to the gentle Retinol Complex Face Cream. The line's Glycolic Acid Body Wash is a must for my shower routine, keeping my skin even toned and ingrown free all year round, and it's gone viral as well. So when it came to its sunscreen, I had incredibly high hopes that lived up to the hype.
Keep reading for my full review.
About the Naturium Dew Glow Moisturiser SPF 50
This is a a chemical sunscreen formulated with homosalate, octisalate, and avobenzone, providing broad-spectrum SPF 50 protection.
The sunscreen also contains niacinamide to brighten and hydrate, as well as ethyl ascorbic acid, a stable water and oil-soluable version of vitamin C.
It's formulated for those with sensitive skin, dry skin, and combination skin.
This sunscreen is vegan, cruelty free, gluten, free, fragrance free, and paraben free.
What I Like About the Naturium Dew Glow Moisturiser SPF 50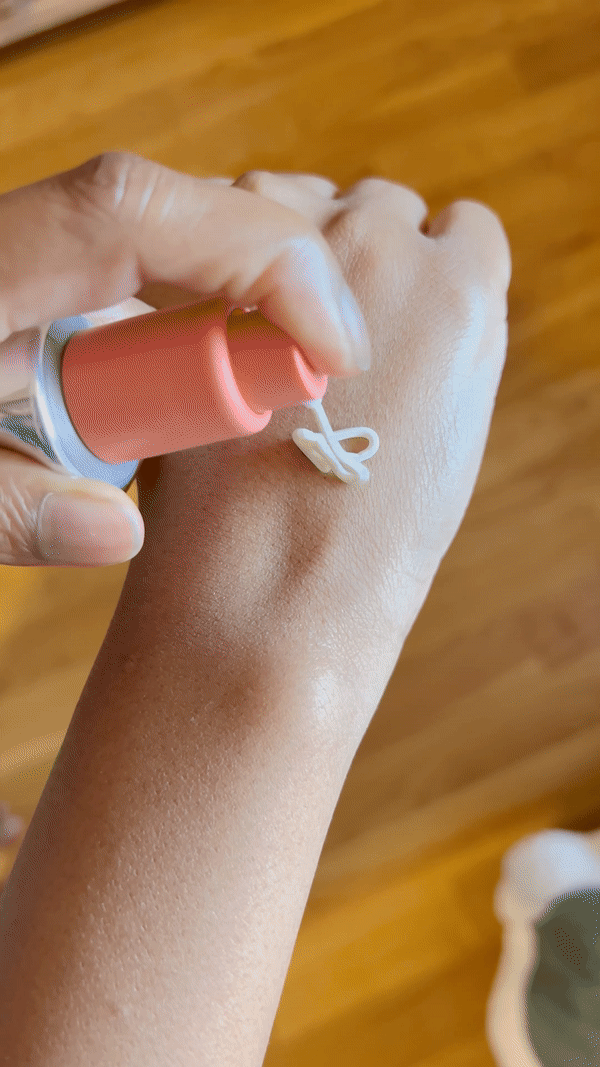 Naturium's Dew Glow Moisturiser has easily become one of my all-time favourite sunscreens. It feels so elegant on my skin, unlike a lot of traditional formulas, and has a silky texture that I've often only found from K-beauty brands. Because it's so hydrating, I can streamline my morning routine and skip my moisturiser altogether. It delivers a high amount of broad-spectrum protection with an SPF of 50 and a PA++++ rating, which I prioritise since I deal with uneven skin tone and dark spots.
Naturium's sunscreen is a chemical-based formula, and although organic filters have pros and cons, this one is all pros for me. For starters, this blends into a completely clear finish that's radiant — absolutely no white cast in sight, no matter how much of it I apply. Unlike other chemical sunscreens on the market, this one doesn't sting my eyes, either; in fact, it doesn't even bleed into my eyes, even with its dewy finish. Some physical sunscreens can feel a little too heavy on my skin and might be clogging up my pores, resulting in breakouts by the end of the day. However, this one feels so lightweight that I can actually reapply it throughout the day because I don't even feel it on my skin. Plus, it plays well with other products as it doesn't pill up and creates a great base for makeup.
How to Use the Naturium Dew Glow Moisturiser SPF 50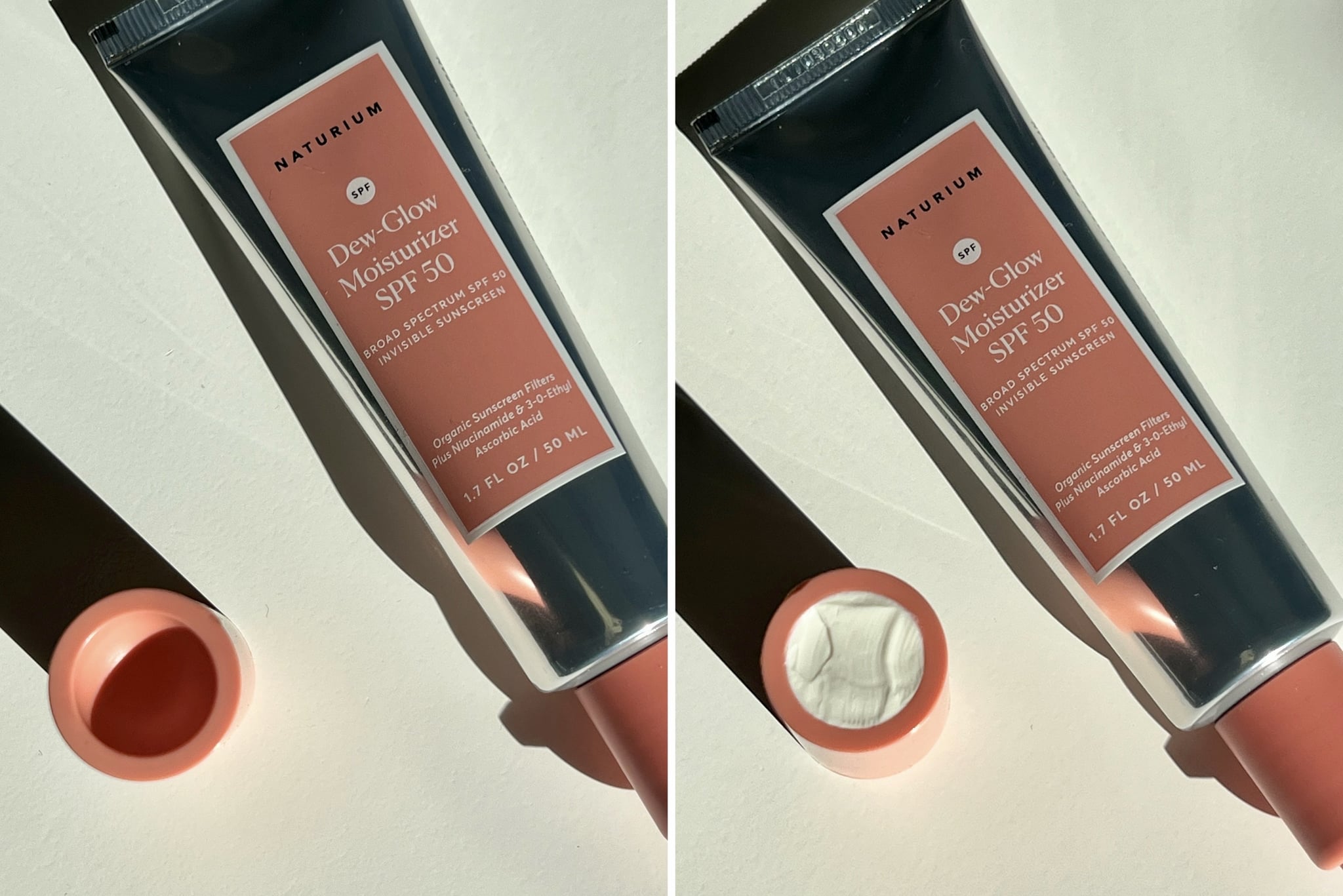 Like most sunscreens on the market, this is meant to be used as the last step of your morning skin-care routine every day, but before any makeup. The brand recommends applying at least one-fourth of a teaspoon of sunscreen onto your face 15 minutes before sun exposure, which is about five to six pumps. To make your life easier, the brand integrated a concave dip into the cap of the sunscreen tube that serves as a measuring spoon, so you can make sure you're getting the right amount of coverage every time you use it. I like to apply this sunscreen in layers so the one-fourth of a teaspoon amount goes on evenly. Bring the sunscreen down to your neck, chest, and even your ears and shoulders. Any remaining excess stays on the back of my hands.
Although this sunscreen hasn't pilled on me in the several months I've been using it, one trick I learned to prevent pilling in the first place is to let your skin care settle in for a minute or two before going in with the next steps, whether it's sunscreen or a primer. It's also standard practice to have to reapply sunscreen after every two hours. There are days I tend to forgo reapplication just because I forgot, I'm indoors and not near many windows, or I'm wearing makeup. But most of the time, I can get at least one reapplication in, and with this sunscreen, I just slather that one-fourth of a teaspoon on top of my skin. If I'm wearing makeup, I prefer touching up with a powder sunscreen or a tinted sunscreen that blends into my complexion.
What to Consider Before Trying the Naturium Dew Glow Moisturiser SPF 50
This sunscreen is one of my all-time favourites, so I personally have no qualms about it. However, if you're someone who prefers a physical sunscreen, just note that this is a chemical-based sunscreen with organic filters. Chemical sunscreens might not work well with those who have sensitive skin; however, this is one of the few chemical-based sunscreens I've used that doesn't cause any irritation.
Another thing to consider is that this sunscreen is really moisturising. Therefore, if you have an oily skin type, this might not be a great fit for you, especially after a few hours of wear. This also leaves behind a glowy, dewy finish, and if you prefer something more mattifying, you can top off your complexion with a powder or go for a sunscreen that's ideal for your needs.
Where Is the Naturium Dew Glow Moisturiser SPF 50 Available?
The Naturium Dew Glow Moisturiser SPF 50 is available at Amazon and Target ($22).
Rating:

Image Source: POPSUGAR Photography / Anvita Reddy