R.E.M. Beauty Sweetener Foundation Review With Photos
Ariana Grande's R.E.M. Beauty Sweetener Foundation Is a Hit
As POPSUGAR editors, we independently select and write about stuff we love and think you'll like too. If you buy a product we have recommended, we may receive affiliate commission, which in turn supports our work.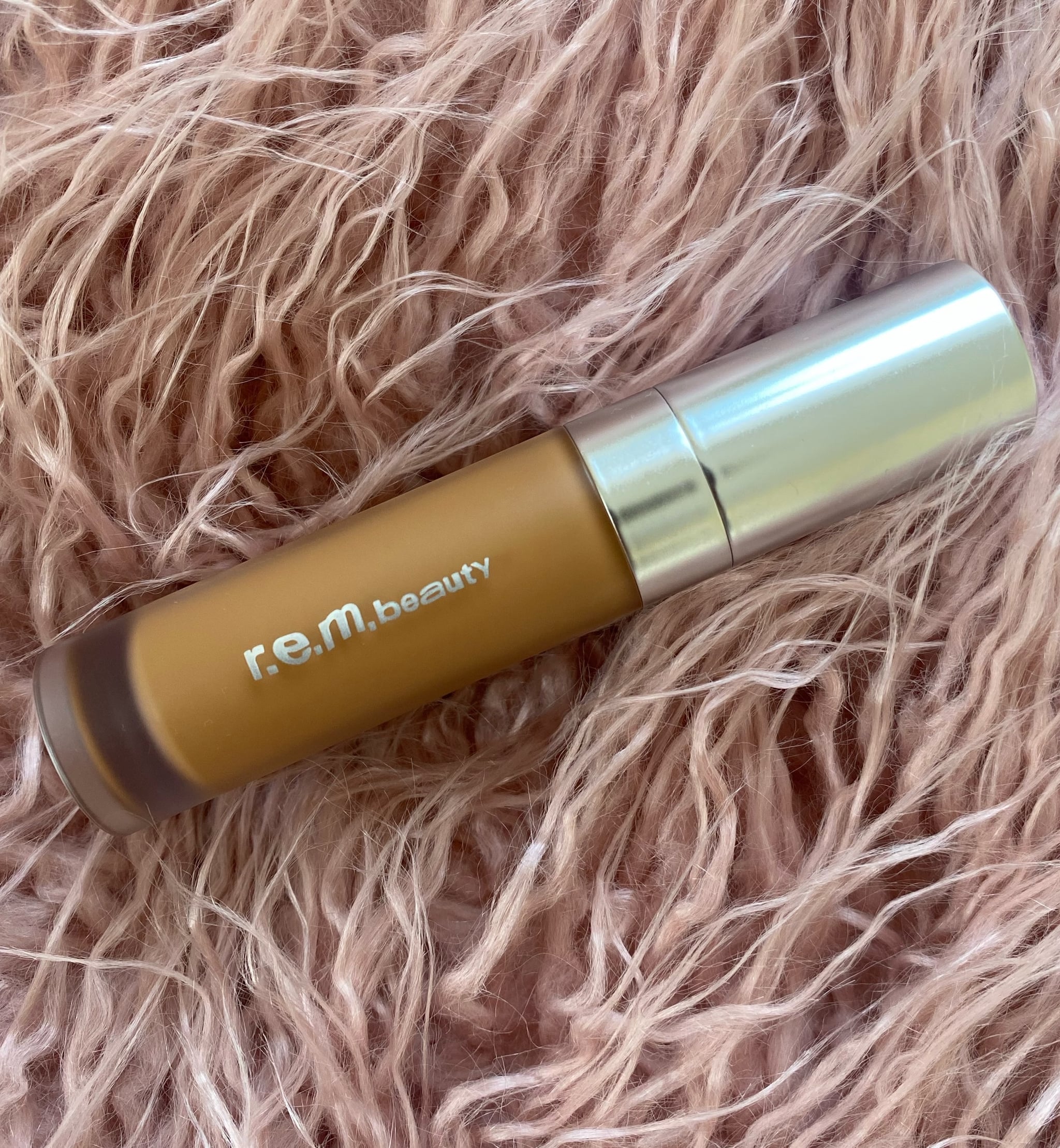 While the summer-to-autumn transition brings the excitement of switching my wardrobe from a go-to white tee to the cosiest knits, I think it's equally important to make some seasonal changes to my makeup and skin-care routine. Whether that means adding a hydrating serum at night or swapping in a new foundation, I always feel good knowing I'm giving myself a little extra love. This year, I decided to add the R.E.M. Beauty Sweetener Foundation (£28) into my routine, and I'm already obsessed.
Usually, I have to mix two foundations because my skin tone is relatively light with a warm undertone, but after giving Ariana Grande's latest product a try, I've officially said goodbye to my old ways. I picked two colours just to be safe, but fortunately, I found the perfect match in Tan 7G on the first try.
While it's understandable to be sceptical of celebrity beauty brands, Grande's new foundation is a smooth base that truly lives up to the hype. Its skin-care-cosmetic hybrid formula gives you an instant glow with a natural-looking finish ideal for any glam, like the no-makeup makeup look or your full glam.
Ahead, I share my full review of the R.E.M. Beauty Sweetener Foundation.
About the R.E.M. Beauty Sweetener Foundation
It comes in 60 shades, covering a vast range of fair to deep skin tones.
Ingredients in the formula include raspberry leaf and carrot extracts to hydrate, brighten, and even tone.
It's waterproof and fuelled by the brand's essence of hyaluronic acid spheres.
Its smooth texture pairs well with other base products and can be worn for hours.
The vegan foundation instantly covers blemishes and gives your skin a long-lasting glow without feeling heavy.
What I Like About the R.E.M. Beauty Sweetener Foundation
Since I have normal to oily skin, I usually stick to my two holy grail products of three years — the Fenty Beauty Pro'Filtr Hydrating Longwear Foundation and the Maybelline Fit Me Matte + Poreless Liquid Foundation. However, with the pending season change, the R.E.M. Beauty Foundation is one I'll be adding to my routine for the colder months, especially as my skin tone gets slightly lighter around this time.


From its hydrating feel to its soft finish, the foundation feels lightweight, giving me that soft glam I love. It's a product that looks like your skin. When applying it, I did need a few extra pumps than I would usually use, but it creates an excellent finish that lasts all day. Apart from being a fantastic base, it's highly beneficial for your skin with ingredients like niacinamide to help reduce the look of pores, correct dullness, and brighten your skin.
How to Use the R.E.M. Beauty Sweetener Foundation
The R.E.M. Beauty Sweetener Foundation comes in a medium-size, clear bottle with a pump, making application easy. I pumped a few drops on my hand and used a damp makeup sponge to blend it into my face. If you have sensitive skin like me, you can also use a foundation brush, which gives just as much coverage without needing to apply much pressure.
What to Consider Before Trying the R.E.M. Beauty Sweetener Foundation
This foundation is a great option for anyone seeking natural-looking, skin-like coverage. However, its longwear claims mean you might need to pull out the cleansing balms and oils to remove it. Makeup wipes and a single cleanse simply won't suffice.
Where Is the R.E.M. Beauty Sweetener Foundation Available?
The R.E.M. Beauty Sweetener Foundation is available for purchase at the Selfridges and Sephora.
Rating:
Image Source: POPSUGAR Photography / Naomi Parris