Rosalique Anti-Redness Formula Before and After Photos
I Have Rosacea, and This Anti-Redness Moisturiser Replaced My Everyday Foundation
As POPSUGAR editors, we independently select and write about stuff we love and think you'll like too. If you buy a product we have recommended, we may receive affiliate commission, which in turn supports our work.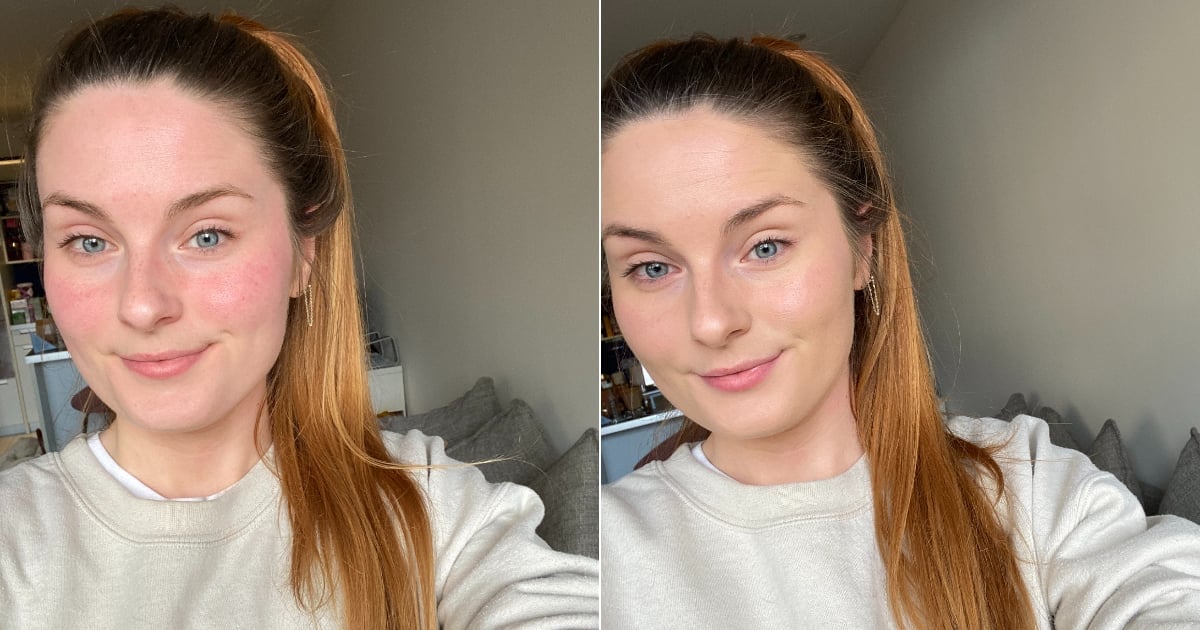 Last year I was diagnosed with rosacea, more specifically papulopustular rosacea. It finally gave all the answers to my skin woes — redness, pimples, inflammation, and sensitivity — and although it's taken a number of months, I've now managed to get my irritated skin under control with both prescription and nonprescription products in my routine, in addition to knowing what my triggers are, which is really important with rosacea. The one thing I was still missing, however, was a product to help hide redness during the day, which didn't come in the form of a full-coverage foundation. Until now, that is. Enter: Rosalique 3 in 1 Anti-Redness Miracle Formula SPF 50 (£30), which has fast become my go-to, easy-to-use foundation replacement.
The green-tinted, redness-neutralising moisturiser aims to provide "an instant concealing and redness-reducing effect," and spoiler alert: it definitely delivered on its promise. It's similar in concept to the TikTok famous Dr. Jart+ Cicapair Tiger Grass Colour Correcting Treatment, which works to impressively colour-correct in seconds. However, the Rosalique cream is specifically formulated for hypersensitive and rosacea-prone skin.
The key ingredients include α-bisabolol (an anti-irritant and anti-inflammatory), zeolite (which helps to calm redness), provitamin B5 (a humectant and skin softener), urea (a humectant as well as a gentle exfoliator), and shea butter (a moisturiser). All of this, paired with its microencapsulated pigments and green-coloured outer layer, helps to neutralise redness and even out skin tone, whilst calming down any skin irritation. And perhaps most importantly, the formula contains SPF 50 with UVA and UVB protection. UV rays happen to be one of the biggest triggers of rosacea, making SPF an incredibly important step in my routine — yes, even when it's cloudy.
To apply the Rosalique 3 in 1 Anti-Redness Miracle Formula, I squeeze some onto the back of my hand, and using the Rosalique brush, I dab it onto my cheeks, chin, forehead, and neck and blend it out just like I would a foundation. Then, using the By Joy Adenuga Hey Guys Foundation Brush (£18), I buff it all out to make sure the green pigment matches my skin tone and is evenly disbursed. To be quite honest, I'm a bit slapdash when it comes to makeup. For that reason, I prefer a formula that's pretty foolproof when it comes to application, so I can do it quickly in the morning without any dreaded tide marks or patches.
The formula dries down neither heavily matte nor shiny; it simply looks like a second skin, which I really like as my skin is on the drier side. It's incredibly comfortable to wear and feels just like a lightweight moisturiser. It doesn't irritate my skin one bit, and it lasts an entire day without the need of any other makeup or setting sprays applied over the top.
Since I'm not a full-coverage foundation kind of person, for me, an anti-redness moisturiser is the perfect everyday solution to minimising the appearance of some of my redness. In the "before" photo, I'm wearing just Heliocare Mineral Tolerance Fluid (£27), and in the "after" photo, I'm wearing the Rosalique 3 in 1 Anti-Redness Miracle Formula on top of my SPF, without any makeup added afterwards. When I'm out and about a bit more, I'll wear some concealer under my eyes and add a little blush and bronzer over the top of the Rosalique cream.
Before trying the Rosalique 3 in 1 Anti-Redness Miracle Formula SPF 50, I wouldn't have dreamt it would be a foundation replacement, but it covers my redness so well that even on my most flushed days, I can skip the makeup altogether.