Summer Fridays Cushion Cream Moisturiser Review With Photos
This Rich, Creamy Face Moisturiser Is Like a Cosy Blanket For Your Skin
As POPSUGAR editors, we independently select and write about stuff we love and think you'll like too. If you buy a product we have recommended, we may receive affiliate commission, which in turn supports our work.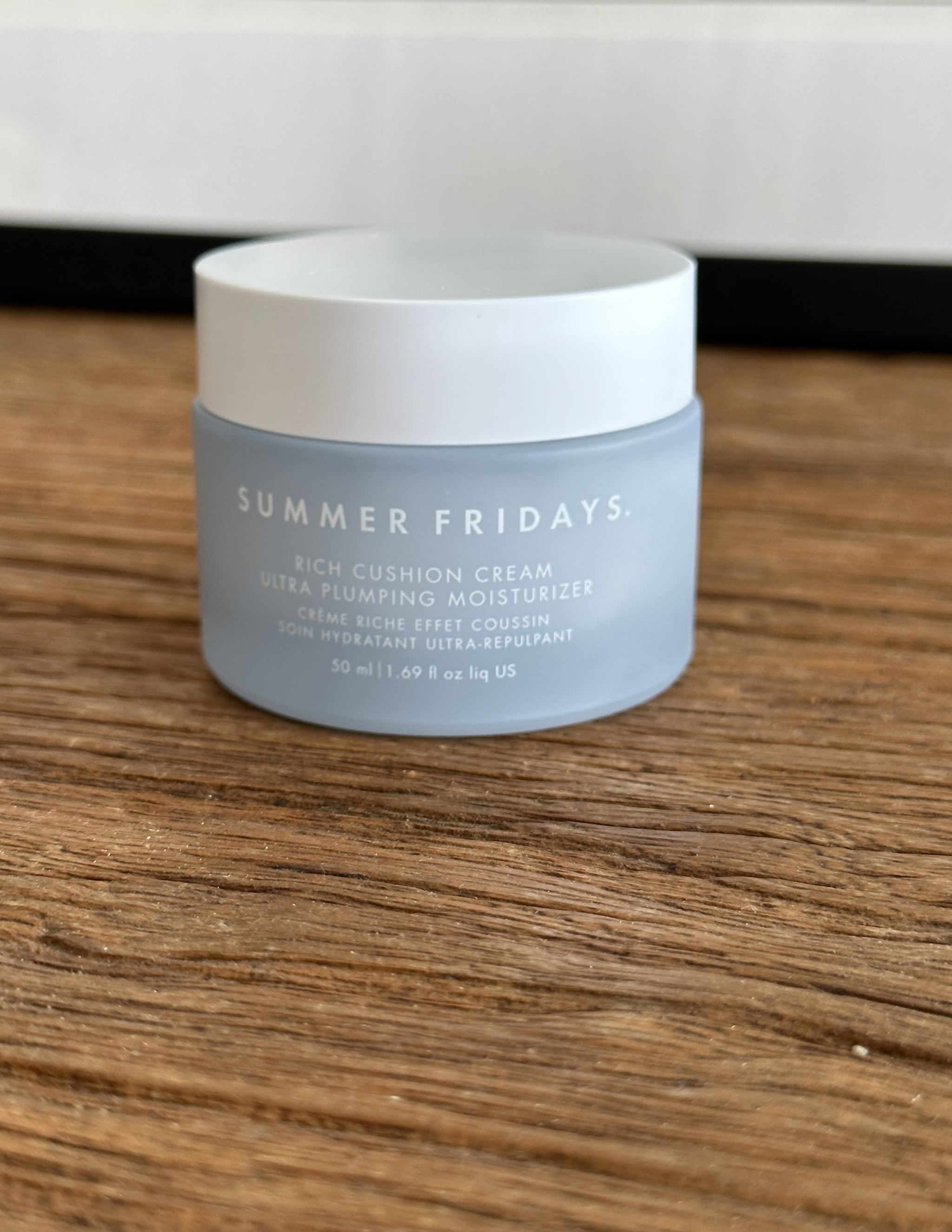 In case you were wondering: thick creams rule everything around me. No matter if it's 30 degrees or 95 degrees, morning or night, you better believe I'm reaching for a rich, buttery, heavy-weight face moisturiser. Don't ask me why, it's just what my skin prefers. I've professed my love for many moisture-barrier protecting creams, and the new Summer Fridays Rich Cushion Cream Ultra Plumping Moisturiser ($52) is my latest obsession in the thicc cream category.
I've been slathering it on nonstop for the last few weeks, especially since I've been working on my backyard under the the sweltering Los Angeles UV rays and have gotten slightly more sun on my face than I like to (read: I'm sunburnt). My skin is craving something that will both protect and restore my overworked dermis, and this formula has been the answer to those calls. Keep reading for my review of the newly launched Summer Fridays Rich Cushion Cream, and what to know before buying for yourself.
About the Summer Fridays Rich Cushion Cream
Key ingredients include super-hydrators glycerin, squalene, and saccharide isomerate.
A blend of chamomile and allantoin help calm skin.
The formula is fragrance-free and received the National Eczema Association Seal of Acceptance.
It can be used as a makeup primer and as the last step in your skin-care routine.
What I Like About the Summer Fridays Rich Cushion Cream
Obviously, the first thing I'm going to talk about is the texture of this cream: it's definitely thick, but it's not so heavy that you feel like little beads of sweat are going to start forming on your upper lip the moment you walk out of the house in the summer. (You know the feeling.) It sinks into your skin pretty much immediately, which is relatively unheard of when it comes to rich creams. No going around and around with your fingers here — in just seconds it smooths down.
I've also recently developed mild rosacea, so I'm looking for products that are going to be soothing and calming to my skin while building up the strength of my moisture barrier. The glycerin, squalane, and saccharide isomerate (a plant sugar-derived humectant) account for the moisture the Summer Fridays cream delivers, while hyaluronic acid watermelon rind, lentil fruit, and apple skin extracts help plump. My skin practically drinks it up.
It's also important to note that the formula is fragrance-free (a must in my sensitive-skin book), is non-comedogenic, and received the National Eczema Association Seal of Acceptance.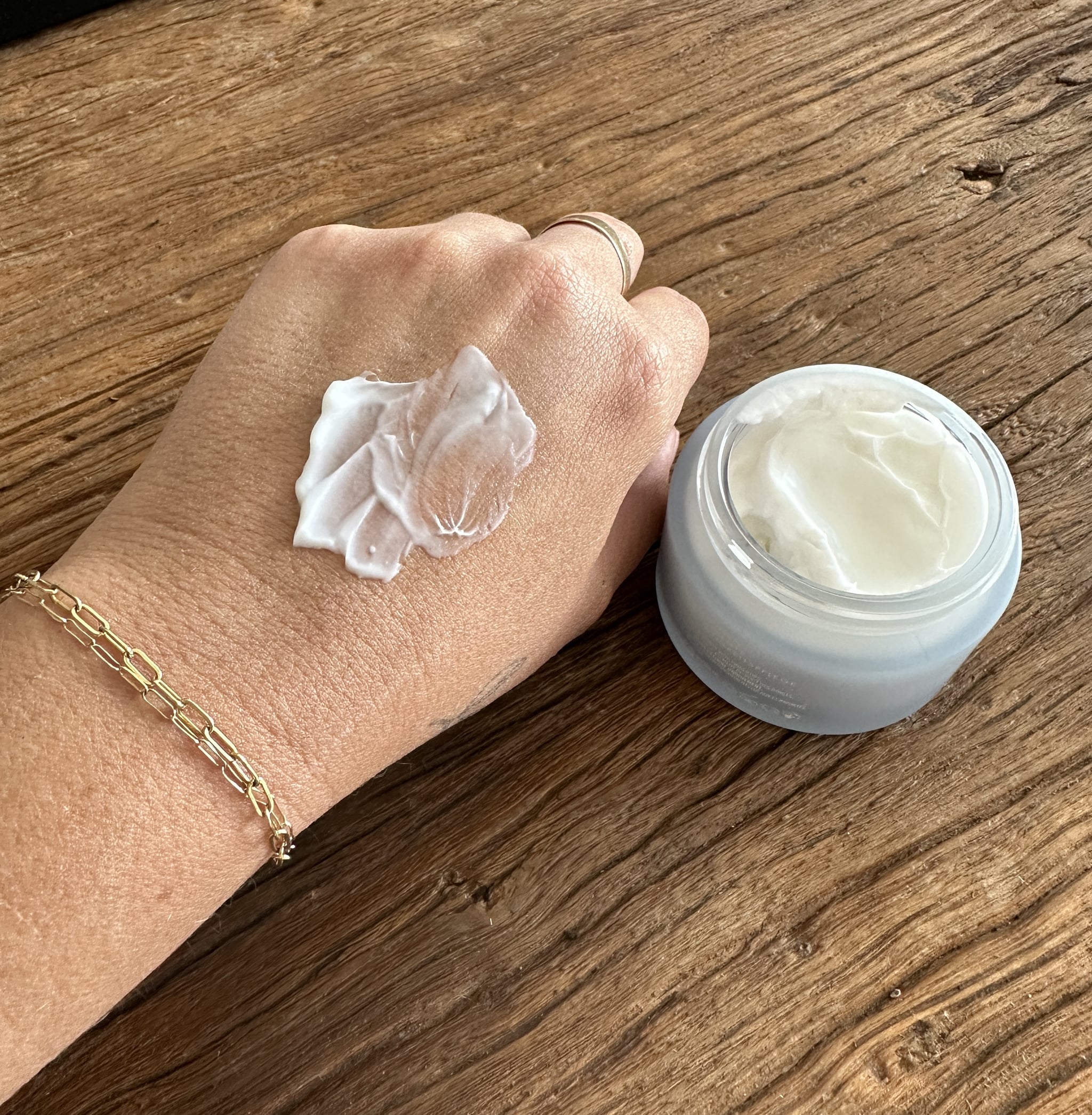 How to Use the Summer Fridays Rich Cushion Cream
Like the brand recommends, I have been using the Rich Cushion Cream both as a makeup primer and as a nighttime moisturiser. It goes on nice and smooth under my globs of SPF and doesn't pill throughout the day. Then at night, I've been using it as part of my slugging routine (under a layer of Aquaphor) to help heal my slightly burnt skin. It seems like a pretty versatile and hard-to-mess-up product though, so I'd say use it however you prefer to apply your moisturiser.
What to Consider Before Trying the Summer Fridays Rich Cushion Cream
According to the brand, the formula is best for those with normal, dry, dehydrated, mature, and sensitive skin. Keep in mind, this is a thicker formula, so if you prefer something water- or gel-based, this may not be for you. I'd also say that on the spectrum of luxury rich creams, this one is priced on the lower end, coming in at under $55.
Where Is the Summer Fridays Rich Cushion Cream Available?
As of today, the Summer Fridays Rich Cushion Cream is available at SummerFridays.com and Sephora.
Rating:
Image Source: POPSUGAR Photography / Aviel Kanter