Tarte Maracuja Juicy 3-in-1 Waterproof Brow Duo Review Photo
This 3-in-1 Pen Gave Me the Most Perfect, Natural Brows
As POPSUGAR editors, we independently select and write about stuff we love and think you'll like too. If you buy a product we have recommended, we may receive affiliate commission, which in turn supports our work.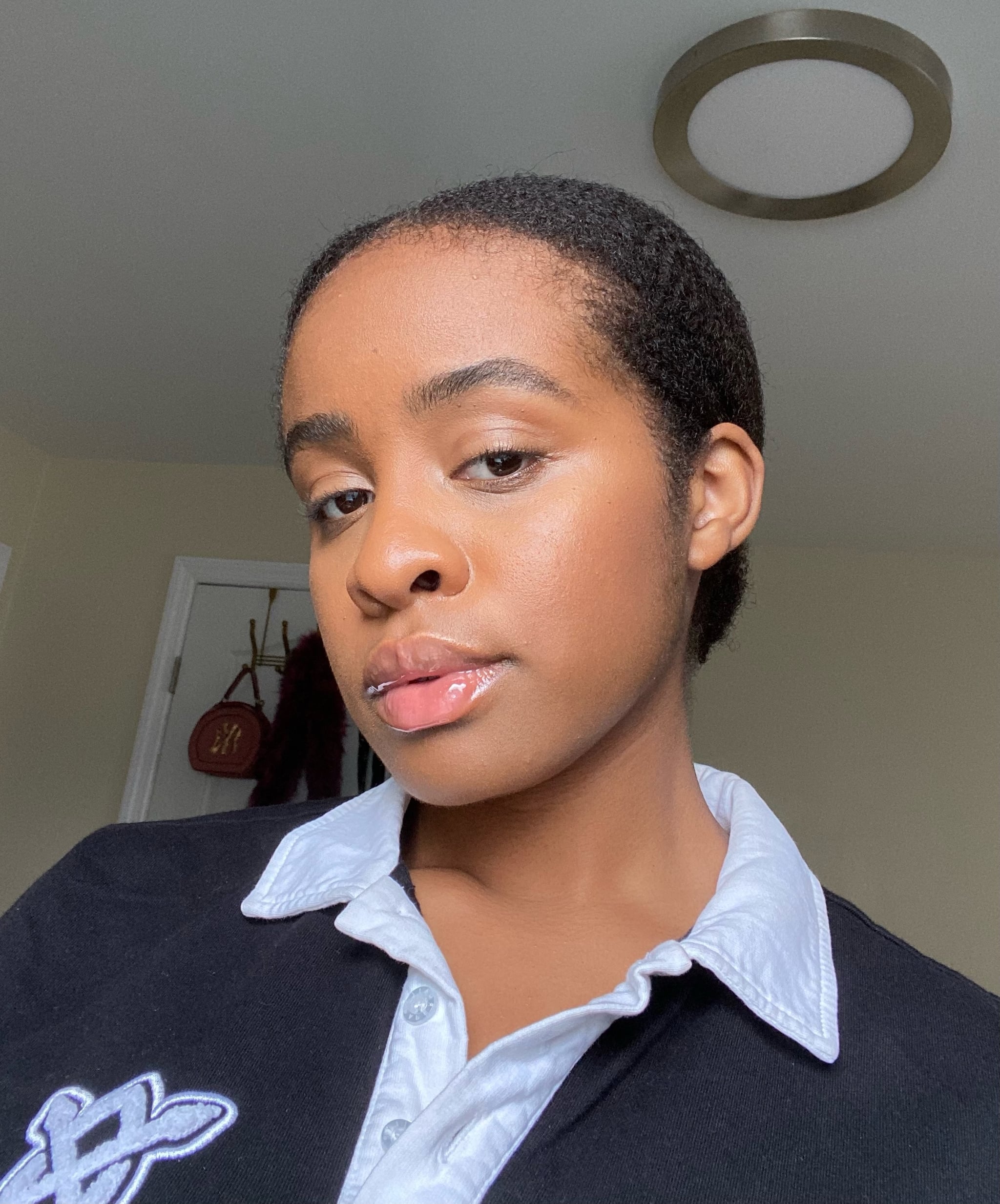 Here's a fun fact that you probably wouldn't guess about me: I've never gotten my eyebrows done. Shocking, right? Believe it or not, in all my almost 24 years of living, I've never threaded, waxed, shaped, or tinted my eyebrows. This has been for no specific reason except that they're naturally thick, so I've never felt the need to touch them. After all, it was only three years ago that I got into makeup, and the most I've done is apply some clear gel. However, my relaxed approach to my eyebrows has officially changed, thanks to the Tarte Maracuja Juicy 3-in-1 Waterproof Brow ($25).
As an intermediate makeup lover, I've gravitated toward natural-looking makeup, which has worked perfectly with my full brows. But that doesn't mean I'm not tempted by the idea of getting them professionally done — just to clean them up a bit. Fortunately, Tarte's 3-in-1 Brow Tool helps me achieve a polished look without altering my features or unnecessarily removing hair.
Ahead, read my full review of the newest brow product in Tarte's lineup.
About the Tarte Maracuja Juicy 3-in-1 Waterproof Brow
It includes a built-in spoolie to properly shape and tame hair.
One end has a retractable pencil tip to easily fill in gaps and line brows.
Its goofproof precision micro-liner creates hair-like strokes for fuller, natural-looking brows instantly.
It comes in five shades, from Ash Blonde to Black Brown.
It's vegan and paraben-free.
What I Like About the Tarte Maracuja Juicy 3-in-1 Waterproof Brow
Because my eyebrows are naturally full, at first, I feared this tool would be too harsh. As someone inexperienced with filling in brows, I was nervous the pencil would be a little heavy. Fortunately, after watching the 20-second how-to video on the brand's site, I learned the product has a unique, slanted pencil, which is extremely gentle on my skin, making it easy to line or fill in my brows lightly.
I also love how well the Juicy Brow paired with my go-to eyebrow gel, giving me the filled-in, precise brow style I wanted with that same slightly fluffy, natural finish. And even after hours of wear, my brows stayed in place and the pigment didn't fade or smear. I used Dark Brown, which blended well with my natural colour.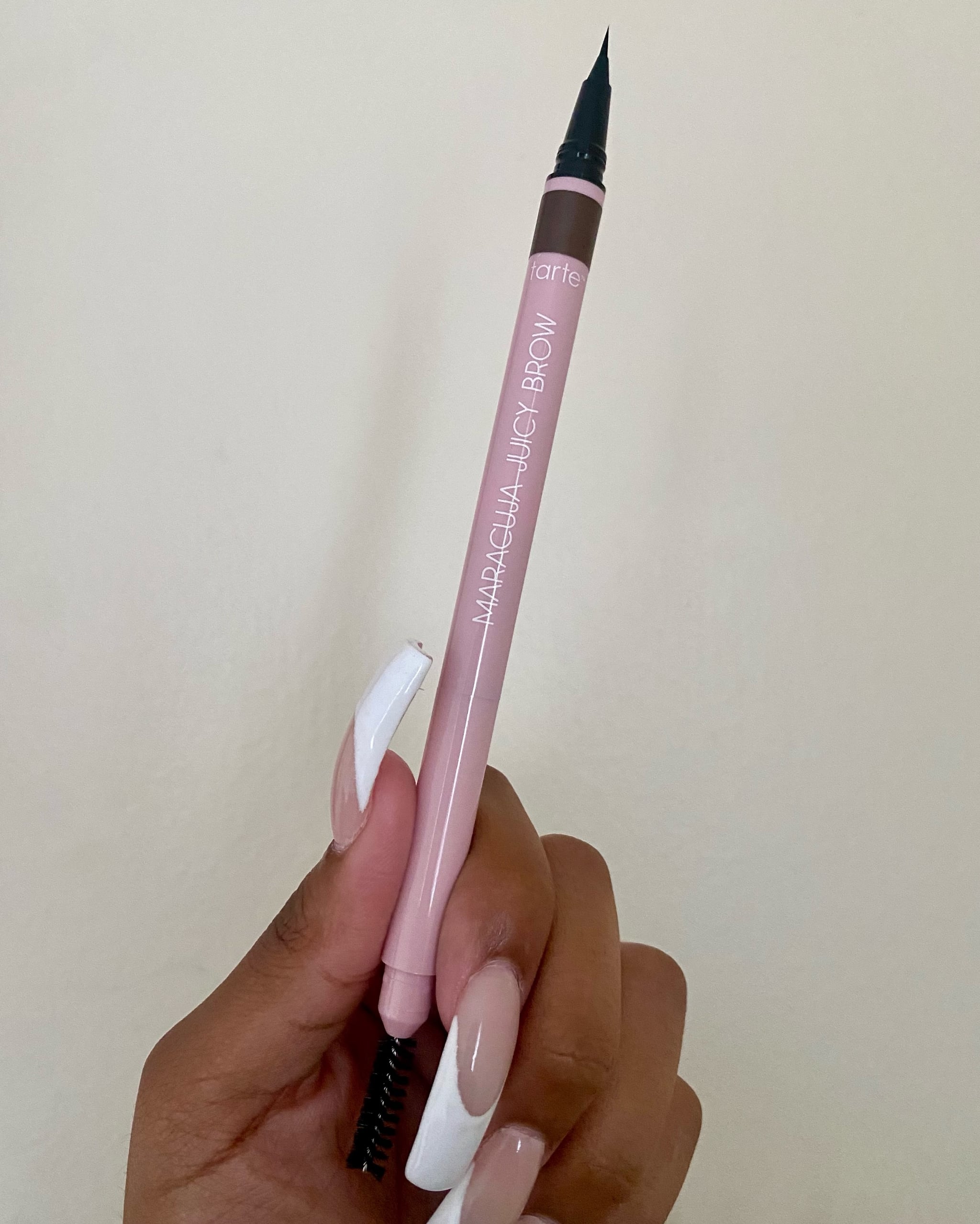 How to Use the Tarte Maracuja Juicy 3-in-1 Waterproof Brow
The Tarte Maracuja Juicy Brow comes in a user-friendly stick that allows you to easily alternate between each tool. I started with the spoolie to comb my brows up, then followed with the slanted pencil to line them. Finally, I went in with the liquid liner to lightly draw hair-like strokes in any sparse areas.
You can use all three sides of the pen or stick with just the pencil or just the pen — it's up to your personal preference.
What to Consider Before Trying the Tarte Maracuja Juicy 3-in-1 Waterproof Brow
This pen is a great option for creating any brow type and style. However, if you're someone with extremely thin brows looking for more coverage, you may need to go over the area a few times with the liquid liner to really get the pigment to show up. It's very natural looking, which is a great thing if that's the look you're going for.
Rating:
Image Source: POPSUGAR Photography / Naomi Parris