Does the Royal Family Ever Fly Commercial?
Which Members of the Royal Family Fly Commercial, and Why They Do It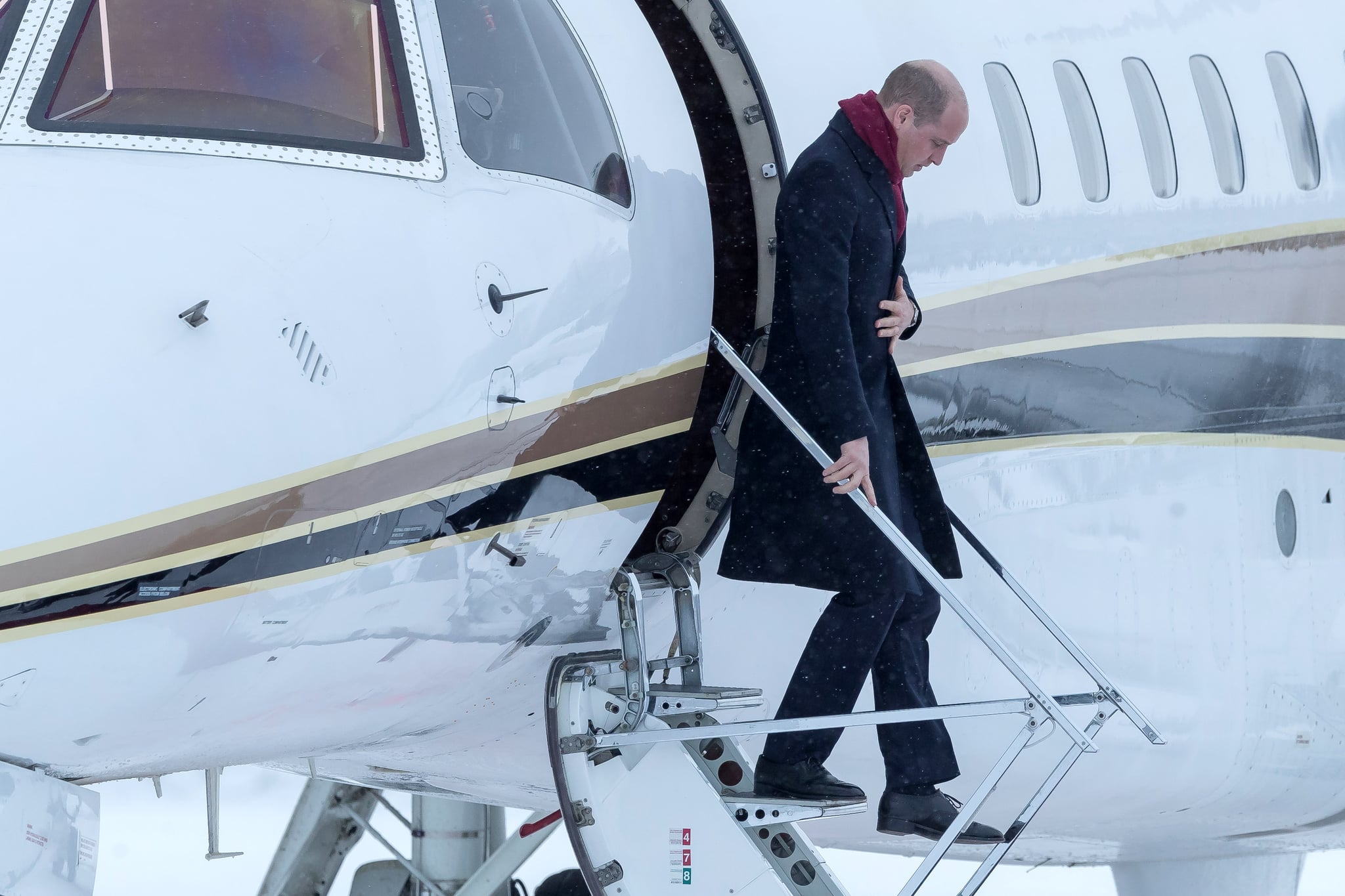 Do royals ever fly commercial? That's a question that's back in the spotlight, thanks to recent criticism of Prince Harry and the Duchess of Sussex for taking a private jet on a French holiday this week. The couple, along with son Archie, flew on a private jet provided by Elton John and David Furnish, which seemingly contradicted their strong commitment to environmental efforts. Elton, a longtime friend of Harry's mother Princess Diana, tweeted an explanation that included a note that they made the flight carbon-neutral by donating to efforts to reduce emissions. But the uproar has raised questions of whether or not private jets are common for the royals.
According to Hello!, most royals will fly commercial some of the time. Both Prince William and Prince Harry have been known to fly commercial — they even, famously, flew economy class during a quiet visit to the US in 2014 — and William and Kate have also been spotted on commercial flights, although typically in first class. Last December, the Telegraph even reported a sighting of Harry and Meghan in the back row of a commercial flight to France, accompanied by a few bodyguards and a couple of empty rows between them and the rest of the plane. And most recently of all, the whole Cambridge family took a budget flight to Scotland on Aug. 22, as reported by the Daily Mail. Of course, even when they fly with the public, they're insulated by an entourage for security reasons, with several security guards and assistants along for the ride. So even if you happen to be on the same flight as a royal, you probably wouldn't see more than a quick glimpse of them. That's what one passenger on the Cambridges' recent flight told the Daily Mail.
"The family were sat right at the front. I fly this route all the time and we were none the wiser. No-one knew they were on the flight. Later on I realised that Kate's mother was sat a few rows in front of me," the passenger described.
Hello! also notes that, when the royals do fly commercial, they tend to try their best to give their business to a British company: specifically, to British Airways. The airline also has another connection to the royal family these days. As royal watchers know, the Duchess of Cambridge's parents met while working in the air travel industry (her father, Michael, worked as a flight dispatcher, while her mother, Carole, was a flight attendant). And wouldn't you know it: the airline they both worked for — before shifting careers and starting a party decor business in the late 1980s — was British Airways!
Vogue sheds more light on the royals' flight habits and what kind of situations would require commercial travel as opposed to flying in a chartered private jet. Essentially, it comes down to the difference between public or state business versus private travel. Because senior members of the royal family are often travelling as representatives of the family and of the British government, travel that is specifically happening to promote state interests can happen on a chartered private jet, just as other high-ranking government officials can do.
However, when the royals travel as private citizens, as they often do for family trips or personal travel, then they have to travel the same way any other private citizen does: on a commercial flight. Granted, their wealth means that they can travel in comfy first-class seats or buy out the seats around them if they so choose (or if their security detail requires it), but they still will fly commercial for reasons of budget and of public perception. In recent years, environmental concerns have come into play as well, as the recent brouhaha over Harry and Meghan's private flight has shown. In 2011, Prince Charles ran into a similar mini-scandal when he borrowed a friend's private jet. The BBC reported that the royal family stated it was a cost-saving measure, and it likely was, since it meant the taxpayers didn't have to pay for the prince's flight, but it raised questions of what kind of example the future king was setting by taking an environmentally-unfriendly transport.
The one royal you'll never see on a commercial flight? The queen herself! Her Majesty does not ever take commercial flights, only private ones. So while you could theoretically see one of the other royals on your flight, the queen only travels on her own flights, thank you very much.