Frances McDormand's Oscar Stolen
A Man Stole Frances McDormand's Oscar, but Luckily She Didn't Need Three Billboards to Find It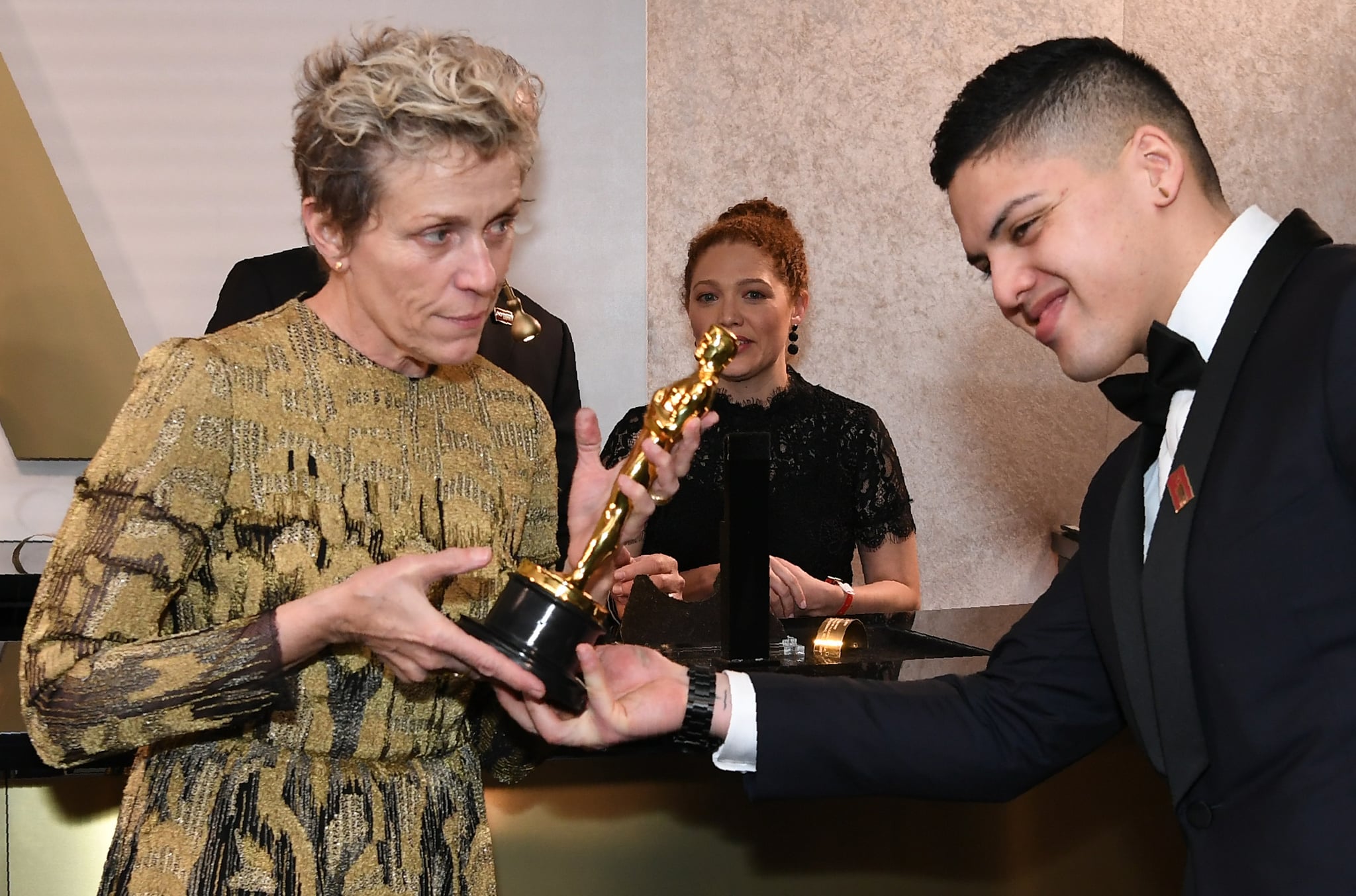 Frances McDormand had an incredible night at the 2018 Oscars. After winning best actress for her performance in Three Billboards Outside Ebbing, Missouri, her empowering acceptance speech had women on their feet applauding her demand for an "inclusion rider" in all contracts. While Frances happily celebrated her night with her son Pedro Coen at The Governor's Ball afterparty, pictured above, there was one point when Frances actually thought she might go home empty-handed.
According to New York Times reporter Cara Buckley, Frances set her shiny piece of hardware down while chatting someone up at the party when a stranger just grabbed the trophy off the table. She reportedly saw her Oscar was missing and alerted security, before the thief was caught.
Security at the Governors Ball are looking for this guy, who grabbed Frances McDormand's Oscar and ran out with it. Wolfgang Puck's photographer stopped him, got the Oscar back, and the guy disappeared back into the ball. Apparently Frances has said to let him go. #Oscars #Drama pic.twitter.com/5tlsx4Ulwt

— Cara Buckley (@caraNYT) March 5, 2018
Frances was seen crying outside of the Governors Ball with her husband, only soon to be smiling again with her engraved award. "Fran and Oscar are happily reunited and are enjoying an In-N-Out burger together," her rep confirmed in a statement to USA Today.
Although Frances said to let him go, TMZ reported this morning that the man "has been booked on felony grand theft." Don't let the tuxedo fool ya: that Oscar did not belong him! We have a feeling Frances's Three Billboards character Mildred Hayes would not have let him go so easily.