Who Is Emma Kenney Playing on Roseanne?
Who Emma Kenney Is Playing on Roseanne — And Why You Know This Actress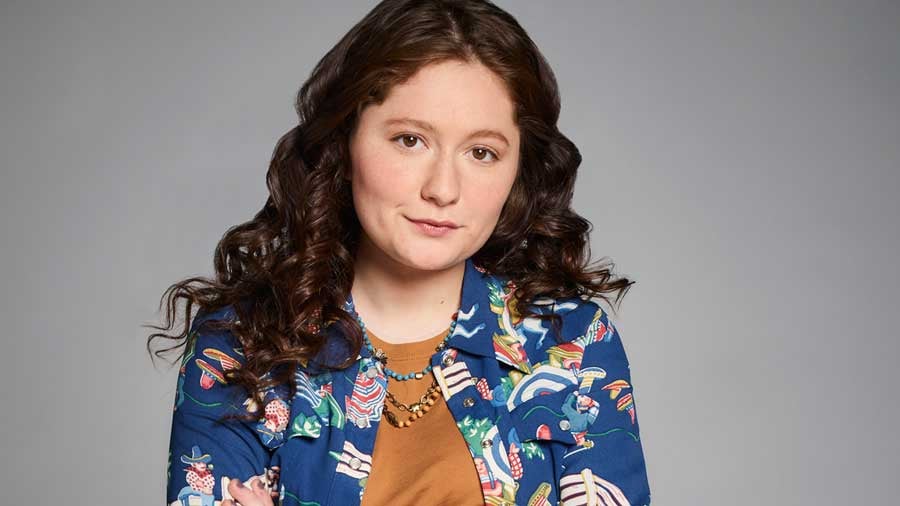 When Roseanne returns on March 27 with a nine-episode revival season in the US, over 20 years have passed since the beloved sitcom went off the air in 1997. All of the original cast members are back, but there are also a few new faces at the Conner house, including actress Emma Kenney. If you've noticed how much she resembles Sara Gilbert, that's not a coincidence — the two are playing mother and daughter in the revival.
In the original series, Darlene Conner marries her longtime boyfriend, David Healy, in the season eight finale. They have their daughter, named Harris (Roseanne's maiden name), at the end of season nine. Kenney is playing the teenaged Harris. In real life, the actress is 18 and the character would be 21, but the show is obviously fudging the timeline a little bit because Harris is 14 years old when the show returns.
If you're thinking Kenney looks familiar, that's because she also stars on Showtime's family dramedy Shameless. She has played Gallagher daughter Debbie since the series premiered in 2011. The eighth season of Shameless wrapped before Roseanne began shooting and presumably she'll be able to alternate shooting schedules for as long as both are on the air.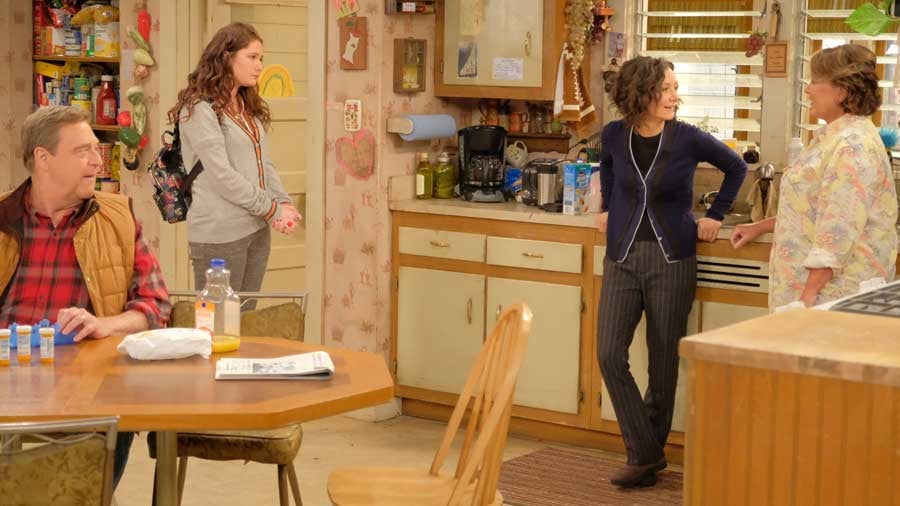 As far as Kenney's new onscreen parents go, Roseanne's executive producers haven't divulged exactly what happened to Darlene and David's marriage. But Johnny Galecki, the actor who plays David, is obviously a little busy starring on The Big Bang Theory, so he can't be as involved in the revival as the other original cast members are.
The reboot's producers managed to get Galecki for one episode, so we will get to find out just what is going on with the Healy family at some point in this first season of the revival. The cast and creators said at the 2018 TCA winter press tour that they hope these first nine episodes are just the beginning, so if the show is successful and ABC orders another season, hopefully they can get Galecki back for another episode or two.
Either way, Darlene and David's children are a big part of the revival. Kenney is just as full of sarcasm and teen angst as Gilbert was as Darlene on the show's original run. Ames McNamara has been cast as their son, Mark, who is around 10 years old. Mark's name is a nod to David's on-screen older brother, Mark Healy, who dated and later married Becky Conner during the original run of the show.
Sadly, actor Glenn Quinn, who played Mark, passed away in 2003, and the show's creators have chosen to have Mark be deceased in the revival to honour Quinn's memory (as opposed to recasting the role). Presumably Mark's death on the show is why David and Darlene named their son after him.