Stars Are Using Sporting Events to Hard Launch Relationships
Why Stars Are Using Sporting Events to Hard Launch Their Relationships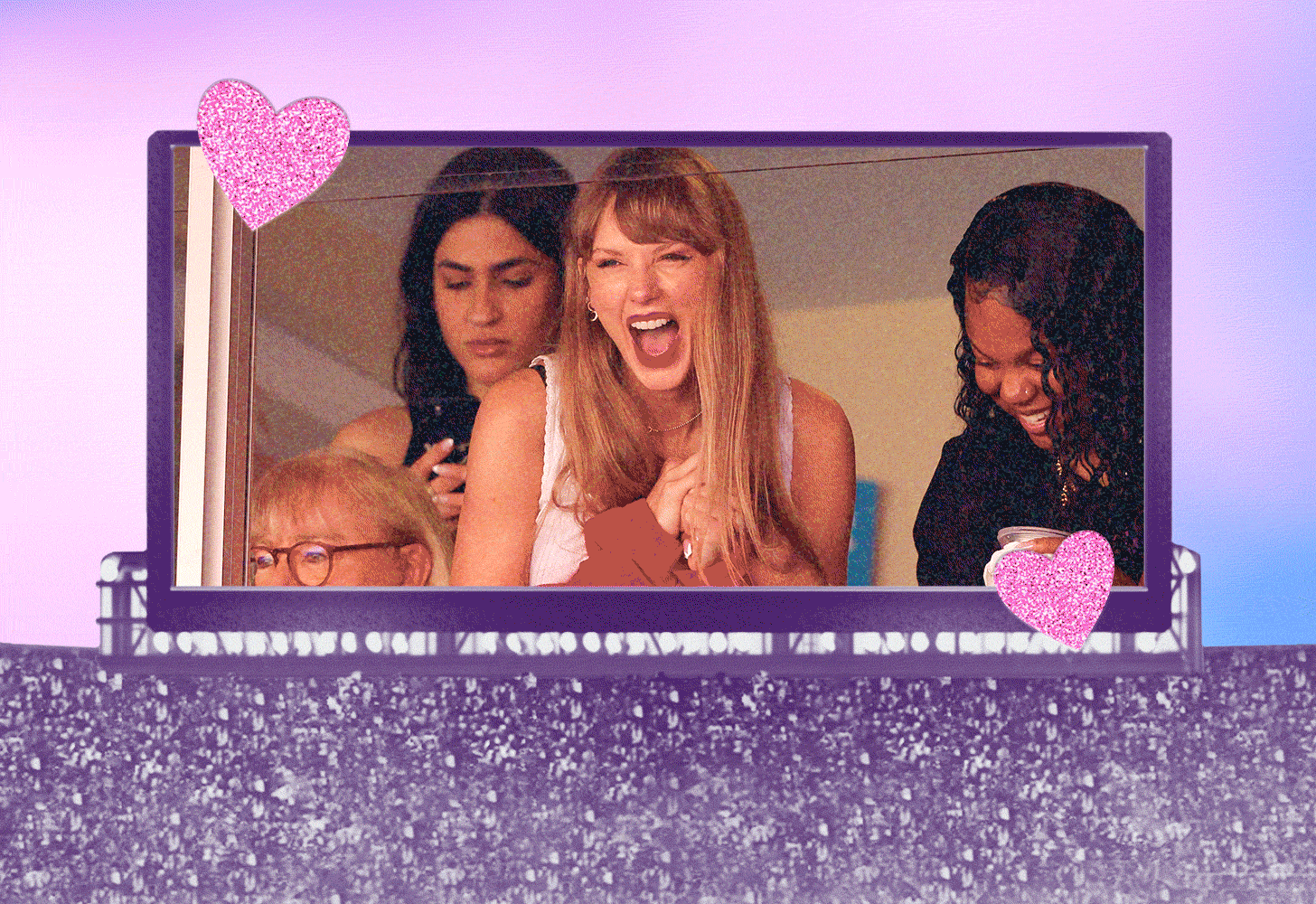 "You may or may not see me at some Dolphins games," Alix Earle says on TikTok. Cut to footage of the influencer tailgating outside of Miami's Hard Rock Stadium on Sept. 24. She and her friends are drinking mimosas, and she's wearing an oversize Braxton Berrios jersey she customised by cutting down the middle. Then she's on the field, twerking beside the team mascot.
Earle and Barrios previously made their first public appearance at the ESPY Awards in July, but this somehow felt like their big debut. It's worth noting the Dolphins went on to score 70 points that game, the most points any NFL team has scored since 1966. A few days after, Berrios shared a photo hugging Earle on the sidelines. "Big W," his caption reads.
As fame itself shifts, more celebrity couples seem to be using sporting events to hard launch their romances. (It helps if your significant other is on the team.) Though her sideline support indicates otherwise, Earle has been famously private about her relationship: in her podcast "Hot Mess," she won't refer to Berrios by name, instead just calling him "Football Man." And while she details her life in daily "get ready with me" videos, Earle is just as mysterious about Berrios on TikTok, where she'll share snippets from date night but won't show his face.
Maybe it's because social media is intimate. Sports arenas — filled with tens of thousands of screaming fans — are not. This brings us to Taylor Swift. After months of public courting, the singer, currently on a brief break from her Eras Tour, cheered on Travis Kelce at a Kansas City Chiefs game on Sept. 24. Wearing her signature red lipstick, Swift watched the game from a suite with Kelce's mom, Donna, among other close friends and family. "Let's f*cking go," she was seen screaming after Kelce caught a touchdown.
Swift has debuted previous relationships in a variety of ways. There was her idyllic autumn walk with Jake Gyllenhaal, and her Central Park date with Harry Styles. Swift and Tom Hiddleton were first spotted kissing atop rocks in Rhode Island after previously meeting at the Met Gala. With her last longterm boyfriend, Joe Alwyn, she attended the premiere of his film "The Favourite," although she didn't walk the red carpet. But as far as the public knows, Swift has never dated an athlete, which comes with new territory.
A game is a world's away from a red carpet: the clothing is casual, you don't have to pose for photos or do any interviews, there's seemingly ranch. Tucked away in a suite, you're a spectacle within a spectacle. With your crush down on the field, you don't even have to publicly interact. You're together, and yet not. Plus, with the fate of award season previously in question due to the newly resolved writers' strike, sports and concerts were the big public arenas stars had left.
From a publicity perspective, it's masterful. Kelce thinks it was "pretty ballsy." In an episode of his "New Heights" podcast following the big game, the football star praised Swift for showing up. "She looked amazing. Everybody was talking about her in great light and on top of that, the day went perfect for Chiefs fans, of course. We script it all, ladies and gentlemen." Kelce said he won't be divulging too many details going forward, but he added, "It was definitely a game I'll remember, that's for damn sure."
"Embrace your homecoming queen, date the quarterback (or tight end, in this case)."
Kelce jerseys are flying off shelves following Swift's support, per the Associated Press. The Chiefs game on Sunday was also the week's most-watched telecast on any network. It's a peculiar time for football to be having this celebrity moment after the NFL has faced growing criticism in recent years over allegations of racial discrimination and the contact sport's effects on players. But it sure sounds right: after a maligned fling with the alternative guy, embrace your homecoming queen, date the quarterback (or tight end, in this case).
This trend is taking place beyond football, too: days after making their first public appearance at a Beyoncé concert, Timothée Chalamet and Kylie Jenner put on a very loved-up display at the US Open on Sept. 10. Chalamet took a photo of Jenner on a film camera, and kissed her as she clutched her Honey Deuce. Though many notable figures attended the tennis tournament, this appearance, which happened during the final match, was viewed by many as a master class from the Kris Jenner school of publicity.
There is, of course, great precedent here. Take David and Victoria Beckham, who can boast over two decades of marriage and four children — and it all started at the football stadium. In a teaser for the upcoming Netflix docuseries "Beckham," Victoria admits she attended Manchester United games just to see (and presumably pursue) David. "The fact I went to the games really was just to kind of," she says, "some would say 'stalk' him. I would say 'see' him."
Basketball, meanwhile, has been pivotal to the public rollout of Adele's relationship with sports agent Rich Paul. A few years after her highly publicized divorce, Adele and Paul sparked dating rumours with a series of NBA appearances: they sat courtside together at the 2021 NBA Finals, and the following year, attended the NBA All-Star Game. Several more courtside appearances have since been made, to the point where if you Google the couple, you'll mostly see photos of them at basketball games. "Lucky for him, I love basketball," Adele told Elle in 2022.
The trend will only continue as more celebrities discover the PR potential. In recent weeks, Kim Kardashian has been reportedly spending time with Baltimore Ravens wide receiver Odell Beckham Jr. So, it wouldn't be entirely out of left field (sincerest apologies for the pun) for the marketing master to show up at a game in the near future, likely wearing Skims.
As for Swift, it's been reported that she'll again be cheering Kelce on during the Chiefs-Jets game in New Jersey on Oct. 1. Kelce will be playing at the MetLife Stadium — the same stadium Swift sold out for three nights a few months ago. In total over the course of those three nights, Swift performed to over 200,000 fans for a combined nine hours. But this Sunday, she'll sit back, watch, and be watched.