Danielle Jonas Interview About Family and Jonas Brothers
Danielle Jonas Says Seeing the Jonas Brothers Reunion Through Her Daughters' Eyes Was "Surreal"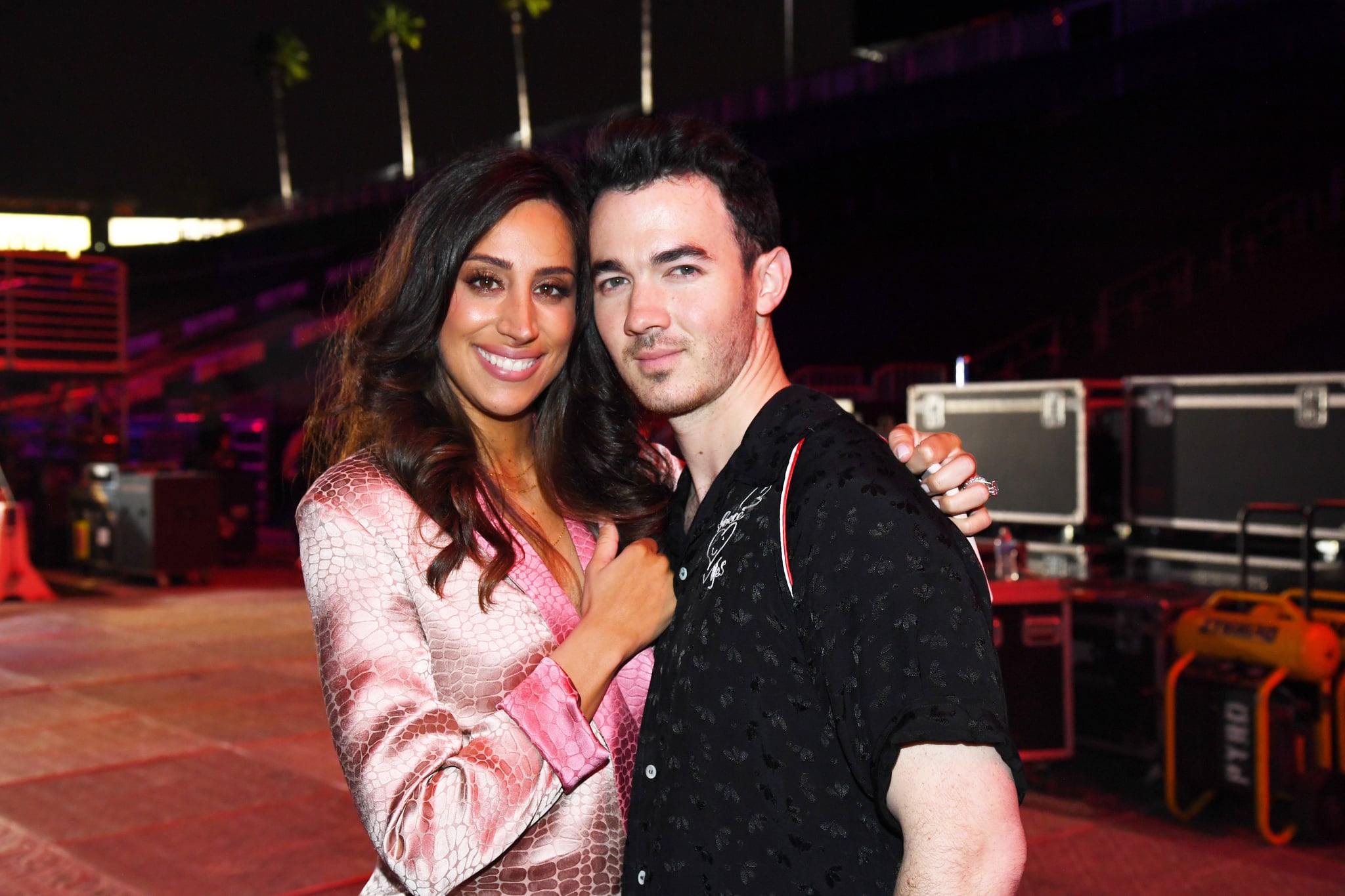 Image Source: Getty / Kevin Mazur
The past few years have been a whirlwind for the Jonas family, and no one knows that better than Danielle Jonas. Since she first got together with Kevin Jonas during the early stages of the Jonas Brothers' career, Danielle has witnessed the band's rise to fame and success first-hand. But there's just something extra special about now getting to share that experience with their two daughters, Alena, 7, and Valentina, 4.
While chatting with POPSUGAR about her partnership with Hood Cottage Cheese — which is giving back to Food Bank of Central NY and the Greater Boston Food Bank through their online recipe bracket — Danielle shared what the epic Jonas Brothers reunion in 2019 was really like for her family. "It was so overwhelming," she said about Kevin reuniting with his brothers, Nick and Joe, following the band's split in 2013. "I just always wondered if the girls were going to actually see [Kevin] onstage, and see the smile. There's just something different about him, there's some kind of smile, an energy that comes over him that is amazing. I was hoping that they were going to see him up there. Then they have their uncles up there to be so proud of. It's surreal. It was amazing."
"When everything started, I was blown away and proud. Seeing it through their eyes is just totally different."
She added that there was a special element about reliving the Jonas Brothers craze through them. "Seeing it through their eyes is totally different than the way that I saw it," she said. "When [the Jonas Brothers] first started, it was kind of like shock. At first, I didn't get it almost. Because he was just Kevin to me. That's how I met him. When everything started, I was blown away and proud. Seeing it through their eyes is just totally different. They're seeing their father up there."
In fact, Danielle said her girls have started gaining their own interest in music. "They say, 'Well, we're the Jonas Sisters,'" she laughed, alluding to Kevin's recent Instagram about Alena and Valentina pretending to be the Jonas Brothers. "They're very into everything, especially Alena. She's very into trying to learn how to play an instrument, and she wants to learn how to play the piano. She's very interested in what they do, and very excited and proud. She feels the same way as her mom."
Though 2019 was a busy year for her family, she adds it's been an adjustment staying home amidst the COVID-19 pandemic this past year. "There's definitely a routine now," she said. "The girls are getting homeschooled, so they're home. It's been nice to have them home a lot, but I also feel that they need the social part of school. Alena has gotten ahead in school, being home and being one on one with someone, so that's been really good." When the girls aren't being homeschooled, they're spending their time cooking delicious meals like blueberry waffles, getting together with Danielle's side of the family for weekly dinners (where her sister and chef Dina Deleasa Gonsar makes what she's dubbed "Sunday gravy"), and playing board games.
She added that it's been great having Kevin home, so he's not missing out on anything with their girls. "We get to just see the girls growing up together, and we're getting to do it together," she said. "Even though we do it on the road, it's just different. It's different being on the road together, and experiencing the world. But then it's another feeling to just be home with each other. It's been great."

"It's been the best thing that I've had in my life. I'm very lucky."
Looking back on when she and Kevin first started dating to now, Danielle adds that they've come along way as a couple over the years. "We're definitely stronger," she added. "We barely fight. We've been through a lot, a lot of changes. A lot of ups and downs with just life itself, careers, and everything. We just see that we can do anything together, if we're together. It's been the best thing that I've had in my life. I'm very lucky."
Throughout these past years, she's also tried to find a balance between being a mom and embarking on her own career with her luxury jewellery line. "[The biggest lesson I've learned is] hard work. and being dedicated to it. It was hard in the beginning, as much as I wanted to do it, I have two little kids at home, and wanting to be involved with everything they were doing, so trying to balance that out the right way." As for what lies in store for the Jonas family in the next year, Danielle is hoping for more normalcy. "I'm hoping that life goes back to normal a little bit more," she said. "It's learning the new normal and maybe going out to tour, or just being able to see extended family."