Megan Fox, Machine Gun Kelly Seen Together Amid Rumours
Megan Fox and Machine Gun Kelly Spotted Being "Super Affectionate" in NYC Amid Breakup Rumours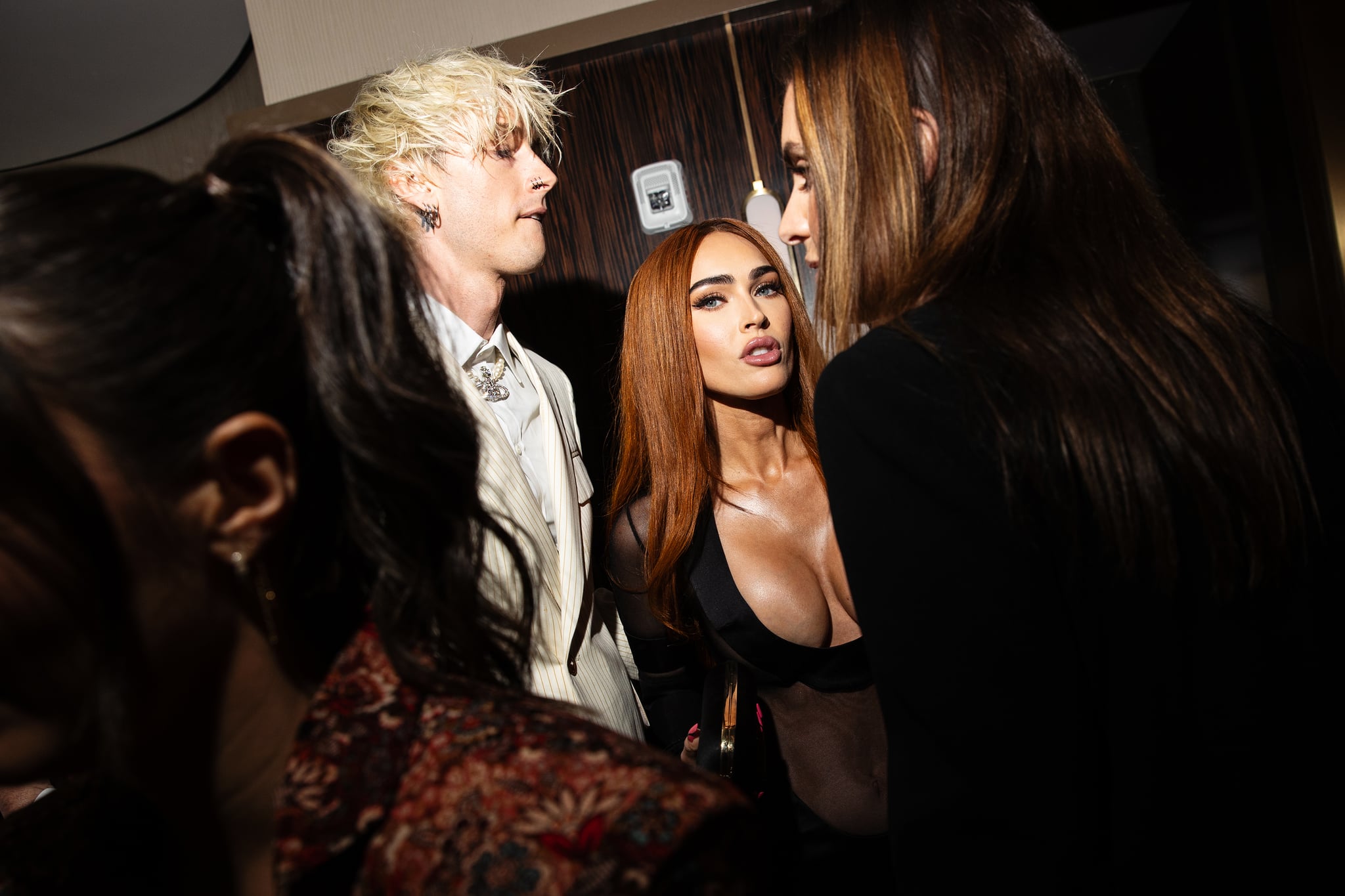 Megan Fox and Machine Gun Kelly seem to be on good terms after months of breakup rumors. Most recently, the pair attended Sports Illustrated's Swimsuit issue launch in New York City on 18 May to celebrate Fox's new cover. When asked about it, Kelly offered "Entertainment Tonight" one word: "Hot." Though the couple were snapped separately on the event's red carpet, photographers still captured a sweet interaction between the two, per a photo obtained by People.
Additionally, TMZ published pictures of the couple showing off some PDA that night after they reportedly left a party hosted by Travis Barker and his wife, Kourtney Kardashian. A few snaps caught the two holding hands as they walked down a Manhattan street. In a video obtained by the outlet, Kelly can be seen with his arm around Fox's waist as they stand side by side outside Skylight at Essex Crossing. A source told TMZ the two were "super affectionate" with each other, and the outlet even reported that Kelly kissed Fox, seemingly putting any split speculation to bed.
This isn't the first time Fox and Kelly have been spotted out together since rumors about relationship trouble started up earlier this year. On 5 April, TMZ published photos of the couple vacationing in Hawaii earlier that week. According to the publication, Fox and Kelly grabbed dinner at the Four Seasons Hotel, though they steered clear of any PDA. Reps for Kelly and Fox did not respond to POPSUGAR's requests for comment at the time.
So, why have Kelly and Fox been at the centre of breakup rumours lately? Read ahead for a full breakdown of their reported fallout.
Why Did Megan Fox and Machine Gun Kelly Breakup Rumours Start?
It all started on 12 Feb. when Fox wiped photos of her fiancé from her Instagram page — including a post celebrating his Grammy nomination for best rock album — and shared a since-deleted post with a cryptic caption. It included a carousel of photos, one of which featured her standing in front of a bathroom mirror with a poster behind her that read "when you can't walk away" and posing with a mystery man in a gray sweatshirt. The final slide showed a letter being burned in a firepit, which Fox captioned with lyrics from Beyoncé's 2016 song "Pray You Catch Me" about JAY-Z's infidelity. "You can taste the dishonesty / it's all over your breath," she wrote.
Fans were quick to speculate that Fox and Kelly had split in the former's comments. One commenter wrote, "He probably got with Sophie," seemingly in reference to guitar player Sophie Lloyd, who plays in Kelly's band. Fox then replied, "Maybe I got with Sophie." The guitarist later categorically denounced the speculation in a statement, calling the rumours "meritless."
The same day as Fox's shocking post, she also deleted her Instagram page entirely, but not before she unfollowed Kelly. As of that day, she was only following three people: Eminem (whom Kelly has feuded with in the past), Timothée Chalamet, and Harry Styles.
One week later, on 19 Feb., Fox returned to Instagram with an update for those curious about where her relationship with Kelly stood at the time. In the post, which has also been deleted, she shut down rumors that Kelly cheated on her. "There has been no third party interference in this relationship of any kind. That includes, but is not limited to . . . actual humans, DMs, AI bots or succubus demons," Fox wrote. "While I do hate to rob you of running random baseless news stories that would have been much more accurately written by ChatGPT, you need to let this story die and leave all of these innocent people alone now."
According to a 13 Feb. report from People, a source said Fox and Kelly's apparent issues stemmed from a dispute during Super Bowl weekend. The source claimed Fox was "very upset" with Kelly following the incident, adding that she "won't speak to him." The insider told the outlet, "They haven't officially called off the engagement, but Megan took her ring off," adding that the pair "have had issues in the past" and that "things seem pretty serious this time." They were then photographed at an office building in California that same day in exclusive photos published by the Daily Mail.
Are Megan Fox and Machine Gun Kelly Still Engaged?
It seems Fox and Kelly have been trying to repair their relationship out of the public eye in recent months. On 17 Feb., a source told People that the two "are working through their issues and haven't split." The insider added: "Megan is still upset but is not giving up on their relationship. He feels the same way. They are getting professional help because they want things to work out."
Fox and Kelly first met in 2020 on the set of "Midnight in the Switchgrass" and began dating almost immediately. In January 2022, the couple announced their engagement. "In July of 2020 we sat under this banyan tree. We asked for magic," Fox captioned a since-deleted Instagram post celebrating their milestone. "Somehow a year and a half later, having walked through hell together, and having laughed more than I ever imagined possible, he asked me to marry him."
At this time, it's unclear if the two still plan on getting married. The last comment they made about their engagement came from Kelly on the one-year anniversary of his proposal. "One year ago under a banyan tree," he wrote on Instagram on 11 Jan., per "ET." Prior to that, the musician and rapper told E! News in May 2022 that he didn't "want to say too much" about the couple's nuptials, but said, "It's going to be weird. It's going to be completely out of the box."