Megan Thee Stallion Speaks Out About Tory Lanez Verdict
Megan Thee Stallion Is "Choosing to Change the Narrative" Nearly 3 Years After Tory Lanez Shooting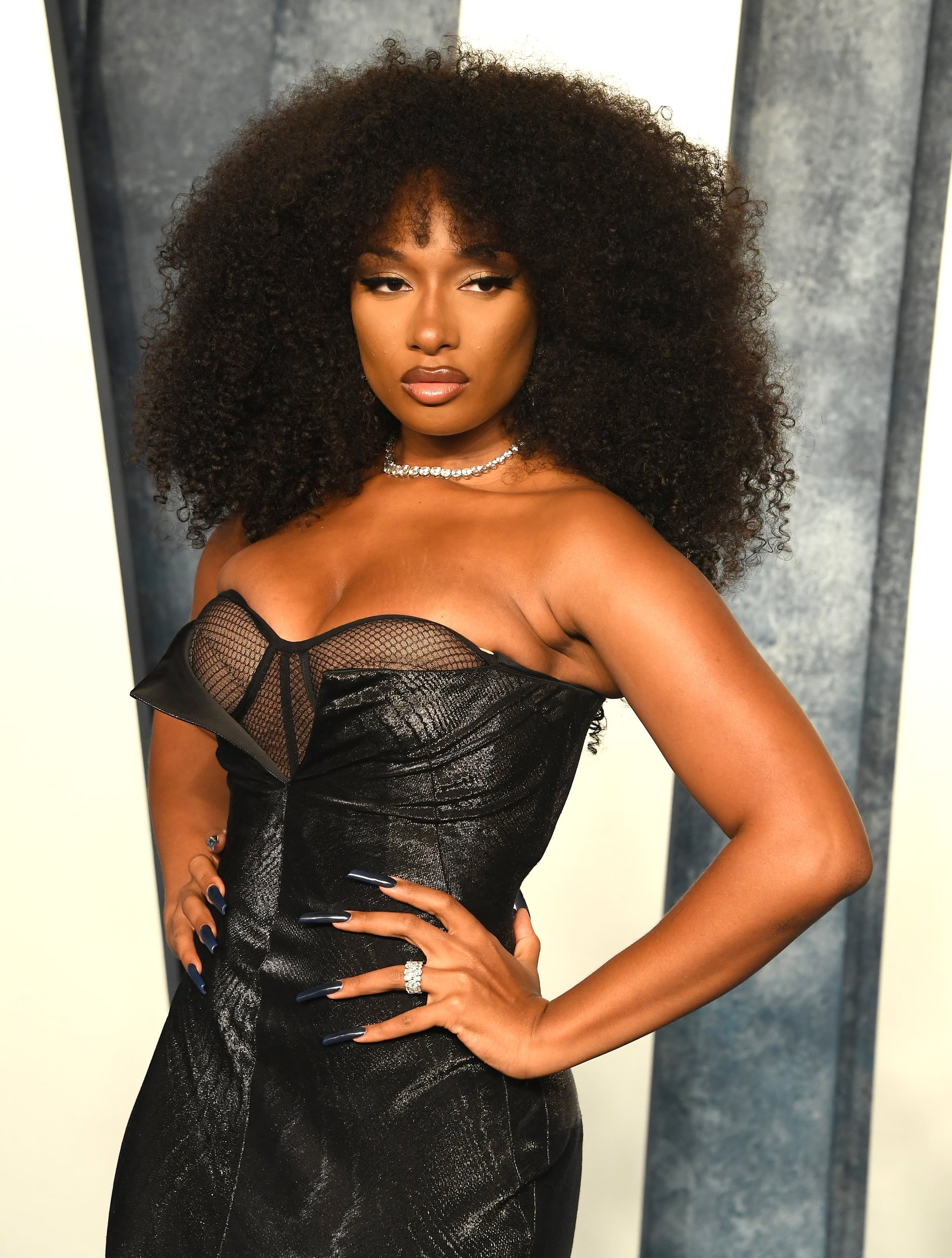 Megan Thee Stallion is ready to move on from her shooting by Tory Lanez, and she wants the rest of the world to do the same. For the first time — and last — since her assailant was found guilty on three felony counts in December 2022, the rapper addressed the aftermath of her traumatic experience in her May 2023 cover story with Elle, published on April 18. In it, Megan declared that she's "choosing to change the narrative" that's plagued her since the summer of 2020.
"I don't want to call myself a victim. As I reflect on the past three years, I view myself as a survivor, because I have truly survived the unimaginable," Megan said. "Not only did I survive being shot by someone I trusted and considered a close friend, but I overcame the public humiliation of having my name and reputation dragged through the mud by that individual for the entire world to see."
"So many times, people looked at me and thought, 'You look strong. You're outspoken. You're tall. You don't look like somebody who needs to be saved.'"
Megan's shooting incident made headlines on July 12, 2020, and in the weeks following, new details revealed that Lanez, real name Daystar Peterson, was the gunman. On Dec. 23, 2022, a jury found Lanez guilty of assault with a semiautomatic handgun, carrying a loaded, unregistered firearm in a vehicle, and discharging a firearm with gross negligence, per The New York Times. In late March, Lanez filed a motion in Los Angeles County Superior Court to request a new trial. That motion will be addressed in a hearing on May 8, according to ABC News.
Megan told Elle that Lanez's guilty verdict was "more than just vindication for me, it was a victory for every woman who has ever been shamed, dismissed, and blamed for a violent crime committed against them." For years, the Grammy-winning "Savage" artist said she endured false narratives spread by Lanez, as well as "memes, jokes, and sneak disses" from her music-industry peers. Most times, she felt as though her suffering wasn't taken seriously. "The truth is that I started falling into a depression," she said. "I didn't feel like making music. . . . I wondered if people even cared anymore."
She added: "So many times, people looked at me and thought, 'You look strong. You're outspoken. You're tall. You don't look like somebody who needs to be saved.' They assumed that, per preconceived stigmas, 'I didn't fit the profile of a victim,' and that I didn't need support or protection. . . . Any support and empathy that I received was drowned out by overwhelming doubt and criticism from so many others."
After taking a brief hiatus following her trial last year, Megan has since reemerged for events and public appearances; she even made her return to the stage on March 31 in her hometown of Houston. Before the performance, she told POPSUGAR it served as "a reminder of how far I've come in my journey."
That journey now includes moving past the trauma of her shooting incident — which Megan told Elle she won't be speaking on anymore — and onto a path of healing. "It's an ongoing process with moments of fear and uncertainty mixed in with blissful realisation," Megan said of her recovery. "I've accepted this chapter of my life as part of my journey, but I will not allow it to define my journey. I've been dragged through the mud, but I'm so happy that I'm able to finally come out of it with a new perspective."