Brooklyn and Nicola Peltz Beckham on Victoria Feud Rumours
Nicola Peltz Beckham Continues to Deny Victoria Beckham Feud Rumours: "No Family Is Perfect"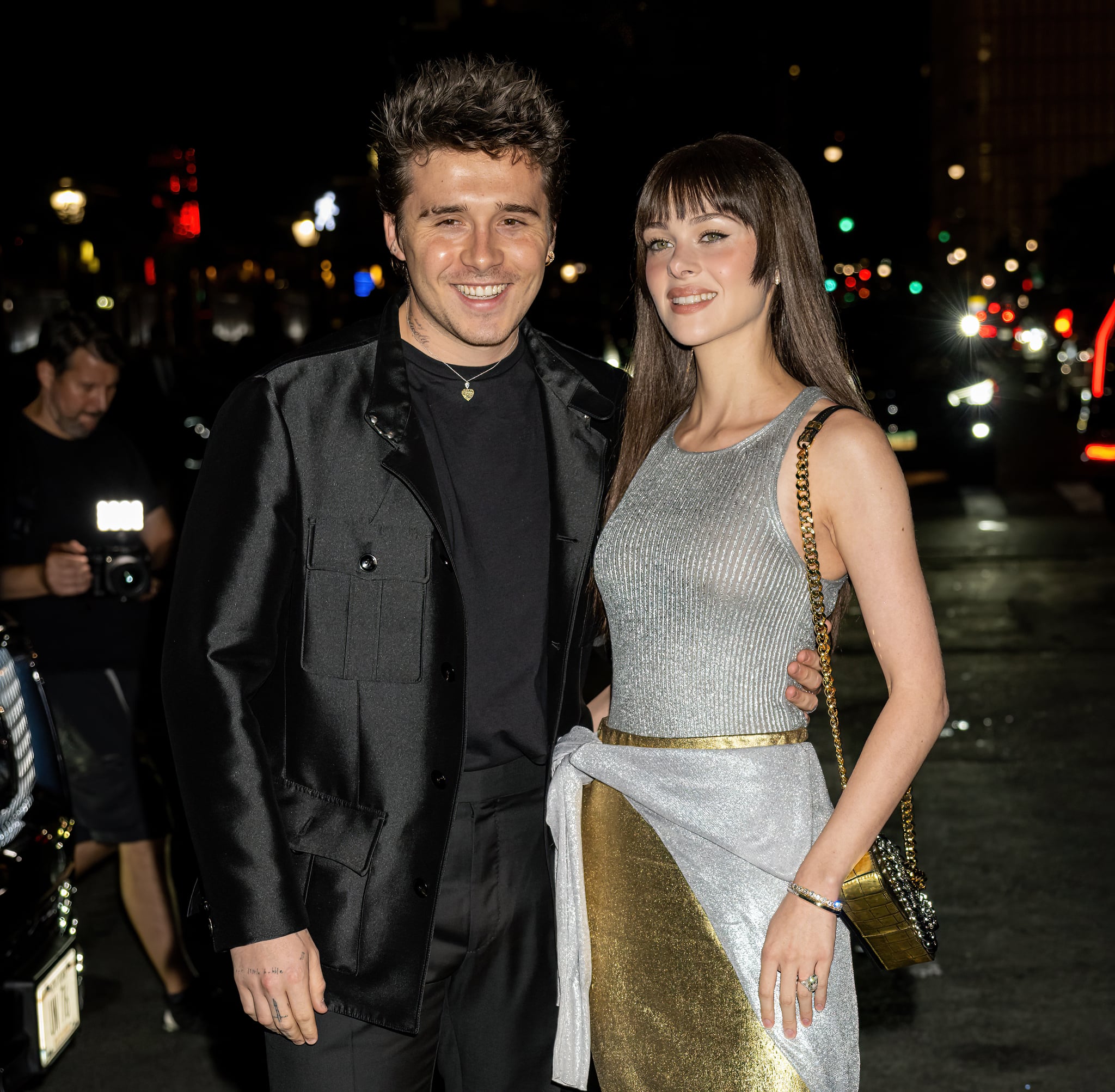 Rumours have continued to swirl around Brooklyn and Nicola Peltz Beckham and a reported feud between the latter and Brooklyn's mum, Victoria Beckham. Yet the couple have been keen to put the rumours to bed via various interviews, the most recent being Nicola, who starred on the cover of The Sunday Times Style.
"It's not a feud!" she said in the interview, published on 30 Oct. "Why do they say feud? You know, no family is perfect. No family." The speculation seems to have stemmed from Nicola wearing a Valentino Haute Couture gown for her wedding instead of one designed by Victoria.
Nicola explained the rumours just aren't true, as the initial plan was always to wear a Victoria Beckham design. "I was truly so excited to be able to wear a design that my future mother-in-law created. I thought that was so beautiful and such a beautiful story," she previously told Grazia USA. The dress was going to be codesigned with Victoria; Nicola's mum, Claudia Heffner Peltz; and Nicola's friend Leslie Fremar, a stylist. "We connected to start designing the dress, and then a few days went by and I didn't hear anything," Nicola said. "Victoria called my mom and said her atelier couldn't make it. So, I spoke to my mom and Leslie, and I was like, 'Well, unfortunately, this can't happen, so what's the next step?'" Nicola, who'd always been a fan of Valentino, contacted the atelier, and the rest, as they say, is history.
Setting the record straight has been important for the actor, who stars in "Welcome to Chippendales", and revealed in her most recent interview with Style that the rumours do "make me sad". "It makes me sad when I read things that people say I was never planning on wearing it. That's just not true. I don't want to read everything, but when it's in your face, sometimes you can't help it. I guess with social media and stuff."
Instead, she credits a good support system around her for keeping her grounded. Brooklyn, 23, who has a number of tattoos in tribute to his wife, also addressed the speculation in the Variety 2022 Power of Young Hollywood issue: "I've learned they're always going to try to write stuff like that. They're always going to try and put people down. But everyone gets along, which is good."
Nicola does single out Brooklyn's 11-year-old sister, Harper, and talks of their close bond. "I wanted a little sister so bad, and Harper is the sweetest. I have the coolest little sister. She sends me Snapchats," she revealed. Victoria had not mentioned the rumours for months, but finally appeared to break her silence on 2 Oct. by posting a photo of the full Beckham family, including Nicola and Brooklyn, at her Paris Fashion Week show, captioned with, "I love you all so much x".
Brooklyn and Nicola wed on 9 April at Nicola's family mansion in Palm Beach, FL. While discussing their relationship, she told Style that Brooklyn "wants kids yesterday." But Nicola says kids aren't on the cards for her just yet. "I think in a couple of years. We definitely want a big family. He has three siblings, I have seven."
The couple recently walked the runway together in September at the Vogue World: New York show, laughing arm in arm at the star-studded event, and dressed as Romeo and Juliet for Halloween, with fans speculating this was a comment on the rumoured family feud. It seems the couple are tired of the headlines, and just want to focus on their careers and each other. Perhaps it's time for the rumour mill to stop turning.
— Additional reporting by Monica Sisavat