Suki Waterhouse Reflects on 5 Years with Robert Pattinson
Suki Waterhouse Is "Shocked" She's So Happy With Robert Pattinson: "I Find Him Hilarious"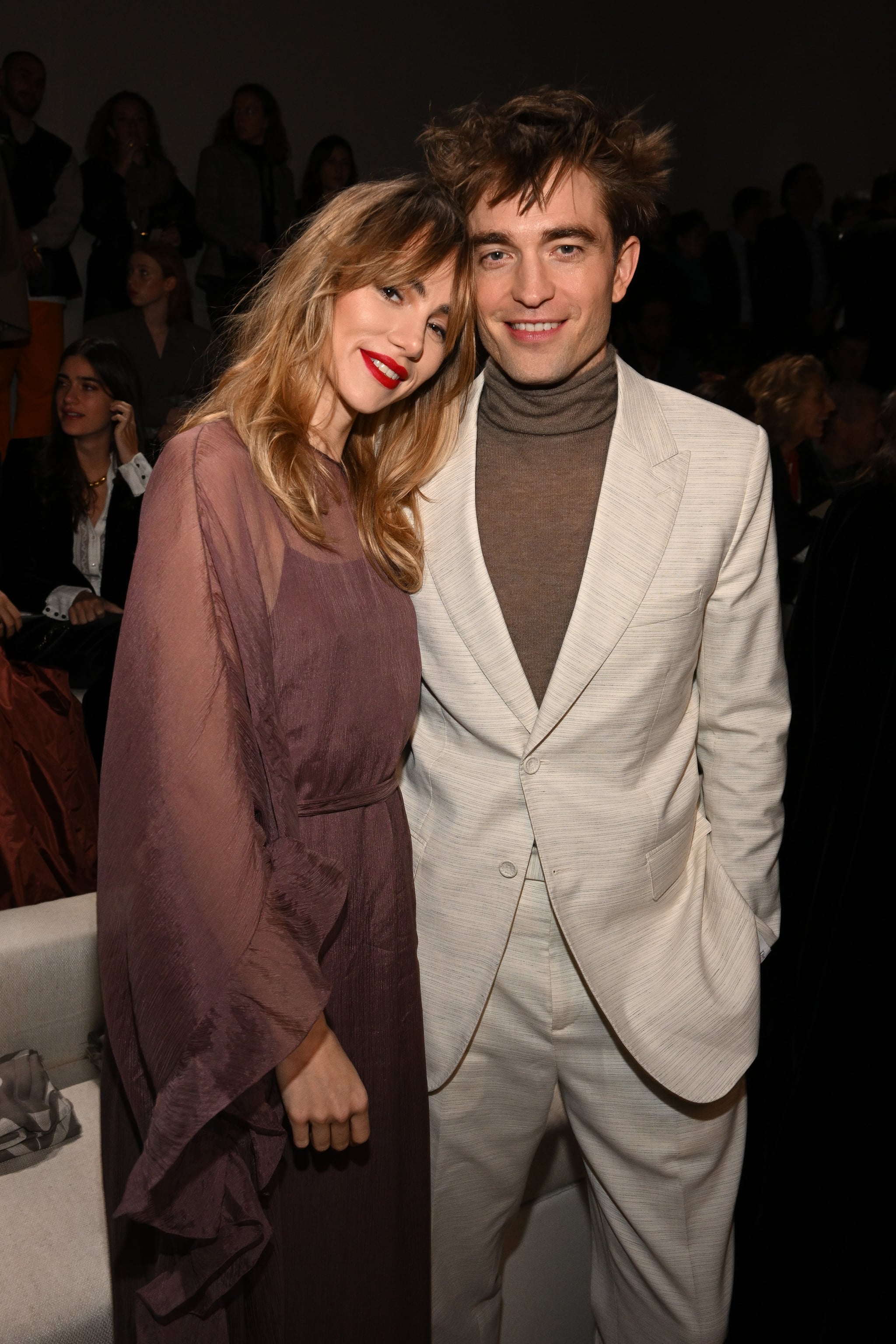 They've been together for five years, but the notoriously private Suki Waterhouse and Robert Pattinson only made their red carpet debut in December 2022. Since then, Waterhouse has reflected on the relationship, admitting during an interview with The Sunday Times Style: "I'm shocked that I'm so happy with someone for nearly five years."
The longest the couple have spent apart is two months, which is surprising considering their busy schedules. Waterhouse stars in the Prime Video series "Daisy Jones & The Six" — and apparently, she even tried to get her "The Batman" boyfriend to help with the audition. "Rob definitely isn't getting advice from me about acting, but of course I'll try and get him to help me with an audition before he falls asleep on the sofa," she said.
"I'm always incredibly excited when I see his name pop up [on my phone] or even a text, and I think he feels the same about me.
Both Waterhouse and Pattinson are no strangers to high-profile relationships. The former dated 38-year-old Bradley Cooper when she was 21 years old, while Pattinson was with singer FKA Twigs for three years. "I was kind of depressed for a while," Waterhouse said of her breakup. "It stuck around for a long time. I think it was the break-up and also just being in my twenties and in the f***ing trenches." The public nature of the relationship made the split even harder. "You constantly read about how much more beautiful the new girlfriend is or whatever. That sounds silly, but when you're actually the one that's heartbroken, it's pretty rough," she added.
Before getting together with R-Pattz, she even hung out with Prince Harry before he met Meghan Markle. "He came to a party at my house once and was absolutely lovely and really sweet," she said. "I had uncles and aunts and everyone there."
Waterhouse and Pattinson are now both conscious of keeping their relationship out of the spotlight, especially as Pattinson is constantly suspicious of the paparazzi. "He thinks people are chasing him even if we're on the couch. He's just got that mentality," Waterhouse said. The pair are clearly crazily compatible, with similar backgrounds that they laugh about. "We always say that I never, ever would have thought I'd go out with a boy from Barnes, and he didn't think he'd go out with a girl from Chiswick," she said.
It's clear that Waterhouse is super loved-up with her "Twilight" heartthrob. "I'm always incredibly excited when I see his name pop up [on my phone] or even a text, and I think he feels the same about me," she said. "We've always got so much to say, and I find him hilarious." She said that she also sees a family in their future, and revealed that she wants children one day, though she acknowledged that there's no right time. "You have to be like, 'I'm going be a sitting cow for a bit of time,' but it's going to be worth it," she said. "I can't wait. I wish you could click your fingers to make it happen."