Alex Roe Interview About Siren TV Show Season 1
Here's What Alex Roe Thinks of Your Siren Theories — Yes, Even The Little Mermaid One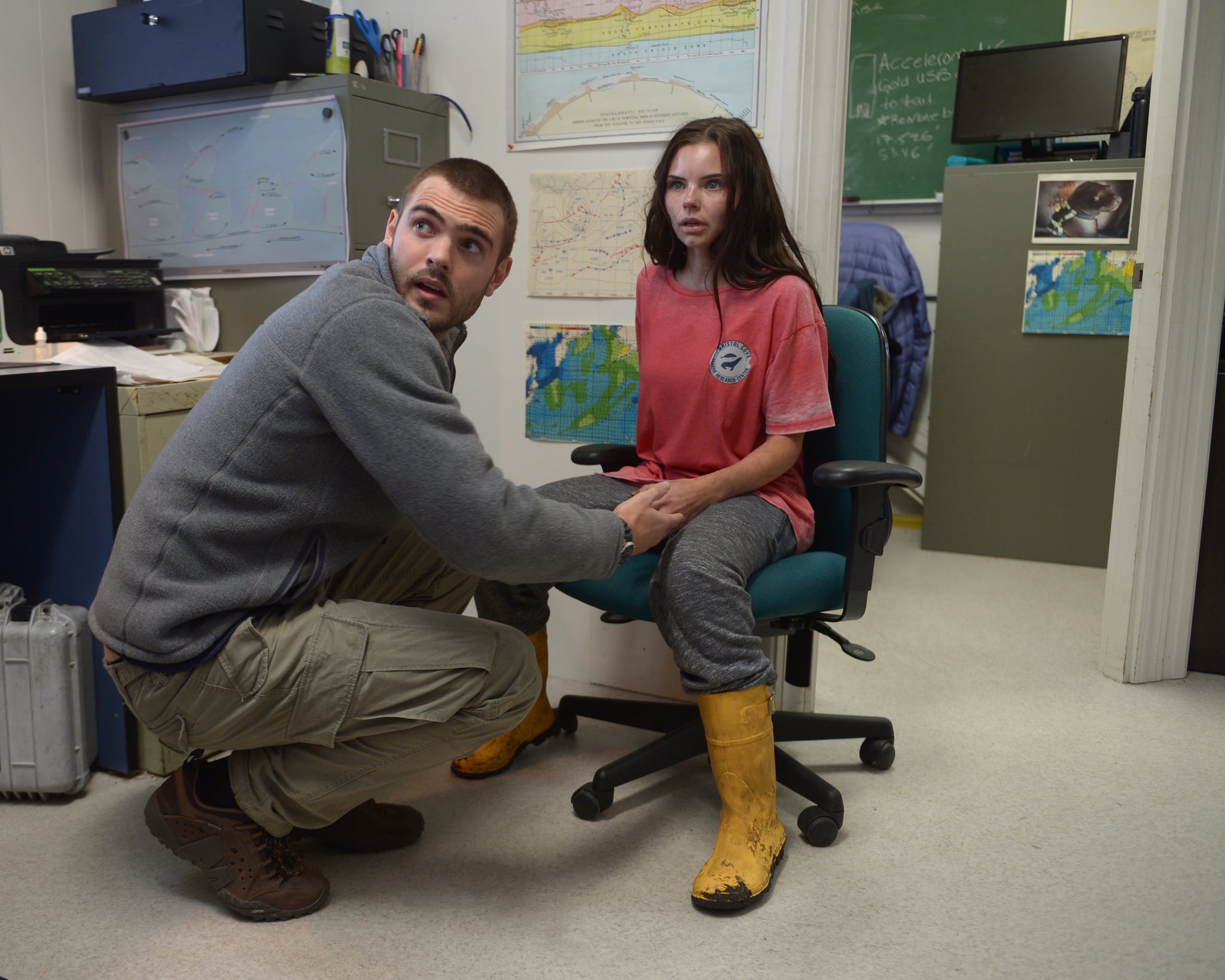 Freeform's newest series, Siren, is already making a splash with viewers thanks to its stellar cast and the story's dark and twisty take on traditional mermaid mythology.
The fantasy-drama stars Eline Powell (of Game of Thrones fame) as Ryn, a vicious mermaid who arrives in a coastal town in search of her sister. Upon their first encounter, Ryn sparks up an immediate connection to Ben, a marine biologist played by Alex Roe (Hot Summer Nights). Little does she know, Ben's family has a disturbing history of hunting and slaughtering mermaids which creates an interesting dynamic — considering that Ben is clearly smitten. Also stirred into the plot is the mystery of government-run experiments on captured mermaids. In other words: there's a lot going on.
With all the hype surrounding the show, we couldn't help but wonder what the (handsome) male lead of the show thinks about the chatter, especially the comparisons to The Little Mermaid. We spoke to Roe over the phone to get his thoughts about working with Powell, his reaction to fans already shipping them as a couple, and whether he believes mermaids actually exist.
POPSUGAR: What drew you to this story and made you want to a part of it?
Alex Roe: My character has a deep appreciation for the ocean that I share with him — the idea of the unknown. Ninety-five percent of the ocean remains unexplored. I've always thought that was really interesting. Also, the fact that our mermaids are not like Ariel from The Little Mermaid; they're predatory mermaids. I think it makes sense. If these things are surviving in the ocean they have to be a predator of some sort. I thought that was really cool.
PS: How much preparation did you have to do for the role? Did you learn anything cool about marine biology?
AR: Ben is into marine mammal rescue and trying to conserve the ocean, so I went down to this marine mammal rescue centre in Long Beach and worked with those guys for a couple of weeks. It was more of a study about them as opposed to — I didn't have enough time to get a marine biology degree. [Laughs] I had to fast-track it. A lot of the preparation was about getting ready for the underwater shooting. Ben loves to jump in when someone's in trouble. He's that guy. So I had to learn how to do breath holds. When you're doing it take after take you can run out of air quite quickly. I managed to get up to four and a half minutes which was cool. A nice added skill that I've got.
PS: Throughout the process of shooting, did you come to your own conclusion on whether mermaids really exist?
AR: I love the idea of there being an unknown out there. I was in a hotel and watching this documentary called Chasing Bigfoot, and these people dedicate their lives to finding this legendary creature. They completely believe in it. I feel like maybe mermaids don't look exactly like our mermaids on the show, but I think maybe we are heading in the more realistic direction. If there were some kind of evolution that went on in the water, mermaids would be apex predators. We figured out how to be the apex predators on land, so maybe mermaids would've used our big brains down there, too.
PS: Let's talk about Ben's relationship with Ryn. Their chemistry is undeniable, but Ben has a girlfriend named Maddie, who is also a marine biologist. Fans are already shipping Ryn and Ben, but, interestingly enough, I also saw fans shipping Maddie and Ryn! So, who are you rooting for?
AR: I think what's beautiful about these creatures is that they're non-binary, so when they come to land we kind of have a taste of it already. Ryn doesn't live by our rules. When she's interested in something, she will go and explore that. She doesn't see male. She doesn't see female. There's something really beautiful in that. Rather than trying to be one team or the other, let's just watch this creature who's lucky enough to not have all of societies values placed on her. Let's watch her explore.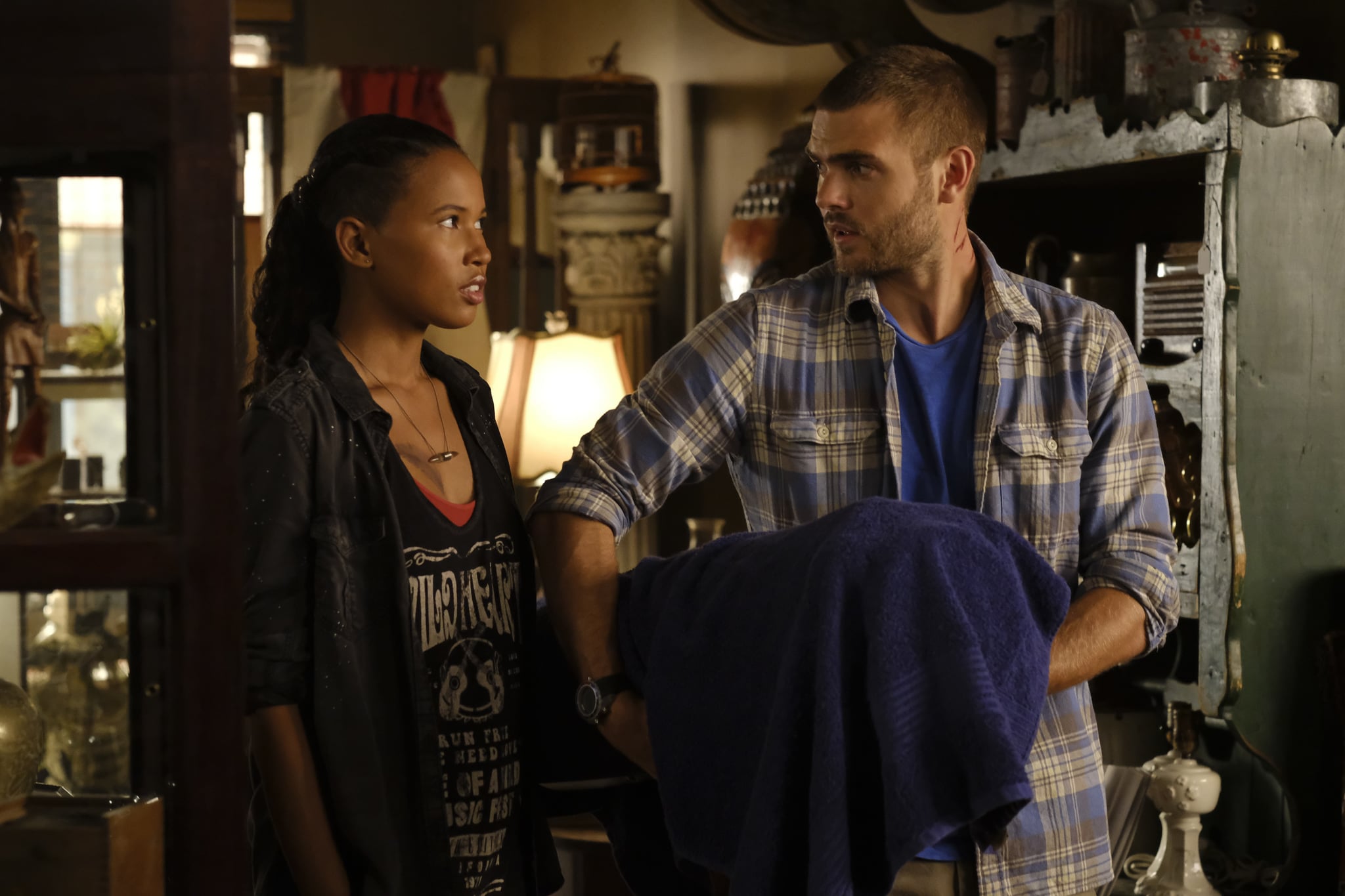 PS: Speaking of Ben and Maddie's relationship, there's been a lot of praise about their interracial relationship, and for the diversity of the entire cast in general. How does it feel to be a part of such an inclusive cast?
AR: It's really amazing. I feel so lucky to be part of a show that is giving people of all races and of all backgrounds someone they can see themselves in. That's a really exciting thing to be a part of.
PS: Eline Powell is so fierce and powerful as Ryn onscreen. What is it like working with her on set?
AR: She's so watchable for the audience, but it's also watchable for us as actors, too. We're seeing her doing the scenes, exploring the set. Seeing things for the first time. It gives us a lot to play off as actors. She's such a strong, but also a vulnerable character, too. She's so multifaceted.
PS: How do you think Ryn will react when she discovers that Ben's family played a part in the slaughtering of the other mermaids?
AR: That's definitely something that's weighing on Ben's mind. There are a lot of questions that he's asking himself, too. Like, 'Is she an animal?' 'Is she human?' 'Is she dangerous?' 'Can we trust her?' And then there are bigger questions about how many there are, what do they want, and why are they coming closer to the shore. On top of that, he has this guilt for what his family is responsible for. I'm also interested to see how she may react. I'm sure she won't react to it especially well.
PS: I read a tweet someone wrote comparing the show to The Little Mermaid, and I quote: "The Little Mermaid is a siren, whose voice cast a spell on Prince Eric making him fall for her. That's why he thought Ursula was Ariel when he heard the voice." What do you think of that theory?
AR: What I love about that theory is that people are trying to figure out what the power of the siren song is. There's a lot of possibilities and it remains ambiguous about what this power is. That's something that my character has to figure out eventually. He's immediately very curious and captivated by Ryn, but he has to ask himself, how much of it has to do with the siren song and how much of it is to do with his own curiosity. I love being part of something that makes people ask these questions.