Will April Be Fired on Grey's Anatomy?
If April's Track Record Is Any Indication, Here's How She'll Leave Grey's Anatomy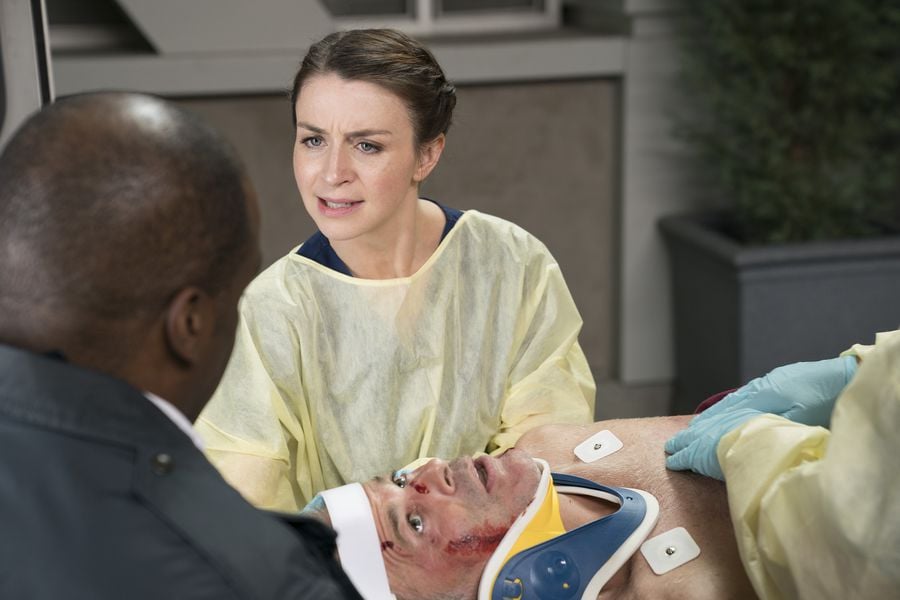 By now, all Sarah Drew fans have observed a moment of silence after the nine-year Grey's Anatomy veteran confirmed she is leaving the show, along with Jessica Capshaw.
We don't know for sure how Drew's character, April Kepner, will exit the medical drama, but we do know that the devout Christian surgeon is in a downward spiral that affects her professional and personal lives and that April drinks excessively to cope with the stress. Could she soon be fired from Grey Sloan Memorial Hospital for being intoxicated at work? Consider the evidence:
1. April is dealing with uncertainty on all fronts.
Nothing is going according to plan in April's life. Her relationship with her ex Jackson is tense at best. We've watched in dismay as they've struggled to amicably coparent their daughter, Harriet.
April's sense of security is further tested when (superhot) Matthew, the man she leaves at the altar, turns up at Grey Sloan with his pregnant wife, Karen, and she dies shortly after the birth of the couple's first child. April's guilt over this loss drives her to drink to the point of needing IV fluids to help her cope with a hangover.
It's almost too much when, in "Games People Play," the already-maxed-out surgeon is suspended for accidentally cutting off a girl's ear in the ER. As she storms out of the hospital, April reams out Owen for the unfair blame he has placed on her for the incident.
Anyone in her situation would feel overwhelmed by the unpredictability of recent events and potentially start to crumble.
2. April's drinking is getting out of hand.
We've seen April drinking and sleeping with a random intern, odd behavior for the typically strong-of-faith mom. By "You Really Got a Hold on Me," she's at the bar up on a table pouring shots for interns and ultimately drinking straight out of the bottle. But that isn't just an isolated night of partying, because April shows up at a game night hosted by Maggie and basically makes a fool of herself.
She fishes into her purse for a mostly empty bottle of booze upon her arrival; she acts extremely high-strung as her colleagues, including Jackson and his date, play charades; and she explodes at Maggie's new boyfriend, Clive, for not "playing by the rules."
April's frayed nerves are exposed, and it's hard to watch. She emotionally reveals her inner thoughts: that everything in life is meaningless and full of chaos. She's clearly in a very troubling mental space, and alcohol is her means of dealing, albeit very ineffectively.
3. April's behavior is getting increasingly alarming.
April goes home with yet another colleague: Dr. Thomas Koracick! Clearly her pattern of uncharacteristic choices indicates the mama, who is still deeply affected by the devastating loss of her first child with Jackson, needs help. But April insists she is just having fun and continually rebuffs her ex's attempts to reach out.
Will she show up drunk at work soon? Will she injure herself, or worse, while intoxicated? Will she leave the show to seek treatment for alcohol addiction, depression, and anxiety? Any of the above could happen, but it seems very likely her departure from Grey's Anatomy will have something to do with excess boozing.