Will There Be a Black Mirror Christmas Episode 2018?
Hold Up — Is Black Mirror Going to Drop a Surprise Christmas Special? Let's Investigate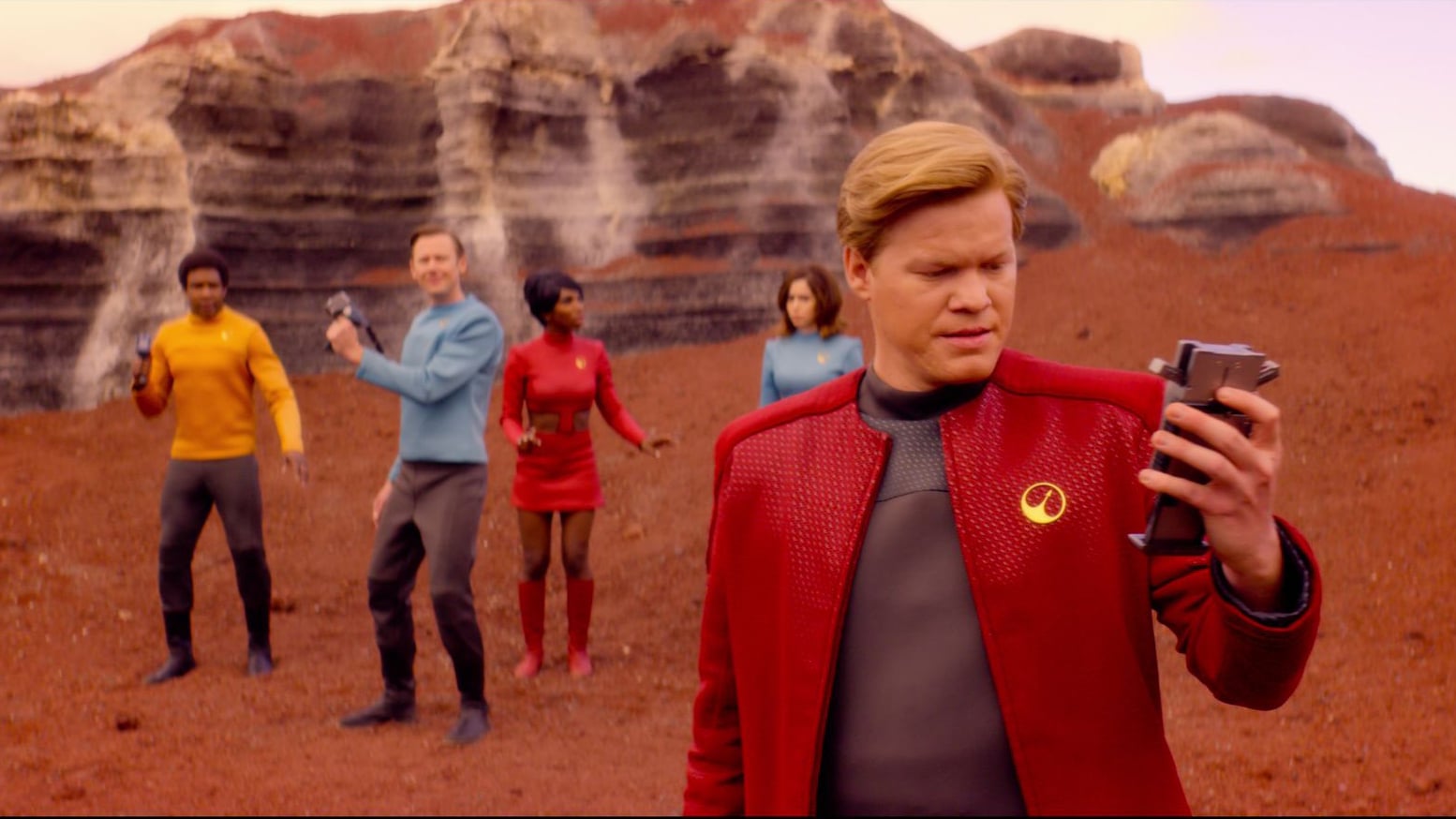 Like a murderous animatronic dog dead set on wiping out the human race, it seems Black Mirror wants to wipe out what little sanity I have left at the end of 2018.
Charlie Booker's critically acclaimed sci-fi series is returning for season five sometime this month, presumably, given when season four dropped on Netflix (December 2017). And although we know that Miley Cyrus will have a role in the season, and that one episode might be an interactive choose-your-own-adventure-style setup, there hasn't been much else to go off of, due to the secrecy that usually shrouds the series . . . until now.
Users have discovered that when you search "Bandersnatch" on Netflix, you see the title A Netflix Film: Black Mirror Bandersnatch, accompanied by what looks like a loading screen as the film art.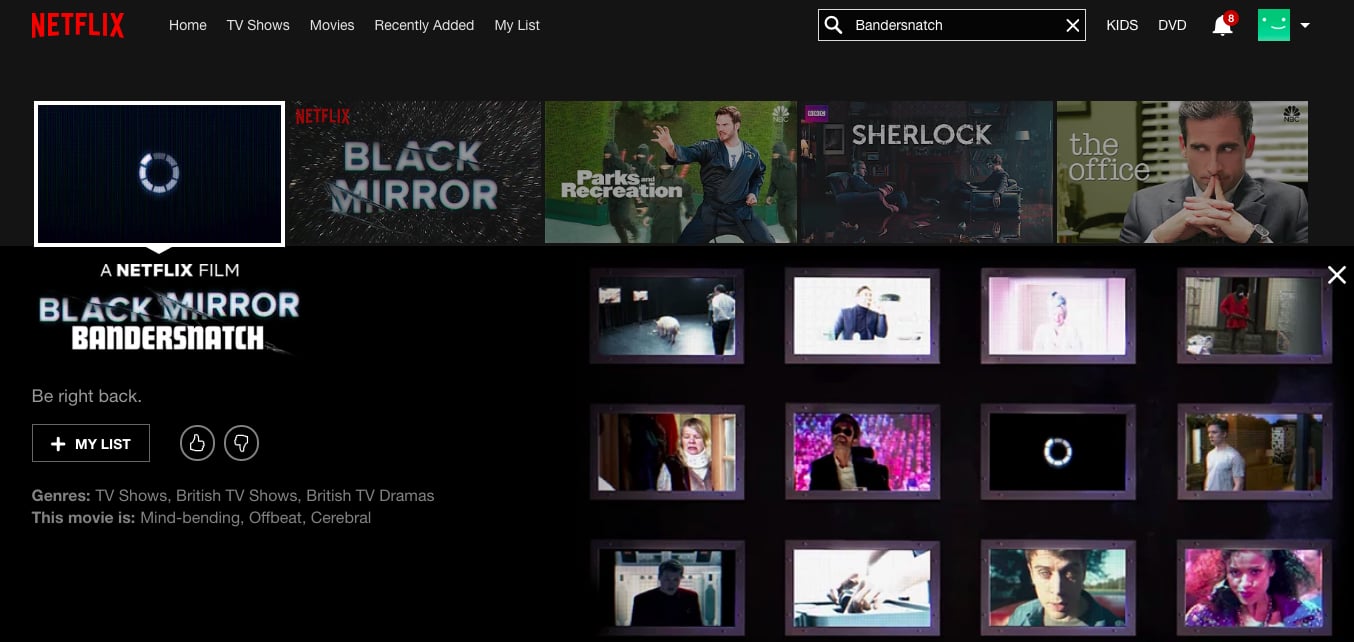 When you click on the title, it opens an image that features stills of other Black Mirror episodes on a bank of monitors, which suggests it will be either a part of the fifth season, or a stand-alone episode (which is described as "offbeat," "cerebral," and "mind-bending," above). And, since season four hit Netflix on Dec. 29 last year, the chances of it arriving sooner rather than later seem fairly likely.
What we can't tell you is whether or not this 1.) will indeed be an actual film; 2.) if it's merely a deception on Brooker's part; or 3.) if it's the rumoured interactive episode. However, the title has been lurking on the streaming network for quite some time, according to a Twitter account that tracks new additions to Netflix in the UK. Doesn't that make it sound like Bandersnatch is legit?
Whatever the hell it is, Bandersnatch has been causing quite the ruckus among Black Mirror fans on Twitter, with one user pointing out that it must be yet another bleak Christmas special to add to the show's growing collection (The Jon Hamm-led "White Christmas" episode from a few seasons back is a personal nightmare favourite).
WE HAVE BLACK MIRROR CONFIRMATION!

Christmas special, December 28th, titled 'Bandersnatch' — that's the episode that was being filmed in (an 80s-decorated) Croydon back in April. The Christmas trees make sense now! pic.twitter.com/4qwcjAZ0Xq

— 'tis the jeeveson to be jolly 🎄 (@jeeveswilliams) November 21, 2018
Was there ever a travel agency called Soleil (see the bus ad)? It seems to be fictional. I hope this Christmas special is more than just 'virtual reality vacations' a la San Junipero.

— 'tis the jeeveson to be jolly 🎄 (@jeeveswilliams) November 21, 2018
The buses from the leaked set photos have references to previous Black Mirror episodes in the destination displays.

As well as, y'know, spooky Big Brother-esque eyes. pic.twitter.com/tsjhWEjGtN

— 'tis the jeeveson to be jolly 🎄 (@jeeveswilliams) November 21, 2018
In fact, ALL of the bus ads seem to reference escapism — 'your ticket out of here', 'save your sole' (soul), 'a new clean slate', etc. pic.twitter.com/gW5yT6G3X2

— 'tis the jeeveson to be jolly 🎄 (@jeeveswilliams) November 21, 2018
Turns out there was an ill-fated game named 'Bandersnatch' developed by a UK studio back in 1984, which is the year 'Bandersnatch' the Black Mirror episode takes place (we know this because a set photo shows Bob Marley's 'Legend' at #1 on the charts in a record store). pic.twitter.com/rytyTl22sP

— 'tis the jeeveson to be jolly 🎄 (@jeeveswilliams) November 21, 2018
While this theory certainly seems to hold up, there's only one thing I know for sure: I'm 100 percent ready for Black Mirror to ruin my holiday.