Karamo Brown Queer Eye Interview at the HRC Gala March 2018
Karamo Brown on Witnessing Queer Eye's Impact: "It Has Been an Honor"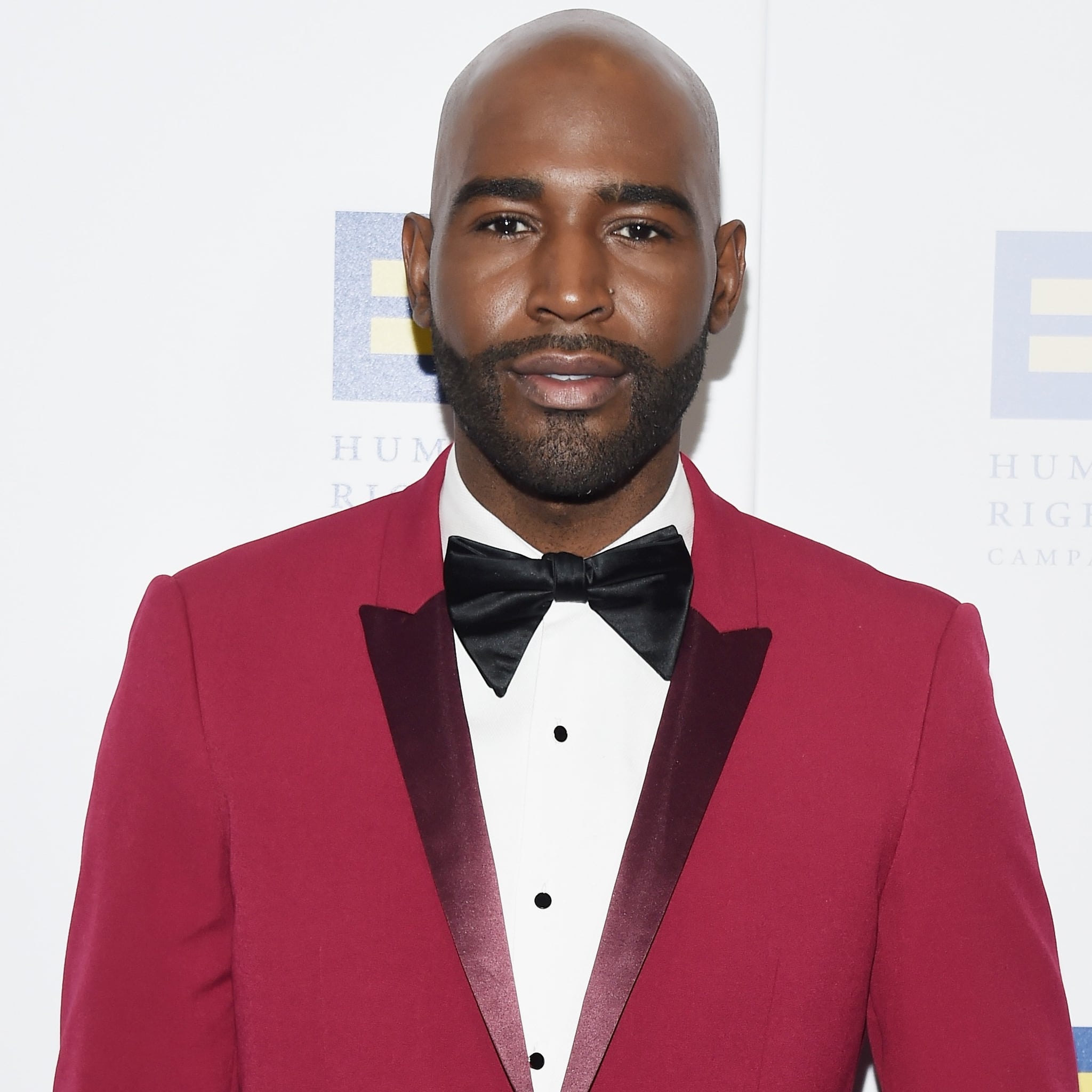 Image Source: Getty / Amanda Edwards
In February, Netflix dropped its new Queer Eye reboot, which surprised audiences with its totally real and delightful approach to the well-known TV concept. A lot of things happened over the course of one short month: the internet flooded with emotional reactions, people began to thirst over Antoni Porowski (and question his cooking skills), and we all got a little too invested in the lives of the show's other participants (congratulations on your engagement, Tom and Abby!). The momentum quickly snowballed, thus launching each of the new "Fab Five" members into the celebrity spotlight.
On March 10, I caught up with one of the guys at the Human Rights Campaign's annual gala dinner. Karamo Brown (who is very handsome and also had made a name for himself preceding the show) stopped by the red carpet to talk about the Queer Eye whirlwind and overwhelming audience response.
"You know, when you hide pieces of you, you hide the special parts as well."
"It has been an honour, I cannot tell you. There have been moments where I'm sitting on the ground crying like a baby, as if my dog just died or something," Brown told me. "But it's because I'm overwhelmed! When you get messages over and over again, from gay and straight people around the world, saying, 'Thank you, you're making the world better,' you have no choice but to feel good." But it's not just that Brown and his costars get to inspire audiences and make the world a little bit brighter. Everyone in the "Fab Five" also gets to openly and authentically own his identity in a very public way. That, in itself, is powerful. "It's been cathartic for me. You know, when you hide pieces of you, you hide the special parts as well," he said. "And so, what happens is I get to love myself and to be proud of myself holistically. And in turn, it inspires other people to do the same."
With the guys pouring out their emotions on screen in such an open way, I had to ask: what's something we don't see on screen? What happens outside of the Queer Eye episodes and between all the tears and the makeovers and the astounding life lessons? As it turns out, the group unwinds in the best way. "The four guys and I would all watch [RuPaul's] Drag Race every night, because Antoni and Tan [France] had no idea what Drag Race was." Upon seeing my shocked expression, he said, "I know!" and elaborated, "They had no idea, but they do now, and they love it. And so we would go and watch old seasons and episodes together, eating pizza." Sounds like a dream, honestly.
If you don't know what RuPaul's Drag Race is, please see yourself away from this computer and toward the closest available television set. The drag queen competition show is on the cusp of its 10th go-round and is currently airing its third All-Stars season, which gives fan favourites a second chance to snatch the crown. Naturally, I had to ask who Brown was rooting for in the upcoming All-Stars finale. "Team Shangela. I like Trixie [Mattel], but she didn't give it. She's just not giving it."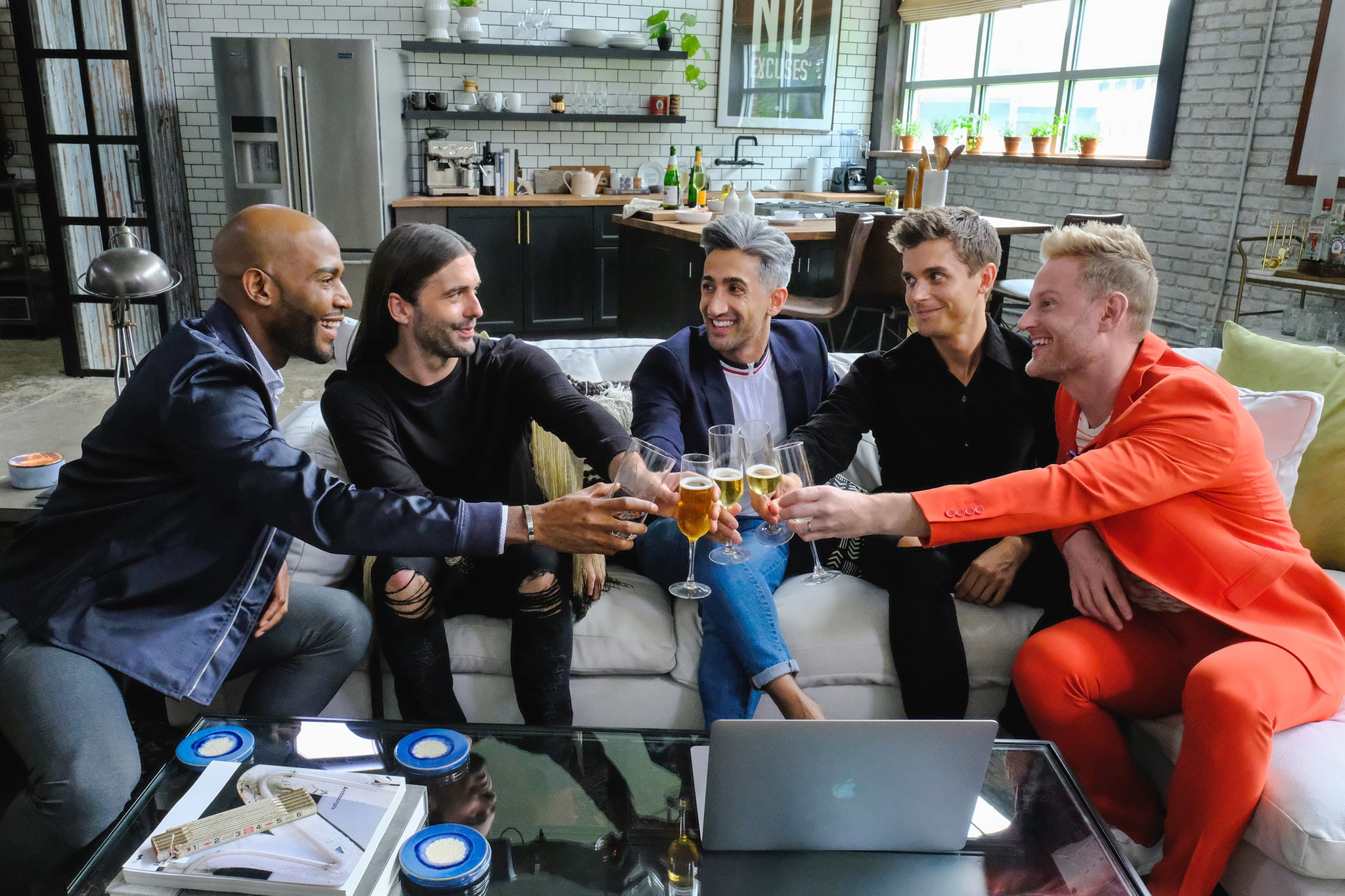 Image Source: Netflix
Circling back to Queer Eye, I needed to know: can we expect a second season? Have there been talks about more episodes of Queer Eye? When it comes to another season, Brown said, "We haven't heard yet, but we're hoping we'll hear soon, because we did get [a] whiff that it's been a big success. So we're like, 'Come on, please?' We're sending basically beg letters, like, 'Please give us another season.'" Sounds promising, right?
Before Brown went to enjoy the rest of the HRC gala, I asked him what his mission is as he moves into the rest of 2018. "I'd been an activist before I started in television, and for me, it's to inspire people to know that they have the power," he answered. "You can make so much change within your neighbourhood and community, which is so important. I used to be social worker with LGBT youth, and a lot of times they'd say, 'What could I do?' And I would say, 'You could do so much. If you just inspire just one person that's next to you — to feel different, to live differently, to act differently — that's creating a ripple in the world.'" Here's hoping we get more of those ripples on Queer Eye very soon.