What Were Ned Stark's Final Words on Game of Thrones?
Are You Sitting Down, Game of Thrones Fans? We Finally Know Ned Stark's Last Words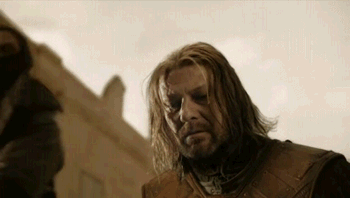 At this point, we've been in a relationship with Game of Thrones long enough to know that there are some extremely important questions that we're just never going to get the answers to: Why does no one ever wear hats in those blizzards? Why do we only see Ghost once every five episodes? Will Gilly ever get the freakin' credit she deserves?! Well, you can thank the old gods and the new, because we just got a major revelation about Ned Stark courtesy of Sean Bean.
While speaking to HuffPost, the Oath actor was asked about what, exactly, Ned is mumbling in the season one scene where he's brutally decapitated. Fan theories about his inaudible whisper run the gamut, from notions about it being an utterance of "valar morghulis" ("all men must die") all the way to Ned somehow communicating with his son, Bran, via time travel. According to Bean, it's simpler than you think: he's almost entirely certain Ned is praying.
"I couldn't be too specific, because I don't know if religion [like that] was around in those days, whatever they were," he explained. "I just thought, 'What would you do if this were really gonna happen?' You probably would pray. You probably would murmur some words and you'd keep it quiet. You'd keep it to yourself."
He went on to add that he interpreted Ned praying as the most realistic reaction to the scenario — what else are you going to do right before your head is brutally lobbed off in front of your daughters and an entire city? "It's quite subtle in that many people wouldn't pick it up," he added. "It was an interesting thing to do for me at that point. There's not much you can do really, you've got your head on a block. That's about the only thing you can do is murmur."
Could Ned have prayed so hard that it was enough for some mystical force in Westeros to resurrect him at some point? Despite popular fan theories that hypothesise about how Ned could return to the land of the living, Bean said his time on the show is over. Period.
"No, they've never said that," Bean said when asked if HBO has ever reached out about another cameo. "And yeah, I've heard rumours, but not from very good sources that I might be back. But I think I've done my time there, and I created a good character. It'd be rather strange to see him resurrected."