Who Is Griffin Sinclair in Jessica Jones?
Who Is Griffin Sinclair From Jessica Jones?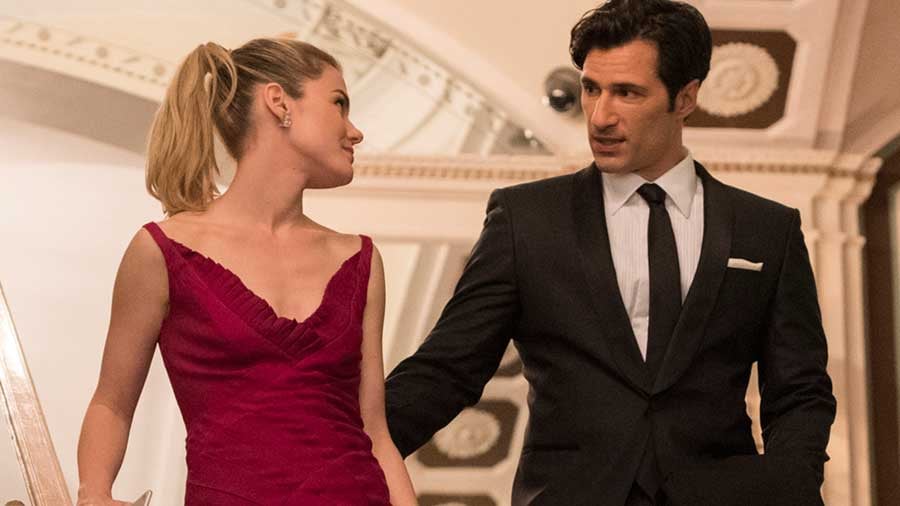 The second season of Jessica Jones has dropped on Netflix, and there's a handsome (but also suspicious) new face rolling with Jones' squad this season: Griffin Sinclair, played by Hal Ozsan (Dawson's Creek, Graceland).
Read on for why we think he may be up to no good, but be warned of spoilers from Jessica Jones season two.
Sinclair pops up on Jessica Jones as a TV news anchor who begins dating Trish Walker, Jessica's BFF. He's not actually a character from the Marvel comics universe; he was developed brand new for the Netflix show, but he's a great match for Trish because they both have some experience with fame, as she is a former child star and now semifamous radio host. He also seems like pretty much the perfect guy — and even when his perfect-guy-ness sets off Jessica's alarm bells, he comes back completely clean when she runs a background check on him.
Honestly, knowing the nature of these shows, that should be an even bigger red flag that he's a bad guy. But for once, the show manages to surprise us by having Griffin turn out to be just as good as he appears.
In the fifth episode, he proposes to Trish as her friends and family look on and she . . . sort of says yes. It's more like she doesn't say no and instead says "thank you," which is not exactly the best reaction to a proposal. He tells Jessica that all he wants to do is make Trish happy, but she privately rejects him later. Her insane stage mother is livid that Trish would throw away a chance like this, but Trish insists he's not the one for her because all she could feel during his proposal was "disappointment."
"I don't want to be with Griffin, I want to be him. I want to do what he does and that's not love and that's not fair to either one of us," Trish tells her mother.
And that's the end of Griffin Sinclair. But Trish bounces back (sort of) by hooking up with Malcolm in episode six. Now that's a pairing we did not see coming, and it feels a lot like Trish is just using Malcolm as rebound sex, but hopefully the show will revisit the pairing at some point. They have some issues to work through, like the fact that Malcolm confronts Trish about her drug addiction and she convinces him to try what she's on, which makes him realise they can't be together (at least not right now). He tells her they can't even be friends at this point, but Rachael Taylor and Eka Darville certainly set the screen on fire together, so maybe when Trish works out her drug issues, the two can find their way back together.