Adele Opens Up About Turbulent Relationship With Father
Adele Opens Up About Turbulent Relationship With Her Father: "I Made Peace With Him"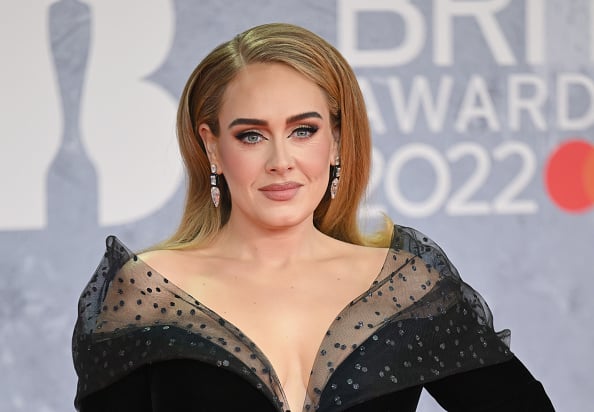 Adele is known for her sunny personality and cracking sense of humour, but her life hasn't always been plane sailing. The "Easy on Me" singer opened up about her difficult relationship with her father, Mark Evans, in a recent episode of BBC's Desert Island Discs.
The BRIT school alumni, who was born Adele Laurie Blue Adkins, grew up mainly around her mother and grandparents, as her parents split up when she was a baby. She grew distant from her father, who was an alcoholic, after he didn't turn up to their Father's Day plans when Adele was around 12 years old.
"I've always been very excited to see him whenever I did, but it was always a bit of a let-down. I definitely had a yearning for him because he didn't really deliver for me," she said. "When I was a kid, I didn't really have his attention, or he'd say he would come and then he didn't . . . You know, he had a disease. He was a really big alcoholic, and he had loads of demons. But I didn't really understand that when I was younger."
Adele then reveals the moment she decided to cut ties. "I decided to stop seeing him when I was like 12 because I'd gone to Penarth in Wales to surprise him for Father's Day, and my nana said come, and he didn't come. So I stopped seeing him," she explained. "I saw him very briefly when I was about 15 when my great grandma died [his nana], and he did apologise then. But I was 15, and I didn't want to hear it then — I was just a teenager."
Adele did make up with her father, though. The Grammy Award winner reunited with Evans a few years ago when he was diagnosed with bowel cancer, but the reconciliation was bittersweet. "When I found out that he was ill a few years ago, I drove straight there. It was hard, but it was definitely one of the biggest moments of my life in a good way," she told BBC. "I made peace with him when I found out he was sick, and we really got on, which was amazing but also sad because we missed time. And he was really bloody funny, and I don't remember that when I was little, but it was really nice. We laughed and we gossiped and we cried, and it was great for both of us."
Before Evans sadly passed away at the age of 57 in May 2021, Adele got the chance to play him her latest album, "30", over a Zoom call. Her song "To Be Loved" is about her father's absence and how this impacted her ability to trust, and it meant a lot for the star to watch her dad listen to it.
She told Oprah Winfrey in November 2021: "It was amazing for me and him. I think he could listen to me sing it, but not saying it – we are very similar like that. His favourites were all of my favourites, which was amazing. So it was . . . it was very, very healing, [and] when he died, it was literally like the wound closed up."
She also revealed that it was her boyfriend, Rich Paul, who encouraged her to step back into the spotlight. The two recently moved in together as their relationship goes from strength to strength. As well as saying she wanted to have more children, Adele spoke of the strong bond she still shares with ex-husband Simon Konecki. The couple, who share son Angelo, still live near each other. "It was never really tricky because we're such good friends. And over my dead body is my kid having like a messy divorce in his life. There are no issues, and there were no issues," she said.
Image Source: Getty / Karwai Tang / WireImage