Black Panther Actors on Black Women Being Marvel Superheroes
"Black Panther" Stars on the Film Uplifting Black Women as Heroes: "Our Voices Are So Compelling"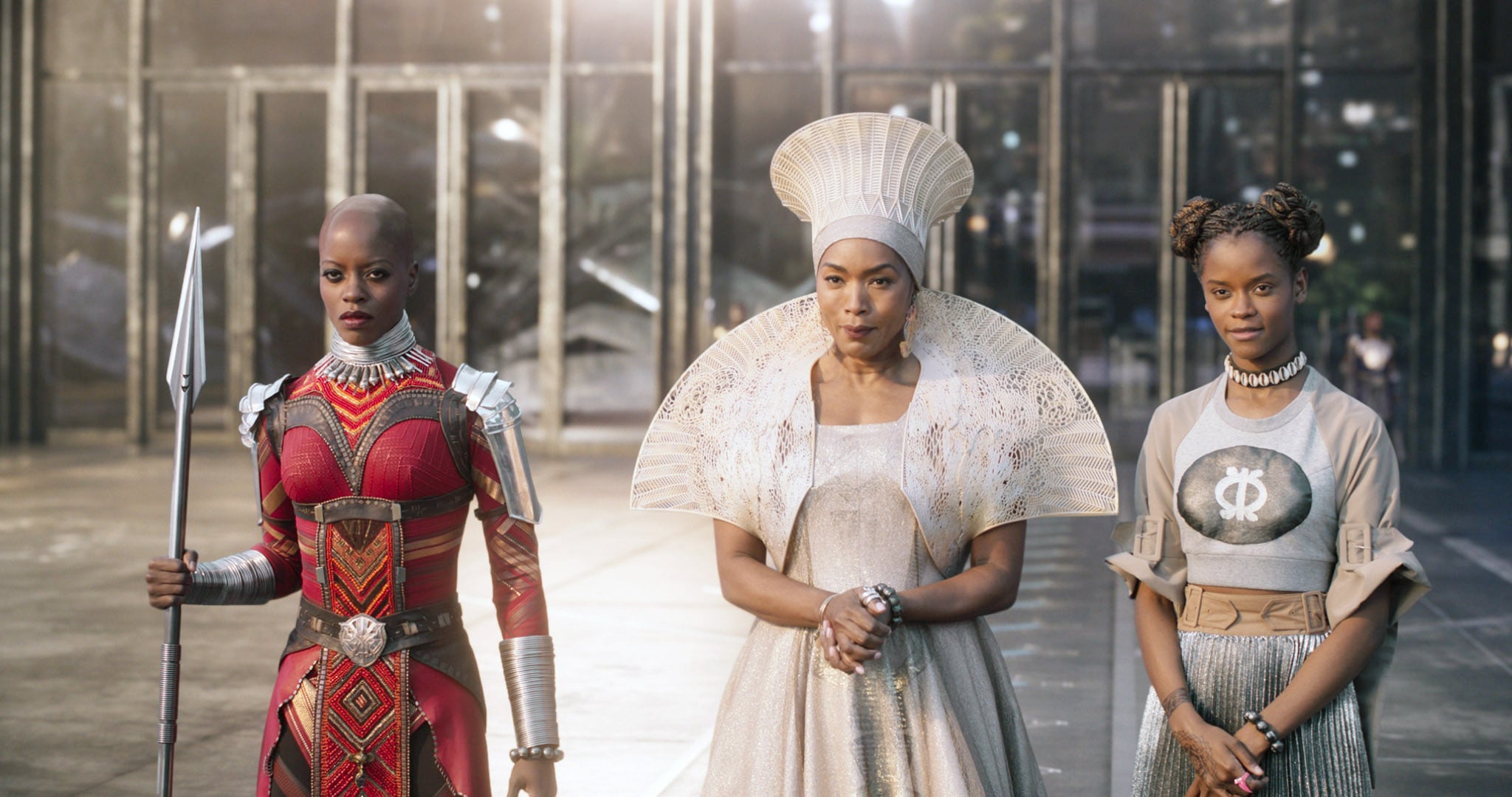 The wait for the highly anticipated "Black Panther" sequel, "Wakanda Forever," is almost over as its November premiere date nears. Ahead of its release, the stars of the Marvel movie are reflecting on its astronomical impact across cinema and culture, specifically for what it's done to champion Black women in the superhero realm. In a September interview with The New York Times, Angela Bassett, Danai Gurira, and Letitia Wright touched on how the film has both uplifted and inspired women like them on screen and in real life.
"It's important that it's not just a one-moment thing, but you see Black and women of colour characters grow and have more dimension."
"[The first] film allowed us, as women characters, to gain even more complexity. And it's important that it's not just a one-moment thing, but you see Black and women of colour characters grow and have more dimension," Gurira said. ". . . If putting these characters in a heroic space propels that sense of ownership of self and what one can do with their own potential as young women and girls of colour, that's everything, really."
To the outlet, Wright recalled a moment that reminded her how powerful representation has been in "Black Panther" because of how it impacts younger fans. "Today a girl told me, 'I came out of the cinema feeling I can do anything after watching the film and seeing what Shuri presented to the world.'" The actor also argued that putting more Black women in strong, superhero roles "should become the norm because there are so many women out there that are so heroic and amazing. We just show a piece of that onscreen."
Beyond portraying their respective characters in the Black Panther franchise, Lupita Nyong'o also spoke to the Times about the sisterhood highlighted in their blockbuster movie. "The undervaluing of women because of their gender doesn't exist in Wakanda," Nyong'o told the outlet. "We saw that in the first film, which is why it resonated. This new film continues with the conceit that this is a world where those things don't exist. But the question we're tackling is not their womanhood. It's their beliefs, passions, loves and arguments, and it creates a robust drama. Hopefully, the world as we know it watches and is empowered by it, despite itself."
"Black Panther" rose to critical acclaim after its worldwide debut in 2018, notably for its groundbreaking celebration of Black culture and Afrofuturism. The Ryan Coogler-directed picture broke barriers at the 2019 Academy Awards when it snagged three Oscars, a first for Marvel, after it became one of the highest-grossing films in domestic box-office history.
Marvel's behemoth flick reached all kinds of milestones on its first go around, and now, Bassett proclaims that "Wakanda Forever" is "poised to be the next film to really garner excitement for lots of people" — with women who look like her front and centre. "Over a billion dollars' worth of people hopefully will go to the movies. And who will they see but our faces? Black women's faces," she told the Times. "I love seeing it. In this day and age, you don't have to wait for a few folks in a few offices at the top of a few buildings to make it happen . . . Our voices are so compelling that they must be told."
"Wakanda Forever" hits cinemas on 11 Nov.