Daisy Jones & The Six Elvis Tribute
This Sweet "Daisy Jones & The Six" Easter Egg Pays Tribute to Riley Keough's Grandfather Elvis Presley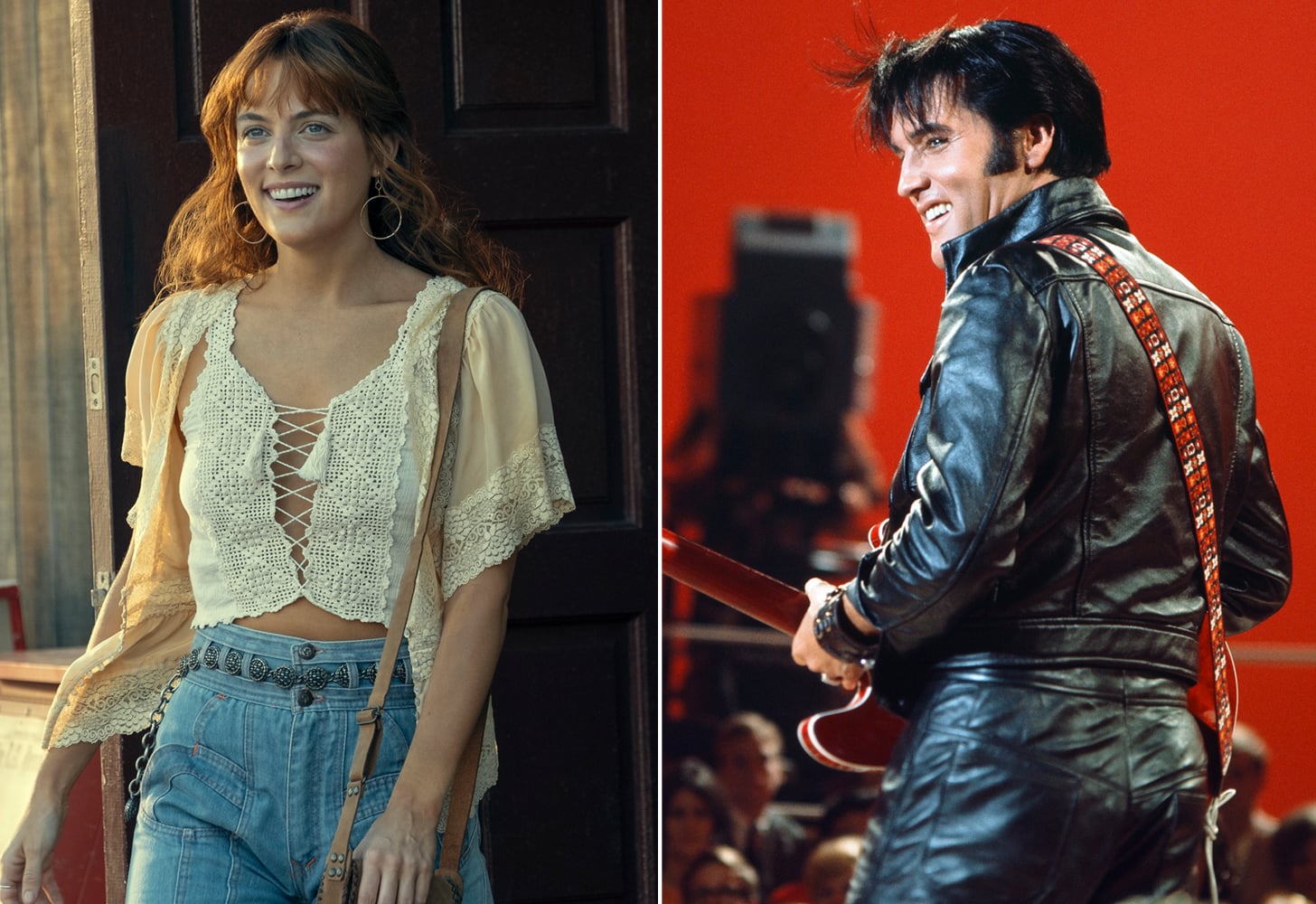 Image Source: Lacey Terrell / Prime Video / Getty Images / NBC
"Daisy Jones & The Six" is mostly a tribute to the California music scene of the 1970s, loosely basing its plot and characters on the drug and drama-fuelled story of bands like Fleetwood Mac. But in one episode, the show quietly honoured another music icon — who just happens to be the grandfather of star Riley Keough.
Keough, who plays Daisy in the series, is the granddaughter of Elvis Presley, who changed the music world forever with his signature sound and style. In the second episode, Daisy steps onstage and performs a song that gets her the attention of record producer Teddy Price. Some eagle-eyed fans quickly noticed that the guitar strap Keough wears in the scene looks identical to the one Elvis wore in his 1968 comeback special.
There's even a chance that the strap Keough used could actually have been Elvis's. "I do have a fun fact that Daisy's guitar is my guitar," Keough told Buzzfeed in a 7 March interview. "It was my personal guitar, and I wanted to use it in the show."
Reps for Keough didn't immediately respond to POPSUGAR's request for comment about the connection. Either way, an identical guitar strap was used by Jimi Hendrix during his iconic performance at Woodstock in 1969, so whether or not the one Keough used belonged to her famous grandfather, it makes sense that Daisy might have chosen to use such a legendary design onstage.
Keough has previously commented on following in her grandfather's musical footsteps through the show, saying she's not exactly trying to emulate her superstar relative. "I certainly wouldn't put that pressure on it. I don't know if there is continuing my grandfather's legacy — it's its own sort of thing to me," Keough told Entertainment Tonight in February. "I'm not a musician — or I am now, I guess. I've been interested in film my whole life and so for me, it was more really loving to get to have a relationship with music in that way. I've listened to music and my whole family are musicians and I've been around this world a lot and been on tour and all that kind of stuff. But I'd never really done it myself. So for me, it was more about my personal relationship with getting to play music."
The first three episodes of "Daisy Jones & The Six" are now streaming on Prime Video.