Is Daisy Jones & the Six Based on a True Story?
"Daisy Jones & the Six" Takes Inspiration From a Famous Real-Life Rock Band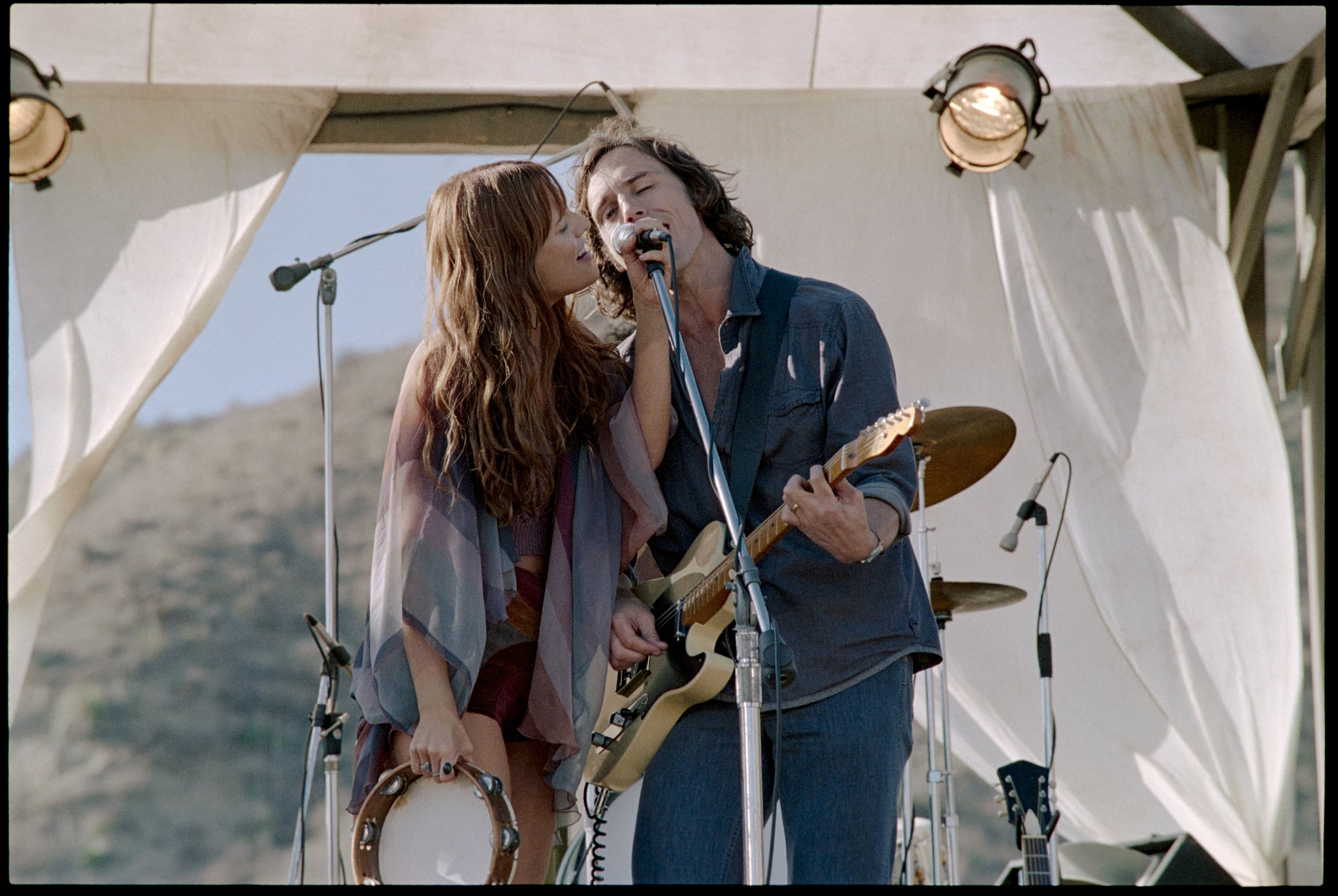 Image Source: Amazon Studios
The Amazon Prime Video adaptation of Taylor Jenkins Reid's novel "Daisy Jones and the Six" is definitely one of the hottest new TV shows of the year. Tracing the story of a smash-hit rock band in the 1970s, it blends a fictional plot with details meant to evoke the real music scene of the era. Just how much is the story inspired by real music history? A lot, as it turns out!

What Is "Daisy Jones and the Six" Based On?
Technically, the novel (and the TV show) is an original story. It doesn't use real names or real-life events, but instead presents a "documentary" narrative about the fictional band of the title, their relationships, and the making of their most famous album. However, music fans will definitely recognise some familiar plots in the story of a 1970s rock band pulled apart by interpersonal drama and musical conflicts.
In a 2019 guest article for Reese Witherspoon's "Hello Sunshine," Reid explained how she turned her youthful fascination with the real-life band Fleetwood Mac into material for her novel. She recalls seeing a complicated and tender moment between Stevie Nicks and Lindsey Buckingham during a performance, then learning about the messy romantic past between them and coming back to that moment over the years.
"Two years ago, when I decided I wanted to write a book about rock 'n' roll, I kept coming back to that moment when Lindsey watched Stevie sing 'Landslide.' How it looked so much like two people in love," she explained. "And yet, we'll never truly know what lived between them. I wanted to write a story about that, about how the lines between real life and performance can get blurred, about how singing about old wounds might keep them fresh. Even after copious amounts of research about Fleetwood Mac and a host of other duos and bands, I'm still taken with that moment between them. I can't help but marvel at the idea that, despite everything they'd been through, Stevie and Lindsey still loved each other then. Or how, despite what it looked like to us all, they no longer did."
"Daisy Jones and the Six" tells a similar story, although the characters and their backstories are almost mixed-and-matched, so there's not necessarily a one-to-one correspondence between the fictional characters and members of the real Fleetwood Mac.
What Really Happened With Fleetwood Mac?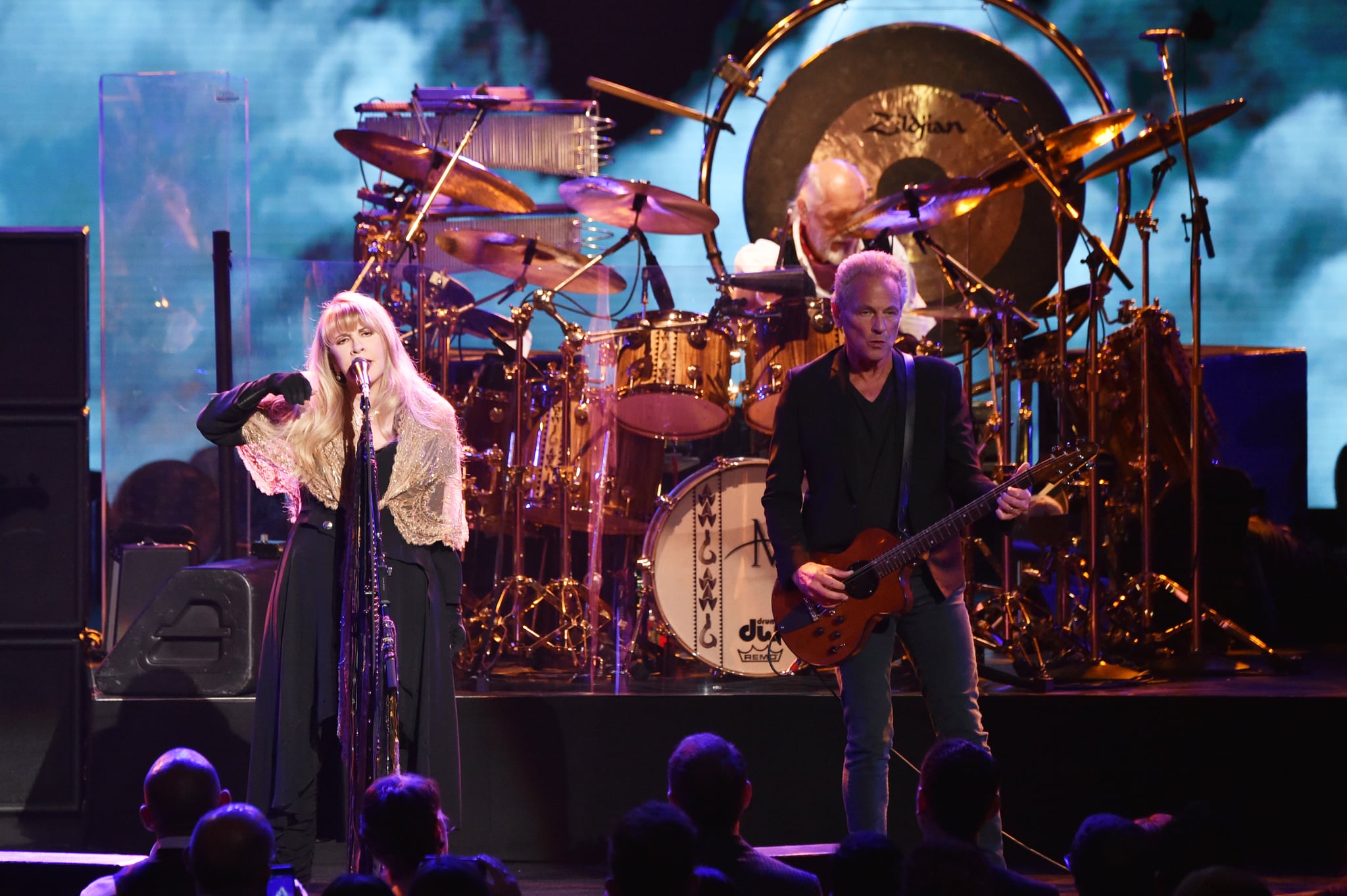 Image Source: Getty / Stephen Lovekin
The drama of Fleetwood Mac is probably one of the most famous and tangled-up stories in modern music history. The band famously had something of a revolving door of members, but its best-known lineup featured Mick Fleetwood, John McVie, Christine McVie, Lindsey Buckingham, and Stevie Nicks. Buckingham and Nicks were the last two to join the group; reportedly, Buckingham was the one initially asked to join the band, but he insisted that Nicks, his girlfriend at the time, also be included.
This particular iteration of the band was wildly successful, but their relationships took a major hit as they worked on their iconic album "Rumours." Buckingham and Nicks broke up, as did the McVies, and Fleetwood and his wife. Later, Fleetwood and Nicks also had a short-lived relationship. Much of their relationship drama was highlighted in their famed "Rolling Stone" interview in 1977, where they also acknowledged that their music was largely based on their real lives.
"On this album, all the songs that I wrote except maybe 'Gold Dust Woman' — and even that comes into it — are definitely about the people in the band . . . . Chris' relationships, John's relationship, Mick's relationship, Lindsey's and mine. They're all there and they're very honest and people will know exactly what I'm talking about . . . people will really enjoy listening to what happened since the last album," Nicks said in the "Rolling Stone" feature.
Ultimately, the band went on hiatus and eventually lost several members, including Buckingham and Nicks. Over the years, they have reunited for certain projects and performances, though not without more drama. In 2018, Buckingham departed the group under contentious circumstances; he was reportedly fired over a disagreement about the upcoming tour, while he claimed it was the result of a conflict with Nicks. Buckingham brought a lawsuit, and the parties reached a settlement in late 2018.