Charlotte Purdue and Lily Partridge on Body Image Pressures
"You Don't Look Like a Marathoner": Why 2 British Runners Are Speaking Out About Body Image in Sports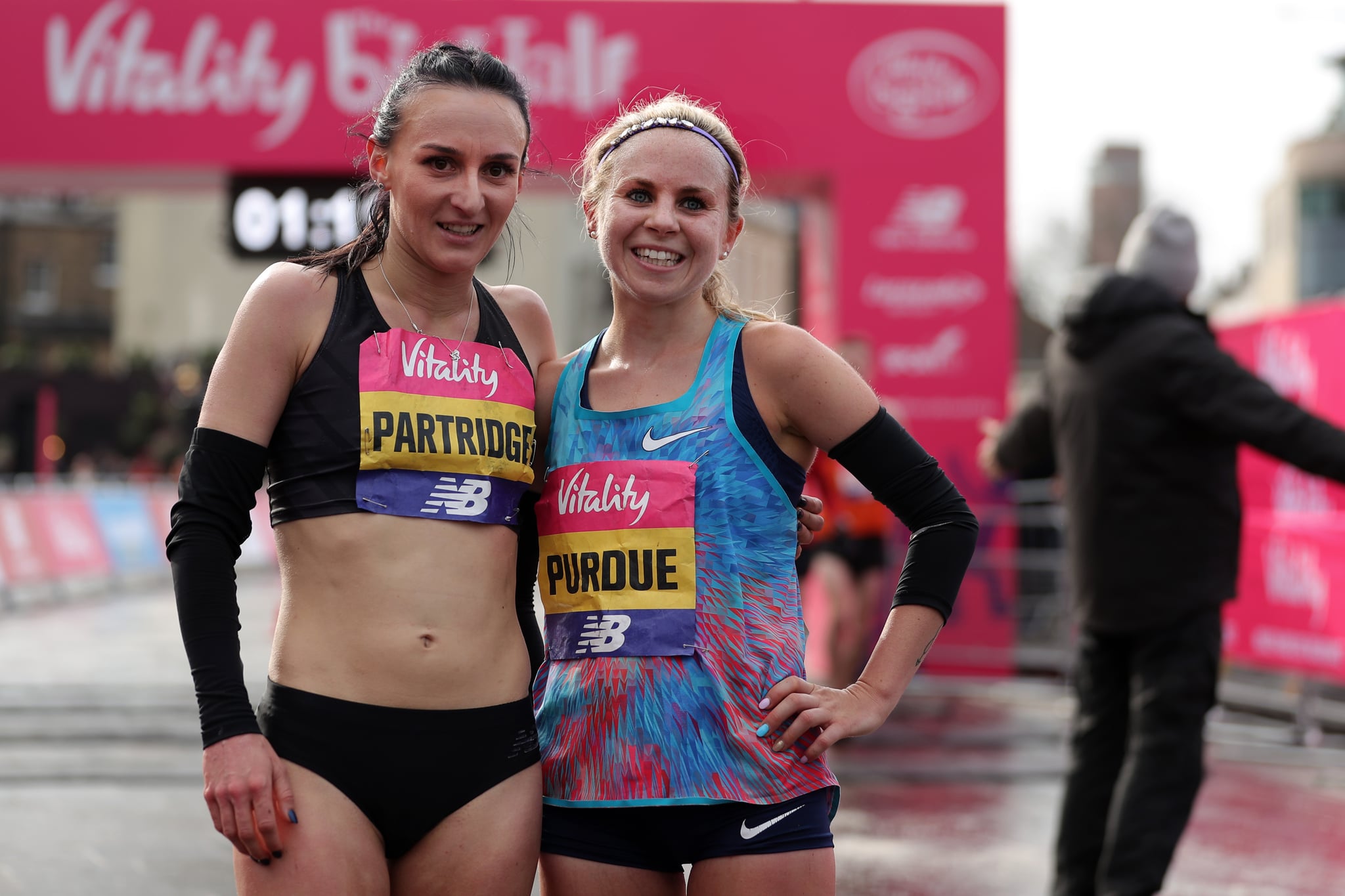 As women — as humans — we get used to hearing throwaway comments about our bodies. They're small observations or one-off remarks. They might not be intended as criticism; sometimes they could even be compliments ("You look great! Did you lose weight?"). But even seemingly-objective comments — "you don't look like you do yoga" — can sting and promote judgmental, even dangerous, ways of thinking.
As Lily Partridge and Charlotte Purdue can attest, these comments are prevalent even in the highest echelons of sport. Both women are elite marathoners from Great Britain who've experienced success on the international stage: Lily was the highest-placing British finisher in the 2018 London Marathon (eighth overall); Charlotte took that title at the 2019 race, placing ninth on April 28. But despite their successes, both have been told they "don't look like marathon runners," even by medical professionals.
"What does that mean?" Lily said in an interview with the Telegraph Sport. "Do I look strong or are you saying I'm too heavy? How can you be too strong for a marathon runner? That logically doesn't make any sense."
Maybe, she said, "it's because we look healthy. If so, I'm OK with that. I'd rather be healthy and a good role model and performing well than look more stereotypically like what people think a marathon runner should look like, and just be performing averagely."
And it's true, Lily added, that staying relaxed about her nutrition has led to more success in races. "Whenever I've really focused on my nutrition, I've run worse," she admitted. "Maybe had I improved when not eating certain things, my attitude would have been different. But it didn't, so I was able to say 'to hell with that.'"
Charlotte, the 2019 British champ at the London Marathon, said she's been told "so many times" that she doesn't look like a marathoner. "I don't know what that means, because what does a marathon runner look like? Everyone looks different." She added that she tries not to let it bother her but sees how those comments can get to people. "I try not to think about it and try to be as fast as I can be," Charlotte told the Telegraph. Considering that she smashed her personal best time by four minutes on April 28, crossing the finish line at 2:25:38, the strategy seems to be working.
Hurtful comments about your body can bruise and linger no matter who you are, male or female, young or old, whether you're running marathons, crushing HIIT workouts, or power-walking through your neighbourhood. Those words get to all of us, and when they do, we can use it as an opportunity to remember what actually matters.
"As long as I'm performing at a level I want to, and I'm healthy and happy, then [it doesn't bother me if] something wobbles or not," Lily said. "Performance is more important to me than how my body looks."
Image Source: Getty / DANIEL LEAL-OLIVAS / Contributor