Infrared LED Light Therapy Review
I Tried Infrared LED Light Bed Therapy, and It Actually Helped My Soreness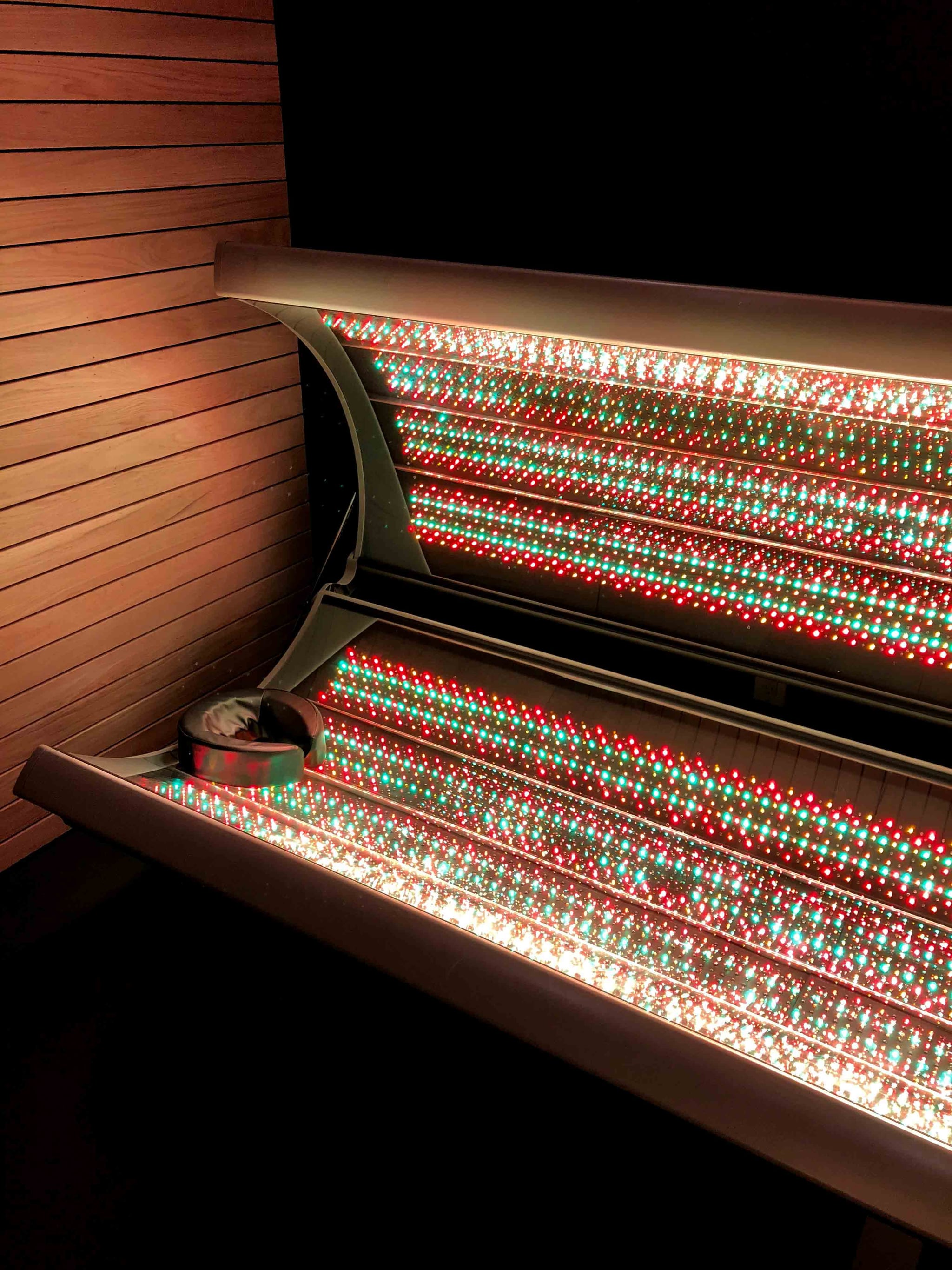 I'm not someone who trends toward experimental wellness therapy. I have never done cryotherapy, I have no interest in getting a colon cleanse, and the idea of fire cupping kind of freaks me out. So when NKD, a luxury wellness centre in New York City, reached out to see if I wanted to try its infrared LED light therapy bed, I was sceptical. After all, how can sitting in a light bed have any effect on your body? But I was also intrigued, so I agreed to try out the treatment.
NKD has the full-body PX2000 LED light bed, which uses orange, green, and yellow light waves. It's FDA-approved for temporary relief of minor muscle and joint aches and pains, to promote the relaxation of muscle tissue, and as a temporary increase of local blood circulation. Although I am fortunate to not have many aches or pains, I do get some flare-ups in my knee from time to time from running. I also tend to get sore after a particularly tough workout, so I wanted to see how the LED light bed would help with muscle soreness.
To prepare, I took a fitness class at Fhitting Room the day before and a Barry's Bootcamp double-floor class of butt and legs the morning of. After burning out my lower body with seemingly endless squats and resistance-band moves, I was starting to get sore by the afternoon and eager to see if the light bed would be of any help.
When I got to NKD that evening, I signed a waiver to use the bed that included a disclaimer saying you shouldn't use the bed if you are pregnant or diagnosed with cancer. Then I was instructed to get naked and change into a robe. I kept my underwear on, because modesty. To use the actual bed, Erin Hamilton, the friendly general manager, told me results were best if you got in completely naked (I still kept my underwear on, because germs).
The bed itself reminded me of a tanning bed mixed with a UFO. And since I had a love affair with the artificial UV light in college, I was all too familiar with how this contraption worked. Like a tanning bed, you lie down and pull the lid over you. You also have to wear protective eyewear. It felt warm like a tanning bed, although not quite as hot, which was cosy and reminded me why I loved tanning so much (RIP my skin).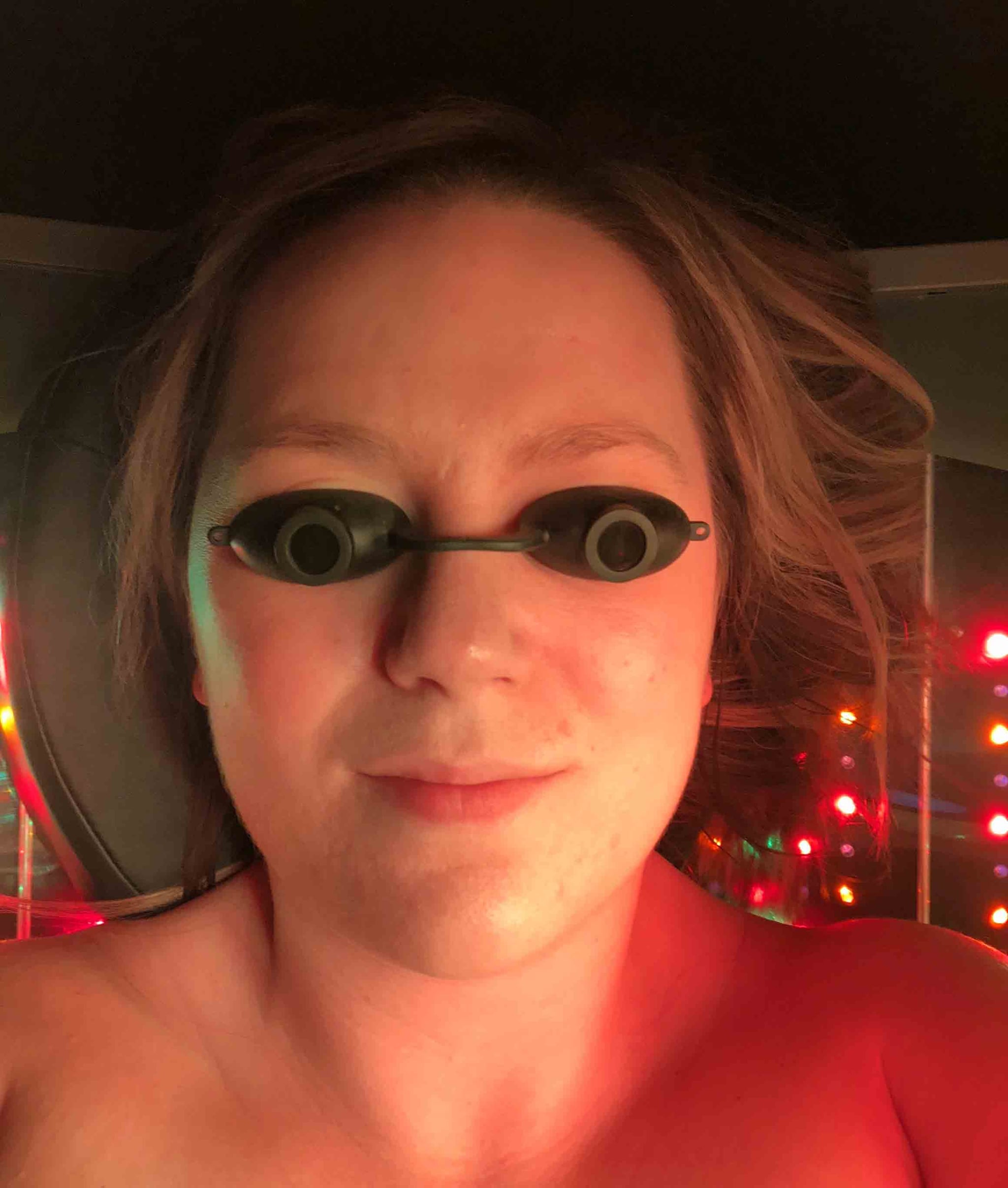 I decided to stay in the bed for 20 minutes, which is on the low end but what most people start out at. After taking my obligatory goggled selfie, I set down my phone and had 20 minutes of relaxing, uninterrupted time to myself. Although that's not necessarily the point of the treatment, it was nice to have so much time away from the need to constantly check email and social media. The whole 20 minutes was relaxing.
Afterward, I definitely felt calmer; I was having a particularly stressful week and found that after I got out of the bed, I wasn't as anxious. The next day, my legs weren't nearly as sore as I thought they would be. Usually after an hour of working my legs and glutes, I can barely walk up the stairs, but after doing the LED light bed, I was only mildly sore. I can't say for sure if the treatment contributed to me being less sore, or if the anxiety relief was a placebo effect, but overall, I enjoyed my experience.
If you have muscle soreness or joint pain, or you're just a former tanorexic who misses the warmth and serenity of a tanning bed, then give infrared LED light beds a try. At the very least, you'll enjoy 20 minutes of relaxing time to yourself and get a cool goggle selfie out of it.
Image Source: POPSUGAR Photography / Christina Stiehl