What Is TikTok's Cosy-Cardio Trend? Plus, Benefits and Tips
TikTok's Cosy-Cardio Trend Is the Cure For Zero Gym Motivation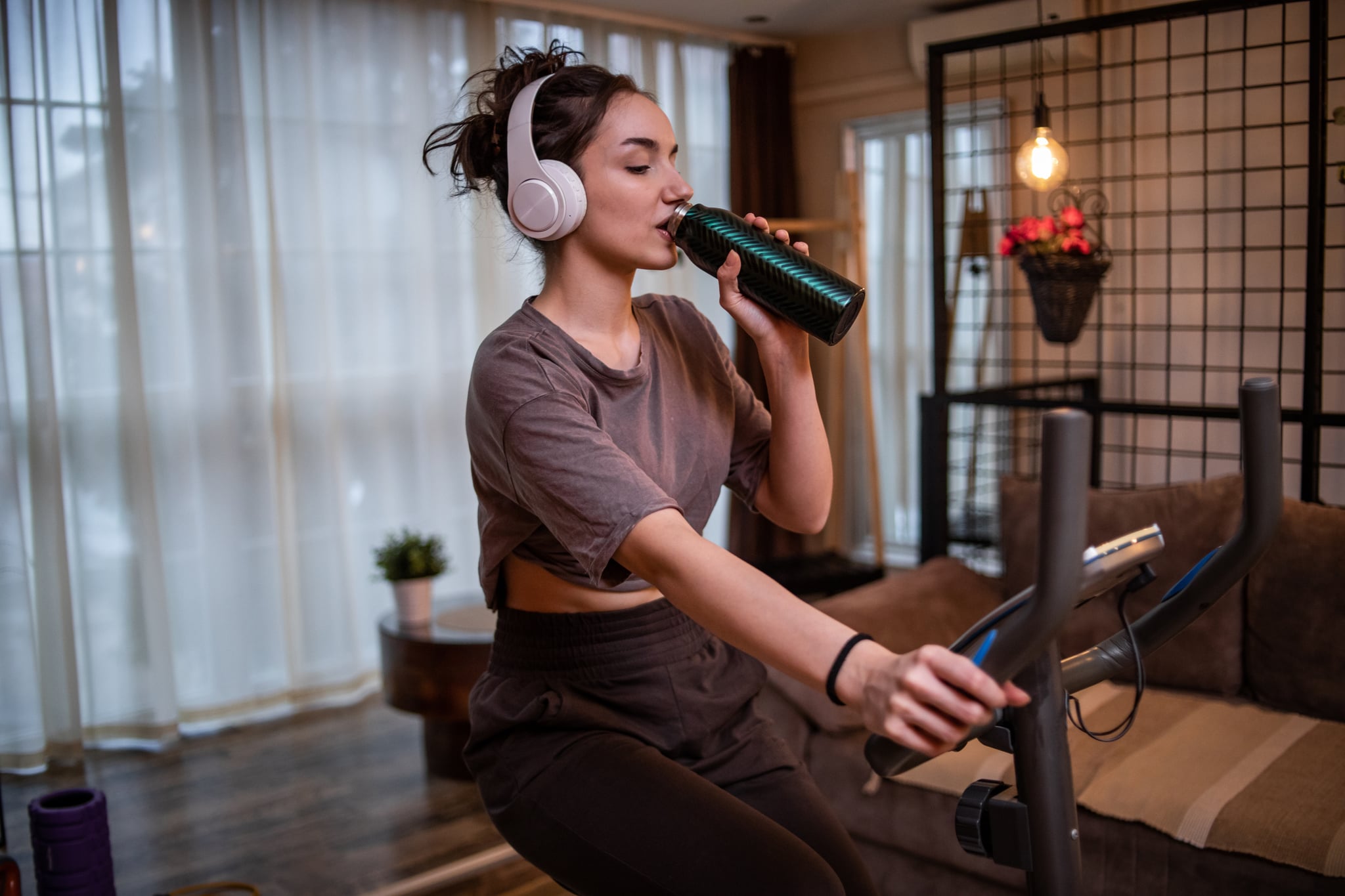 When the COVID pandemic hit in 2020, many of us shifted into the "soft life" — and our workout routines came with us. As a result, the trending workouts today look lower intensity and lower impact than pre-pandemic, with the focus on Pilates, barre, and walking instead of CrossFit, sprints, and HIIT. While many people are still loving their soft workout routines, others are ready to level it up a bit.
Sound familiar? Perhaps Pilates isn't giving you the endorphin rush you miss or you want to get your heart beating a little faster. Well, the latest TikTok workout trend is perfectly emblematic of that shift from "soft exercise" into a little something more. Meet "cosy cardio," the chill but sweaty workout trend that's honestly perfect as we head into fall. But is it really a good enough workout, and do you have to wake up at 5 a.m. to partake? Here's the deal.
What Is Cosy Cardio?
Think of your coziest Netflix night, romanticized to the brim: candles, your favourite beverage, snacks, and dim lighting. Your coziest sweats and blankets, and no one else around. Now, bring that same energy, but imagine walking, cycling, or logging minutes on the elliptical.
Cosy cardio, coined by TikTok creator Hope Zuckerbrow, is about creating a cosy atmosphere in which to do an at-home cardio workout. Zuckerbrow often fills up her water bottle, makes a coffee, dons fuzzy socks and recovery slides, puts on a movie or series, then hops on her walking pad and logs a few leisurely miles.
Zuckerbrow typically does her cosy cardio at about 5 a.m., fitting this trend squarely into another TikTok obsession: the "5-to-9" trend that idealizes an early-morning, before-work self-care routine. And really, the pre-dawn hours make the perfect setting for cosy cardio.
What Makes Cosy Cardio So Good?
The whole idea is to transform cardio into something that feels good. It replaces the cold, sterile environment of a gym and the chore-like feeling of it all with cosy vibes that make you want to keep coming back.
"Cosy cardio offers a nice alternative to this 'go hard' punishing mentality that many people associate with fitness progress," explains Mieses Malchuk, MD, MPH, a board-certified family physician. "You can be kinder to yourself and still reach your fitness goals."
If you're having trouble sticking with a consistent workout routine or motivating yourself to work out, cosy cardio can help you there, too. "Bundling something you enjoy doing (like watching reality TV) with something you 'should' be doing (like walking for physical activity) is a great way to meet your fitness goals," Dr. Malchuk says. "This is actually a psychological technique that can make less desirable but necessary activities more appealing, like listening to music while you clean the house."
Though Zuckerbrow has been doing cosy cardio since 2022, the trend is picking up steam just in time for fall. With shorter days, cooler temps, and optimal cosy-season energy, it's the perfect time to swap your outdoor hot girl walks or skipped gym sessions for intentional cosy cardio.
Is Cosy Cardio a Good Workout?
When it comes to exercise, anything is better than nothing. If you're not doing any physical activity right now, you have nothing to lose by incorporating cosy cardio into your routine. There aren't any real downsides: "If you enjoy cosy cardio, go for it," Dr. Malchuk says.
The American Heart Association (AHA) recommends adults get at least 150 minutes per week of moderate-intensity aerobic activity or 75 minutes per week of vigorous aerobic activity, and walking or pedalling while you're watching your favourite shows could be the perfect way to get closer to that. Truth be told, if you keep cosy cardio to a chill pace, there's a good chance it won't meet the AHA's recommendation of moderate-intensity exercise (which you can measure using RPE, or rate of perceived exertion), but it's still worth doing. Even light-intensity activity can offset some of the risks of being sedentary, the org says.
You can certainly amp up the intensity of your cosy cardio, but "depending on your personality, more vigourous activity may require a livelier environment," Dr. Malchuk says. (For example, maybe you need a Peloton instructor hyping you up or an in-person boot camp instead of a "Friends" rerun.) You can keep cosy cardio in your routine, but perhaps you make it to a cycling class once per week or do an outdoor run on Saturdays. Adding the occasional higher-intensity cardio session is a great way to keep challenging yourself and give your heart the higher-intensity workouts it needs to stay strong.
If you're looking to build out a well-rounded fitness routine, you should ideally incorporate some strength training into your week, too. Experts and the AHA generally recommend strength training at least two to three times per week to maintain or grow muscle mass and reap lots of other benefits. (Reminder: that can be as simple as doing Pilates or a bodyweight circuit at home.)

So Is Cosy Cardio Worth the Hype?
As far as workouts are concerned, if it brings you joy, it most certainly is worth it. If you find you love cosy cardio and it motivates you to log more steps or spend more time on your feet, that's undoubtedly a good thing.
And for the record, waking up to do it at 5 a.m. is optional. "Do cosy cardio when it feels right for you," Dr. Malchuk encourages. "Some people prefer to exercise in the morning. Cosy cardio may be a nice way to de-stress after a long day. It's your choice!"
That's really the beauty of this workout trend. You can choose the time, type of cardio, beverages, and entertainment. No matter what, if it's cosy, it counts.