Swimmer Freya Anderson on Competing in the Tokyo Olympics
Get to Know Freya Anderson, the Newest Swimmer to Join Team GB at the Tokyo Olympics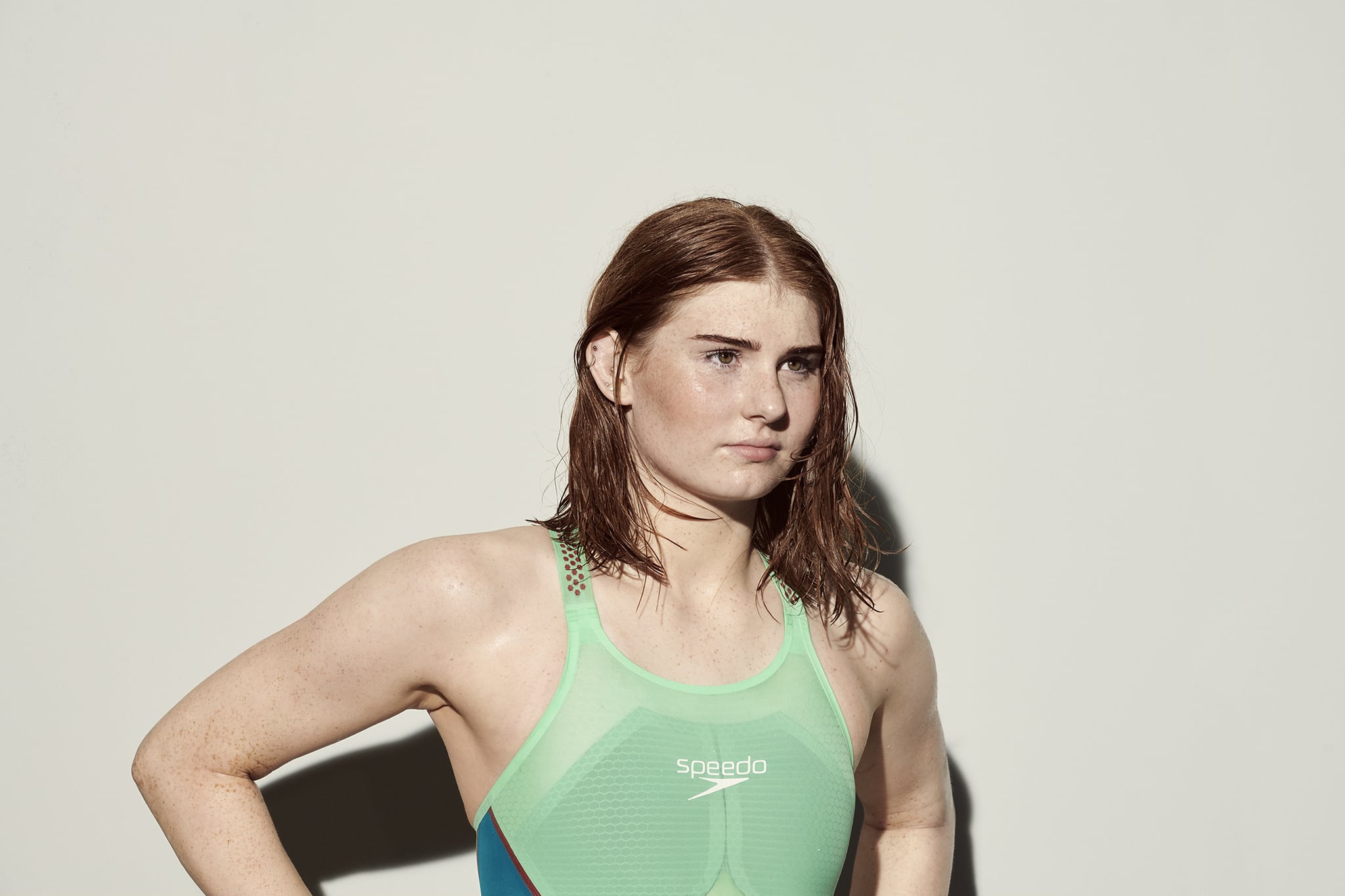 Image Source: Speedo
By now, we can probably all agree the Tokyo Olympics are going to look a bit different when they kick off on 23 July. Many aspects of the games are still up in the air, but there's one thing that's guaranteed: a high-stakes competition that converts even the most clueless sports fan into a Team GB devotee.
To get you well-acquainted with one of the 2021 recruits to the British swim team, we fired up Zoom and (virtually) sat down with Freya Anderson, the 20-year-old Olympic swimmer who you're about to see all over your TV screens. When we spoke to Anderson, she was a few weeks out from flying to Japan and refreshingly, admitted that she is more excited than nervous for her debut on the Olympic stage. "I think it's a mixture of nerves and excitement," she told POPSUGAR. "I don't know — I think I'm just excited to get racing again, in a competitive environment."
Anderson's place on the British swim team is hard-earned, having already taken home medals at the World and European Championships and at the Commonwealth Games. She started swim training at the age of5, when she took lessons as more of a lifesaving skill like many children do. But her first foray into competitive swimming came a few years later, when she was asked to try out for the local swim team, and it really kicked up a notch when at 14-years-old, Anderson moved to the the Ellesmere Titans.
"I'd much rather be in front of an arena full of people, swimming, than speaking in front of a group of people."
Anderson admits that she didn't have the best start to swimming and was definitely more scared of the social aspects of competing, rather than the swimming itself. "I don't get anxious about competing — it is second nature and just something that I love to do," she said. "I'd much rather be in front of an arena full of people, swimming, than speaking in front of a group of people. That sounds crazy, but it's just where I'm comfortable." Anderson explained that while she certainly idolised Olympians when she was growing up, she wasn't necessarily working toward such a lofty goal and, instead, just put one foot in front of the other to eventually earn her spot on Team GB. "It's pretty cool to say that I think my younger self would be proud of me, but I've never thought that could have been me," she said.
It's clear from Anderson's training regime that a huge part of becoming an elite athlete is having the determination and dedication to showing up to train everyday. So, how does an Olympic hopeful swimmer train for the trials without having access to a pool? Well, it turns out that while we were all jumping around our living rooms trying to fit a workout in while confined to the four walls of our inner-city flats, the Team GB swimming team was going exactly the same thing. Ahead, Anderson explains exactly what happens when the world shuts down right before your first Olympic Trials.
POPSUGAR: The pandemic obviously upended all of our lives, but I can imagine it's particularly difficult when you're an Olympics hopeful who relies on training in a pool and suddenly don't have access to one. How did your routine change when lockdown started?
FA: We had 10 weeks out of the water in total, so [in that time] we did a lot of land sessions, going on runs and using bikes — it was horrible. [As for the change in routine, though,] I quite enjoyed it. It was a bit of a change to my usual training schedule, doing exercises other than just swimming every day. It was hard, but then we started doing sessions with the team on Zoom. Having someone there doing the same thing as you, knowing we're still all in this together — that really helped to have the team's energy.
And then we were back in the pool, and to be honest, since about May 2020, we've not really had much disruption. Our training schedule has been pretty much the same, which we're very lucky for. Aside from those first months, there's not been a lot of disruption.
PS: Can you talk us through your average training schedule when you're working up to a meet like the Olympics?
FA: A typical day, let's say a Monday, I would have swimming in the morning, the gym afterwards, maybe a Pilates session, and then another swim. And that was the same pre-pandemic, to be fair. But obviously when we were getting back into things [after lockdown], it was all very different. The first few sessions we had, we were only allowed to train once a day, and you were only allowed to be in [the pool] for an hour at a time. It has gotten a lot more relaxed since, I think now it is just starting to get back to normal, and we can use the gym like we would have before [the pandemic]. I'm very lucky it's not been a drastic change — each week just feels normal, really.
PS: You mentioned you also do Pilates — how do you feel like that style of training helps your swimming?
FA: I first started Pilates after I had a back injury in 2017, so it was part of my rehab. But I just really enjoyed it, so I stuck with it, and I think because I'm so tall, and I've got these gangly limbs, it's very good at helping me use all the little muscles that I wouldn't normally use when swimming and in the gym. It's also just nice to have that variety and to step away from the pool and the gym and just have some time to myself and be able to focus on things, like breathing. It's just nice. It's a bit of a wind down.
I also really like spending time on one exercise and focusing on it because, in swimming, it's all about plowing down and working your body to the max. So, just focusing on one small thing for five minutes at times is quite helpful. It's also relaxing and I see improvement in the pool [when consistently doing Pilates].
PS: With the Olympics being pushed back by a year, how did you maintain momentum with your training to keep pushing at the same intensity?
FA: It has been really hard. It's the uncertainty, I think. But all in all I've coped quite well. Of course, you do go through waves of losing motivation and struggling to find it again, but I guess that's where you fall back on your team to help through. I remember my coach said, "Even if there are rumours circulating that [the Olympics] is not going to happen — this was a few months ago — it's always better to be prepared, so train every day as if it is happening, so you're not caught off guard if it does [go ahead]". Instead of not putting everything into training and then it happening, and you're left looking like a deer in the headlights [when the Olympics is announced]. That's what I've been trying to do.
PS: I imagine you probably have friends on the team, or at least who you're training with, that you all could lean on one another when you were unsure of the future?
FA: Definitely. None of us have been through a global pandemic before, so we're all in it together. So if any person is struggling, everyone will always pick them up. And it's just nice to fall back on people. Even if you are lacking motivation, or you're struggling one day, you can just literally look into the lane next to you, and there's a professional athlete who's just so composed. That kicks you into gear and gets you going again. So, subconsciously you're all boosting each other.
PS: There's no doubt that the Olympics are going to look a little bit different this year, with a lot less free movement around the village and between Olympic events. How are you feeling about these changes, especially since it's your first time competing in Team GB?
FA: We have 10 days in Yokohama [when we arrive in Japan], but I don't know how much freedom we're going to get. We'll probably be quite isolated. And then we'll go into the village, and none of us really know what to expect. It's going to be different for everyone, and whether it's your first Games or your fourth, it'll be a completely different experience.
So, I don't know. I think going into it, I have to just be ready to adapt — it is a bit sad, but we are there for one reason, and that's to perform. And then the [usual] experience of being at the opening and closing ceremonies, and even getting to go and watch other sports; we're not really going to have that privilege, but I guess it keeps us honed in on the actual goal of the meet, which is to perform.
PS: Can you tell me about what it meant to you to become a Speedo ambassador in 2019?
FA: Yeah, that was amazing. When I was younger, I would never have ever expected this, and now it's like, "Oh, I'm working with the best brand in swimming." It is crazy. And they've just been nothing but supportive of me. It just feels good to represent a brand like Speedo — it is honestly quite surreal thinking of it — because I'd never expected it, but I remember getting just sent the costume to try out before I was even signed with them, and I was geeking out over it. I feel really proud to be a part of [Speedo], and hopefully they are happy to have me, too.
To learn more about all the Olympic and Paralympic hopefuls, visit TeamGB.com. Watch the Tokyo Olympics and Paralympics this summer on BBC One and BBC Two.
Image Source: Speedo