Interview With "Quit Like a Woman" Author Holly Whitaker
Author Holly Whitaker Launches a Sobriety Program to Support You While Socially Isolating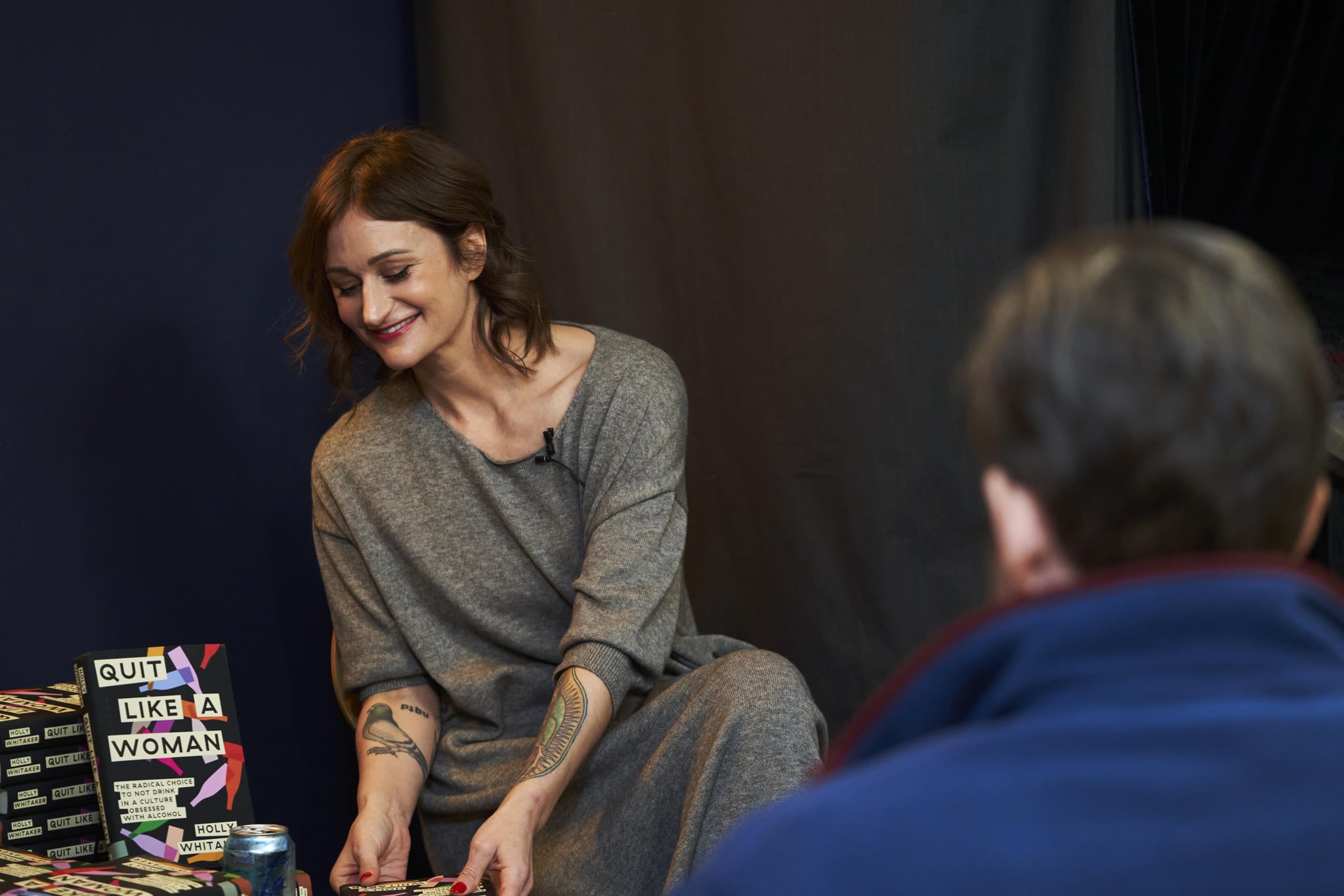 Is it Wine O'Clock yet? Are you counting down the time until cocktail hour? No matter how you cut it, society has an obsession with alcohol. We drink when we're happy; when we're sad; when we're celebrating; and when we're commiserating. Whatever the occasion happens to be, you can bet that there's an alcoholic beverage we'll gleefully pair with it.
Drinking is as much a part of our lives as the food that we eat. But what if we changed the narrative? The transformation may well already be underway. With Gen Z consuming 20-percent less alcohol per person than their Millennial counterparts, we could see a shift toward self-imposed sobriety.
Leading the way in this brave new world is US author Holly Whitaker, who recently released a book on her experience with the sober life. Quit Like a Woman delves into our culture's love affair with alcohol, women's relationships to drinking, and how we can benefit from enacting the title message. I caught up with the writer herself to talk about her decision to ditch the drink — and why she decided to share her experience with the rest of the world.
POPSUGAR: First of all, let's start with what made you decide to become sober. Can you briefly detail your personal experiences?
Holly Whitaker: In October 2012, I was bulimic, falling asleep with bottles of wine in my hand, and smoking as much weed and tobacco as I could get my hands on. I hid behind what looked like the perfect life on paper; a high-paying job at a health tech startup and robust social life.
As my behaviour became more erratic I found myself struggling to keep things together and decided I needed to get help. I turned to my doctor who told me my only options were working a 12-step program, which wasn't a fit for me, or in-patient rehab, which I couldn't afford. I realised that the recovery program I needed didn't exist, so I decided to create Tempest, a modern approach to recovery.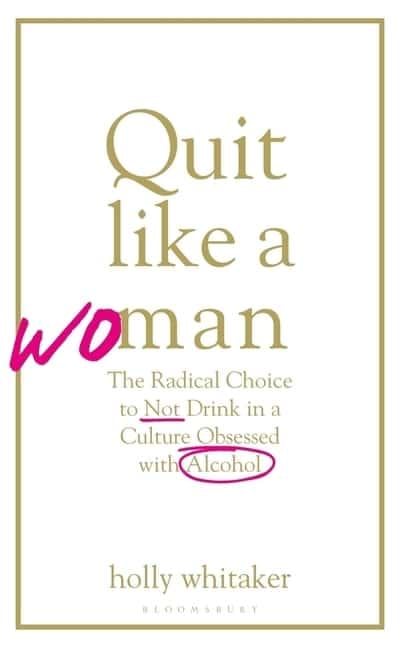 Image Source: Waterstones
PS: What are the benefits that you've personally experienced after quitting alcohol?
HW: Quitting alcohol was my first step to also kicking cigarettes, pot, and food addiction — it's given me a life beyond what I could have dreamed. Since October 2012, I've completed two yoga trainings, traveled extensively, left my job, started Tempest, overcome severely debilitating anxiety and depression, rehabilitated my relationships, and found meaning and happiness in my life. Everything I have in my life now exists because I quit drinking.
PS: Do you believe that society views going sober as a radical choice, and if so, why?
HW: Yes I do, and especially so for women who have already made it so far but continue to have alcohol pushed on us. Rejecting a substance that keeps us down and undermines us as human beings goes against the grain, especially when we live in a society that teaches us to believe drinking will make us sexy and cool. What would happen to our power and capabilities as human beings if women as a whole made the radical choice to say "no" to alcohol?
The industry tells us we need to consume alcohol to be happy, and for those who are looking to abstain, this is an unfriendly and discouraging reminder.
PS: In your book Quit Like a Woman, you talk about how alcohol is marketed toward women. Can you expand on that, and how do you believe this impacts our relationship with alcohol?
HW: Alcohol consumption amongst women has been up in numbers, rising throughout the past three decades. In a study from 2002 to 2013, it was found that high-risk drinking in females has risen about 58 percent and dependence has increased by 83.7 percent.
At the same time, big alcohol companies market their product as an empowering tool for women. Sexy ads or fun pink drinks tempt us to join in on the fun and be cool. This message can be hard for sober women and make them feel like they're missing out on opportunities to celebrate with friends. The industry tells us we need to consume alcohol to be happy, and for those who are looking to abstain, this is an unfriendly and discouraging reminder.
PS: One of the things I loved about the book was the idea that you don't have to identify as an alcoholic to choose to go sober. Can you elaborate on that notion?
HW: Labels can feel empowering for some, and for others, they stigmatise us, keeping us stuck in an old story and perpetuating an idea that we are flawed or different. Yes, you need to admit that it's a problem and you can't do it anymore. But you don't need to identify as an "alcoholic" to stop drinking. It's harder to escape from a box you've placed yourself inside, when categories and titles are pinning you down. Recovery is about moving beyond where you are, not staying put.
PS: For those considering making the change, what do you believe the obstacles on the road towards sobriety are?
HW: At Tempest, a large part of what we do is help folks realise that they don't need to bottom out or lose everything before they decide to re-evaluate their drinking. People are afraid of change, and quitting is hard and often takes more than one try. We're there to meet people wherever they are in their process.
People who want to get sober should know that they don't need to explain their decisions to anyone.
PS: One of the things that many people will worry about is how going sober will affect their social lives. What would you say to this concern?
HW: People are much less interested in our lives than we think and are more concerned with their own choices than ours. The truth is living as a sober person in a world that normalises drinking will feel different, and people have to learn how to navigate it.
But ultimately, when you quit drinking, you have an opportunity to form authentic relationships with people you enjoy and to renew interest in hobbies and passions that might have fallen by the wayside. People that want to get sober should know that they don't need to explain their decisions to anyone.
PS: Can you tell us about your company Tempest Sobriety School (formerly known as Hip Sobriety)?
HW: Historically, if you wanted to do something about your drinking, it seemed like you only had two options: free community support programs like Alcoholics Anonymous, or rehab, which [in the United States] can cost anywhere from $10,000 to $60,000. Tempest costs a fraction of what most in- and outpatient rehabs charge, and it brings in the scientifically backed modern recovery methods that you don't get from going to 12-step meetings alone.
We created Tempest because we wanted to stop drinking, and we wanted an option — between rehab and free — that was affordable, easy to access, and effective.
Tempest's Membership program uses a unique combination of modalities like Integral Recovery, Mindfulness-Based Stress Reduction, Cognitive and Dialectical Behavioural Therapies, and peer intervention to provide members with an in-depth understanding on how addiction and alcohol affect the brain and how neuroplasticity can help us rewire bad habits and maladaptive coping mechanisms. Our counsellors, coaches, and teachers receive trauma-informed training to best support our members; and our member-facing staff has worked through the Tempest program themselves, giving them valuable firsthand experience in recovery.
What I also like to remind people is that sobriety is a proud choice, not a sad consequence.
PS: Life has changed unimaginably since the COVID-19 outbreak. How can people who want to go sober stay on track?
HW: The platform just launched a new 'Recovery at Home' program to help people maintain or continue on their path to sobriety while socially isolating. Anyone who is working on the frontlines of the outbreak or is impacted financially can also apply for a scholarship to access the program for free. It's a four-week program with courses to help people understand how to manage anxiety, deal with isolation, access community, and create new tools for recovery.
The program also provides access to a larger sober community for support and includes weekly discussions and Q&A's with a subject matter expert. In addition to Recovery at Home, Tempest will also be making its in-person support groups, Bridge Club, completely digital and free to everyone.
PS: And finally, what advice would you give to people who are interested in going sober?
HW: If you're thinking about getting sober, there's probably a reason why. What I also like to remind people is that sobriety is a proud choice, not a sad consequence. If drinking makes you feel bad, if it's messing with your life, or it may be headed in a direction you don't like, you have the right to do something about it.
You can read more from Holly Whitaker in her new book Quit Like a Woman, which is out now.
Image Source: Holly Whitaker