Guava and Cream Cheese Rolls Recipe
These Guava and Cream Cheese Rolls Are a Caribbean Brunch Dream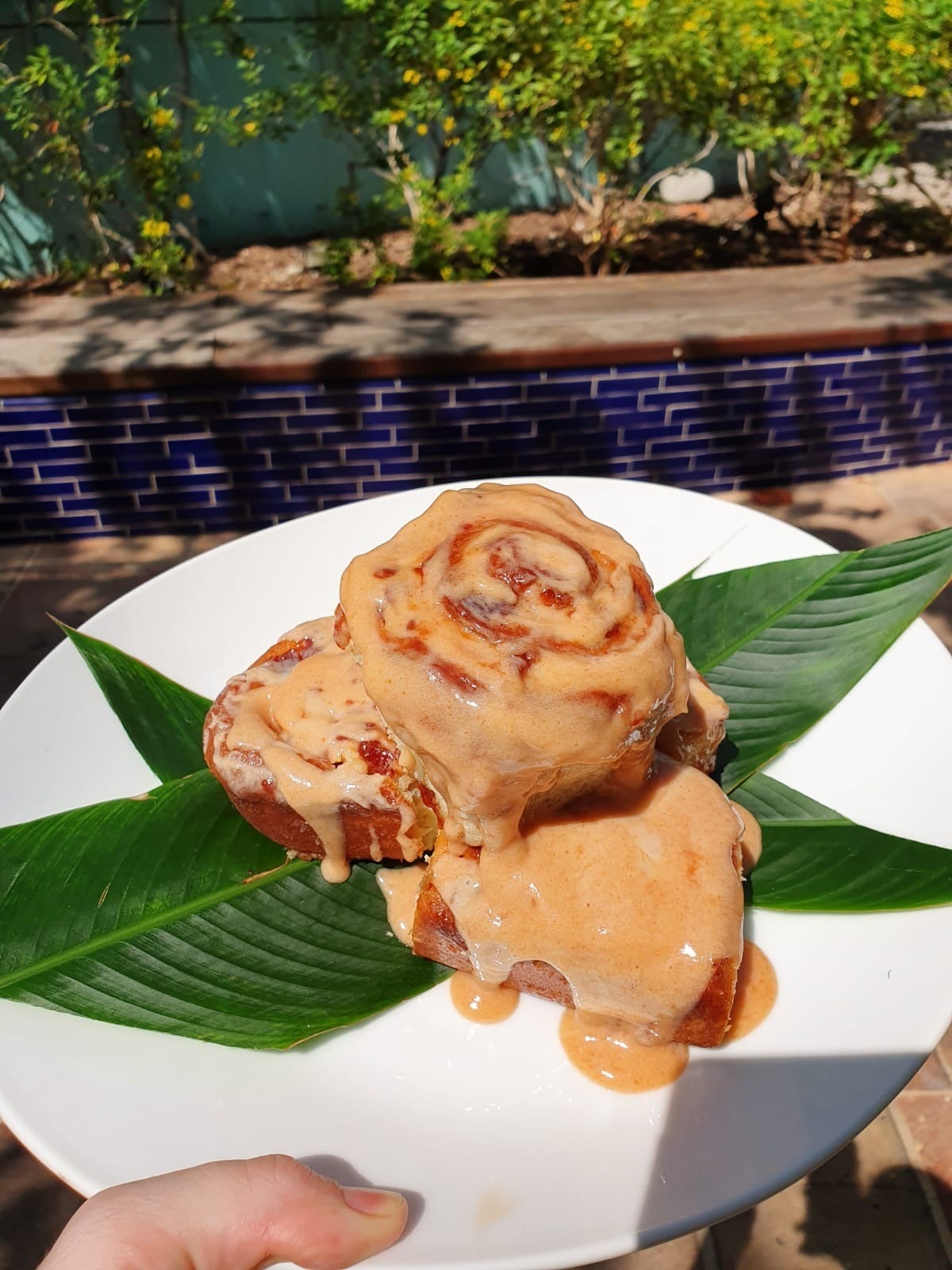 When it comes to bakes that make you take the first bite, stop, make an audible "mmmm" sound, and make you just feel comforted and happy, few things come close to a cinnamon roll. But when the weather gets warmer, the cravings for warm cinnamon-y flavours are usually replaced with ones for fresh and light flavours. While you might think that means giving up rolls till the holidays come back around, I'm here to tell you that you could have the best of both worlds. Enter: guava and cream cheese rolls.
The recipe, which comes from chef Thomas Tennant at Tomfoodery Kitchen in the Cayman Islands, is basically a Caribbean brunch dream. The dish gives you the warm and soft rolled dough of a classic cinnamon roll, but instead uses island flavours. The filling is a mix of cream cheese and guava paste, and the orange-coloured icing has hints of guava and vanilla. Is your mouth watering yet?
We can already picture ourselves enjoying these while sitting on Seven Mile Beach in Grand Cayman, but until then, we'll have to make do whipping these up in the kitchen and soakin' up the sun in the backyard. Keep reading for the full recipe!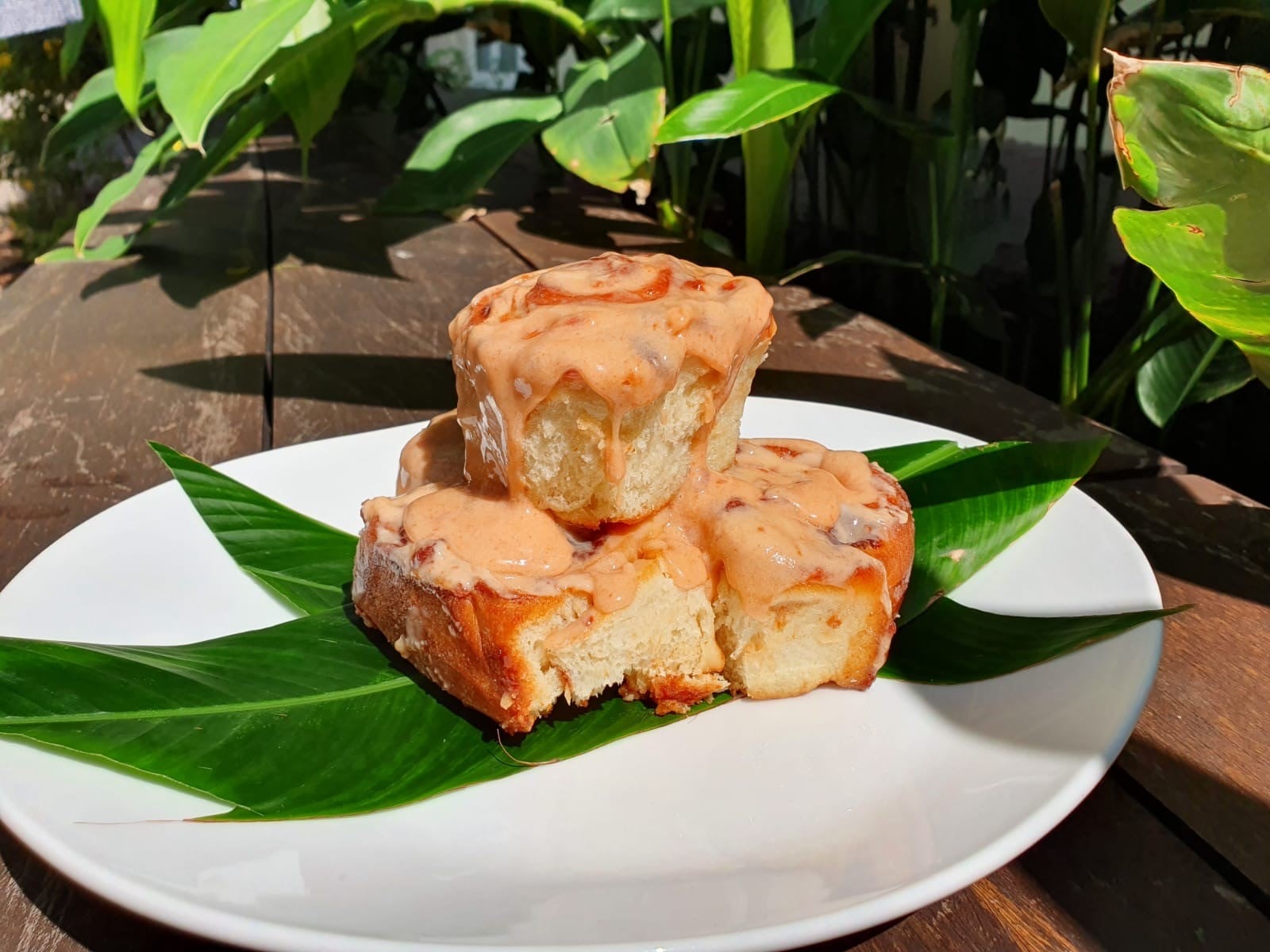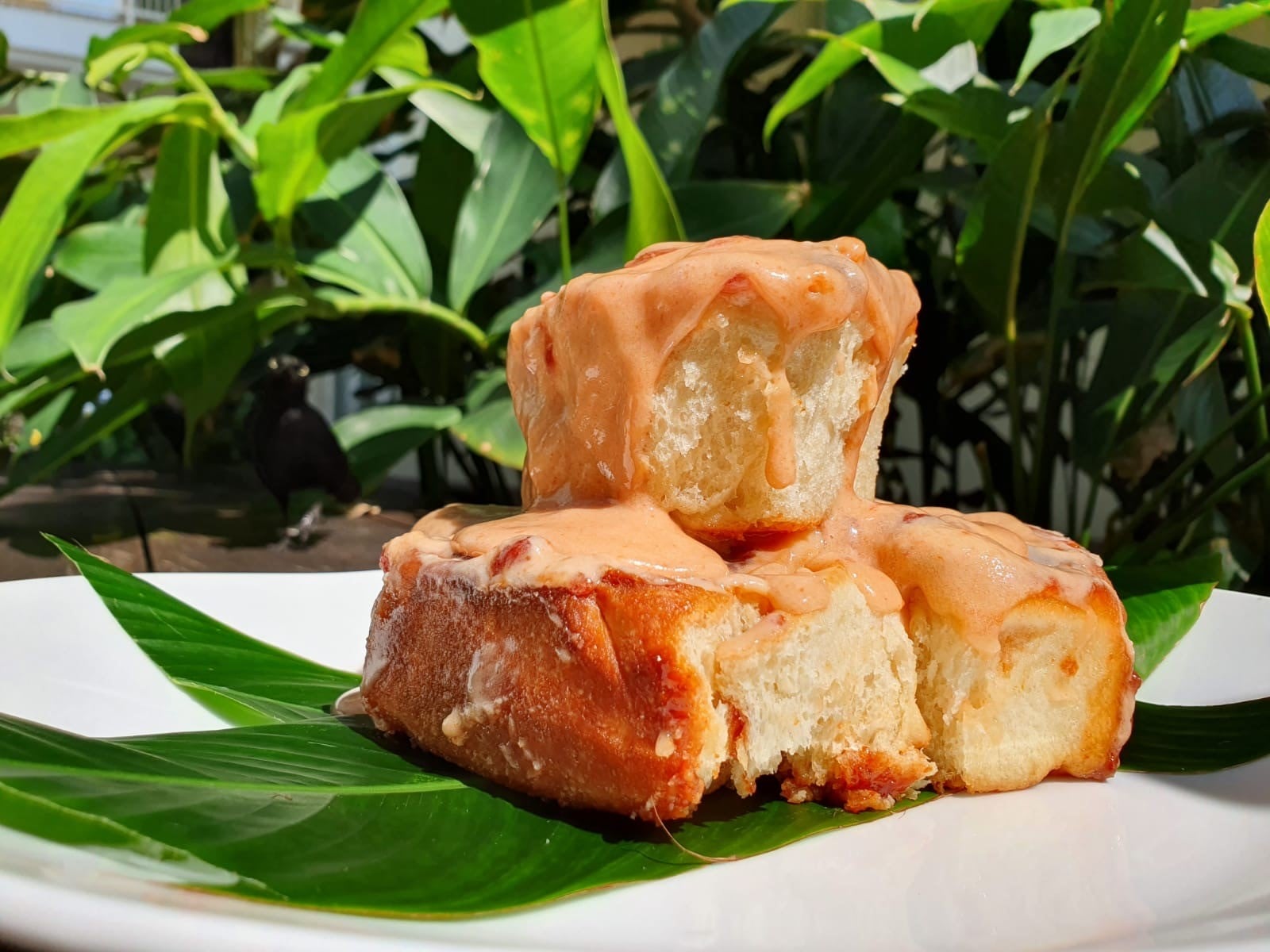 Guava and Cream Cheese Rolls
Tomfoodery Kitchen
Ingredients
Dough:
3 eggs, room temperature
3/4 cup (6 oz) buttermilk, room temperature
1/4 cup sugar
2 1/4 teaspoon dry yeast
4 1/4 cup (21 1/4 oz) all-purpose flour
6 tablespoons butter, melted & cool
Filling:
1/3 cup soft butter
1 cup brown sugar
8 ounces cream cheese, frozen and cut into cubes
8 ounces guava paste, cubed
8 ounces guava shells, chopped, no syrup
Icing:
8 tablespoons butter, room temperature
1 1/2 cups powdered sugar
8 ounces cream cheese
8 ounces Guava paste cubed
1/2 tsp vanilla extract
1/8 teaspoon salt
Directions
In a mixer, whisk eggs and buttermilk to mix.
Add the sugar, salt, and yeast, allowing yeast to activate for about 15 minutes.
Add two cups of flour and the butter, stir with a spatula.
Add the other two cups of flour and knead with the dough hook on low speed for five minutes. The dough should come clean from the sides; add more flour if necessary.
Knead for five more minutes, then knead by hand for one minute.
Place the dough in a greased bowl and cover for 2 1/2 hours to allow for proofing.
Roll the dough to 21"x16" and 1/4" thickness. Spread the butter on the dough, leaving a 1/2" border free of the butter.
Sprinkle the brown sugar evenly. Distribute the cream cheese cubes, guava paste, and chopped guava over the dough. Roll the dough, and pinch at the seams then cut into 1 3/4" thick.
Place in a buttered pan, cover and allow to proof for 45 minutes.
Bake at 400 degree for 20-25 minutes.
For the icing, beat all the ingredients except for the guava paste until fluffy. Scrap down the bowl and add the guava paste and beat until incorporated into smaller pieces.
Information
Category

Breakfast/Brunch

Yield

12 rolls

Total Time

3 hours, 59 minutes, 59 seconds