Jimmy Kimmel's Kids Love His "Pasta Tina" Recipe | Video
Jimmy Kimmel's Kids Love His "Pasta Tina" So Much, He Shared the Easy Recipe on His Show
Jimmy Kimmel recently shared his go-to pasta recipe for his two small kids, and it's surprisingly easy! On Tuesday, the late-night host released a step-by-step video showing how he makes "Pasta Tina," aka the dish he cooks "almost every day." The unique name comes from pastina, a smaller style of pasta, although these days he uses a "bigger pasta" like cavatappi. You only need seven ingredients to replicate the meal at home, including cannellini beans, which are blended to a creamy texture so kids will never know the difference.
At the end of his tutorial, Jimmy served the pasta to 5-year-old Jane and 2-year-old Billy, who gave it their seal of approval. "It's good," Jane confirmed, with a big thumbs up. Watch the clip above to see every step of Jimmy's process, and then keep reading for the full recipe straight from the host himself.
Jimmy Kimmel's "Pasta Tina"
Jimmy Kimmel Live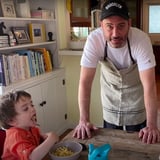 Ingredients
Salt
Olive oil
1 box small-size pasta
1 can cannellini beans (or dried cannellini beans if you have the patience to soak them overnight)
3 cloves garlic (squashed)
Spoonful of Minor's Chicken (or Vegetable) Base
Good parmesan cheese
Directions
Boil a pot of water with a little salt.
Add the pasta to the boiling water for about eight minutes.
While the pasta is cooking, begin your sauce by blending the cannellini beans.
Take three cloves of garlic, squash them, remove from the skin, and place them in a pot over medium-low heat with a little olive oil. If you want to get fancy, you can tilt the pot and place the garlic in the olive oil to infuse the flavor and really get the garlic lightly golden. If the garlic browns, throw it away and start over.
Stir the pasta and make sure it isn't sticking to the bottom.
Once the garlic is golden, remove it from the pot (optional), add the blended cannellini beans, and add a spoonful of the Minor's chicken (or vegetable) base.
Stir everything together.
When the pasta is ready, drain it in a colander, put the pasta back into the large pot, and add the cannellini bean sauce.
Mix it all up.
Serve with good parmesan cheese.
Information
Category

Main Dishes, Pasta